The fallout of Manafort and Cohen's convictions is just beginning
On Tuesday, Donald Trump's former campaign chair was convicted on eight charges and Trump's longtime personal lawyer pleaded guilty to eight charges.
The ripple effect of these events shouldn't be underestimated — indeed, it's just beginning.
Where things stand now
Cohen's lawyer said his client "definitely" does not want a pardon from the president, nor would he accept one. The lawyer told multiple news outlets that Cohen has "knowledge that would be of interest" to special counsel Robert Mueller's probe into Russia's interference.
The nature of this knowledge is, as of now, a mystery. But it's not the only mystery. Questions remain as to what, if anything, would happen regarding the unnamed people who prosecutors said played key roles in the events that led to Cohen's guilty pleas.
How does this affect the president?
White House press secretary Sarah Huckabee Sanders stuck to a tight script, telling multiple reporters in response to a range of questions that Trump has "done nothing wrong" and "faces no charges."
The larger context:
The question Cohen's lawyer asked on Tuesday continues to hang in the air: "If those payments were a crime for Michael Cohen, then why wouldn't they be a crime for Donald Trump?"
Democrats, meanwhile, are not eager to talk about impeaching Trump, even as pundits begin to speculate on the party making such a move.
Oh, and by the way, Cohen deleted a tweet about Hillary Clinton going to jail. The tweet, from 2015, read, "@HillaryClinton when you go to prison for defrauding America and perjury, your room and board will be free!"
Never tweet, folks.
Members of Mollie Tibbetts' family are pushing back against Trump and his allies after they seized on her death
Mollie Tibbetts was found dead on Tuesday. Her disappearance more than a month ago had set off a massive search, before her body was discovered in a cornfield. A man charged with killing her led authorities to the site.
Cristhian Bahena Rivera, 24, who is in the US illegally, has been arrested and charged with first-degree murder in connection with the death of 20-year-old Tibbetts, law enforcement officials said.
Rivera's lawyer sparked confusion by saying his Mexican client is in the US legally. The government maintains that he's not. Rivera's lawyer was unable to back up the claim to BuzzFeed News in an interview, repeatedly refusing to directly answer what his client's immigration status is.
Within hours of the arrest, President Trump appeared at a rally and pointed to the case as evidence that US "immigration laws are such a disgrace." Now, members of Tibbetts' family are pushing back against this narrative.
From one member of Tibbetts' family: "we are not so fucking small-minded that we generalize a whole population based on some bad individuals." Tibbetts' aunt wrote on Facebook urging people to "please remember, Evil comes in EVERY color."
SNAPSHOTS
The Big Bang Theory is coming to an end in 2019. It's currently the No.1 sitcom in the world, and the longest-running multi-camera series in history with 279 episodes, so it's safe to say it's been a good run. The show will end after its 12th season, concluding in May of 2019.
A juror in Paul Manafort's trial told Fox News that a lone holdout blocked his conviction on all 18 counts. Paula Duncan said the rest of the jury was ultimately unable to convince one juror, and that's why Manafort was convicted on only eight counts. Duncan said though she "did not want Paul Manafort to be guilty," the evidence presented by prosecutors was "overwhelming." She added, "I really wanted him to be innocent, but he wasn't."
A woman was fired from NASA after they saw her tweet that read, "Suck my dick and balls I'm working at NASA." @NaomiH_official tweeted "EVERYONE SHUT THE FUCK UP," because she wanted to announce she had received an internship at the space agency. Guess who replied to her tweet? Homer Hickam, an author, Vietnam veteran, and NASA engineer who trained the first Japanese astronauts. Hickam replied, simply, "Language." Naomi replied, telling Hickam, "Suck my dick and balls I'm working at NASA." Of course, Hickam pointed out that he works on the council that oversees the agency. Following the controversy, Hickam published a blog post in which he stated that he was not responsible for the intern losing her job. Tale as old as time.
Popular beauty YouTubers who accused other YouTubers of being racist are now being accused of being racist themselves. If this sounds like a complicated web of accusations and drama, trust me — you don't know the half of it. And somehow, one YouTuber's "crocodile tears" apology video has now become a meme. We explain the drama here.
A second sexual assault case against Kevin Spacey is being reviewed by Los Angeles prosecutors. The case involves allegations that the actor was involved in a sexual assault in Malibu in October 2016, officials said. The case, which was reported to authorities on May 22, was turned over to the county district attorney's office for possible charges this week and is currently under review. Prosecutors are already reviewing a sexual assault case involving a man that allegedly took place in October 1992 in West Hollywood.
David Hogg called Nancy Pelosi "old" and said it's time for new Democratic leadership, and now he's facing criticism. The Parkland shooting survivor and March for Our Lives leader said in an interview that "Older Democrats just won't move the fuck off the plate and let us take control. Nancy Pelosi is old." Many people who explicitly said they agree with Hogg's activism said they took issue with the remark.
Toys 'R' Us's demise means toys will probably cost less this holiday season
In March, the toy giant announced it was closing all of its 800 stores in the US. Other retailers saw green: There is opportunity in its downfall.
Now, big-box stores are ready to make their move for a piece of the $7.1 billion in toy sales that Toys 'R' Us leaves up for grabs.
Sure, Amazon and Walmart and Target won't hold the same reverence from children today as Toys 'R' Us did for a generation, but on the plus side, as retailers get ready to compete, customers will benefit from slashed prices.
Target told us it plans to remodel more than 300 stores by the end of this year, and more than 100 of those stores will have an updated toy department.
Amazon, meanwhile, declined to comment on its holiday toy strategy, but the company is reportedly considering distributing a printed holiday gift guide at its Whole Foods stores. A printed holiday gift guide… Remind you of anything?
Bruno the thicc cat got adopted by an owner just as extra as he is
Remember the story of Bruno? He's the very ~extra~ 25-pound cat who would prefer to be petted while he's eating, thank you very much.
After the post about him went viral, his shelter received 161 applications to adopt the lil' big guy.
So who won the right to be the fat cat's cat mom? Lauren Paris did. And to edge out the stiff competition, Paris knew she'd have to be ~extra~ too.
Paris broke out the big guns and used her musical theater background to record a song called "Gimme That Fat Cat."
The shelter told us that Paris also sent a letter of intent and a video tour of her home, and from the beginning "made her intentions clear that she was serious about adopting Bruno." Here they are, meeting for the first time: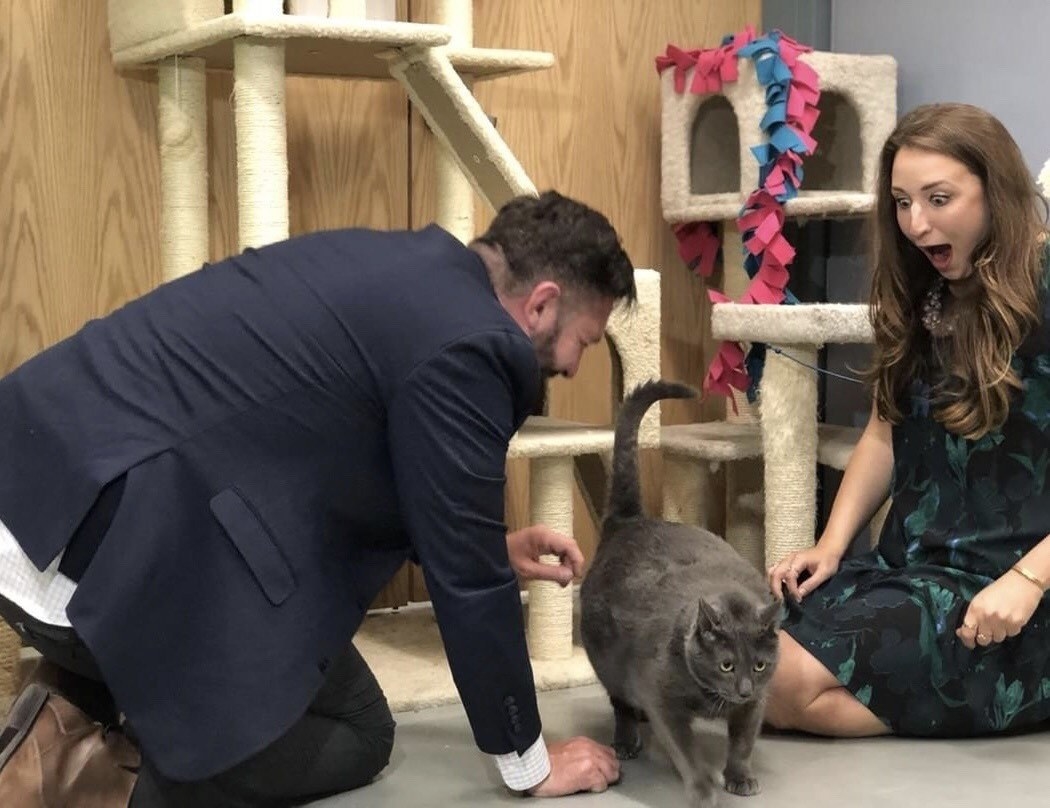 And now, two ~extra~ beings have found one another. The universe: It is good.