Those at the center of the most recent backlash are Laura Lee (who has 4.6 million subscribers); Gabriel Zamora (552,000 subscribers); Nikita Dragun (1.6 million subscribers); and Manny Mua (5.2 million subscribers).
The backlash was ignited after Zamora tweeted a photo last week of the four of them with a cryptic caption.
Fans believed the caption was a diss to Star (9.8 million subscribers).
The tweet, which has now been deleted, read, "Bitch is bitter because without him we're doing better."
Zamora then confirmed the tweet was shading Star in a series of follow-up tweets to fans, calling Star "a racist."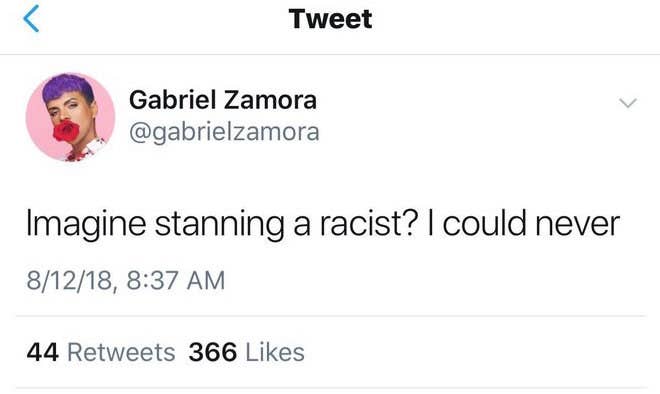 In a back-and-forth with a Star stan, Zamora claimed that Star's racist past was not entirely behind him.
"Every time I was around him, he would constantly say racist things about black people but would validate it by saying, 'I've had so much black dick I can't be racist,'" he wrote. "Once I realized it was REAL racism, I realized I couldn't be friends with him."
Like cyberpaleontologists, Star's fervent fans were triggered and began digging into Zamora and the rest of the YouTuber posse featured in the original photo. They found several old posts from Zamora, Lee, Manny, and Dragun, in which they made racist slurs and jokes.
"Ni**as in Paris? Whaaaat I thought they couldn't afford to leave Compton!" one tweet from Lee in 2012 read. Another said, "How do you blindfold a Chinese person? Put floss over their eyes!" with the hashtag "#dumbgook."
"Imagine being black? I could never," read one tweet from Dragun.
Many called "hypocrisy" on the band of beauty vloggers. Their individual fans then threatened to unfollow all of them immediately.
All the old tweets, some of them dating as far back as six years ago, were then deleted.
Star weighed in on the drama himself, tweeting over the weekend, "Imagine trying to bully me but you actually end your own career instead."
During the debacle, Lee saw a sharp decline of nearly 300,000 subscribers in a week, potentially losing her an estimated tens of thousands of dollars in revenue. After her subscribers dramatically dropped, Lee recorded and shared an official apology video. She's seen crying throughout.
"Six years ago I decided to retweet things that were so vile and hurtful," Lee said in the video in between tears. "I have no excuses. I'm only here to say I'm sorry. I can't even look at myself."
BuzzFeed News has reached out to Lee.
Lee also has lost a sponsorship as a result of her old tweets. Diff Eyewear, the sunglass company that frequently teams up with influencers, told BuzzFeed News they are "no longer selling her collection."
During this time, people monitored and mocked the subscriber counts of Lee, who seemed to be steadily losing followers, and Star, who seemed to be steadily gaining more.
Manny, Zamora, and Dragun also saw drops in their subscriber count, but Lee appears to have lost the most.
Zamora has since apologized publicly to Star.
Many people did not believe Lee's apology video was genuine. It's even being meme'd.
Someone even customized the captions for the video to mock what they believed to be her insincerity.
We're only scratching the surface of this scandal's intricacies and microcosms, because it is YouTube drama. These videos can explain the whole thing, if you're interested. The drama has caused enough of a kerfuffle that even Kathy Griffin weighed in.