Iowa student Mollie Tibbetts, whose disappearance for more than a month set off a massive search, was found dead Tuesday in a cornfield after an undocumented immigrant charged with killing her led authorities to her body.
Cristhian Bahena Rivera, 24, has been arrested and charged with first-degree murder in connection with the death of 20-year-old Tibbetts, law enforcement officials said.
Rick Rahn, of the Iowa Division of Criminal Investigation, said investigators recently obtained security footage of Tibbetts jogging on July 18 from a local resident. That footage, he added, was "critical" to solving the disappearance.
"Through that we were able to identify a vehicle that we believed belonged to Mr. Rivera," Rahn said. "From that we were able to track his patterns and the routes that he took. We were also able to find Mollie running on this video and we were able to determine that he was one of the last ones to have seen Mollie running."
Rivera allegedly followed Tibbetts in his car and "circled around her a couple of times" before approaching her.
According to the criminal affidavit, Rivera abandoned his car and began to follow Tibbetts on foot.
"Defendant Rivera stated he parked the vehicle, got out and was running behind her and along side of her. Rivera stated she grabbed her phone and said 'I'm gonna call the police.'"
After that, "Rivera said he then panicked and got mad and that he then 'blocked' his 'memory' which is what he does when he gets very upset and doesn't remember anything after that until he came to at an intersection."
Rivera told police that when he "came to," he was in his car and Tibbetts's body was in his trunk, adding that the side of her head was bloody.
After realizing that her body was in the trunk, the affidavit states Rivera carried Tibbetts into a nearby cornfield and covered her body with corn leaves.
When interviewed by police a month later, he was able to use his phone to determine where he had left the body and on Tuesday morning, he led police to Tibbetts's remains.
Rivera is currently being held in lieu of a $1 million bond.
"Our hearts are broken," the Tibbetts family said in a statement. "On behalf of Mollie's entire family, we thank all of those from around the world who have sent their thoughts and prayers for our girl. We know that many of you will join us as we continue to carry Mollie in our hearts forever. At this time, our family asks that we be allowed the time to process our devastating loss and share our grief in private. Again, thank you for the outpouring of love and support that has been shared in Mollie's name. We remain forever grateful."
US Immigration and Customs Enforcement (ICE) "lodged a detainer with the Poweshiek County Sheriff's Office on Christian Bahena-Rivera, 24, an illegal alien from Mexico, after he was arrested on murder charges," spokesperson Shawn Neudauer said.
Detainers are requests that allow a law enforcement authority to maintain custody of an undocumented immigrant for up to 48 hours so ICE can potentially deport them.
According to his Facebook page, Rivera had lived in Iowa since at least 2013 and was originally from Mexico. Among selfies and posts about soccer, he shared an image of AK-47s — but it wasn't a photo he'd taken and the guns weren't his. The image appears in various videos and pages related to "narcocorridos," the music genre celebrating the exploits of Mexican drug runners.
President Trump addressed Tibbetts's death as he called for the need for a wall on the US–Mexico border at a rally in West Virginia on Tuesday.
"You heard about today with the illegal alien coming in, very sadly, from Mexico," Trump said. "And you saw what happened to that incredible, beautiful young woman. It should never have happened. Illegally in our country."
During the press conference Tuesday, Rahn said that he "can't really speak about the motive" or what was going through Rivera's head when he followed Tibbetts.
"I can just tell you that he followed her and seemed to be drawn to her on that particular day," he said. "For whatever reason he chose to abduct her."
Rahn added that he could not provide details on Tibbetts's injuries or if she had been sexually assaulted, noting that an autopsy is scheduled for Wednesday.
Tibbetts's disappearance five weeks ago launched a large-scale search. Iowa law enforcement officials said on July 31 that they had followed up on over 200 leads and "on any given day, upwards of 30–40 investigators" were working on the case. Although there were false alarms, there had been no confirmed sightings of the woman since she vanished July 18.
Tibbetts, a University of Iowa student who was taking summer school classes, was last seen jogging in the small, rural town of Brooklyn, Iowa, "in the evening hours" when she went missing. She was staying at a house owned by her boyfriend, Dalton Jack, and was dog-sitting for him and his brother while they were out of town on a work trip.
Jack told authorities that the last communication he received from Tibbetts was a Snapchat he received at approximately 10 p.m.
He also told ABC News on July 26 that he didn't know she was missing until the next afternoon when Mollie's coworker called him and he realized that she had not seen the "good morning" text message he sent her.
"She said Mollie had not called into work that day and she hadn't showed up, and then I looked at the messages and she hadn't opened or read the message," he said. "And then I started getting in contact with her friends and family, saying, 'Have you seen her or heard from her?' And they all said the same thing. 'No, we haven't heard from her since yesterday.'"
A week after Tibbetts's disappearance, Poweshiek County Sheriff Thomas Kriegel told reporters that authorities had confirmed the alibis of Jack and his brother and that they were not suspects.
Brooklyn is a rural town with a population of roughly 1,400, and Kriegel told ABC News on July 26 that the rustic surroundings made searching especially tricky.
"We're surrounded by farm ground — corn and soybeans. Right now, the corn is probably 8, 9 feet tall. The only way you can search it is basically walk down every other row," he said. "It's difficult. Even the planes flying over have a difficulty looking down in the corn rows."
Investigators said they were hopeful that they could obtain data from the Fitbit that Tibbetts regularly wore when working out.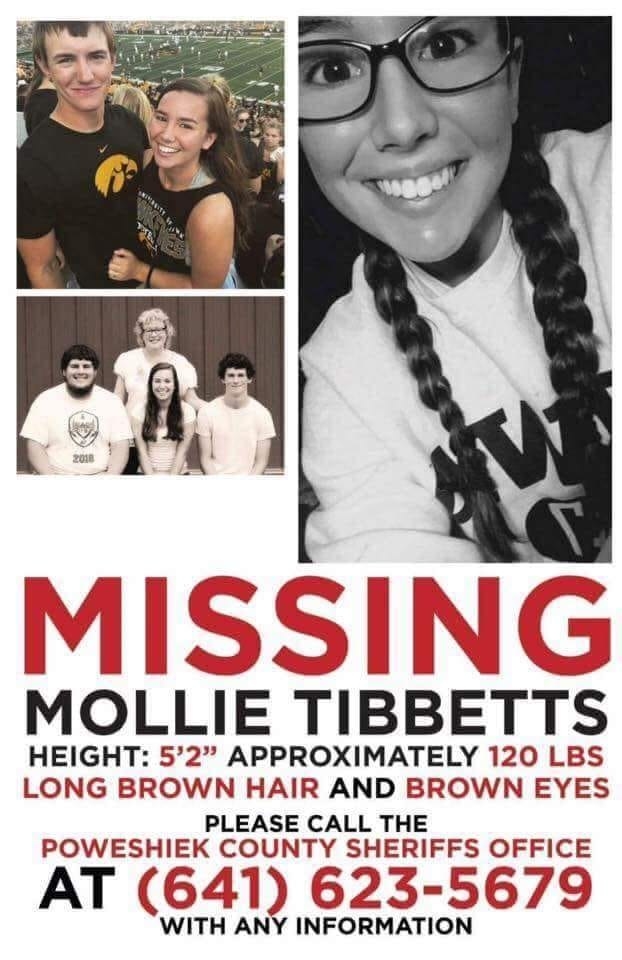 In interviews with Fox News on Aug. 1 and Aug. 6, Rob Tibbetts urged the members of the small-town community to come forward with any information they might have and said that he believed his daughter was with somebody that she knew.
"The bottom line is somebody knows something," he said in the Aug. 1 interview. "You can't do anything [in Brooklyn] without someone seeing it. ... There is no information too trivial."
Five days later, he told Fox News that he believed his daughter was still alive and that she had left with somebody she knew.
"It's totally speculation on my part, but I think Mollie is with someone that she knows, that is in over their head," he said. "That there was some kind of misunderstanding about the nature of their relationship and at this point they don't know how to get out from under this."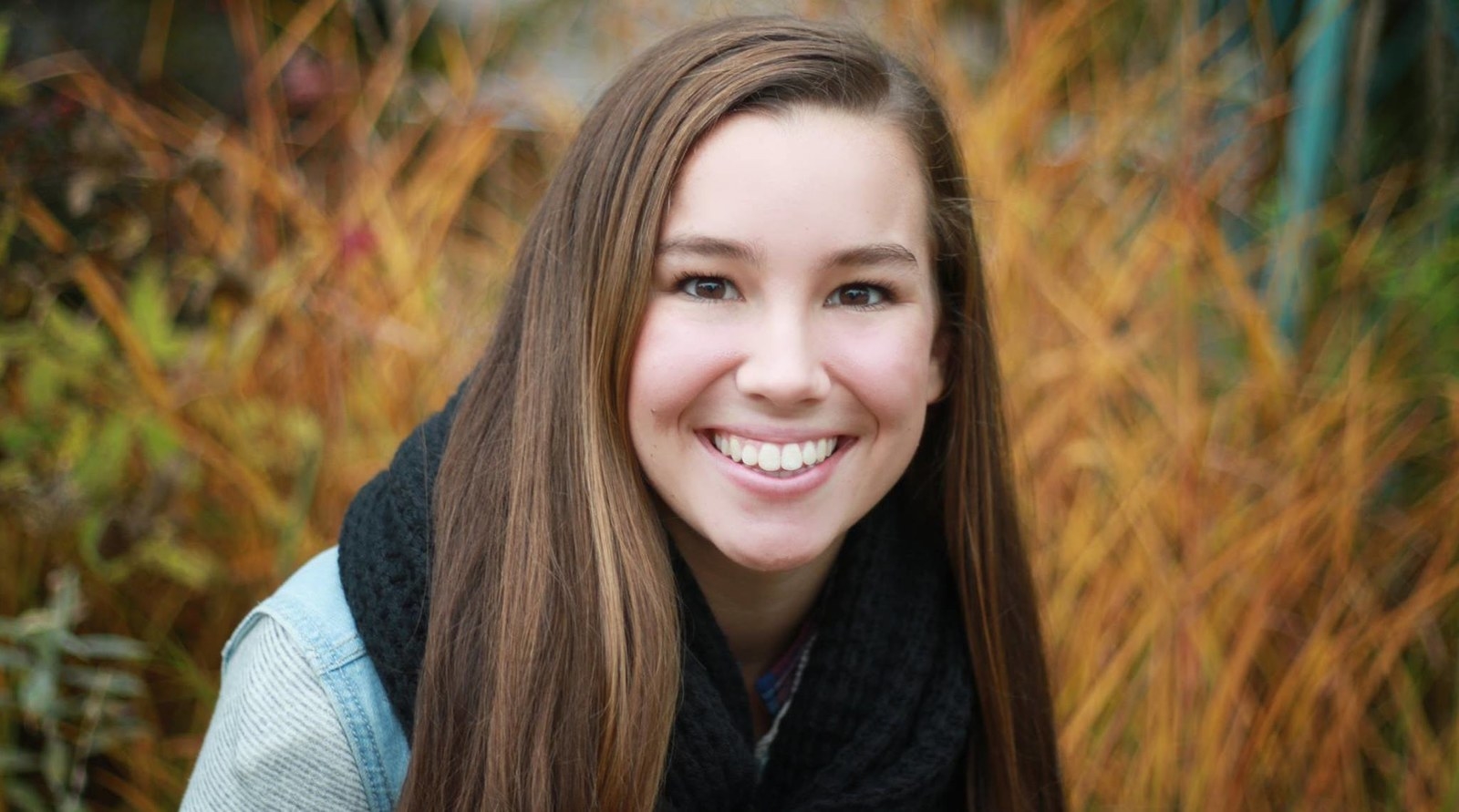 On Aug. 13, the state of Iowa launched an official missing persons website and tips page to aid the search for Tibbetts.
The Iowa Division of Criminal Investigation announced at the time that it was refocusing its search on five areas within running distance of Jack's home and appealed to the public to contact a tip line if they remembered seeing Tibbetts near any of those areas, which include a car wash, a truck stop, and a hog farm.
Vice President Mike Pence met with Rob Tibbetts and Mollie's two brothers after delivering a speech in support of President Trump's tax cuts in Des Moines on Aug. 15. In his speech, Pence said that the missing girl's family was "on the hearts of every American" and he later tweeted a link to the official missing persons website.