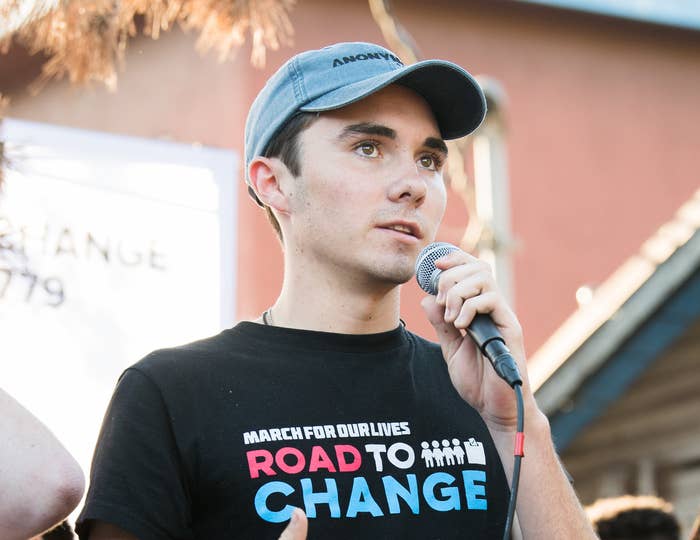 Parkland shooting survivor and March for Our Lives leader David Hogg is facing criticism from his supporters for calling House Minority Leader Nancy Pelosi "old" in a New York magazine profile of him published on Sunday.
A spokesperson for Pelosi told BuzzFeed News on Wednesday that the Democratic leader had no comment about Hogg's remarks.
In the wide-ranging New York magazine piece — it covered everything from his political ambitions to his meditation habits — the much-adored and maligned anti–gun violence activist said, "The reason Republicans are successful right now is because they're empowering young people."
He noted Paul Ryan's age when he became the speaker of the House (at 45, he was elected the youngest-ever speaker), and added, "Older Democrats just won't move the fuck off the plate and let us take control. Nancy Pelosi is old."
The comments come as the fractured Democratic Party is being pulled hard to the left and is facing increased calls for new — and implicitly younger — leadership, especially after Alexandria Ocasio-Cortez defeated one of the top members of party leadership in the House this summer.
At the same time, March for Our Lives has been on a national blitz to register people to vote and is seeing its most visible members outright supporting — but not formally endorsing — candidates for office.
Many people who explicitly said they agree with Hogg's activism said they took issue with the remark.
"You can make this point without being sexist, homie," someone else advised.

His thoughts should have been presented differently, said one person: "I agree with you in principle, but here's a thought: rather than reflexively dismissing Pelosi as 'old,' name someone younger who is capable of doing what she does."
Others agreed with his sentiment:

Many of those tweets came after Hogg on Tuesday doubled down on his remarks. "[Democrats] need to allow young people to seize leadership opportunities like the republicans have with people like Rubio, Ryan etc," he wrote.
And he did give a nod to Pelosi, pointing to her work to pass the Affordable Care Act, or Obamacare, when she was the speaker.