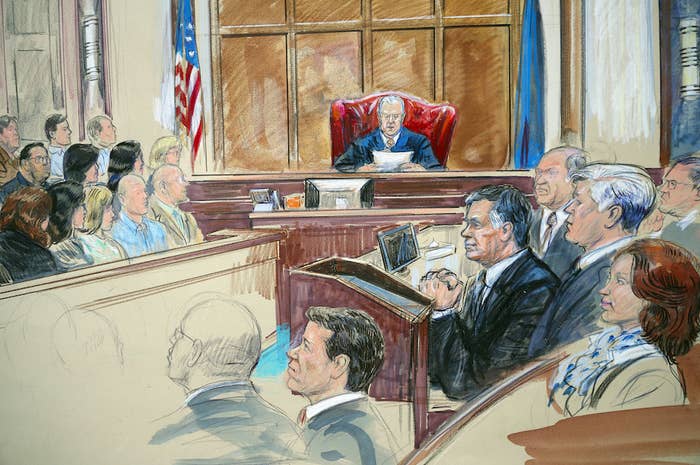 All but one of the 12 members of the jury in the Virginia trial of Paul Manafort were ready to convict him on 18 counts, but they were ultimately unable to convince a lone holdout that the former Trump campaign manager was guilty of all of the charges against him, one of the jurors said Wednesday night.

In a televised interview with Fox News, the juror, Paula Duncan, said that though she "did not want Paul Manafort to be guilty," the evidence presented by prosecutors was "overwhelming."
"Finding Mr. Manafort guilty was hard for me," Duncan told Fox News @ Night host Shannon Bream. "I really wanted him to be innocent, but he wasn't."
Duncan, who is the first juror to speak publicly about the trial and deliberations, described the jury's discussions as tense and at times emotional — "there were even some tears," she noted — as she and other jurors tried to persuade the one holdout among them of the evidence against Manafort.
"We all tried to convince her to look at the paper trail. We laid it out in front of her again and again and she still said that she had a reasonable doubt," Duncan said. "And that's the way the jury worked. We didn't want it to be hung, so we tried for an extended period of time to convince her, but in the end she held out and that's why we have 10 counts that did not get a verdict."
Manafort was ultimately convicted on eight charges Tuesday, including five counts of tax fraud, two counts of bank fraud, and one count of failing to report a foreign bank account. The federal judge overseeing the case, US District Judge T.S. Ellis, declared a mistrial on the 10 other counts.
Duncan, who identified herself as an emphatic supporter of Trump, was critical of special counsel Robert Mueller's team, saying that prosecutors often looked "a little bored" during the trial and at times appeared to be taking catnaps while in court.
"It kind of sent a message of 'we're bored with this,'" she said, "and I'm thinking, Well, if you're bored, then why are we here?"
But Duncan also suggested she was underwhelmed by the defense and disappointed by Manafort's decision not to testify. "We're supposed to assume he's innocent and therefore he does not need to defend himself — the judge made that very clear, that there is no requirement for him to do so," she said. "However, just based on what I saw, what I heard, I think I would have liked to have heard a little more from the defense."
Describing their deliberations, Duncan said that some of the jurors had difficulty accepting the testimony of Rick Gates, Manafort's former business partner and a former Trump campaign aide, who is considered the prosecution's key witness against Manafort.

Ultimately, Duncan said, the jury decided to disregard Gates's testimony and rely on the "paperwork" — a potentially troubling development for Mueller's office if prosecutors hope to use Gates as a witness again in a second trial against Manafort, which begins next month in Washington, DC.
Echoing arguments made by both Manafort's lawyers and Trump, Duncan said that the charges seemed to be politically motivated, and accused prosecutors of trying "to make the case about the Russian collusion right from the beginning."
"Every day when I drove, I had my Make America Great Again hat in the backseat," she told Fox. "Just as a reminder."

But in the end, despite her misgivings about the broader special counsel investigation, Duncan said that prosecutors laid out a case that "made it easy to connect the dots."
"I think we all went in there like we were supposed to and assumed that Mr. Manafort was innocent," she said. "We did due diligence. We apply the evidence, our notes, the witnesses, and we came up with the guilty verdict on the eight counts."

"I didn't want Paul Manafort to be guilty, but he was," Duncan added, "and nobody is above the law."