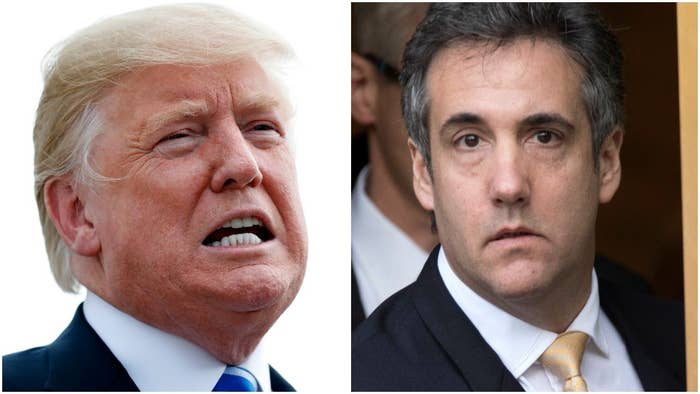 Michael Cohen — President Trump's one-time fixer and lawyer who pleaded guilty to multiple federal charges on Wednesday — "definitively" does not want a pardon from Trump and would not accept one, according to Cohen's personal lawyer, Lanny Davis.
Davis, who has been on a media blitz following his client's guilty plea, also told multiple news outlets that Cohen has "knowledge that would be of interest" to special counsel Robert Mueller's probe into Russia's interference in the 2016 election.
"Mr. Cohen has knowledge on certain subjects that should be of interest to the special counsel and is more than happy to tell the special counsel all that he knows — not just about the obvious possibility of a conspiracy to collude and corrupt the American democracy system in the 2016 election, which the Trump Tower meeting was all about, but also knowledge about the computer crime of hacking and whether or not Mr. Trump knew ahead of time about that crime and even cheered it on," Davis told MSNBC on Tuesday night.
Davis refused to say whether Cohen had already spoken to Mueller's team, but told the Today show on Wednesday that Cohen could address "topics relating to hacking and the crime of hacking laid out in the indictments to the 12 Russians" to the special counsel.
He said that Cohen's knowledge about these topics was not part of the plea agreement that Cohen's lawyers reached with the Southern District of New York.
Cohen pleaded guilty in federal court to eight federal charges including campaign finance–related counts, as well as bank- and tax evasion–related charges.
He told the court that he made the $130,000 payment to adult film star Stormy Daniels — who claimed she had an affair with Trump — "in coordination with and at the direction of" a candidate for federal office, to keep the individual from disclosing the information, and for the "principal purpose of influencing the election."
He did not name Trump as the candidate in court, but Davis told NBC's Savannah Guthrie that Cohen admitted under oath that "the president of the United States directed him to commit a crime, meaning the president committed the crime, and covered it up because he didn't sign the check to keep quiet the affairs with the two women."
According to Davis, Trump's own lawyers wrote a letter to the special counsel that apparently said that Trump "directed Michael Cohen" to make the payments to "hush up" Daniels and former Playboy model Karen McDougal, who has also claimed she had an affair with Trump.
Davis also said that Cohen is not hoping for a pardon from Trump and that he would not accept one either.
"He considers a pardon from somebody who has acted so corruptly as president to be something he would never accept," Davis said.
Cohen — who once said he would take a bullet for Trump — had "an evolution in his loyalty" to things that he once said and did which he now regrets, Davis told CNN on Wednesday.
According to Davis, Cohen "gradually" began to change his mind about Trump's suitability to be president after the election.
Davis said that Cohen questioned the president's loyalty to his country following Trump's summit with Russian President Vladimir Putin in Helsinki last month. During that summit, Trump said that he had no reason to believe Russia interfered in the election, but later revised the statement, saying he made a grammatical mistake.
"After Helsinki, [Cohen] worried about the future of our country with somebody who was aligning himself with Mr. Putin in denying what his entire intelligence community, his own appointees have said is an indisputable fact that Putin interfered with our presidential election on behalf of Donald Trump, and he still denies that," Davis told Guthrie.
"That's the kind of thing that caused Michael Cohen to change his mind and decide to dedicate himself to telling the truth to the American people," Davis said.

Davis has started a fundraising campaign — the Michael Cohen Truth Fund — to pay for Cohen's legal fees to help him and his family "as he goes forward on his journey to tell the truth about Donald Trump."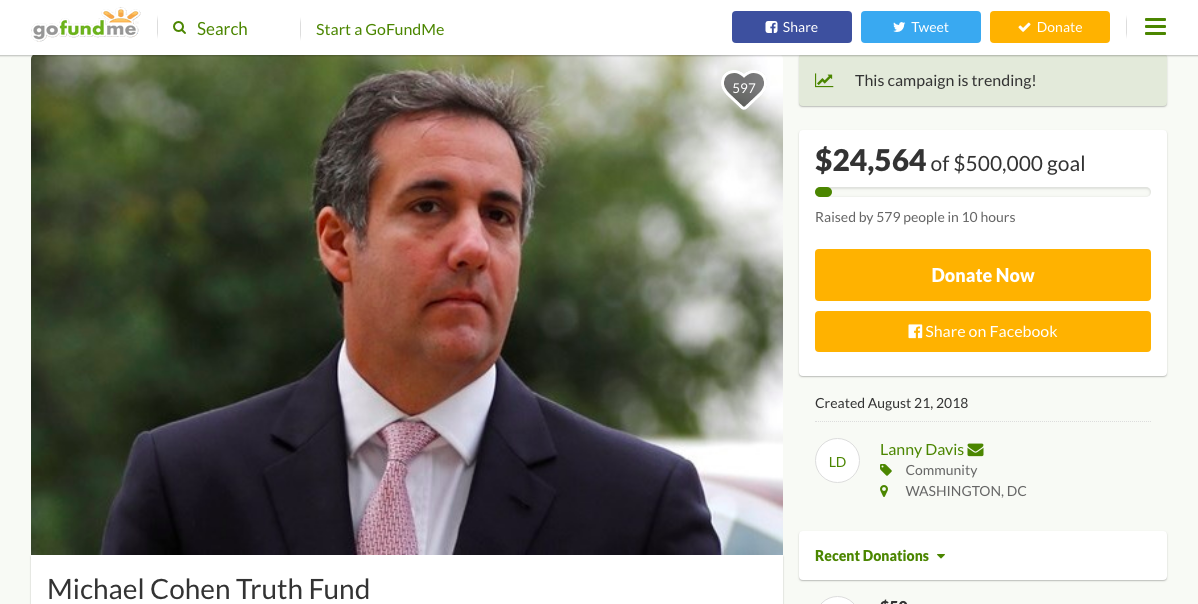 Urging people to send donations to the campaign, Davis wrote that Cohen "declared his independence from Donald Trump and his commitment to tell the truth" on July 2.
The campaign raised more than $30,000 of its $500,000 goal in less than a day.
When asked if there were other tape recordings besides the one Davis released of Cohen and Trump discussing how to pay for the rights to McDougal's story about an affair with Trump, Davis said, "I don't know. I can't answer that question yet. We'll just have to see what happens on other recordings."