Workplace arrests have soared as the Trump administration steps up immigration enforcement
According to new statistics released by Immigration and Customs Enforcement, there have been huge increases in both the number of people arrested at their jobs and the number of requests authorities have made to companies to prove that their workers are in the country legally.
The figures are staggering. Compared with last year, ICE has made more than five times as many immigration arrests at workplaces this fiscal year, which began in October — from 172 last year to 984 so far this year.
ICE has also conducted more than 5,000 so-called I-9 audits at companies across the country. In those audits, agents demand that employers produce the forms that show workers have authorization to work in the US.
For reference, the previous year ICE initiated 1,360 such audits.
Departing Facebook security chief's memo: "We need to be willing to pick sides"
Let's take you back to March, when Alex Stamos, Facebook's top-ranking security official, announced his plan to leave the company. Our reporters have confirmed what Stamos told his colleagues before his departure.
In his farewell note, he implored Facebook employees to take responsibility for the social network's failings amid the fallout of the most notable privacy scandal in the company's 14-year history.
The reflective, brutally honest note attributed Facebook's problems to "tens of thousands of small decisions made over the last decade."
Stamos wrote that Facebook needs "to intentionally not collect data where possible, and to keep it only as long as we are using it to serve people." He was direct: "We need to be willing to pick sides when there are clear moral or humanitarian issues."
The note is a fascinating look at the internal debate currently taking place over the company's future direction and the growth-at-any-cost attitude that has driven it for years.
Demi Lovato is "awake and with her family" after being hospitalized in Los Angeles
The singer was taken to the hospital yesterday. Her representatives later issued a statement saying, "Demi is awake and with her family, who want to express thanks to everyone for the love, prayers, and support."
Lovato, 25, has been public about her addiction to drugs and alcohol. In March, the artist celebrated six years of sobriety. However, in a single released last month, titled "Sober," Lovato said she had relapsed.
"To the ones who never left me / We've been down this road before / I'm so sorry, I'm not sober anymore," sang Lovato.
Her family noted that some initial reports on the circumstances of Lovato's hospitalization were incorrect, and they asked the public not to speculate.
Fans of Lovato have their prayers up for a quick recovery. Meanwhile, celebrities are offering an outpouring of support for the singer — from Ariana Grande to Wale to Kat Dennings and so many more. Here's a sample: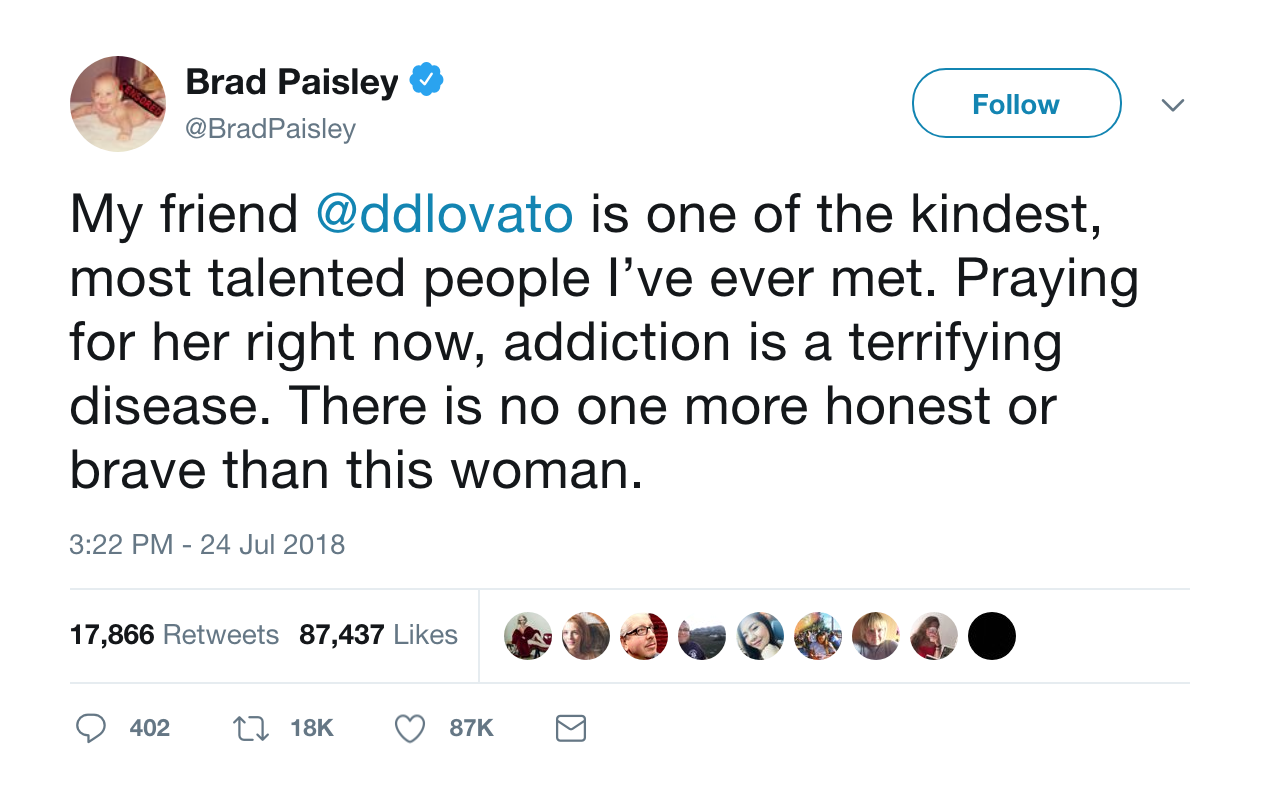 SNAPSHOTS
We are tracking all the rumors and hoaxes about the Toronto shooting. While investigators have yet to release more details on the 29-year-old shooter in the rampage that left two dead and 13 injured, false and unverified information has been making the rounds. We break it all down here.
Ivanka Trump is closing her fashion brand. Trump said she would be shutting down her namesake company, more than a year after she stepped down from a management role to act as a senior White House adviser to her father. At the time, sales initially increased, though the company also drew boycotts in protest of the Trump administration's policies.
Bill Cosby could be classified as a sexual predator before he is sentenced. The Pennsylvania Sexual Offenders Assessment Board recommended that Cosby be given the classification ahead of his sentencing hearing in September. The Montgomery County district attorney is asking a judge to make a decision on the recommendation after the 81-year-old comedian was convicted for drugging and raping Andrea Constand at his Pennsylvania home in 2004.
President Trump told supporters not to trust what they see or read, and people are wondering if George Orwell wrote the speech. Speaking at the Veterans of Foreign Wars National Convention, Trump told the audience that the US is "doing better than it's ever done before" when it comes to the economy, and added, "Just remember: What you're seeing and what you're reading is not what's happening." Twitter did not mince words when reacting: "This is some straight-up 1984 shit."
At the same event, a bunch of veterans joined Trump in booing the media, and the VFW is not happy. Trump galvanized a group of veterans to heckle journalists, suddenly pausing in his speech to point to reporters and say, "Don't believe the crap you see from these people — the fake news." After the president's speech, the VFW took to Twitter to publicly push back against Trump's remarks and stood up for the outlets he consistently undercuts, including CNN and NBC.
Elsewhere, Jeff Sessions joined in a "lock her up" chant in front of high school students. Sessions, the country's top law enforcement official, joined in the calls for the imprisonment of Hillary Clinton. This was as he spoke at a conservative high school leadership summit in Washington, DC.
A bunch of Goldfish crackers were just recalled due to potential salmonella contamination. Check your cupboards because Pepperidge Farm is recalling four varieties of the crackers. The potential problem is an ingredient called whey powder, which is used to season these varieties. This is the same ingredient that caused a recall of 16 different types of Ritz sandwich crackers a few days ago. No snack is sacred.
A naked man who was arrested at Planet Fitness told police he thought the gym was a "judgment-free zone." A Planet Fitness spokesperson said the man "clearly" took the gym's motto "a little too far."
The amazing gospel choir that sang at Prince Harry and Meghan Markle's wedding just got a record deal. I am here for it.
Porn stars are now making content just for you — for a price
It's Sex Week at BuzzFeed News, and we're publishing a series of essays on sex.
Yesterday, we published a fascinating piece from Blake Montgomery about how the porn industry has shifted to cater to specific, individualized interests.
The change in the industry is huge. Montgomery calls it "a recent reengineering" of the business model, happening "through direct communication with fans." Personalizing porn "has allowed performers to make money outside a studio system that favors the newest or most famous stars," Montgomery writes.
For performers, it's a no-brainer: If a video is being requested by a customer directly, it's less likely to be uploaded and viewed for free elsewhere.
How personalizable is this material, exactly? One performer we spoke to said she received requests for videos of her burning a collection of a thousand stamps while masturbating or counting to four over and over again for five minutes while talking faster and faster.
She is selling 15 to 20 custom videos per month, and they account for about half her income. The videos run from 10 minutes to two hours and cost clients anywhere from hundreds to thousands of dollars apiece.
This woman offered to be a stand-in mom at same-sex weddings, and people love it
Sarah Cunningham from Oklahoma works at an architecture firm. She's a mother of two. She's also an ordained minister and an LGBTQ+ advocate, and told us that having a gay son has directed her activism.
Since 2016, Cunningham has married people all over Oklahoma, including lots of LGBT couples. Last week, she shared a Facebook post volunteering to attend the weddings of any same-sex couples who don't have support from their parents.
People are absolutely in love with Cunningham's post. She said she wrote it after hearing from many same-sex couples whose "parents refuse to attend their wedding, or even acknowledge their relationships."
It's even inspired moms across the US to do the same.