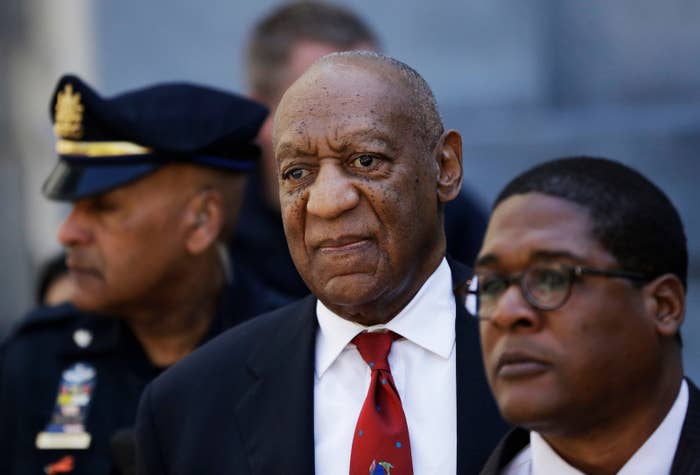 Bill Cosby should be classified as a sexually violent predator ahead of his sentencing hearing for rape in September, the Pennsylvania Sexual Offenders Assessment Board recommended Tuesday.
The Montgomery County district attorney is asking a judge to make a decision on the recommendation as the 81-year-old comedian prepares to be sentenced for his conviction in April for drugging and raping Andrea Constand at his Pennsylvania home in 2004.
Cosby's spokesperson, Andrew Wyatt, responded to the request, saying only, "We will see them in court."

Cosby faces the possibility of spending the rest of his life behind bars if he is given the maximum sentence of 30 years on Sept. 24.
The board's evaluation report is not public, however, predator designation would require lifetime registration with the Pennsylvania State Police, lifetime sex offender counseling, and community notification if he's ever released.
Cosby has remained under house arrest pending his sentencing.
Lisa Bloom, who represented multiple women who testified that they had been sexually assaulted by Cosby, including Janice Dickinson, told BuzzFeed News they "could not be more grateful" to prosecutors, and said classifying the comedian as a sexual predator would be a "long overdue classification."
Attorney Joe Cammarata, who is representing seven women suing Cosby for defamation, told BuzzFeed News he was not surprised by the board's recommendation.
"In light of the over 60 allegations of sexual abuse and assault by Mr. Cosby of young women that he nurtured and had relationships with, it is not unexpected that the board recommend that he be found a sexually violent predator and that the district attorney would seek that the court make such a determination," he said.
The jury for Cosby's first rape trial was unable to reach a verdict last year; however, for his retrial, the jury of seven men and five women voted after about 14 hours of deliberation to convict on three counts of sexual assault after prosecutors were allowed to call five additional accusers to the stand.