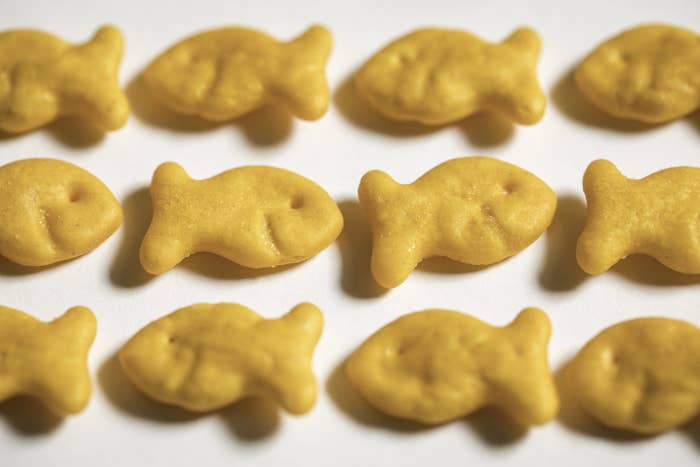 Check your cupboards because four varieties of Pepperidge Farm's Goldfish crackers have been recalled due to a potential salmonella contamination.
The company said this week that the flavors are being recalled voluntarily "out of an abundance of caution," and that no one has gotten sick from eating them. The recalled crackers include:
Flavor Blasted Xtra Cheddar

Flavor Blasted Sour Cream & Onion

Goldfish Baked with Whole Grain Xtra Cheddar

Goldfish Mix Xtra Cheddar + Pretzel

The potential problem is an ingredient called whey powder, which is used to season these flavors. The same ingredient sparked a recall of 16 different kinds of Ritz sandwich crackers.
Although there have been no reported illnesses, salmonella certainly wouldn't make for a snack that smiles back. Salmonella is a type of bacteria that can cause severe diarrhea, fever, and abdominal cramps. Although it usually resolves on its own without treatment, it can be potentially life-threatening in some vulnerable people, including those with weakened immune systems.

Salmonella is among the more common causes of food poisoning and is estimated to cause 1.2 million illnesses, 23,000 hospitalizations, and 450 deaths in the United States every year, according to the Centers for Disease Control and Prevention.

The Goldfish snack recall includes 18 different packaging sizes and products. There's a full list of the recalled products on the company's website.
"Consumers who have purchased these products should not eat them," according to Pepperidge Farm. "Recalled product should be discarded or may be returned to the place of purchase for a full refund."