Celebrities from across the entertainment industry are posting messages of support for singer Demi Lovato, who was taken to a Los Angeles hospital on Tuesday.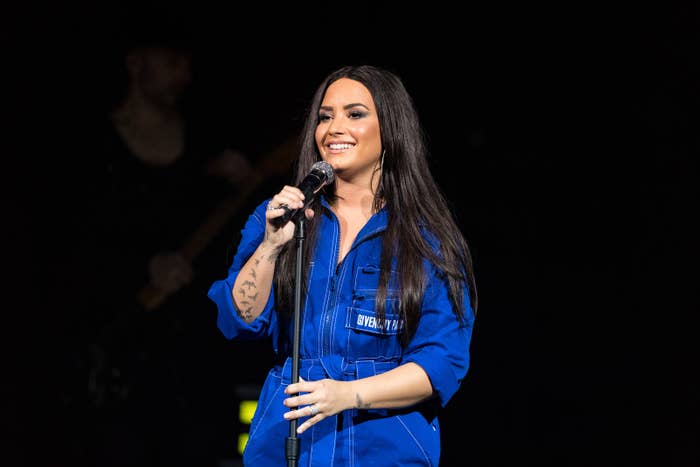 Hours after the news broke, a representative for the singer's family said in a statement BuzzFeed News that Lovato was "awake and with her family who want to express thanks to everyone for the love, prayers and support."
"Some of the information being reported is incorrect and they respectfully ask for privacy and not speculation as her health and recovery is the most important thing right now," the statement added.
Lovato has been public about her drug and alcohol use in the past. And her health scare comes one month after she revealed in her song "Sober" that she had relapsed, just three months after celebrating six years of sobriety.
"To the ones who never left me / We've been down this road before / I'm so sorry, I'm not sober anymore," Lovato sang.
Singer Ariana Grande was one of the first to post a message on Twitter after the news broke.
The Jonas Brothers, Lovato's longtime friends and former Disney Channel costars, all posted messages of support.
"We should all wrap our arms of love around Demi Lovato," wrote Lady Gaga.
"There is no one more honest or brave than this woman," tweeted country singer Brad Paisley, who collaborated on a song with Lovato in 2016.
Ellen DeGeneres tweeted: "It breaks my heart that she is going through this. She is a light in this world, and I am sending my love to her and her family."
Singer Kehlani — a friend of Lovato's who went on tour with the singer this year — also reached out with words of support.
"Sending you so much love," wrote fellow former Disney Channel star Ashley Tisdale.
Ryan Seacrest posted that Lovato is "a light and inspiration to many."
Television personality Dr. Phil, who interviewed Lovato about her sobriety in March, sent the singer "love and strength."
Filmmaker Ava DuVernay, who worked with the singer on the soundtrack for A Wrinkle In Time, tweeted that her heart is with Lovato.
"You are a force to be reckoned with and stronger than you think," wrote singer Dua Lipa.
"Battling an addiction is already hard enough, we can't imagine waging a war against one in public," wrote singers Tegan and Sara, who sent love and strength to Lovato.