Want to get this in your inbox? Sign up right here.
Protesters attacked the Arc de Triomphe in the third consecutive weekend of riots in Paris
Unrest is growing in France in the face of rising fuel prices, the high cost of living, and French President Emmanuel Macron's economic policies. As a result, protesters took to the streets for the third straight weekend.
Police in Paris targeted rioters along the Champs-Élysées with tear gas and water cannons, effectively turning the city's most famous avenue into a battle zone. Tear gas was also used at the Tuileries Garden and near the Louvre.
As of Sunday morning, 300 people had been arrested in Paris alone this weekend, according to police, and 37,000 law enforcement officers have been deployed around the country.
The photos are intense: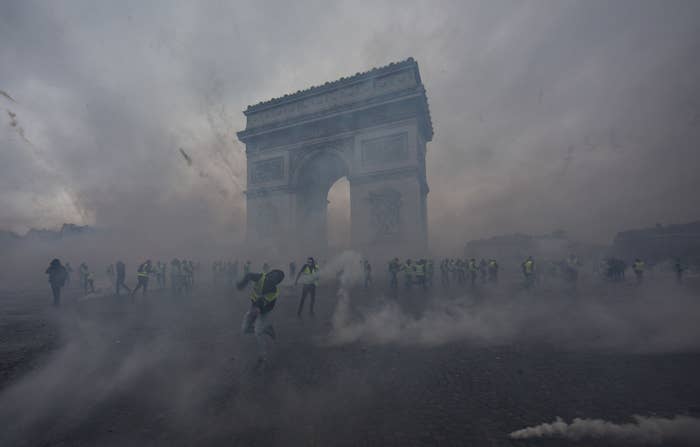 Facing a months-long wait to apply for asylum, these members of the caravan went searching for another way in
About 30 members of the Central American migrant caravan believe they have a good asylum claim, but can't wait months for US border authorities to let them ask for refuge.
They're doing what uncounted others have done before them: looking for a way to skirt the wait to get into the US.
As the US asylum system is overwhelmed by the sheer number of applicants, our reporter Adolfo Flores is following the group as they try to slip by Border Patrol agents at night.
Former president George H.W. Bush has died
George Herbert Walker Bush, the 41st president of the United States, died on the evening of Friday, Nov. 30. He was 94 years old.
Bush famously promised a "kinder and gentler nation" as the US emerged from the Cold War, and his presidency was marked by foreign interventions in the Persian Gulf, Panama, and Somalia. Read his obituary here.
Here's our editor-in-chief Ben Smith on why he was every Democrat's favorite Republican.
Many memorialized Bush by sharing his letter to incoming president Bill Clinton: "Your success now is our country's success. I am rooting hard for you."
Lastly, a photo of Bush's service dog saying goodbye is breaking a lot of hearts.
SNAPSHOTS
World leaders are gathering to save us from climate change. It's not going well. Expectations are lackluster at COP24, the year's most important climate meeting, which just started in Poland's coal country and is sponsored by coal companies.
Neil deGrasse Tyson has denied allegations of rape and apologized to three women accusing him of sexual misconduct. The astrophysicist and Cosmos host challenged a woman's claim that he raped her in graduate school.
Police say a woman was fatally shot by her boyfriend's ex-wife while decorating for Christmas. Lisa Williams, 26, was at her boyfriend's apartment with his 3-year-old twins when Chelsea Watrous Cook, 32, allegedly came to bring cold medicine to one of her children and was asked to leave.
A major earthquake struck Alaska's biggest city, damaging highways and buildings. The 7.0 magnitude quake rocked Anchorage Friday morning, cracking buildings and roadways and sending residents running for cover. Remarkably, there were no reports of significant injuries or deaths.
A North Dakota man pleaded guilty to trying to flip Trump's limo with a forklift. Gregory Lee Leingang, 42, stole a forklift during a presidential visit and drove it onto Trump's motorcade route. Court documents say Leingang attempted to use the forklift as a "deadly and dangerous weapon."
An Arkansas high school newspaper was suspended for publishing an investigation into football players' transfers. The Har-Ber Herald's report questioned the legitimacy of the school district's approval of the transfers. In response, the district suspended the paper and threatened to fire the teacher who advises it.
Ariana Grande dropped the video for "Thank U, Next" and it was an event. I mean, you've seen the epic video by now. So you should also know that it set a new YouTube record. Congratulations, now you're an Arianator too.
She thought she was in bed with her boyfriend. Until she saw his face.
Abigail Finney was asleep in her boyfriend's bed when she felt him. That night, with her back to him, she woke up to him trying to initiate sex. She went along with it.
It didn't last long — she stopped it and went to use the bathroom. It was only then that she saw who was in the bed. It wasn't her boyfriend. It was Grant, one of her boyfriend's buddies.
Confused, she tried to process what just happened. "I was like, 'I feel violated. This feels wrong. But I don't know if it's illegal.'"
Turns out, under her state's law, what Grant did was not technically illegal: In Indiana, sex only becomes rape when it's compelled through force or threats, if the victim is mentally disabled and can't properly consent, or if he or she is unaware that the sex is occurring.
Abigail's case has seen activists and lawmakers push to criminalize rape by fraud. It's a process that will also cause us to interrogate the very nature of sex. Read David Mack's excellent report on this.
An AI robot on the International Space Station threw a tantrum in its first online video
The robot's name is Cimon. It is a plastic sphere with a face on a screen, and it's currently being tested on the ISS for a range of tasks.
In the video, Cimon is initially quite polite and helpful. Then German astronaut Alexander Gerst asks the robot to play music, which goes great. Technology is so cool!
Then Gerst asks Cimon to turn off the music, and well, Cimon is just not having it.
The bad news is our future overlords are emotionally fragile. The good news is they want to dance.