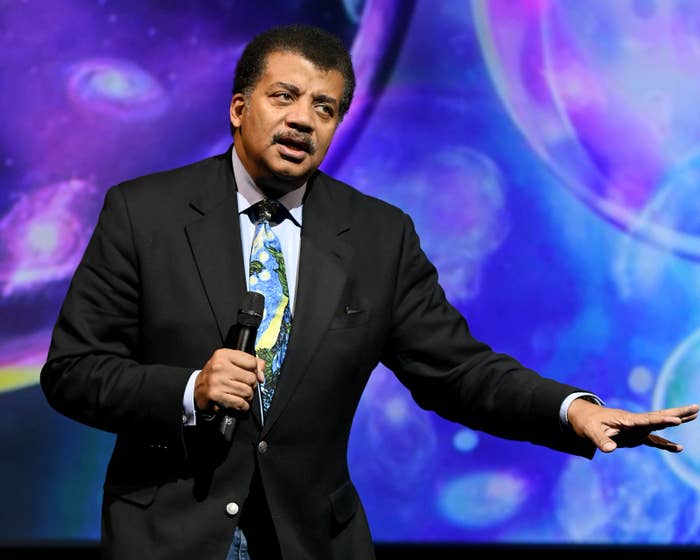 Astrophysicist and Cosmos host Neil deGrasse Tyson denied a woman's claim that he raped her in graduate school and apologized for other behavior Saturday after three women came forward with allegations of sexual misconduct.
In a post on Facebook, Tyson gave his account of the interactions with the women, saying that in his view he is "a friendly and accessible guy," but acknowledged that he "can surely be more sensitive to people's personal space."
"These accusations have received a fair amount of press in the past forty-eight hours, unaccompanied by my reactions," Tyson wrote. "I declined comment on the grounds that serious accusations should not be adjudicated in the press. But clearly I cannot continue to stay silent."

Tchiya Amet, a woman who attended graduate school at the University of Texas, Austin, with Tyson, has accused him of drugging and raping her at his apartment in the 1980s, when the two were students.

Amet's story, which she blogged about in 2014, recently received renewed attention from religion blog Patheos in light of the #MeToo movement. Writer David McAfee published an interview with Amet earlier this month, prompting two other women to come forward with stories of other alleged misconduct.
In his Facebook post, Tyson denied Amet's allegations, saying, "It is as though a false memory had been implanted, which, because it never actually happened, had to be remembered as an evening she doesn't remember."

One of the women said Tyson grabbed her and reached into her dress to see a tattoo that spanned her collarbone, back, and shoulder at an event in 2009. The third woman, who worked as Tyson's assistant this past summer, said she quit after several instances of sexual harassment, including a sexual advance and sexual comments.
With regard to the 2009 encounter, Tyson said he only recently learned that the woman thought his behavior was "creepy."
"That was never my intent and I'm deeply sorry to have made her feel that way," he wrote.
He added that he "apologized profusely" to his assistant when she addressed his behavior over summer 2018, adding that his intent "was to express restrained but genuine affection," when he "clumsily declared, 'If I hug you I might just want more.'"
Fox Broadcasting Company and National Geographic, both of which air his documentary series, are investigating the allegations against Tyson, who welcomed the probe.
"Accusations can damage a reputation and a marriage. Sometimes irreversibly," Tyson wrote. "I see myself as [a] loving husband and as a public servant — a scientist and educator who serves at the will of the public. I am grateful for the support I've received from those who continue to respect and value me and my work."