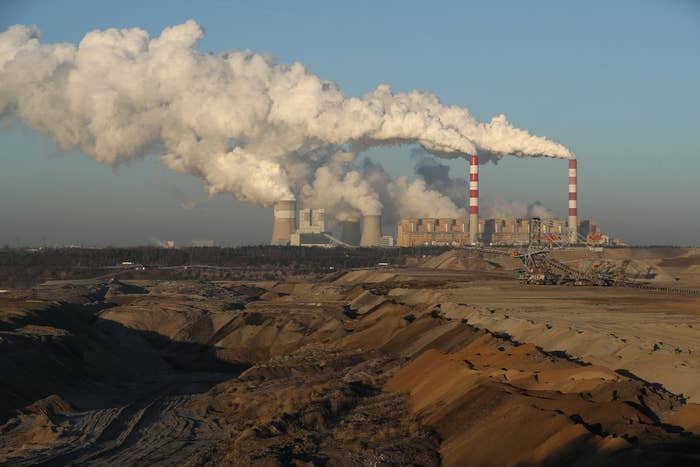 World leaders are gathering now in Katowice, Poland, to discuss the fate of the world.
Following back-to-back-to-back dire warnings from scientists to more quickly respond to the looming climate crisis, experts are calling COP24 the most important climate meeting since 2015, when 195 countries agreed in Paris to tackle the problem.
But it does not bode well that the conference is starting with minimal fanfare, deep in Poland's coal country and sponsored by coal companies, at a time when climate change is not a priority on the global stage. That the attendees' main goal is to finish the rules for putting the Paris agreement in motion — and there's uncertainty this will happen — is also concerning for those want to see new, bold climate commitments.
The runup to the conference has been inauspicious. In response to a sweeping government report on climate change, President Donald Trump said, "I don't believe it." The administration also affirmed its intention to pull out of the climate talks "as soon as it is eligible to do so," according to a State Department statement emailed to BuzzFeed News. The administration sent a team to Poland in a bid to protect US interests.
What's more, after climate skeptic Jair Bolsonaro was elected president in Brazil, the country this week announced it wouldn't host next year's annual climate talks. (Costa Rica has since volunteered to host.) And at the high-profile meeting directly before this one, the G20 summit in Buenos Aires, the climate was given little attention despite its direct link to food security, one of the meeting's stated priorities.
In the declaration that all 20 countries agreed to sign, 19 countries recommitted to the goals of the Paris agreement. But the US, in a separate paragraph, noted President Trump's decision to withdraw from the pact, and the country's "strong commitment to economic growth and energy access and security, utilizing all energy sources and technologies, while protecting the environment."
And although an earlier version of the document, seen by BuzzFeed News, included the line "We recognize the importance of climate change, energy security, and economic growth," that sentence does not appear in the final version. Climate change is only mentioned once, something signatories to the Paris agreement — that is, not the US — will "tackle," although the text does say all countries supported actions to help vulnerable countries battle extreme weather, discussed greenhouse gas emissions, and noted the upcoming climate conference.
"The global political environment is really challenging right now, with nationalism taking hold in many countries," and others focused on internal affairs, Samantha Gross, a fellow in the Cross-Brookings Initiative on Energy and Climate, said during a Nov. 30 press call. The UK, for example, is centered on Brexit negotiations, Mexico's new president takes office this weekend, and the US is backing away from its prior climate commitments.
"It's everything we can do to have the US play any sort of constructive role at all," Nathaniel Keohane, the senior vice president at the Environmental Defense Fund, told BuzzFeed News. The US held a pro–fossil fuel event at the talks last year, and Reuters reported the US delegation will do it again this year.
"Getting a global agreement among 200 countries is never an easy lift," Gross said. "Even with a bring-your-own-goals structure that is embodied on the Paris agreement, and countries still need to agree on the specifics of the rule book."
Starting Sunday, diplomats, activists, business leaders, and others are convening in Poland for about two weeks for the annual climate talks. In the first week, the negotiations, focused on hammering out the so-called Paris rule book, are run by each country's lower-level, technical staff. It's also when countries will wrap up their first and only trial run, publicly airing their climate goals and what steps they've taken so far before the official accounting launches in 2020.
One possible flashpoint in Poland is money: Who will pay for the poor and most vulnerable countries to prepare and respond to climate change?
Those finance conversations "are made more difficult because the US is not able to lead in the way it did," Jonathan Pershing, the top climate negotiator under former president Barack Obama, told BuzzFeed News. "That's a significant loss."
Not only is the US not going to rally support among other nations to help raise money, but it is reneging on its previous commitments. Under President Obama, the US pledged to give $3 billion to the Green Climate Fund. But only $1 billion was paid out, and Trump has vowed not to give anymore.
"Trillions of dollars will be required for developing countries to strengthen our resilience to climate change, address the loss and damage it causes, and pursue low-emission development pathways," Gebru Endalew, chair of the Least Developed Countries Group negotiating block, told BuzzFeed News in an email. "In Katowice, we need to agree on clear rules that will ensure the predictability and delivery of adequate finance."
Opinions differ about whether the rules will even get finished at the meeting. Todd Stern, another former US climate negotiator under Obama, told reporters he was optimistic. "I think it will get done," Stern said. "I don't think it will be perfect."
Others are less sure. "I think everyone acknowledges [the rules] won't be fully finalized," Alden Meyer, an international climate expert at the Union of Concerned Scientists, told BuzzFeed News.
If countries do not finish the rule book, "that would be the worst outcome," said Pershing. "It would indicate the momentum is slowly at precisely the moment when momentum needs to increase."
One topic that's expected to come up over and over is the bombshell October report by the Intergovernmental Panel on Climate Change that found catastrophic climate change is coming faster than previously expected. In fact, it's already started.
"There is no time to waste," said Endalew. "Countries need to increase their levels of ambition now and implement rapid, far-reaching and unprecedented changes in all aspects of society."
Although there will likely be repeated calls for new, more ambitious climate goals at the Poland talks, a half dozen or so climate experts told BuzzFeed News, there's little expectation that those commitments, especially from the world's largest countries and emitters, will be made anytime soon.
"I don't see any potential here for a big new commitment," Keohane said.