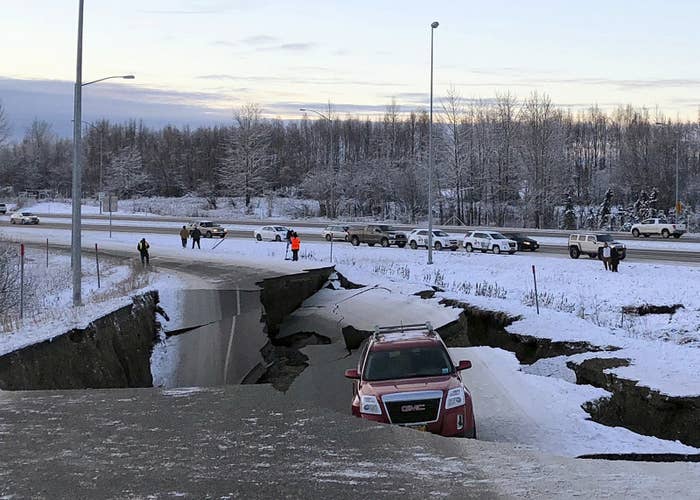 A 7.0 magnitude earthquake rocked Anchorage, Alaska, Friday morning, cracking buildings and roadways and sending residents running for cover in the strongest shaking to strike the city in decades. Remarkably, there were no reports of significant injuries or deaths.
Dramatic images and videos posted to social media appeared to show students huddled in classrooms, gaping holes torn in highways, and buildings wrenched apart following the earthquake that hit at 8:29 a.m. local time.
A tsunami warning was initially issued to residents in coastal southern Alaska, but that warning was later canceled.

Alaska Gov. Bill Walker tweeted that he had been in touch with the White House and that an incident command center was established at Joint Base Elmendorf–Richardson. White House press secretary Sarah Sanders wrote that President Trump had been briefed on the earthquake and was monitoring damage reports.
In an interview with KTVA, Walker said it was a "scary day for Alaskans."

"We have been through earthquakes in the past — this one was different," the governor said. "This was very, very scary damage that we don't fully understand."
While officials described the earthquake as one of the strongest Alaskans have experienced, there were no reports of deaths as of Friday afternoon.
"We have not had the loss of life that other locales would have had in an earthquake of this magnitude," Walker told reporters during a press conference. "Building codes mean something. Inspections mean something."
A ground stop was initially ordered at Ted Stevens Anchorage International Airport due to the quake, but flights had resumed by the afternoon.

There were reports on social media that Alaska's largest cellphone provider, GCI, had suffered an outage after the earthquake. But spokesperson Heather Handyside told BuzzFeed News that while the company was continuing to assess the situation, the "core network, wireless network, and internet and cable TV services are mostly unaffected, except instances related to regionalized power outages."
Images posted on Twitter showed infrastructure across the Anchorage area sustained major damage.
Josh Bierma, a 17-year-old senior at Polaris K–12 School in Anchorage, was walking through the school's parking lot when the ground began to shake.
"Everything, the ground was moving a lot," Bierma told BuzzFeed News. "It was really loud — just like the rumbling was really loud and also there were car alarms [going off], all of the street signs were rattling."
"It's sort of like when you hear a train, except it's way more intense and way deeper — almost like rolling thunder except it's in the ground and not the sky," he added.
After about a minute and a half of that, Bierma went inside to check in with the front office and stood under a doorway through a few aftershocks. He said cracks ran through the floor of the school and throughout the parking lot.
"Everywhere was really dusty. There was tons of debris," Bierma said.
Other photos showed the impact of the quake inside schools and offices.
One video captured two attorneys scrambling to seek cover underneath desks inside a courthouse.
Ice covering a lake cracked open.
And photos from people's homes showed shelves and cabinets spilling over.
Anchorage Police Chief Justin Doll said some parts of a scenic highway that connects the city to the Wrangell–St. Elias National Park and Preserve were "sunken in and completely disappeared." Doll also reported damage to bridges.
Anchorage Fire Chief Jodie Hettrick said there were reports of building collapses but she did not have any additional details. Hettrick added that firefighters responded to three structural fires soon after the earthquake struck but it was too soon to determine if they were related.
Alaska Sen. Dan Sullivan said the damage to the area's infrastructure was "quite significant."
"We're going to have to get building again very, very quickly," he told reporters.
With the exception of one highway going north out of the city, "the highways in and out of Anchorage ... are cut off," he added.
As a result of damage sustained in the earthquake, the Anchorage School District announced that all school facilities would be closed Monday and Tuesday as officials assess the damage.
The Alaska Earthquake Center said it detected around 40 aftershocks in the first few hours after the quake, including three with magnitudes greater than 5.0.
Seismologist Michael West, who directs the Alaska Earthquake Center, said Friday's event was the "most significant" earthquake in Anchorage since 1964, when a magnitude 9.2 quake struck south-central Alaska, causing widespread damage and triggering a major tsunami that killed more than 120 people.
"It's safe to say that — not measured in magnitude or location, but in terms of how strong the ground itself shook during this earthquake," West said on Facebook. "There's quite a bit of damage across Anchorage."

The 1964 earthquake, which is the most powerful recorded earthquake in US history, lasted between four and five minutes. In Friday's event, the center reported 30 seconds of east-west shaking in Friday's quake.
West said Alaska has seen other 7.0 magnitude quakes in recent years, but none of those were centered near a highly populated area like Anchorage, which is home to more than 290,000 people, according to US Census Bureau estimates.

Former governor and Republican vice presidential nominee Sarah Palin also said on Facebook that her family was safe, but their house had been damaged.
Walker, who was inside an elevator when the quake struck, said it felt like it could be "the big one."
"This one was I thought very strong," he said. "This had a bite to it that was not comfortable."