George Herbert Walker Bush, the 41st president of the United States and a member of a central American political dynasty that also sent his eldest son to the Oval Office, died on Friday, Nov. 30. He was 94.
A Bush spokesperson announced that Bush passed away at 10:10 pm, and he is survived by five children and their spouses as well as 17 grandchildren, eight great-grandchildren, and two siblings. His wife of 73 years, Barbara, died April 17 of this year with him by her side.
George W. Bush, the 43rd president and son of the elder Bush, said in a statement that his father was "a man of the highest character and the best dad a son or daughter could ask for."
President Donald Trump and first lady Melania Trump said they "join with a grieving Nation to mourn the loss of former President George H.W. Bush."
"Through his essential authenticity, disarming wit, and unwavering commitment to faith, family, and country, President Bush inspired generations of his fellow Americans to public service — to be, in his words, 'a thousand points of light' illuminating the greatness, hope, and opportunity of America to the world," the Trumps said.
President Trump ordered flags to fly at half-staff over federal buildings. He also declared that Wednesday, Dec. 5, will be a National Day of Mourning.
Former president Bill Clinton and former secretary of state Hillary Clinton said in a statement early Saturday morning: "Few Americans have been — or will ever be — able to match President Bush's record of service to the United States and the joy he took every day from it."

Bill Clinton said: "I am profoundly grateful for every minute I spent with President Bush and will always hold our friendship as one of my life's greatest gifts."
Former president Barack Obama and former first lady Michelle Obama said, "America has lost a patriot and humble servant."
"George H.W. Bush's life is a testament to the notion that public service is a noble, joyous calling," they said, citing his domestic and international achievements.

"It's a legacy of service that may never be matched, even though he'd want all of us to try," the Obamas added.
The son of a Connecticut senator, Bush forged his own distinguished career in public service before he even entered the White House, first as the 43rd vice president and later as president himself. He served as a Navy pilot during World War II, was a two-term congressman, an ambassador to the United Nations, chair of the Republican National Committee, senior US envoy in China, and the director of the Central Intelligence Agency.

Among his many honors, Bush was awarded the presidential medal of freedom, the country's highest civilian honor, at a 2011 ceremony. "His life is a testament that public service is a noble calling," President Barack Obama said of Bush when presenting him with the medal.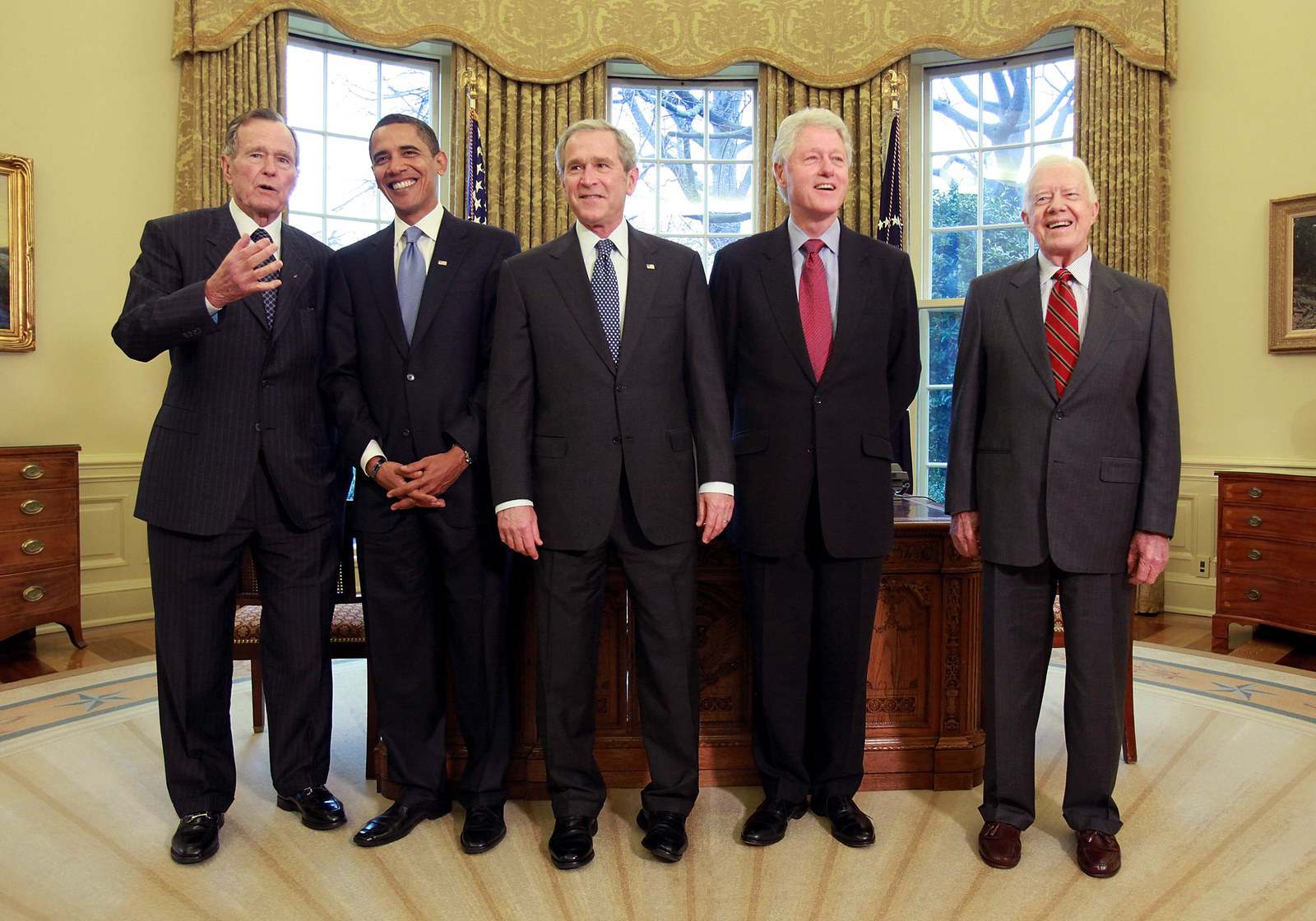 Bush was the more moderate running mate to conservative icon Ronald Reagan, and the pair entered the White House in 1980 by defeating President Jimmy Carter. After Reagan's two terms, Bush became the first vice president to assume the presidency through his own election since Martin Van Buren in 1837.
Bush famously promised a "kinder and gentler nation" as the US emerged from the Cold War, and his time in the Oval Office was marked by foreign interventions in the Persian Gulf, Panama, and Somalia. On the home front, despite his passing of such landmark legislation as the Americans with Disabilities Act and the Clean Air Act amendments, a moribund economy and a broken promise not to raise taxes proved politically fatal, and Bush lost his reelection bid to Bill Clinton in 1992.
His eldest son, George W. Bush, was elected president in 2000 after serving as the governor of Texas, making Bush Sr. and John Adams the only two men in US history to be followed in the White House by their own children. Another son, Jeb Bush, served as Florida governor and made an unsuccessful campaign for president in 2016.
For much of the past two decades, Bush worked alongside other living former presidents on humanitarian projects, including disaster assistance efforts in southeast Asia after the 2004 tsunami and in New Orleans following Hurricane Katrina in 2005. Bush also made headlines in 2017 when he was among a litany of powerful men being accused of past sexual harassment. The former president was forced to apologize for patting "women's rears" during photographs.
In recent years, the longest-living president in US history had grown increasingly frail. He had been suffering from vascular Parkinsonism, a stroke-related illness that mirrors the symptoms of Parkinson's disease, and he was mostly seen using a wheelchair or motorized scooter. Yet he still made appearances at major public events, including a fundraising concert in the aftermath of the 2017 Puerto Rican hurricane, and he famously went skydiving at major birthdays.
In January 2017, Bush and his wife were hospitalized for several days after suffering from pneumonia and bronchitis, respectively. Upon their release from hospital, the pair tossed the coin at the 2017 Super Bowl, where they received a standing ovation. He was by his wife's side when she died, having held her hand all day.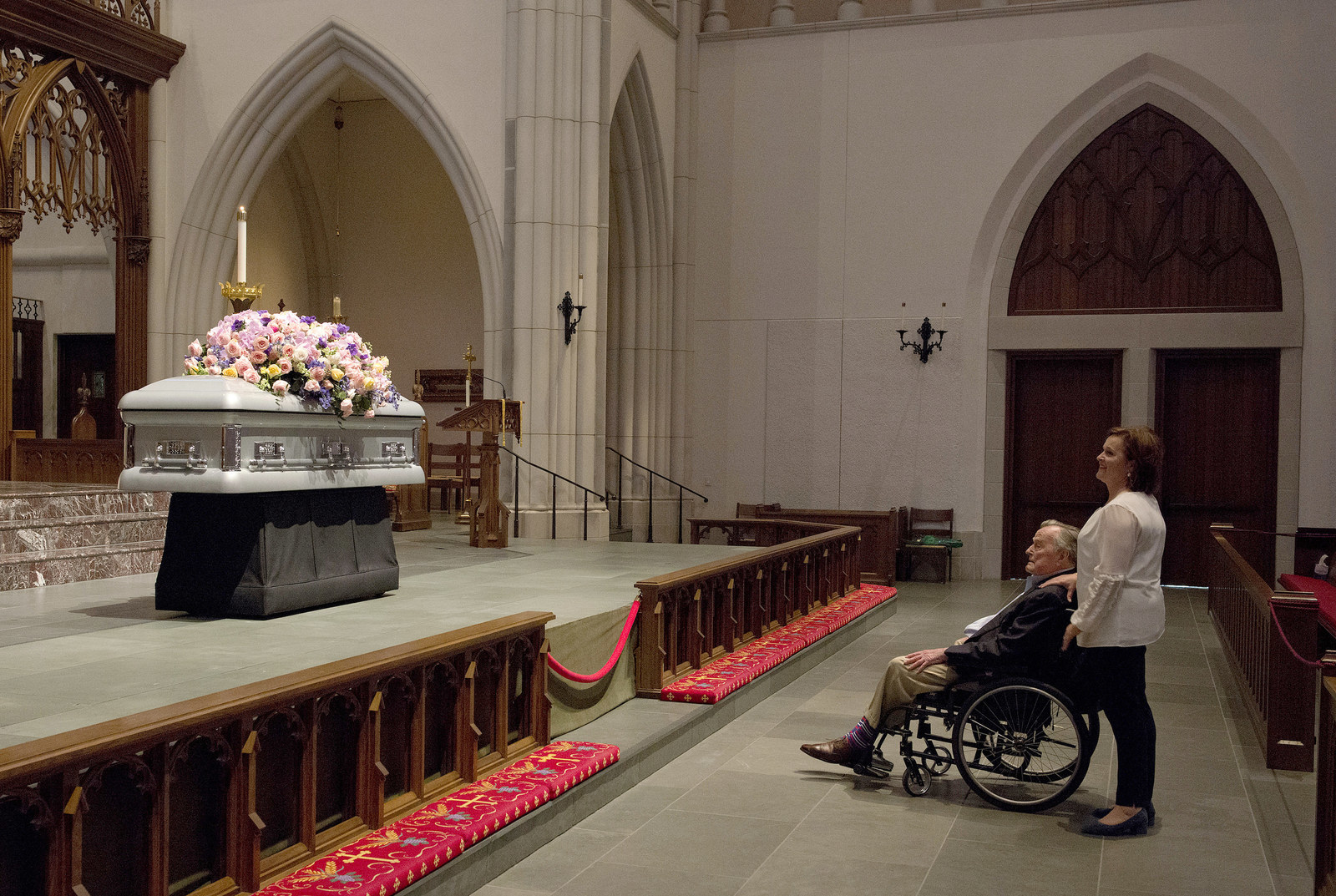 Born June 12, 1924, to a wealthy family in Milton, Massachusetts, Bush was the son of Dorothy Walker Bush and Prescott Bush, an investment banker who later served as a Republican senator from Connecticut.
While attending the elite Phillips Academy in Andover, Massachusetts, he met Barbara Pierce at a 1941 Christmas dance. "I'm really all excited, but scared to death too," Pierce wrote him after he invited her to a senior prom. "If you hear a big noise up there, don't worry, it's just my knees knocking."
With the US at war, Bush enlisted in the Navy on his 18th birthday on June 12, 1942, the same day he graduated from Andover.
While serving in the Pacific as the Navy's youngest pilot — flying an Avenger bomber on which he had inscribed the name "Barbara" — Bush's plane was shot down by the Japanese on Sept. 2, 1944, and he was rescued from the sea by a submarine.
On Jan. 6, 1945, he married Pierce while on leave from the Navy. The pair had six children: George Walker; Pauline Robinson "Robin", who died of leukemia in 1953; John Ellis "Jeb"; Neil; Marvin; and Dorothy "Doro."
The war ended before Bush returned to duty, but he was honorably discharged from service, having flown 58 combat missions and been awarded the Distinguished Flying Cross medal.
After graduating with an economics degree from Yale, where he was a member of the secretive Skull and Bones society, he began working in the oil industry and moved his family to Texas, where he cofounded Zapata Petroleum in 1952.
In 1962, he became chair of the Harris County Republican Committee and mounted an unsuccessful campaign for the US Senate in 1964. Just two years later, he won a seat in the US House of Representatives, where he served on the influential Ways and Means Committee.
He gave up his congressional seat to run for Senate again in 1970, but lost out once more to a conservative Democrat. His consolation prize was being named UN ambassador by President Richard Nixon.
Confirmed by the Senate despite a lack of foreign policy experience, Bush spent his time at the UN developing close ties with global diplomats, before leaving in 1973 to become chair of the Republican National Committee.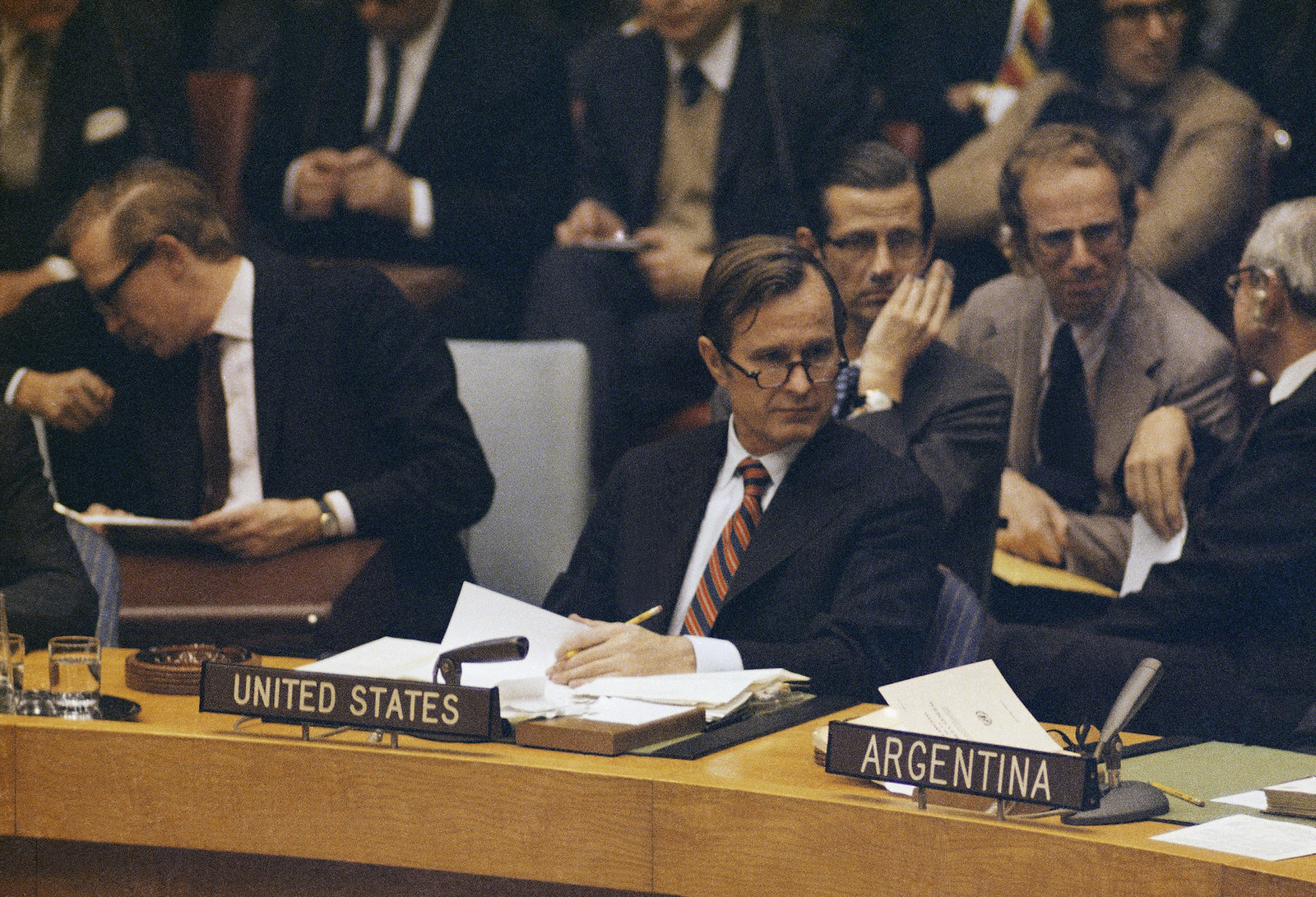 His appointment came at a troubling time for the GOP, which was just beginning to grapple with the Watergate scandal. Just a month after Bush's appointment to the RNC, the Senate established a special committee to investigate the Nixon administration over the 1972 break-in at the Democratic National Committee headquarters.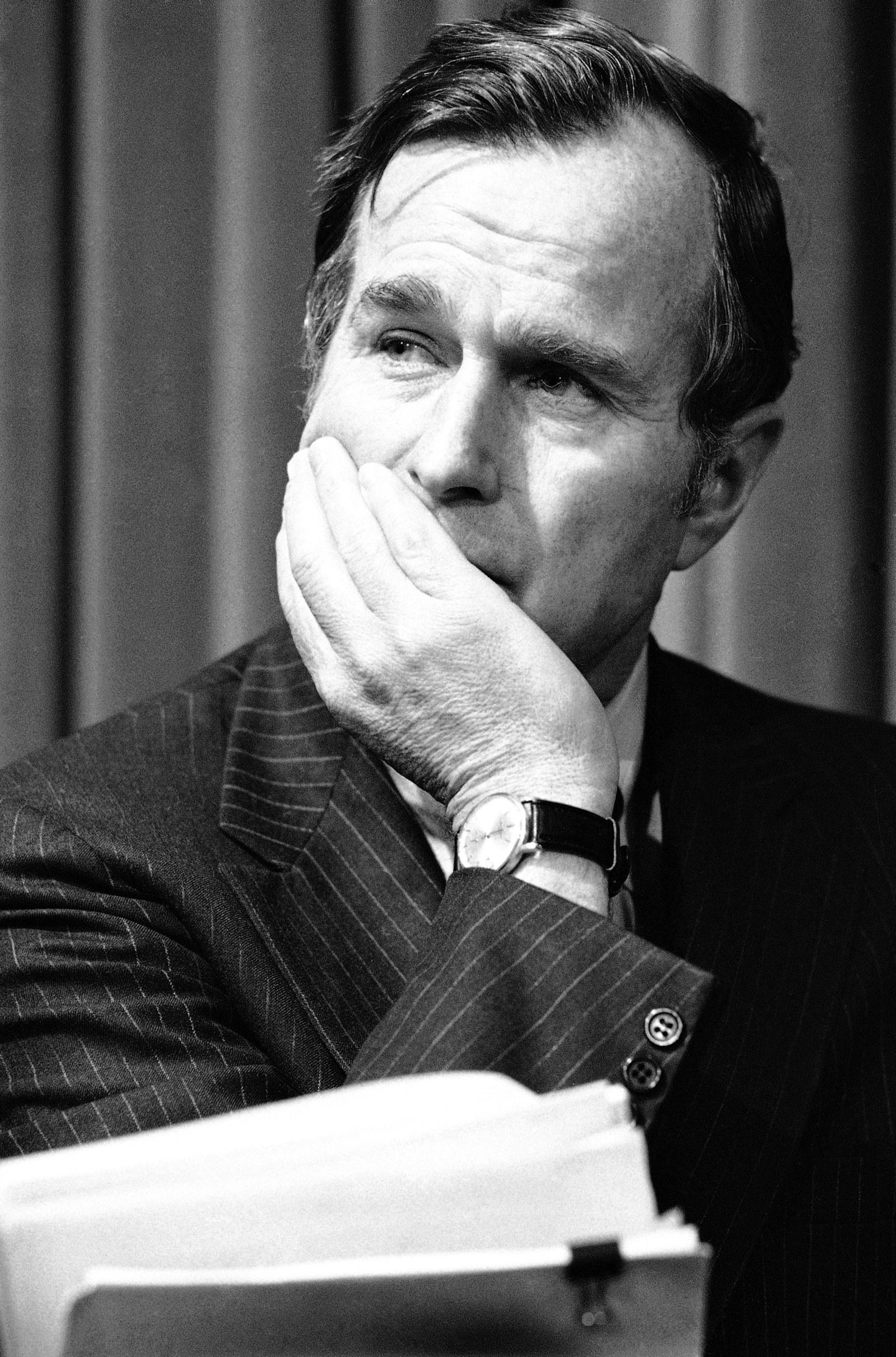 Although initially loyal to Nixon, Bush's allegiance turned upon the release of the infamous White House tapes, on which the president was heard attempting to quash an FBI investigation into the break-in. On Aug. 7, 1974, Bush wrote a letter to Nixon, urging him to resign, which the president did the very next day.
Although he was a top contender to serve as President Gerald Ford's number-two, Bush was passed over in favor of Nelson Rockefeller and was instead offered the ambassadorship of his choosing. Bush was selected to serve as the top US liaison in China, although he was not technically an ambassador there because the two countries did not have formal diplomatic ties at the time.
After two years in Beijing, then called Peking, the family returned to Washington, DC, in 1975 when Ford appointed Bush to be director of the CIA. He served as head of the spy agency until 1977, when Democratic President Jimmy Carter declined his offer to continue as the head of the CIA.
After declaring his intention to run for president, Bush had a surprise victory in the Iowa caucuses over frontrunner and conservative champion Ronald Reagan. However, Reagan coasted to the GOP nomination after his own subsequent victory in New Hampshire.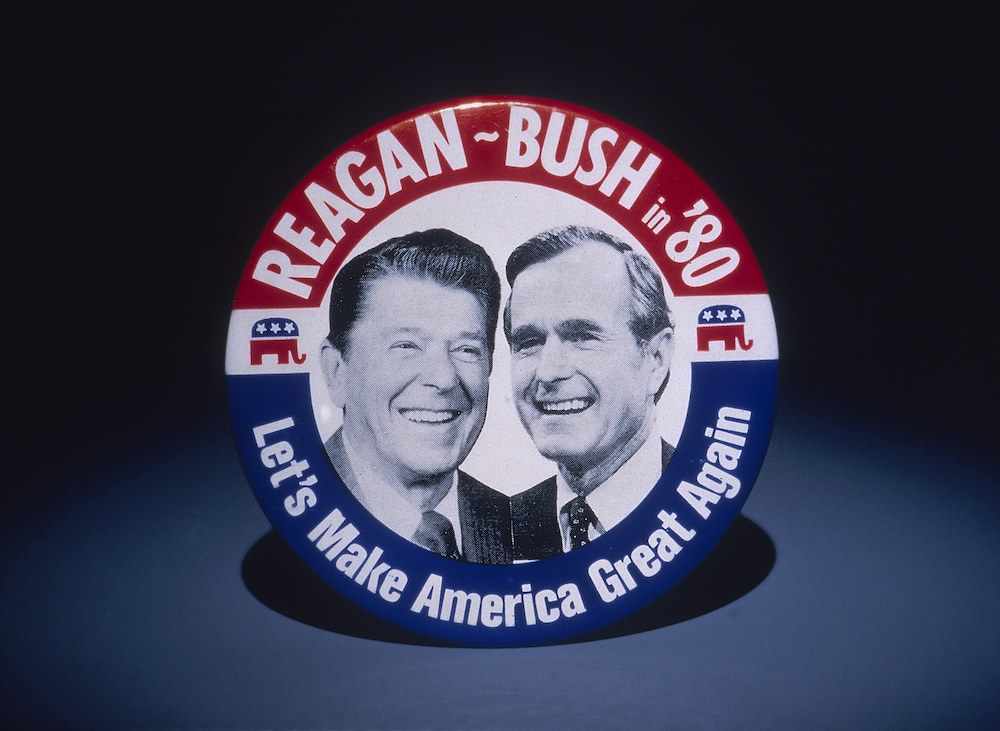 At his hotel room during the July 1980 Republican National Convention in Detroit, Bush received a telephone call from Reagan asking him to serve as his running mate — a more moderate counterpoint to the California governor's brand of conservatism.
Together, the pair devoured the electoral college, winning 44 states compared to the six won by Carter and his vice president, Walter Mondale.
During his time as vice president, Bush traveled to 65 countries, continuing to expand the foreign policy skills he had sharpened at the UN and in China.
He denied any involvement, however, in one of the administration's most notorious international incidents: the 1986 Iran-Contra scandal. Although Bush admitted knowledge of arms sales to Iran, he claimed to be "out of the loop" on the fact that the profits were used to fund Contra rebels fighting Nicaragua's Marxist government.
"As the various investigations proceed," he said in his first remarks on the scandal in December 1986, "I have this to say: Let the chips fall where they may. We want the truth. The president wants it. I want it. And the American people have a fundamental right to it. And if the truth hurts, so be it." The scandal cost a number of senior officials their jobs, but Bush emerged unscathed, despite continuing doubts about the full level of his involvement.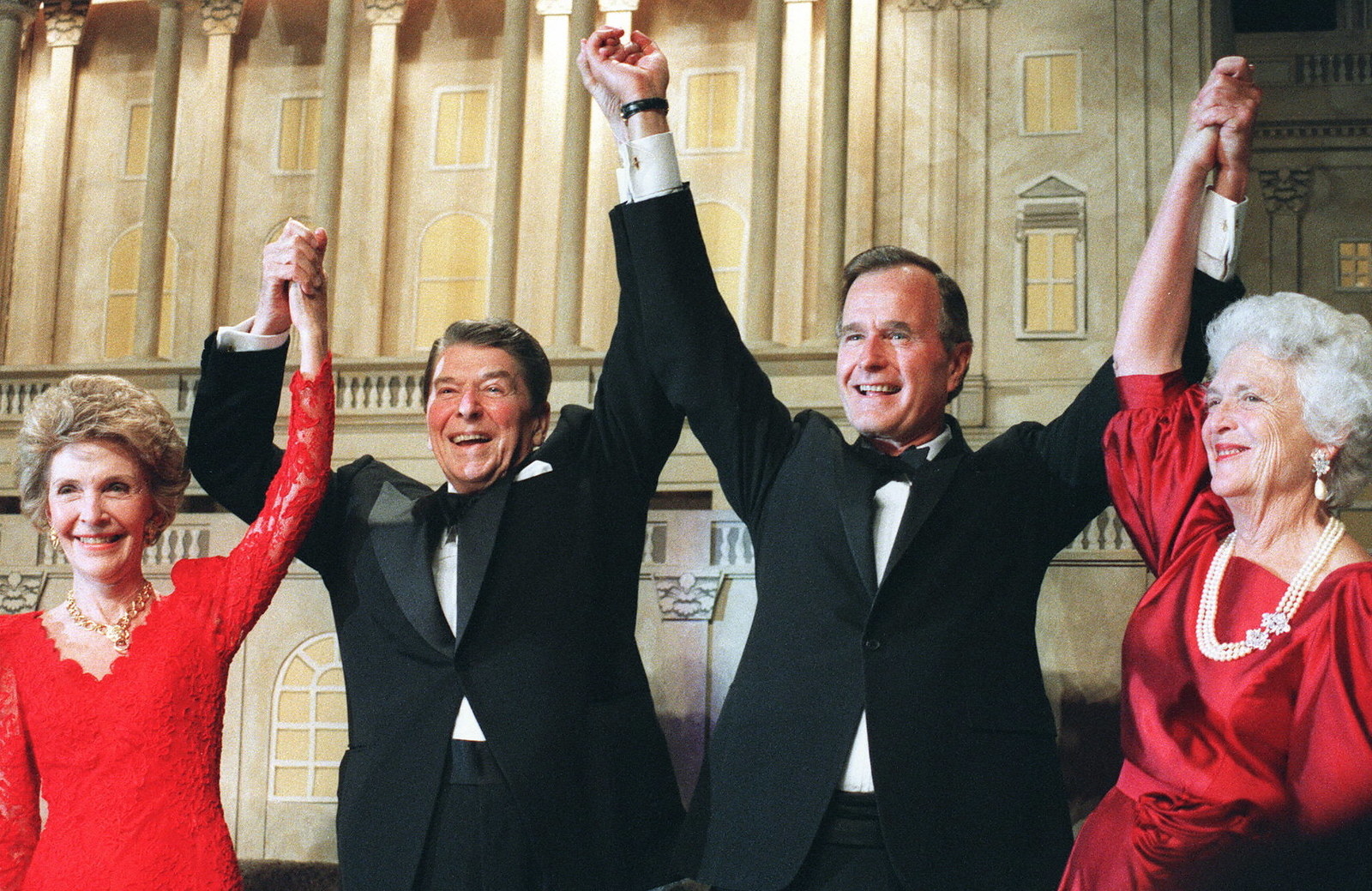 With Bush the logical successor to be the Republican party's next standard-bearer, he secured the GOP nomination in August of 1988, tasked with carrying forward the legacy of the Reagan years. "I may not be the most eloquent, but I learned early that eloquence won't draw oil from the ground," he said in his acceptance speech at the Republican convention in New Orleans that year. "I may sometimes be a little awkward, but there's nothing self-conscious in my love of country. I am a quiet man — but I hear the quiet people others don't. The ones who raise the family, pay the taxes, meet the mortgage. I hear them and I am moved, and their concerns are mine."
Bush's acceptance speech also contained another famous line that would come back to haunt him during his time in the Oval Office: "Read my lips: no new taxes."
With the fresh-faced Indiana Sen. Dan Quayle at Bush's side as his running mate, the pair savaged the Democratic nominee, Massachusetts Gov. Michael Dukakis, as being soft on crime. In particular, they cited Dukakis's state's policy of allowing some inmates to have weekend furloughs from prison, including one felon, Willie Horton, who attacked a couple after escaping while on a furlough. During the election, Horton became a household name, and a Bush ad blasting Dukakis for his "revolving door" prison policy became the benchmark for campaign attacks. Many saw it as a racist dog whistle.
After winning 4o states, Bush was sworn in as president on Jan. 20, 1989, just as the end of the Cold War was in sight.
"America is never wholly herself unless she is engaged in high moral principle," he said at his inauguration at the foot of the US Capitol building. "We as a people have such a purpose today. It is to make kinder the face of the nation and gentler the face of the world."
Indeed, despite successfully passing such major pieces of legislation as the Clean Air Act and the Americans With Disabilities Act, Bush's presidential legacy was largely shaped by foreign affairs.
His first major international test came just months into his presidency, when Chinese authorities opened fire on pro-democracy protesters at Tiananmen Square. Despite congressional demands for harsh and punitive actions against Beijing, Bush feared damaging bilateral relations, and instead choose to impose only limited sanctions and write personally to the Chinese leaders.
By November of Bush's first year in office, the Berlin Wall had come tumbling down, but Bush offered only a limited response. "I'm very pleased," he told confused reporters, explaining he was "not an emotional kind of guy." While his reaction seemed unusual at the time, with Germans dancing in the streets, historians now believe Bush was seeking to avoid provoking a reaction from Soviet hardliners against a gloating US president.
In July 1991, Bush successfully negotiated an arms reduction treaty with the Soviets, but the irreparable cracks had already formed in the once-strong communist empire and Mikhail Gorbachev resigned as premier on Christmas Day.
"It was the steady diplomatic hand of President Bush that made possible an achievement once thought impossible — ending the Cold War without firing a shot," Obama later said.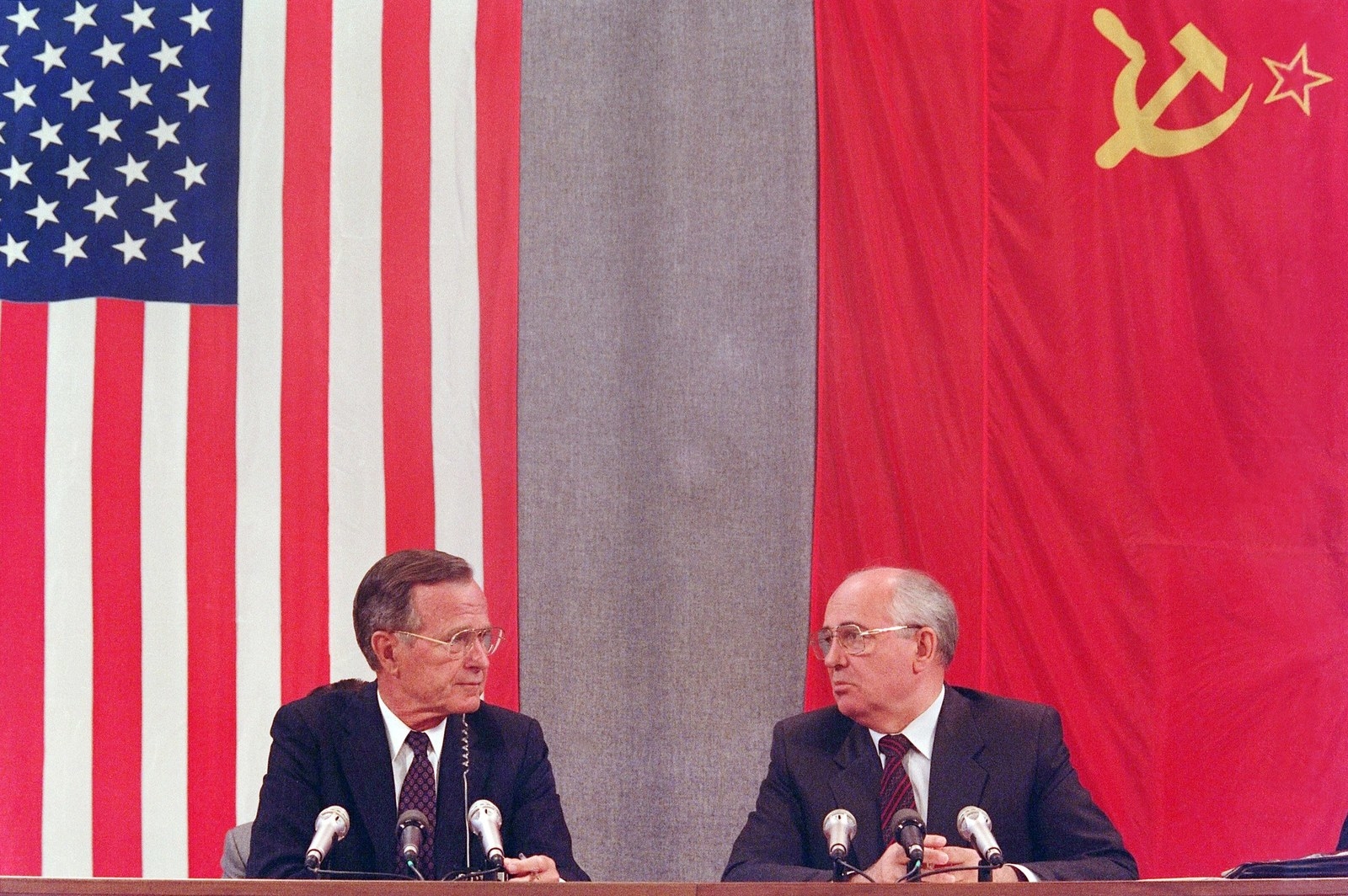 Conflict did ensue, however, following Saddam Hussein's August 1990 invasion of Kuwait. With Iraq condemned by the United Nations and its Arab neighbors, Bush began assembling an international coalition, and when Iraq failed to withdraw, the US president made his move. Armed with a UN resolution authorizing the use of force against Iraq and US congressional approval, Bush launched "Operation Desert Storm" on Jan. 17, 1991.
A ceasefire was declared in less than two months, ending the war. The president triumphantly declared the success of a "new world order" in which an assembly of civilized nations had proved victorious over a rogue state. "It is a victory for the rule of law and for what is right," he proclaimed. However, despite some 148 US soldiers dying in combat in order to liberate Kuwait, Hussein remained in power, living to fight another day — and another Bush.

Bush had been more successful in eliminating another world leader he believed to be a threat to international peace and security: Panamanian dictator Manuel Noriega, who had been indicted in the US on drug trafficking charges. The final straw against the Latin American strongman came when Bush received word that Noriega was behind the killing of a US serviceman and his wife. The president launched an invasion in December 1989, swiftly captured Noriega, and had him tried and convicted in a US court.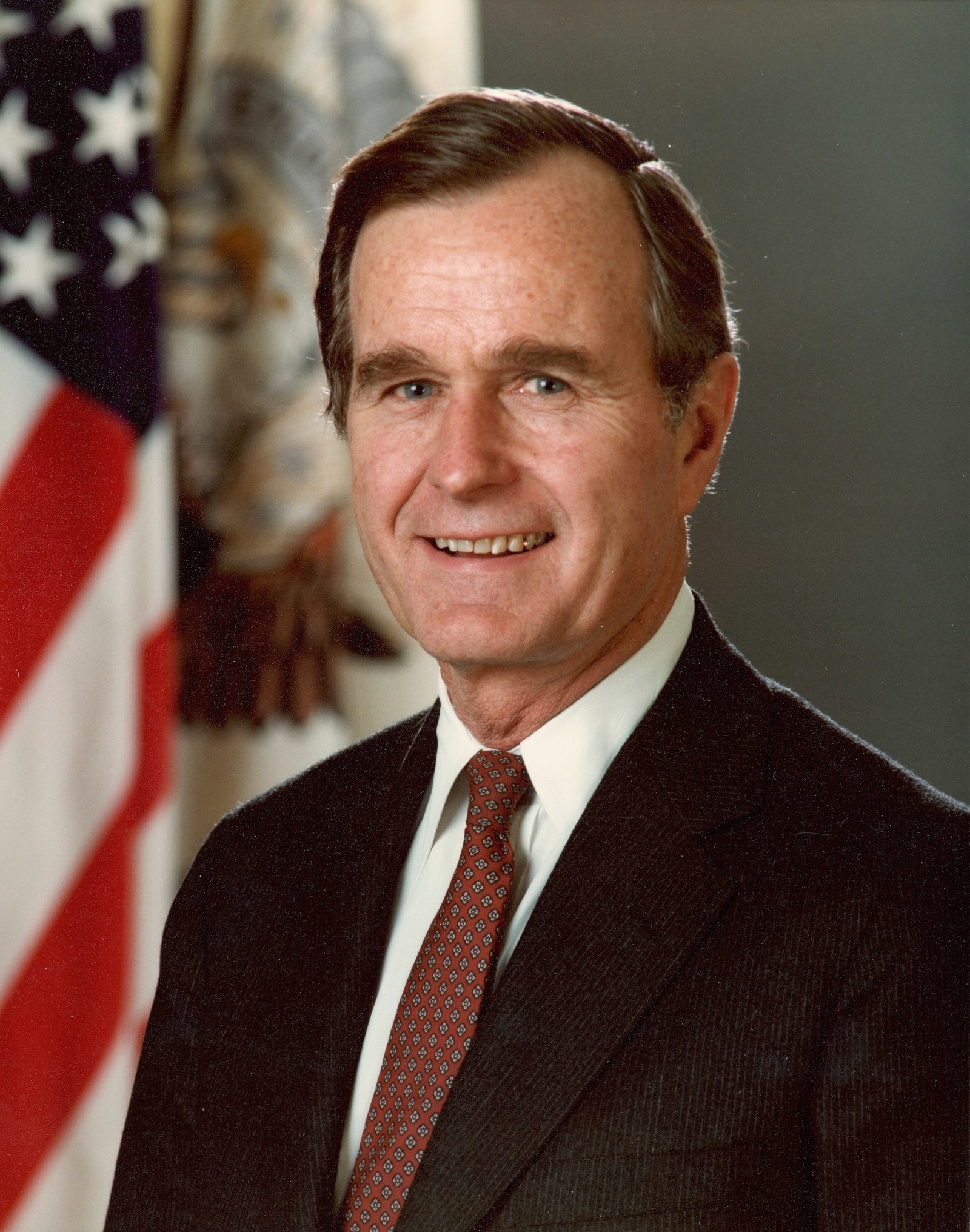 Near the end of his term, Bush also launched military action in Somalia in an effort to address a humanitarian crisis caused by famine and the destruction of civil society there.
In Bush's worldview, the US was morally compelled to intervene. "Some crises in the world cannot be resolved without American involvement," he said at the time. "American action is often necessary as a catalyst for broader involvement of the community of nations." After Bush left office and the conflict still raged on, 18 US servicemen were killed in a battle in 1993 after militia shot down two helicopters over the streets of Mogadishu — events later depicted in the 2001 film Black Hawk Down.
Domestically, Bush was able to successfully appoint two Supreme Court justices, David H. Souter, who replaced William J. Brennan, and Clarence Thomas, who replaced Thurgood Marshall. But a budget crisis and a Congress controlled by Democrats forced Bush to renege on his campaign pledge not to introduce new taxes, alienating conservatives and giving rise to a primary challenge from Pat Buchanan in 1992.

Although Bush again won his party's nomination, a flailing economy, an energetic and youthful Democratic opponent, and an unexpectedly strong third-party run by Ross Perot proved too much for Bush to overcome. In 1992, he was defeated by Arkansas Gov. Bill Clinton.
With just 15 days left in office, Bush addressed cadets at West Point, alluding to a recent loss by a beloved football team. "Losing is never easy. Trust me, I know something about that," he said. "But if you have to lose, that's the way to do it: Fight with all you have. Give it your best shot. And win or lose, learn from it, and get on with life."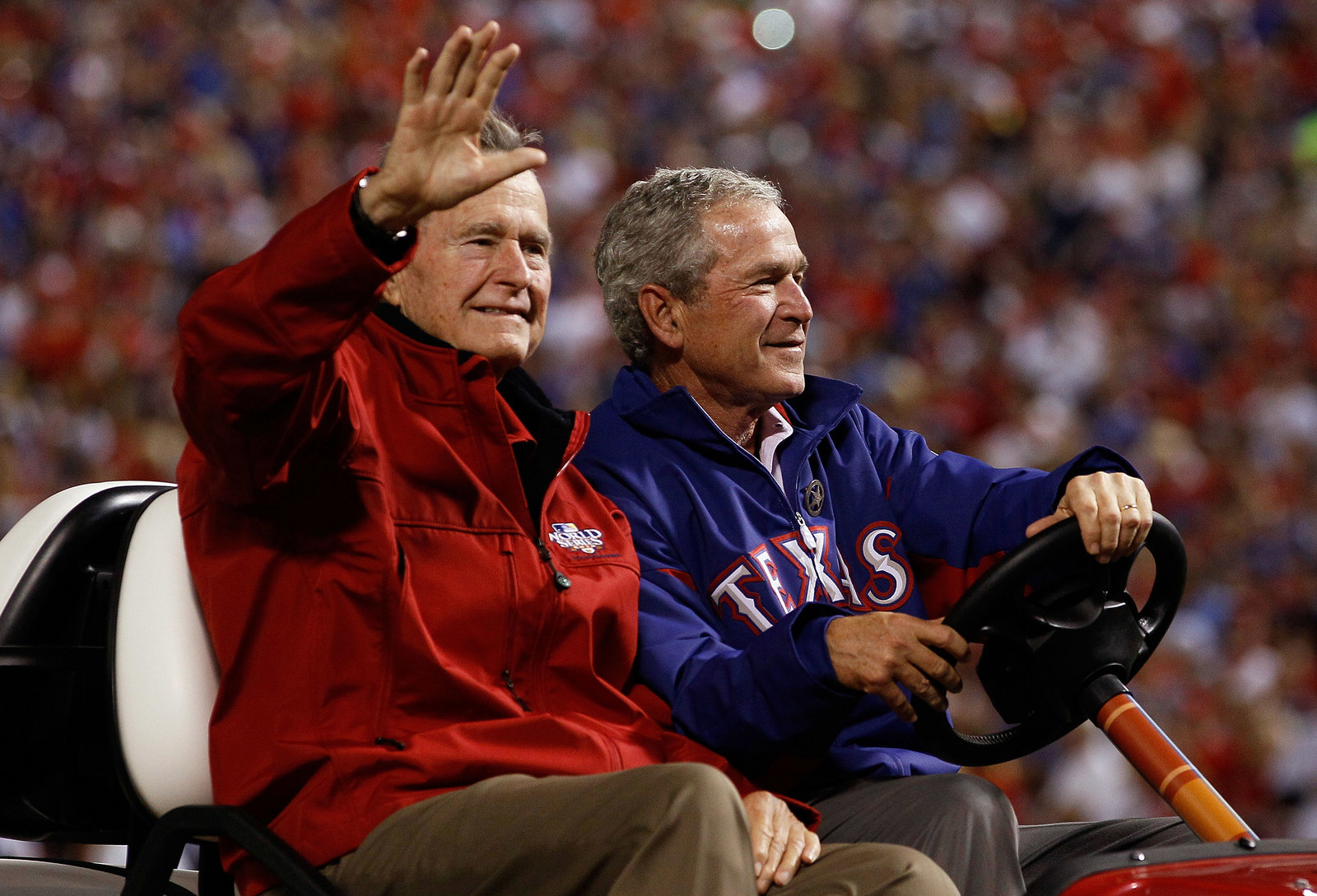 UPDATE
This post has been updated to better clarify the timing of the Battle of Mogadishu.