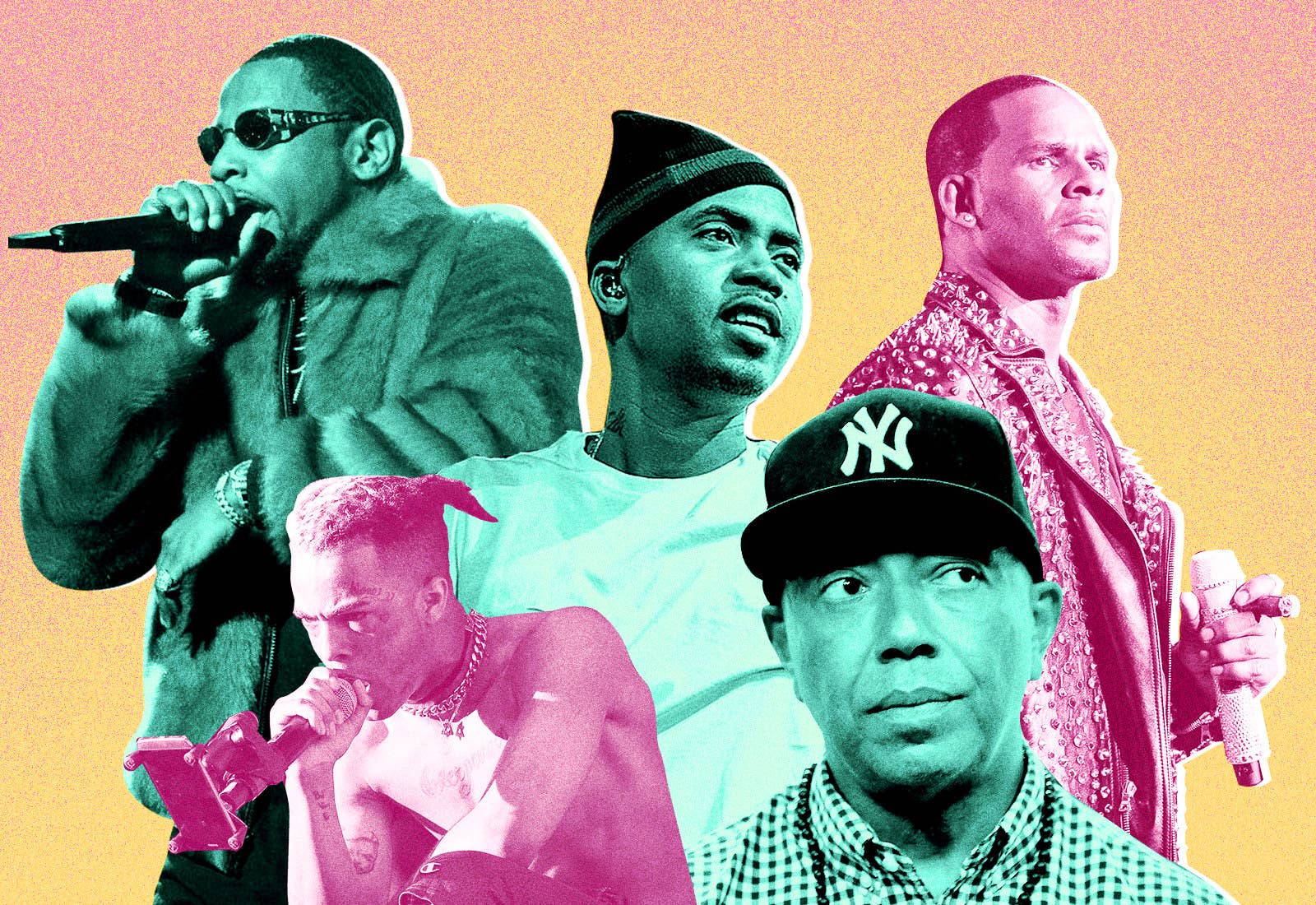 October 2018 marks a year since Hollywood juggernaut Harvey Weinstein was taken down by reports detailing decades of sexual harassment and abuse allegations against him. The titan's fall catapulted Tarana Burke's #MeToo movement into a national phenomenon as women (and some men) felt empowered to call out their abusers. Suddenly, actors, directors, writers, producers, and agents were forced to reckon with their past (and present) sexual misconduct. Yet, throughout this past year of holding men in entertainment to task, the music industry has largely continued to turn a blind eye toward its most popular genre, hip-hop, exhibiting a lack of accountability where alleged abuse is concerned. The fact that many rap artists continue to thrive despite accusations of sexual and/or physical abuse is disconcerting. But it's also less surprising considering the genre's history of reflecting the intersections of American society, including the country's complicated relationship between racism and rape.
On Oct. 7, the week of the first anniversary of the New York Times' explosive Weinstein investigation, eight out of the ten albums on the Billboard Hot 200 chart were from hip-hop artists, with Lil Wayne's Tha Carter V leading the pack at No. 1. Among the other artists represented are Eminem at No. 6 and the late XXXTentacion at No. 10, both of whom have a history of alleged abuse against romantic partners. Eminem has depicted extremely violent behavior toward his ex-wife, Kimberly Anne Scott, in his music for decades, and their complicated relationship has been documented throughout his career — including her suicide attempt after watching him beat up a blow-up doll made in her image onstage. These transgressions happened before the reckoning, but his ability to make a comeback in this climate is evidence of the #MeToo movement's limitations in impacting rap fans, at least to the point where some might cancel their favorite emcees enough to make a dent in their careers.
When it comes to beloved artists who are accused of gruesome, if not criminal actions, the prevailing argument from fans is that letting go of an artist whose music has been a major part of their lives is difficult. That viewpoint disregards the wider implications of supporting influential people with such damning reputations and also doesn't explain why a newer artist like XXXTentacion was able to rise to fame despite his documented abusive behavior. In March, the rapper released a sophomore album that debuted at No. 1. This was less than a year after he was released from jail and placed on house arrest while awaiting trial on charges of aggravated battery of a pregnant woman, domestic battery by strangulation, false imprisonment, and witness tampering. He pleaded not guilty to all charges and maintained his innocence publicly until his death in June, when the 20-year-old rapper was fatally shot in Florida.
In examining the industry's pitiful response to #MeToo, if the lack of action rests on fans' refusal to hold beloved artists accountable, then one might suspect the reaction would change, were the couple both music darlings.
XXXTentacion's murder sparked a complex conversation online about his contentious legacy: Did mourning him publicly mean you were absolving him of his crimes? Is not being sad that an abuser was killed the same as wishing death upon them? How much, if at all, can you really separate the art from the artist? The most prudent response in this specific example is that multiple things are true at once. It is true that XXXTentacion's rising star and his life — even without the fame — being cut short by violence is tragic. It is also true that the routine abuse his girlfriend said she suffered at his hands is appalling. But the more urgent question is this: What does it say about fans who resonated with one tragedy and not the other? Like the ones who demanded compassion for XXXTentacion but burned the vigil offerings given by his ex-girlfriend Geneva Ayala, after heckling her away because she spoke up about his abuse. Since coming forward with her allegations, including a history of abuse — from being beaten and choked while pregnant to being held captive in rooms for days to heal because the rapper refused to take her to the hospital — Ayala has had to endure even more trauma from fans. XXXTentacion fans have allegedly harassed her at her job and even shut down the GoFundMe campaign she started to raise money to fix her eye — damaged from an attack — claiming without evidence that she misrepresented her injuries, despite the fact the rapper himself had donated $5,000 to the fund. All of these things were documented in the media, but no one in the industry spoke up in her defense, choosing only to mourn the artist's death and not empathize with the victims of his actions when he was alive. And now that tapes of XXXTentacion admitting to the domestic abuse and other violent acts have surfaced, will anyone admit they were wrong for doing so?

XXXTentacion's peers have faced similar situations that earned them more consequences from the law than from the industry or fans. Kodak Black, for example, is awaiting trial for sexual assault against a teenager (according to Billboard, the rapper is prohibited from commenting on the situation or contacting the victim). The "Tunnel Vision" rapper has been in and out of jail for multiple charges but still received support from artists, like the similarly legally troubled Chris Brown, who put $10,000 on Black's books while he was in prison this year. Then there's 6ix9ine, who pleaded guilty to the use of a child in a sexual performance in 2015, but is still having a breakout year thanks in part to his triple-platinum single "Fefe" featuring Nicki Minaj. Minaj also added him as an opener to her upcoming tour despite the conviction, and given the Queen rapper's silence on her brother being found guilty of sexual assault of a child in 2017, it's difficult not to view these actions, or lack thereof, as compliance with a culture of silence in the industry.
It's this culture of silence that makes it possible for artists to get away with assaulting women, even when there's video evidence of violent behavior, resulting in intricate, messy, and downright dumbfounding situations. This was the case for rapper Fabolous, who turned himself in to authorities after an alleged domestic violence dispute in March with longtime partner Emily Bustamante, known publicly as Emily B. According to court documents, the rapper hit Emily B in the face seven times — she lost her two front teeth — and threatened the lives of her father and brother. Soon after, TMZ obtained video footage of Fabolous verbally threatening Emily B and her father while holding a sharp object in the driveway of their Englewood, New Jersey, home. Despite this, many of his fans still came to his defense online, noting that he never touched her in the video. Fabolous's lawyer also maintains his client did not commit any crime. What the video did show, however, is a number of red flags, including the reality of Fabolous's belligerent behavior, the validity of Emily B's fear, and the gravity of what their family has witnessed.
By Mother's Day, the couple had reconciled, as evidenced by this tribute post to her on his Instagram. During the summer they were seen publicly at Pusha-T's wedding — where peers like Trey Songz (who was also arrested on felony domestic assault charges in March) were photographed smiling with Fabolous — and vacationing with their children in matching outfits. Too often, a woman taking back her abuser is incorrectly perceived as her also taking back her accusations or consenting to abuse. But whatever reasons Emily B has for staying in her relationship, it doesn't justify Fabolous's recorded behavior and alleged conduct. And while their family and friends seemed willing to look the other way, the courts were not. On Oct. 10, Fabolous was indicted by a New Jersey grand jury on four felony charges related to the assault and is facing possible jail time. Emily's father is reportedly willing to testify on the rapper's behalf now that the family has reunited, which begs the question — when does taking a stand against the violence toward women go beyond supporting the victim's wishes? Is it up to Emily, who receives financial support from Fabolous, to lead the charge for her own justice? Or does her silence relinquish any ethical responsibility you have while rapping along to his music?
In examining the industry's pitiful response to #MeToo, if the lack of action rests on fans' refusal to hold beloved artists accountable, then one might suspect the reaction would change, were the couple both music darlings. However, this was not the case between Nas and Kelis, who were a power hip-hop couple, once upon a time. In late April, Kelis revealed a history of alleged domestic abuse she endured during her relationship with one of the genre's most legendary emcees. In a sit-down interview with Hollywood Unlocked, Kelis said that Nas would often get physically violent with her after a night of partying and then forget the entire incident by morning. She noted that she would fight back and recalled a particular memory from 2009: "When the Rihanna and Chris Brown pictures came out, I thought about coming out because I also had bruises all over my body," she said. "But I didn't say anything because I'm private. But seeing her the way she looked and then looking at myself…I felt embarrassed."
The allegations from Kelis were devastating not just because of their nature, but because Nas had presented himself as one of the genre's few good men: a laid-back, fairly scandal-free, socially conscious lover of black history and black women. However, many forgot that the rapper's ex-girlfriend and mother of his first child, Carmen Bryan, also accused him of physical abuse in her 2007 memoir. Despite Kelis's celebrity and Bryan's forgotten accusations being brought to light, the allegations only caused a few waves and ultimately have had little effect on Nas' career. Much like Brown after his violent incident with Rihanna, Nas was able to release new music to a warm reception from fans: He dropped Nasir two months after Kelis's accusations and it became his 12th Top 10 album on Billboard. The album was produced by Kanye West, who attended Nas' star-studded release party along with Kim Kardashian West, La La Anthony, 2 Chainz, Pusha-T, Steve Stoute, Chris Rock, and Fabolous.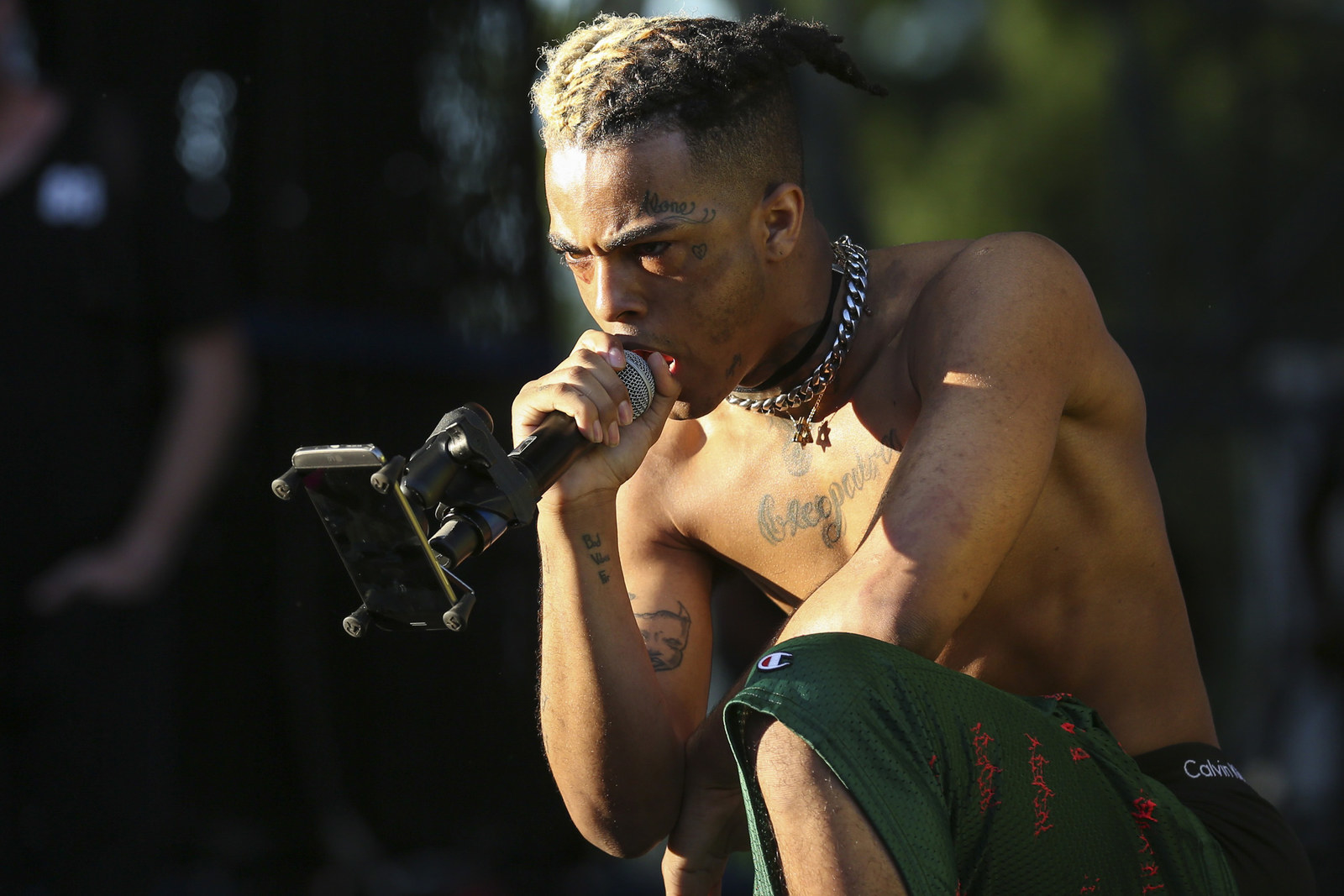 Russell Simmons' fall from grace is the closest thing to a #MeToo reckoning with professional consequences the industry has experienced. The music mogul stepped down from all of his companies in November 2017, a month after Weinstein's takedown, when screenwriter Jenny Lumet accused him of forcing her to have sex with him in 1991. Since then, 18 women have come forward with accusations that Simmons raped or sexually harassed them, including Drew Dixon, who detailed her accusations of rape on the air for the first time on BuzzFeed News' Profile. The NYPD opened an investigation into Simmons in December, but according to the New York Times, several of the women said the police told them that their allegations were outside of the statute of limitations for rape. A law enforcement official at the time said the police still took reports from the women in case more recent and prosecutable complaints surfaced. But it's almost been a year since the investigation was opened and no official charges have been made. Simmons has denied all claims against him, and with the exception of his ex-wife, Kimora Lee Simmons, who said the accusations don't match the character of the man she's known him to be, his family and peers have remained silent about the Def Jam cofounder's list of victims.

The fact that rappers would ever mirror the practice of the police, an entity they've vehemently criticized, is ironic.
Spotify also came close to delving out some tangible consequences, removing R. Kelly's and XXXTentacion's music from the streaming service's official playlists after #MeToo and Time's Up activists pushed for corporations to cut ties with the artists. (In 2017, BuzzFeed News published allegations against R. Kelly that he was keeping women in an abusive "cult." The singer continues to deny the abuse allegations made against him.) The victory was short-lived; three weeks later, the streaming service reversed its decision after receiving blowback from music industry figures. According to Bloomberg News, representatives from musicians like Kendrick Lamar threatened to remove their clients' music. In a statement about its change of heart, Spotify said, "We don't aim to play judge and jury. Across all genres, our role is not to regulate artists. Therefore, we are moving away from implementing a policy around artist conduct." Its decision to protect these alleged predators in the industry is reminiscent of how, say, some police officers may protect one another, even when one of their own kills an unarmed black person. The fact that rappers would ever mirror the practice of an entity they've vehemently criticized is ironic. It also serves as an example of how, for the still largely male-dominated genre, male privilege causes black men to oppress women. But, in thinking of how artists pushed back on this debacle, the experience also demonstrated that the music industry knows how to mobilize when the issue is important enough to them.
The lack of backlash across the board makes it difficult to believe the #MeToo movement will ever affect hip-hop. Many of the record labels, collaborators, friends, and families of the men mentioned above have not felt compelled to even put out a statement. Instead, they have turned a blind eye to it, or even discredited victims' claims. Nas, for example, didn't release a statement denying Kelis's claims before releasing Nasir and didn't speak about the allegations at all until September, when he shared a series of long Instagram captions with his side of the story, because of "a call from Essence about [his] wife doing another sad fictitious story."
Rapper Cardi B is one of the few prominent women in hip-hop who have spoken up this year. In a recent interview with Cosmopolitan magazine, she said, "A lot of video vixens have spoke about this and nobody gives a fuck. When I was trying to be a vixen, people were like, 'You want to be on the cover of this magazine?' Then they pull their dicks out. I bet if one of these women stands up and talks about it, people are going to say, 'So what? You're a ho. It don't matter.'"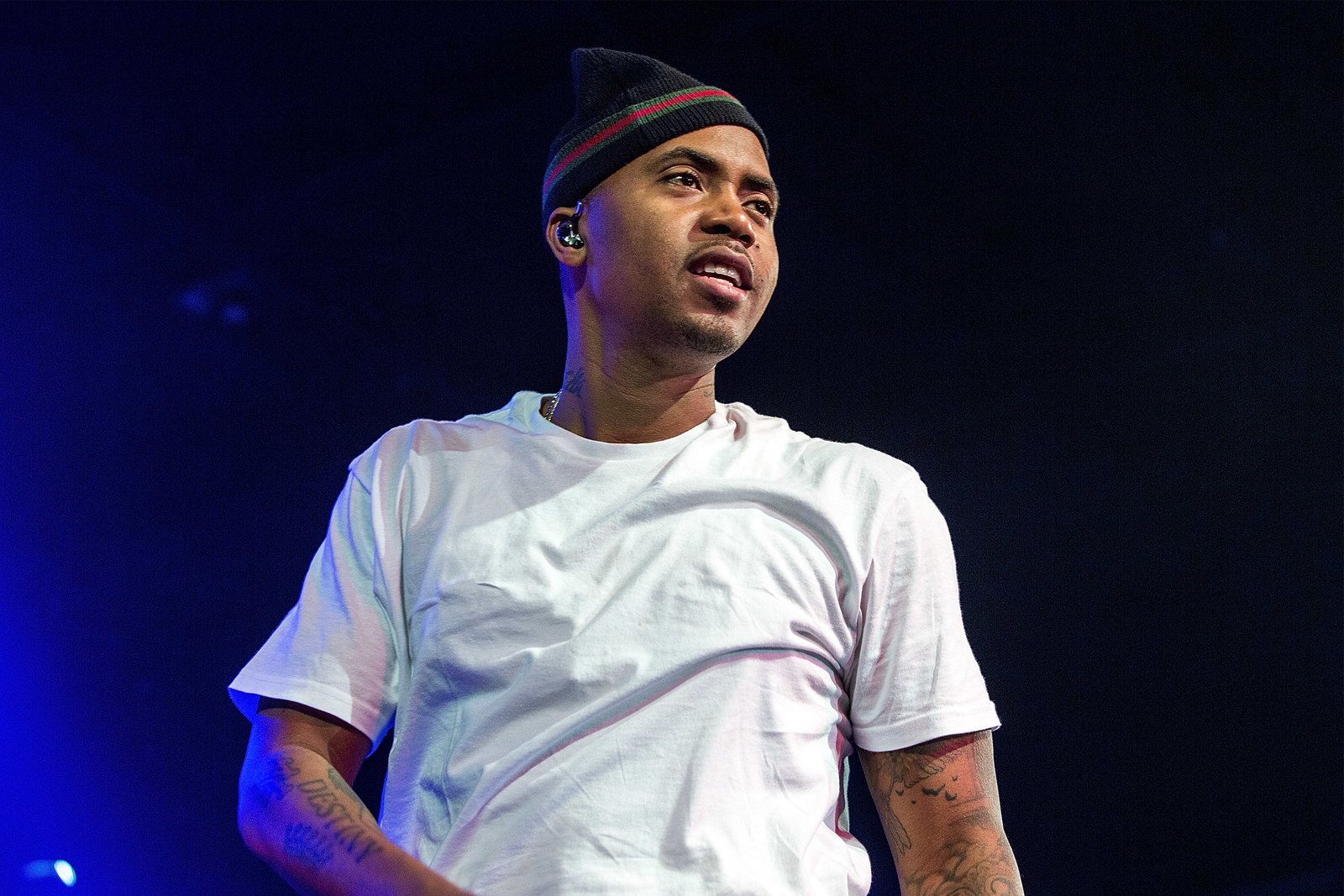 The disparity between how the music industry and how Hollywood have responded to the #MeToo movement was foreshadowed by their respective awards shows. Time's Up made its biggest splash at the Golden Globes, where nearly everyone agreed to wear black in support of the cause. Several actors brought activists fighting for women's rights as guests on the red carpet, and winners spoke up against harassment onstage. A few weeks later at the Grammys, the symbol of support was reduced to white roses, which were worn by far fewer people. The issue of unchecked sexual assault and harassment in music goes beyond hip-hop, as evidenced by singer Kesha's long legal fight against producer Dr. Luke, whom she accused of rape (he has denied her claims). Her performance of "Praying" alongside a choir of activists and pop star peers at the Grammys was the night's only #MeToo moment onstage. And even that was tainted by the optics of her performing for an audience mostly full of people who did not come to her aid during her battle against the producer.

There's no straightforward answer as to why so many men in hip-hop have continued to make a clean getaway from allegations of sexual violence and abuse against women before and during the past year of reckoning. Part of it can be credited to the complex history between racism and the sexualized demonization of black men, and how too many of them are still haunted by the historical weaponization of false rape accusations against them — a tactic often utilized by white people as an excuse to incriminate and/or murder. It's why some members of the black community believe Bill Cosby's rape allegations and cases were a result of him reaching a height of fame that made white people angry, or that it was a ploy to "stop him from trying to buy NBC." Racism is also why certain black folks felt compelled to cite Cosby's rape conviction as unfair, simply because powerful white men have gotten away with it. But the failure to hold white men accountable does not dismiss Cosby's convictions or render him guiltless, and supporting that logic contributes to the idea that rape victims don't deserve belief or justice. And while the history of (false) rape accusations against black men is a dark stain on this country, it does not warrant dragging victims through the court of public opinion in an era where only 2–8% of rapes are falsely reported. Odds like that support the idea that you should believe women first until proven otherwise, versus applying the grace of "innocent until proven guilty" to the alleged rapist.
Would record labels and radio stations continue to support Chris Brown's career if it had been Taylor Swift's beat-up face in those pictures?
Given all these considerations, it is fair to deduce that these alleged predators face fewer consequences because the majority of their victims are black women who are, as Malcolm X accurately noted, "the most unprotected person in America." Would R. Kelly have gotten away with decades of allegations of illegal sexual relationships with underage girls and keeping a "cult" of young women away from their families if they were all white? Would record labels and radio stations continue to support Chris Brown's career if it had been Taylor Swift's beat-up face in those pictures?
The industry that preys on black women the most, in terms of actual assault victims, continues to go unchecked. Our ability to minimize the seriousness behind these offenses can be tied back to what we've been told about our worth or those dark family secrets we were told to pretend never happened. It's easier to ignorantly step in the name of love at the family function if you've also been taught to two-step next to the uncle who molested you, in silence. And why should you give up an artist you enjoy in support of their victims if no one is demanding justice for you? And this includes black men who diminish their sexual trauma like Lil Wayne, whose admission of being raped at 11 has been joked about by many, including him, on major platforms like Jimmy Kimmel Live! There are also numerous black men in music who have talked about losing their virginity at an early age and played it off as a positive experience like Diddy (age 13), Flavor Flav (age 6), Ja Rule (age 12), and Chris Brown, who said losing his virginity at 8 to a girl who was 14 or 15 prepared him to be "a beast" in the long run.
In sum, rape culture is as deeply rooted in our history as hip-hop, and the latter often contributes to the ugly reality of the former, leaving communities of black people and music lovers with questions few really want to ask, but should. And these questions and their answers must be reckoned with before these men ever will be. ●

A year after #MeToo became a household term, BuzzFeed News is bringing you stories about how far we've come, who's been left out, and where we go from here.

Read more here.