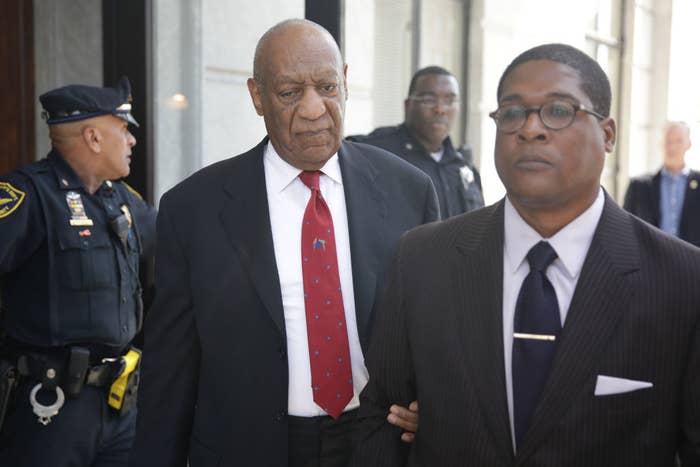 Bill Cosby was convicted Thursday of drugging and raping Andrea Constand at his Pennsylvania home in 2004, marking a new fall from grace for a comedian who built his reputation as America's Dad.
The jury for Cosby's first rape trial was unable to reach a verdict last year; however, this time, the jury of seven men and five women voted after about 14 hours of deliberation to convict the 80-year-old comedian on three counts of sexual assault after prosecutors were allowed to call five additional accusers to the stand.
Cosby, who was on the edge of his seat before the verdict was read aloud to gasps in the courtroom, now faces the prospect of spending the rest of his life behind bars if he is given the maximum sentence of 30 years in prison.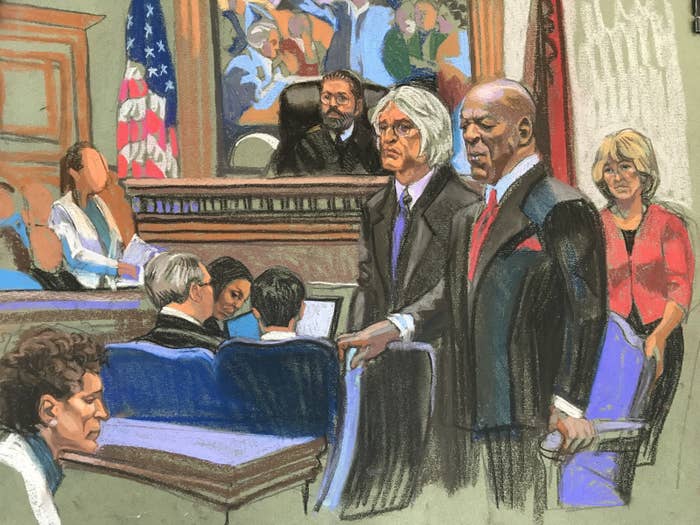 After the verdict, Constand gave Montgomery County District Attorney Kevin Steele a long hug before exiting the court with a smile. He later told reporters that "today, we're finally in a place to say that justice was done."
"What was revealed through this investigation was a man who had spent decades preying on women that he drugged and sexually assaulted and a man that had evaded this moment here today for far too long," Steele, with Constand looking on. "He used his celebrity, he used his wealth, and his network of supporters to help him conceal his crimes, and now we really know today who was behind that act, who the real Bill Cosby was, and a jury has spoken with one voice, in a court of law, and found the defendant guilty of drugging and sexually assaulting Andrea Constand in his home."
Dolores Troiani, Constand's chief attorney, spoke on her client's behalf, telling reporters she came here 14 years ago for justice.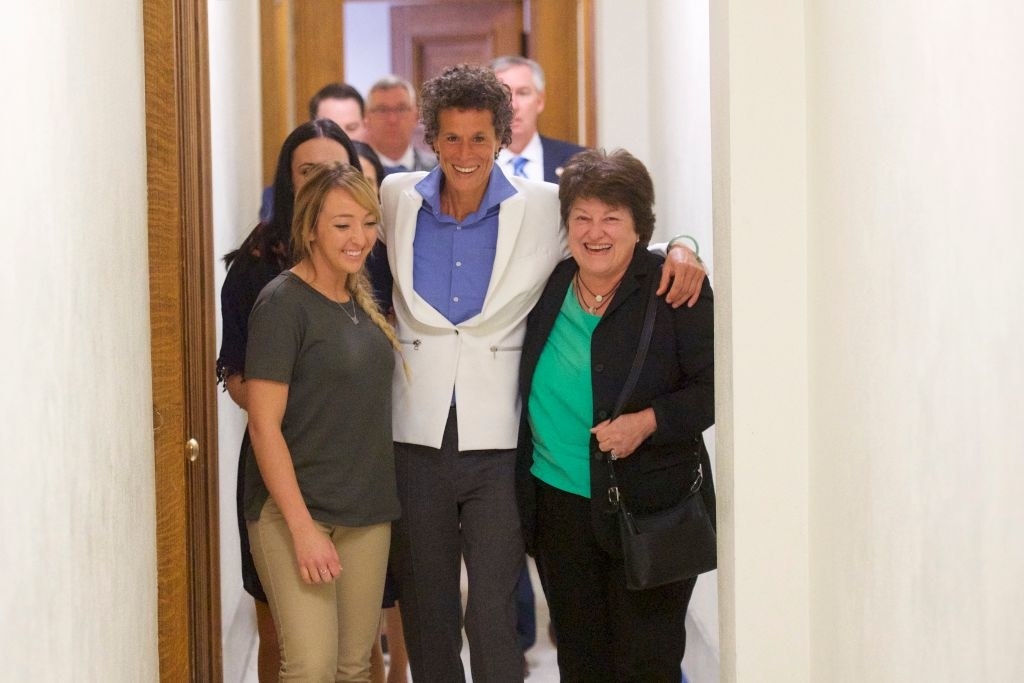 "I am so happy today that I can say, although justice was delayed, it was not denied," Troiani said.
She added: "This is a life altering experience for any woman, any victim, and the person who I think needs to be heralded for what she has done is Andrea."
Cosby, meanwhile, turned over his passport and was ordered to stay in Montgomery County. He will also have to pay for the cost of prosecution, although that assessment has yet to take place.
He was whisked away in a black SUV without talking to reporters. Prosecutors had argued against his release, prompting Cosby to lash out at prosecutors and yell that "he doesn't have a plane you asshole!"
No date was immediately set for his sentencing, which typically doesn't occur until weeks or even months after the verdict. But Cosby's chief defense attorney, Thomas Mesereau, told reporters he planned to file an appeal, saying he was "very disappointed by the verdict."
"We don't think Mr. Cosby's guilty of anything, and the fight is not over," he said.
Minutes earlier, those inside the courtroom, many of them Cosby accusers who had been attending the trial from the start, emerged outside in tears and embraces.
Standing on the steps of the courthouse, an emotional Lili Bernard, who alleges Cosby drugged and raped her in the 1990s and has attended every day of the trial, told reporters she felt "like I'm dreaming."
"I feel like my faith in humanity is restored," she added.
Janice Baker-Kinney, who testified at the retrial that Cosby drugged and assaulted her in 1982 when she met him as a bartender in Reno, Nevada, said in a statement that she was "so grateful that this jury was able to distinguish the facts and really hear our true pain versus the defense's shameful fictional nonsense, their vitriol and their stereotypical victim blaming."

Cosby never denied having sexual contact with Constand, but insisted it was consensual.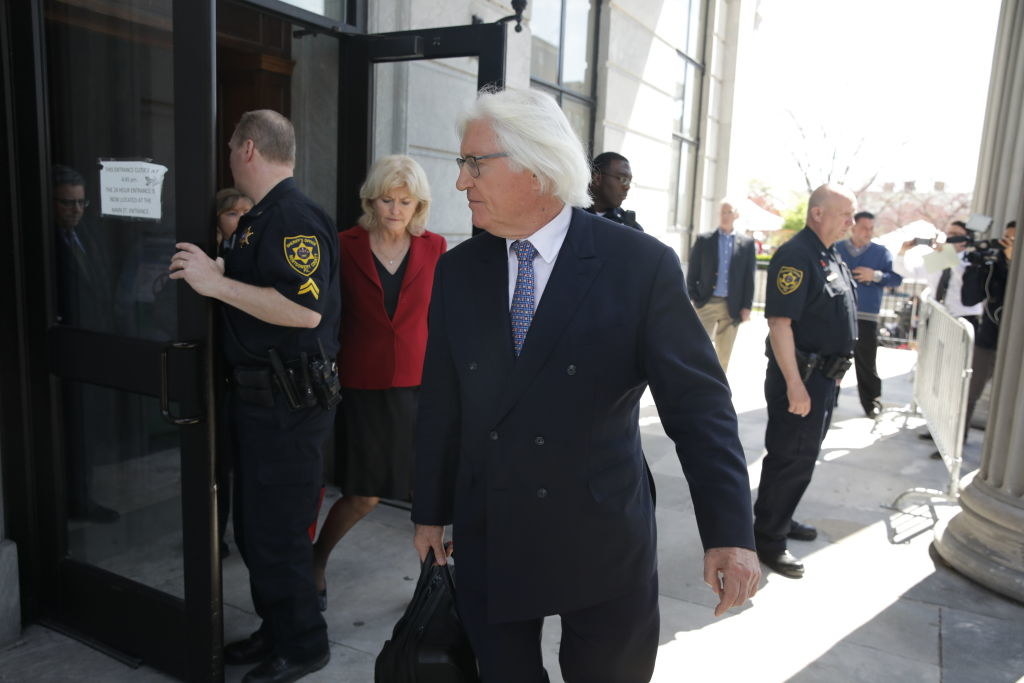 His defense team tried to paint Constand as a con artist who showed romantic interest in the comedian in order to concoct false assault allegations and secure a nearly $3.4 million civil settlement, at one point calling her a "pathological liar." But for the retrial, prosecutors were able to call on five other accusers who testified that they too were drugged by Cosby. Four of them, including model Janice Dickinson, said they were also sexually assaulted.
More than 60 women have accused Cosby of drugging and sexually assaulting them over the span of decades, but Constand's allegation was the only criminal case to be brought, in large part because most of the accusations were too old to prosecute.
No criminal charges were brought at the time of Constand's assault in 2004, and after she settled her civil lawsuit the next year in exchange for her silence, that's where it would have likely stayed. But a decade later, a judge unsealed Cosby's transcript for the deposition he gave in the civil case. In it, he admitted to giving women quaaludes, a powerful sedative, as a prelude to sex. Dozens of accusers pointed to the transcript as vindication of their claims, and public pressure to file charges in Constand's case, which was still within the statute of limitations, increased.
In 2017, Steele — who vowed to prosecute Cosby while campaigning for office — filed his case. For several weeks the trial was a media spectacle, but after spending more than 50 hours reviewing testimony, the sequestered jury of five women and seven men failed to reach a unanimous decision and the judge declared a mistrial.
Victim-blaming was one of the reasons the jury couldn't reach a verdict, with one of the holdouts telling the Philadelphia Inquirer he believed Constand's actions contributed to what happened that night.
"Let's face it: She went up to his house with a bare midriff and incense and bath salts," he said. "What the heck?"
But that was summer of 2017. A few months later, the Harvey Weinstein sexual misconduct stories would break, sparking a firestorm of similar allegations against powerful Hollywood figures dating back decades. Experts told BuzzFeed News that the #MeToo reckoning that transpired would undoubtedly work against Cosby at his retrial.
In an interview with BuzzFeed News, Bernard said a guilty verdict would represent "a real shift in humanity, in rape culture."
Later, outside at the courthouse news conference, Bernard said last year's mistrial had left her "with such a tremendous sense of disappointment."
"But today," she said, "this jury has shown that what the #MeToo movement is saying, is that women are worthy of being believed."