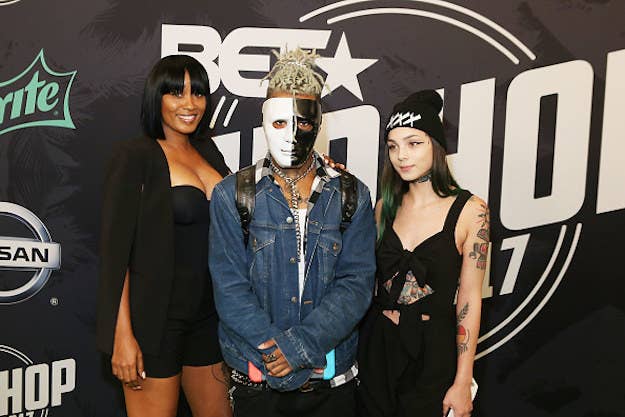 XXXTentacion was shot and killed Monday while outside a motorcycle dealership near Miami, authorities confirmed.
The Broward County Sheriff's Office said that XXXTentacion, born Jahseh Dwayne Onfroy, had been shopping for motorcycles and, as he was leaving, two men drove up to his vehicle and opened fire in what appeared to be a robbery, though it was unclear what was stolen.
Authorities said they received a call of a shooting at the location at 3:57 p.m. and that XXXTentacion was transported to a hospital, where he was later pronounced dead. He was 20.
The shooting occurred at the recreational vehicle dealership Riva Motorsports. The company paid tribute to him on Twitter the day after the shooting: "We are deeply saddened by the loss of our friend Jahseh. We considered him part of the RIVA family and he will be deeply missed."

An hour before the shooting, the rapper posted an Instagram Story saying that he was planning a charity event in Florida this upcoming weekend.
XXXTentacion's label, Caroline International, said in a statement to BuzzFeed News that the team was stunned by news of the death.
"Everyone at Caroline is shocked to learn of the tragic death of Jahseh Onfroy, professionally known as XXXTentacion," the label said. "We extend our heartfelt condolences to his family and loved ones."
The rapper's album ? reached No. 1 on the Billboard charts even as he faced a slew of criminal charges for domestic violence, including aggravated battery of his pregnant girlfriend.
Spotify and Apple Music had removed him from their promoted playlists last month, but later reinstated him after backlash from other rappers and record labels.

Many musicians reacted with shock at his death and shared their condolences.
Some also shared interactions they had had with XXXTentacion.
Diplo tweeted, "Thanks for inspiring me," and shared a picture of himself with the rapper.
J. Cole wrote, "This got me fucked up. RIP X."