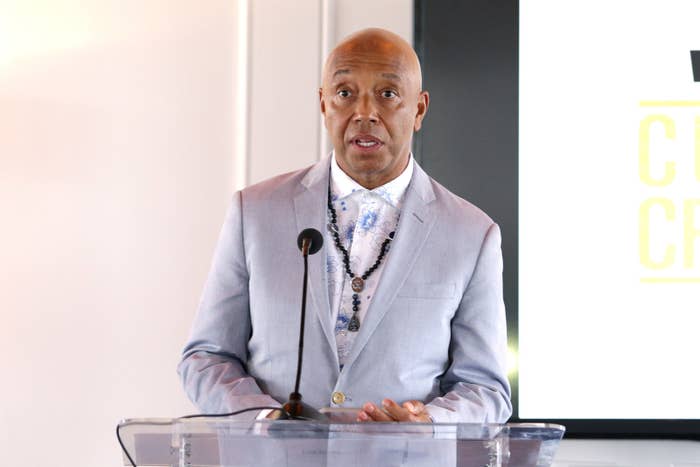 Music mogul Russell Simmons is stepping down from his companies after screenwriter Jenny Lumet accused him of of forcing her to have sex with him in 1991.
Lumet, the daughter of director Sidney Lumet, penned a guest column for the Hollywood Reporter, detailing how the Def Jam cofounder allegedly offered to give her a ride home but instead instructed the driver of the car to lock the doors and take her to his place. It was there that he sexually assaulted her, Lumet alleged.
"There is so much guilt, and so much shame," Lumet wrote in her column. "There is an excruciating internal reckoning. As a woman of color, I cannot express how wrenching it is to write this about a successful man of color. Again, shame about who I was years ago, choices made years ago. In this very moment, I feel a pang to protect your daughters. I don't think you are inclined to protect mine."
Simmons, 60, released a statement Thursday morning stating he was "removing [himself] from the businesses that [he] founded," including All Def digital, Def Pictures, and yoga brand Tantris:
I have been informed with great anguish of Jenny Lumet's recollection about our night together in 1991. I know Jenny and her family and have seen her several times over the years since the evening she described. While her memory of that evening is very different from mine, it is now clear to me that her feelings of fear and intimidation are real. While I have never been violent, I have been thoughtless and insensitive in some of my relationships over many decades and I sincerely and humbly apologize.
This is a time of great transition. The voices of the voiceless, those who have been hurt or shamed, deserve and need to be heard. As the corridors of power inevitably make way for a new generation, I don't want to be a distraction so I am removing myself from the businesses that I founded. The companies will now be run by a new and diverse generation of extraordinary executives who are moving the culture and consciousness forward. I will convert the studio for yogic science into a not-for-profit center of learning and healing. As for me, I will step aside and commit myself to continuing my personal growth, spiritual learning and above all to listening.
Earlier this month, the Los Angeles Times reported on allegations made by model Keri Claussen Khalighi against Simmons and director Brett Ratner.
At the time Simmons issued a statement saying that what transpired between him and Khalighi was consensual.
"Let me be crystal clear and very direct," he said in a Nov. 22 statement. "Abusing women in any way shape or form violates the very core of my being."
Lumet suggested in her essay that Simmons' response to Khalighi's allegations is what made her speak out.
"I don't recall ever meeting any of the women who have spoken out against you, Russell," she wrote. "But I can't leave those women twisting in the wind. Maybe the recalling of this incident can be helpful. I don't know if it can."