A powerful earthquake has killed close to 100 people in Indonesia
The original 6.9 magnitude earthquake hit the island of Lombok Sunday morning. More than 130 aftershocks followed. At least 91 people died and more than 200 are injured, according to local authorities.
Tremors could be felt as far as Bali to the west, where one person died.
Emergency services are continuing to search the rubble from collapsed buildings across the island for more victims.
The head of Indonesia's national disaster agency outlined the challenges: "The roads were damaged, three bridges were also damaged, some locations are difficult to reach and we don't have enough personnel."
People are being evacuated from the area, including 1,000 tourists from the nearby Gili Islands.
Police and far-left protesters clashed during a counterrally against far-right demonstrators in Portland
It's a bit of work to keep all the sides clear in your head.
Here's the sequence of events: There was a far-right rally planned in Portland, Oregon. It was labeled as a free-speech demonstration and campaign event, hosted by far-right group Patriot Prayer and led by Republican Senate candidate Joey Gibson.
Hundreds of rally supporters, including many from the far-right group Proud Boys, were bused in from out of town and from across the Canadian border.
At the same time, an opposition group was created specifically against this rally. The counterrally organizers were called Popular Mobilization, and they included anti-fascist counterprotesters.
Here's what happened: The Portland police dressed in riot gear and largely succeeded in keeping the two groups apart. They confiscated several improvised weapons — including sticks, knives, and shields — from demonstrators on both sides.
Portland police forces clashed with the counterprotesters. A number of people were injured, including a journalist. Officers also made four arrests. One counterprotester was seriously wounded after a projectile allegedly shot by the police pierced his helmet.
The photos from the clashes are intense. Have a look.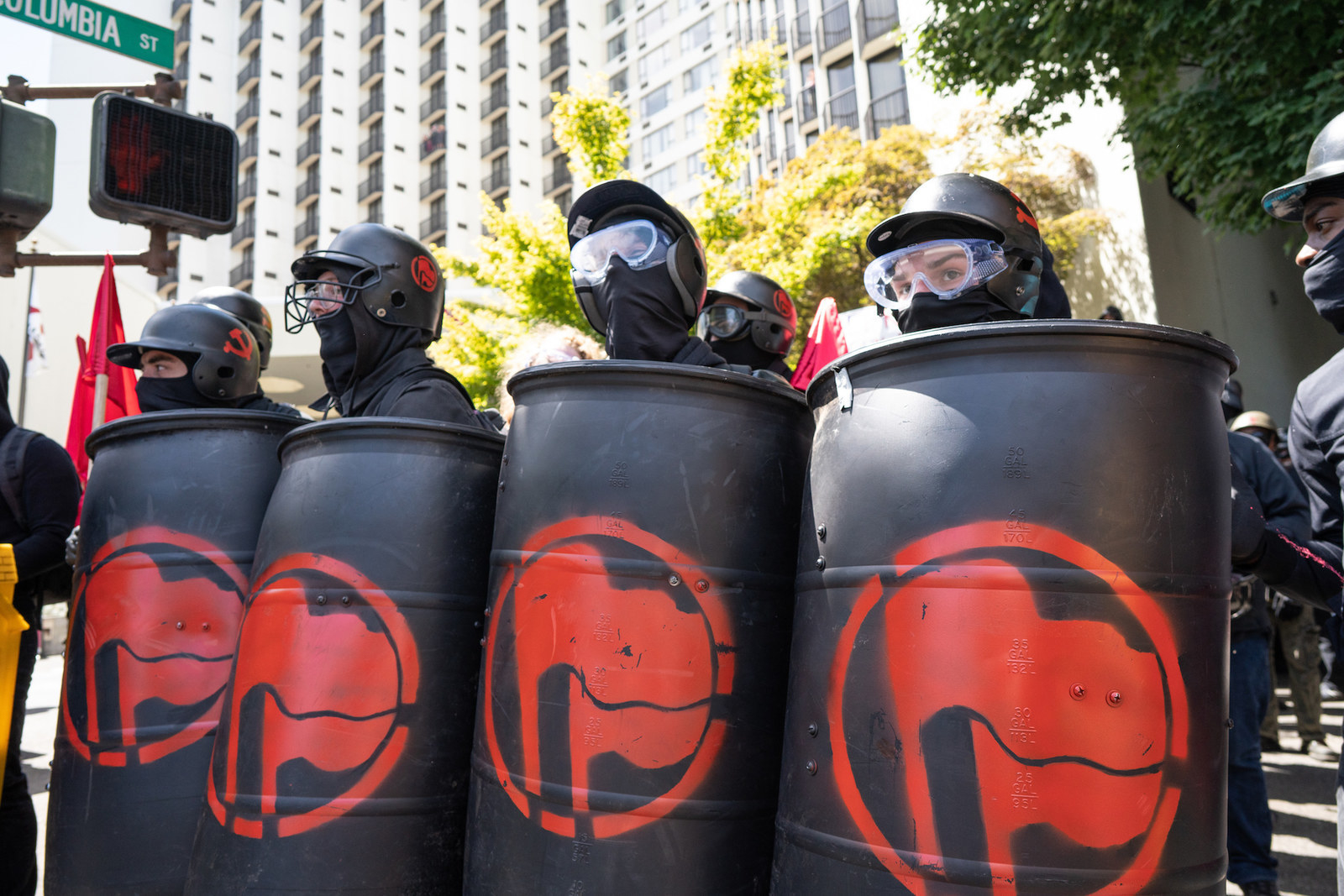 I regret to inform you that the president tweeted a bunch this weekend
Let's just power through these quickly. Here are three things that President Donald Trump said this weekend that you need to know about:
He blamed California's catastrophic wildfires on water policy: Shortly after declaring the deadly fires a "national disaster," he said the state's "bad environmental laws … aren't allowing massive amounts of readily available water" to be used in fighting the fires, and the water is being "diverted into the Pacific Ocean." As of this writing, it was unclear where Trump got the idea that California lawmakers are letting the state burn because they want to put water back in the ocean. People are perplexed.
He insulted LeBron James' intelligence: The president's tweet came after CNN reaired an interview with James, who said "the president kinda used sports to kinda divide us." Trump tweeted that "it's not easy" to make James "look smart." The same tweet called CNN's Don Lemon "the dumbest man on television." NBA stars came to the defence of James, and in an unusual step, first lady Melania Trump distanced herself from her husband's attack on James, releasing a statement that praised the athlete's humanitarian work. James had previously called the president a "bum."
Finally, he took shots at the press, because consistency is key: Trump said he was doing the American people "a great service" by explaining that "the fake news" is "the enemy of the people." The president added, "They purposely cause division & distrust. They can also cause War!" Trump adviser Kellyanne Conway broke with Trump's comments, saying journalists are not the enemy of the people.
SNAPSHOTS
Authorities searching for a missing 3-year-old found 11 other children at a New Mexico compound. The 11 children are in protective custody after being rescued from a makeshift shelter where they were being kept with no food or water. Abdul-Ghani Wahhaj, 3, who was reported missing in Georgia in December of 2017, was not found at the compound. Police took two men and three women into custody. One of the men, Siraj Wahhaj, was identified as Abdul-Ghani's father. The boy's mother reported Abdul-Ghani as missing after he left with his father to go on a trip to the park and never came back.
Demi Lovato has spoken out for the first time since her overdose. The singer posted a message to her Instagram where she said she has "always been transparent about my journey with addiction." Her statement added, "I need time to heal and focus on my sobriety and road to recovery." Fans and celebrities flooded the comments with messages of love and support.
Patrick Stewart is returning as Jean-Luc Picard in a new Star Trek series. The series will air on CBS All Access. More than 20 years after Star Trek: The Next Generation ended, the new show will focus on the "next chapter" in the life of the beloved captain of the starship Enterprise. Stewart said he hoped Picard could shine some light in "these often very dark times." Same.
Apple is removing Alex Jones and Infowars podcasts from iTunes. The company removed the entire libraries for five out of Infowars' six podcasts, under its hate speech guidelines. Opting to remove the entire library instead of specific episodes makes this one of the largest enforcement actions intended to curb conspiratorial news content by a technology company to date. The removal follows enforcement actions by platforms like Facebook, YouTube, and Spotify.
Dissident Chinese artist Ai Weiwei says his studio was torn down by Chinese authorities without warning. In a series of posts uploaded to his Instagram account, the artist captured the moment his studio was reduced to ruins. This is the second studio belonging to Ai that has been destroyed by Chinese authorities. Another one was demolished in Shanghai in 2011 in a move he believes was linked to his activism. The 60-year-old was once dubbed the most powerful artist in the world and was detained back in 2011 for 81 days amid a crackdown on government critics.
The National Rifle Association says it's suffered "tens of millions of dollars" of harm since Parkland
The gun rights organization made the claim in court documents, saying it has suffered substantial damages since insurance companies and banks stopped working with the group after the Parkland shooting.
The National Rifle Association is suing the New York State Department of Financial Services and New York Gov. Andrew Cuomo after the state agency encouraged financial services companies in New York not to do business with the association.
In the lawsuit, the NRA argues that it's been the victim of a "discrimination campaign" and that it has suffered harm to its reputation and marketing damages worth tens of millions of dollars.
The group also claims that if it cannot use banking services and receive donations from members, then it "will be unable to exist as a not-for-profit."
In a statement, Cuomo responded saying, "If the NRA goes bankrupt because of the State of New York, they'll be in my thoughts and prayers. I'll see you in court."
This soccer team's new mascot is a boiler for some reason
I know you're what thinking: It's Monday — did I just read "boiler"?
Dear reader, you did. West Bromwich Albion, a real, actual club that plays in England's second-highest league, got a new mascot, and it's a boiler.
As you may have guessed, this absolutely has to do with money: The club signed a new sponsorship deal with a boiler manufacturer.
Luckily, after a healthy dose of teasing, fans eventually warmed to the new mascot.