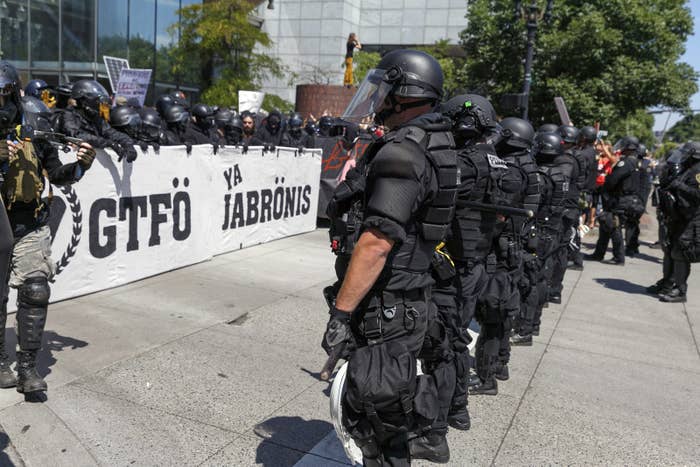 A far-right rally in Oregon turned violent on Saturday after Portland police forces clashed with counterprotesters. A number of people were injured, including a journalist. The officers also made four arrests.

The rally, labeled as a free speech demonstration and campaign event, was hosted by far-right group Patriot Prayer and led by Republican Senate candidate Joey Gibson.

Hundreds of rally supporters, including many from the far-right group Proud Boys, were bused in from out of town and from across the Canadian border. An opposition group created specifically for the rally, called Popular Mobilization, included anti-fascist counterprotesters.
The Portland police dressed in riot gear and largely succeeded in keeping the two groups apart. They confiscated several improvised weapons — including sticks, knives, and shields — from demonstrators on both sides.
But photos and videos on social media captured some violent moments reportedly between officers and counterprotesters.
The Portland police said its forces were reacting to people "throwing an unknown chemical agent as well as other projectiles at officers."

Videos captured at the rally showed police officers in riot gear firing rounds into the crowd.
In a statement, the police department said they "deployed riot control agents and less lethal impact weapons," including aerial distraction devices, .60-caliber and 40 mm rounds, stinger rounds, pepper spray, and foam-tipped bullets.

In one video, police appear to shoot flashbang rounds before charging the group of counterprotesters. The owner of the account that shared this video declined to comment to BuzzFeed News. The far-right groups watching from afar began to chant "USA! USA!" the Oregonian reported.
In another video, an officer can be seen grabbing the sign of a counterprotester and then shoving the woman to a ground before chasing after her and making an arrest. It is unclear what transpired before the video began.
Eder Campuzano, a reporter from the Oregonian, was bloodied after he was hit in the head by an unknown projectile.

Campuzano told BuzzFeed News he was livestreaming video for the Oregonian as "protesters began throwing things at the cops in riot gear."
"And as I was streaming, I looked up and out of the corner of my eye saw what looked like a plastic water bottle spinning in the air toward me," he said. "I felt the impact and tried to keep streaming until I felt and saw the blood streaming down my shirt."
He was taken to urgent care after making it back to the paper's office with someone who said he was a medic. "A nurse gave me three staples on the noggin and said it was into a mild cut. No head trauma. Staples come out on Saturday," he said.
Another counterprotester underwent surgery after a flashbang projectile, allegedly shot by police, lodged into a helmet he was wearing.
The Portland police department did not immediately reply to a request for comment about the department's use of force but released a statement on Sunday afternoon that appeared to reference the man who underwent surgery.

"This morning I learned of allegations of injury as a result of law enforcement action. I take all force applications by members seriously and I have directed the Professional Standards Division to begin the intake process regarding these allegations to determine if force was used and if so, was within our policy and training guidelines," said Portland police chief Danielle Outlaw said in a statement.
Effie Baum, a spokesperson for the counterprotesting group Popular Mobilization, told a reporter from HuffPost on the scene that the "police launched a violent attack on the left that was unprovoked in an attempt to allow Patriot Prayer and Proud Boys to go on their march."

"When people say there was no violence today between the right and left, there was absolutely violence, and it was perpetrated by the police on the left," Baum said.