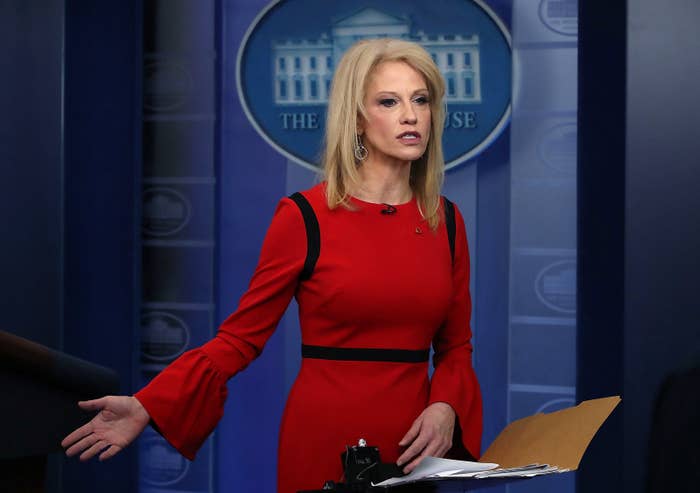 White House counselor Kellyanne Conway on Sunday broke from President Donald Trump's repeated attacks on the press by saying that journalists are not the enemy of the people.
Appearing on CBS's Face the Nation Sunday, Conway said that "a growing swath of reporters" are getting away with saying things on Twitter that would never make it in print, calling those journalists "enemy of the relevant."
"I don't believe journalists are the enemy of the people. I think some journalists are enemy of the relevant and enemy of the news you can use," Conway said.
Conway's comments came after Trump tweeted Sunday morning that he was doing the American people "a great service" by explaining that the "the fake news" is "the enemy of the people."
"They purposely cause great division & distrust. They can also cause War! They are very dangerous & sick!" he tweeted.
Trump has repeatedly railed against reporters on Twitter and at rallies. At a rally in Ohio on Saturday, Trump called CNN "fake" and MSNBC "corrupt." At a recent rally in Florida, crowds booed and heckled CNN's Jim Acosta, who was there to cover the event. The president also endorsed the crowd's reaction by retweeting videos of his supporters jeering Acosta.
This led to a heated exchange last week between Acosta and press secretary Sarah Huckabee Sanders, who said Trump was "rightfully frustrated."
After Acosta pressed Sanders during a press briefing Thursday to publicly state that the media is not the enemy of the people, the press secretary read off a list of accusations against the media for "personally" attacking her "on a number of occasions."

"As far as I know, I'm the first press secretary in the history of the United States that's required Secret Service protection," Sanders said.
The White House did not immediately respond to a request for comment.
But others close to the president have disagreed with his anti-press rhetoric. Trump's daughter Ivanka said she did not view the media as the enemy of the people, despite being the subject of reports she described as not "fully accurate."
"I've had some sensitivity around why people have concerns and gripe especially when they feel they're targeted," Ivanka Trump said. "But no, I do not feel the media is the enemy of the people."
Former White House communications director Anthony Scaramucci on Sunday said, "There's no reason to declare war against the press."

"You can have an adversarial relationship. You can disagree with people that are in the press," he said Sunday on CNN's Reliable Sources. "I don't like the war declaration because it will lead to something that none of us really want and I've said that directly to the president."