Britney Spears has revealed that she recently found herself locked in her bathroom in the middle of the night in a lengthy Instagram caption detailing the experience. The post has raised eyebrows from fans.
On Tuesday, Britney caused huge conversation among her fans after posting a photo of a door slightly ajar alongside a caption telling the story of how she'd found herself locked in for an extended period.
In the caption, Britney began by explaining how she'd simply decided to take a bath at 2 a.m. before going on to describe (in incredible detail) the pretty stressful ordeal that followed.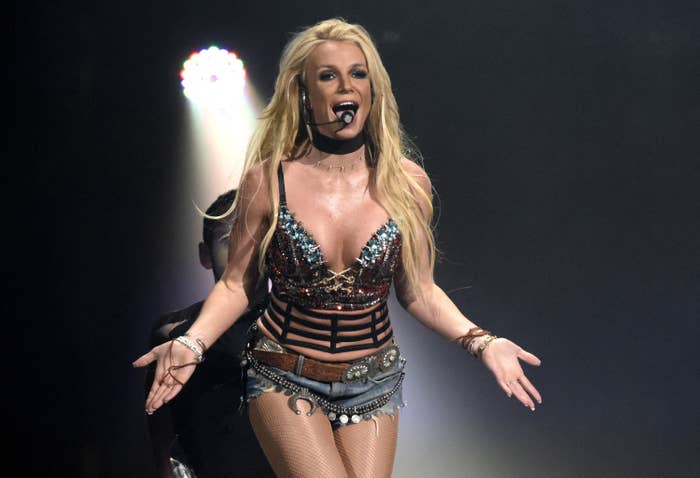 "At 2am I decided to take a bath," she wrote. "… I looked for my face wash but couldn't find it anywhere !!!! I was caught up in my head looking for it for about 15 minutes and then realized it's probably in the other bathroom."
But Britney said that when she went to leave and look for her face wash, she quickly found that the door was stuck, leaving her locked in the bathroom.
"I went to leave and the door was locked… I thought ok well it's a bathroom, I can open the damn door… no, the lock was stuck !!!!" she wrote. "I got locked in the fucking bathroom and my boyfriend was sleeping… even if there are earthquakes he doesn't wake up."
"I screamed 'HEYYYYY!!!! Come open this stupid door !!!!'… silence," she went on. "The fourth time he gets up and says 'What's wrong?'... I said 'I'm in here and I can't get out.'"
Britney went on to explain how her boyfriend, Sam Asghari, tried to open the door with a pen to no avail, and so she desperately called security to let them know of her situation.
"15 minutes went by and [security] finally said they'd send someone up to open the door… 10 minutes later… 'HELLO ??? Is anybody there ???'… then they told me 10 more minutes !!!" the singer continued.
And Britney continued to detail how she "yearned" for the bathroom door to open, which many fans have since called "poetic" and "cryptic."
"I cleaned the bathroom and thought about taking a shower or something but then I saw it… the door," she wrote. "I just looked at it for the first time with a yearning of just wanting it to open… would my eyes trick me and make it happen faster ???"
"My eyes widened and the door was more clear… more vast… I could see it with clarity and brightness… please open door," she continued.
"'We're here!' They said… I asked how long it would take to open… and they said 'oh, maybe 10 minutes' !!!!"
And Britney ended the story by detailing how she became "reenergized" and "started speaking again" before the security "finally" managed to get the door open.
"I was reenergized and started speaking again!!!" she wrote. "'Are you guys there ???'… 'Yes we are!' They said, 'Stand back, we're going to open the door!' It opened… it finally opened !!!!!"
The post was quickly overwhelmed with comments theorizing that the caption was an elaborate metaphor for Britney's life and freedom, in light of her recent battle to end her conservatorship.
Britney has been the focus of public interest for months as she fights to end the conservatorship that has seen her life and finances legally controlled by her father and lawyers since 2008.
During devastating court testimony in June, the pop star publicly denounced her conservators, claimed that she'd found the terms of the agreement "abusive," and urged the judge to release her from it.
"I just want my life back," she said. "It's been 13 years. And it's enough. All I want is to own my money, for this to end, and my boyfriend to drive me in his fucking car."
As a result, many fans began connecting the Instagram caption — where Britney described feeling trapped and without a voice before becoming reenergized and escaping — to her current situation and questioned whether the story was a metaphor for her quest to find freedom.
"Sounds like a metaphor of what's happening in her life," one of the top comments read, which received over 18,000 likes.

"Britney writing in a clever metaphor is everything," one person wrote. "13 years and the door finally opened. Fly Britney!"
"I feel like this is a metaphor for her 'door' finally opening to speak out after being held silent for so long," another wrote.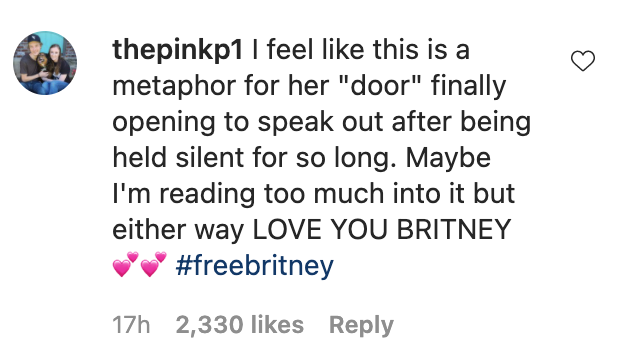 And in addition to all the comments from fans, singer Miley Cyrus also left one of her own under the lengthy post: "They Free'd Britney for real!"

Fans have long speculated that Britney uses Instagram to communicate with them. Just weeks ago, fans theorized that Britney hinted at her current feud with sister Jamie Lynn in an Instagram video posted back in July 2020.
In the video, she explained that her favorite Disney movie was Frozen because she liked that it centered on "two sisters, their relationship," and how "one goes to a castle because she can't deal anymore."
Less than a year later, Britney publicly condemned her sister, describing her as "mean" on Instagram.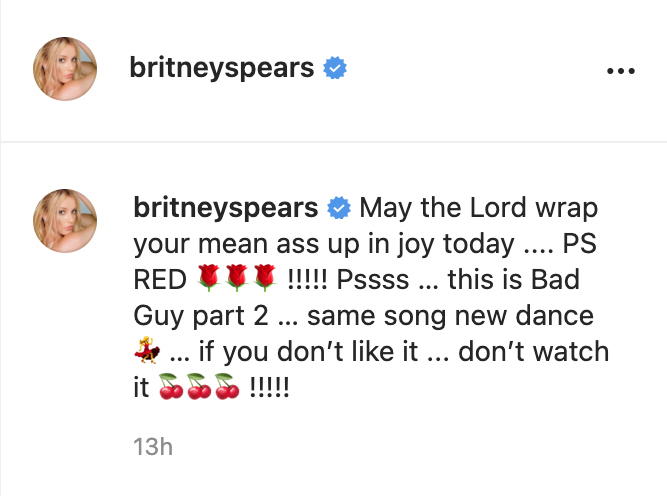 And the speculation over the meaning of Britney's most recent Instagram post comes just a week after her new attorney, Mathew Rosengart, filed documents to suspend and remove Britney's father Jamie Spears as conservator of her estate.
This came about after Britney claimed in court that she's always been "extremely scared" of her father and that she'd like to get "immediate restraining orders" placed on him.
Just days earlier, Britney's agent and longtime friend Cade Hudson finally spoke out about her conservatorship, calling it a "violation of human rights" before hinting at being threatened into silence by Jamie Spears.
"I've kept my mouth shut out of the fear of losing my job as her agent and losing the career I worked my ass off for 15 years to build, out of threats from the man we all know who, but I won't even dignify mentioning his name," Cade wrote, quoted by TMZ. "I'm officially done being quiet."
"The system and the public failed her," he continued. "Her new attorney is the best of the best and knows that the work has just begun but it's progress & hope and that's all we can ask for now until action can be taken."