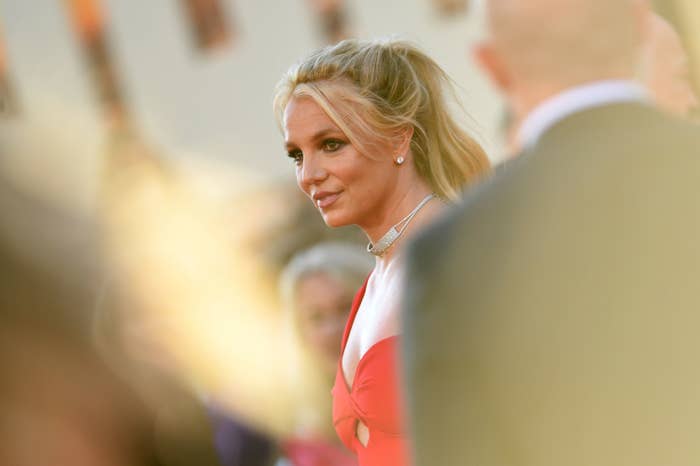 LOS ANGELES — In an emotional and explosive court hearing, Britney Spears asked on Wednesday a judge to end her conservatorship, the legal arrangement that has put her father and a cast of lawyers in control of her life and sparked a movement among fans to #FreeBritney.
Spears, who has lived since 2008 under the court-mandated arrangement — which is typically used in cases of severe disability or dementia — spoke in a public court hearing for the first time to ask a judge to give her back control over her affairs.
"I just want my life back," the 39-year-old pop star said during a virtual appearance in the Los Angeles County Superior Court.
She added that what she's been through has been "demoralizing" and "embarrassing," and that it was offensive for people to question her mental capacity. The conservatorship should be ended without any further evaluation of her, she said.
"I don't owe anybody anything," she said.
To read our investigative series on the guardianship industry, "Beyond Britney," go here.
With a series of shocking revelations, Spears said the conservatorship has prevented her from living a full life. She'd like to get married and have another child, she said, but under the conservatorship, she hasn't even been able to make a doctor's appointment to remove her IUD. She isn't able to ride in a car if her boyfriend is driving, she said.
"This conservatorship is abusive," she said.
After she spoke, an attorney representing Spears said he'd consult with her on filing the document necessary to formally seek an end to the conservatorship. He added that now that she's had her chance to speak publicly, Spears would like future proceedings to be sealed.
Judge Brenda Penny praised Spears for courageously making her voice heard.
"I just want to commend you again for really stepping forward and stepping out to have your thoughts heard by not only myself, but everybody who has been involved in this case," Penny said.
Spears' comments come months after the New York Times' Framing Britney Spears documentary was released, sparking a reexamination of how Spears was treated by the media before and during her public breakdown. The documentary also questioned the control that her father, Jamie Spears, continues to hold over her financial and physical well-being, given her return to a successful music career. On Tuesday, the Times reported that the singer had pushed to end the conservatorship for years, confirming fans' long-held belief that she wants to be freed.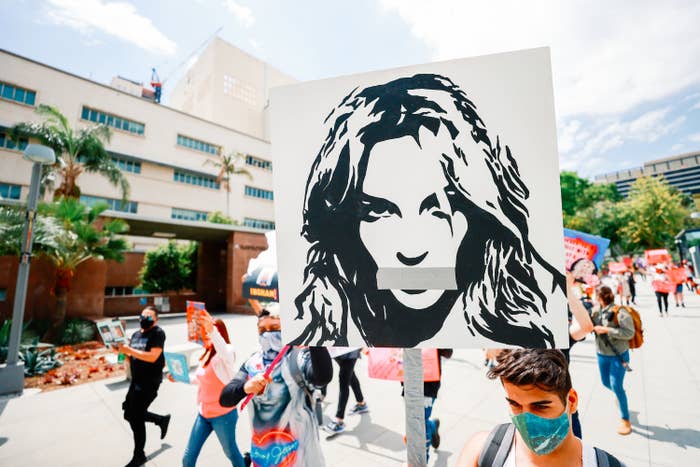 Citing confidential court documents, the newspaper reported, Spears told a court investigator in 2016 that she was "sick of being taken advantage of" and felt that the conservatorship had "too much control," saying that it restricted the use of her own credit card and stopped her from making changes to her home, like restaining her kitchen cabinets.
"That right there, that got me so angry," #FreeBritney activist Junior Olivas told BuzzFeed News. "She's still totally fine to be put up onstage in front of hundreds of people every single night, but she can't choose how she wants her house to look? My god. It's disturbing."
Fans felt even more vindicated Wednesday morning, when Spears' boyfriend, actor Sam Asghari, posted a selfie wearing a #FreeBritney T-shirt to his Instagram story.
"I thought it was a great vote of confidence in the #FreeBritney movement, but also we do know that Sam is one of the people that Britney is closest to. So I think that that might give us a little bit of insight into where Britney's at," Tess Barker, cohost of the podcast Britney's Gram, told BuzzFeed News.
Dozens of people gathered outside the Los Angeles courthouse on Wednesday, chanting, "What do we want?" "Free Britney!" "When do we want it?" "Now!"
The Times also reported that Spears had told the court in 2019 that she felt forced by the conservatorship to perform against her will and to check into a mental health facility.
In Wednesday's hearing, Spears said she was willing to stay in therapy, but she objected to the conservatorship's mandatory twice-weekly sessions at an office in Westlake, where paparazzi have waited for her. She said she'd be willing to see a therapist once a week at her home.
In February 2008, after Spears was hospitalized twice following a custody dispute with her ex-husband Kevin Federline, a judge granted Jamie's petition to place her under what was supposed to be a temporary conservatorship. As a result, he was put in charge of her financial and business affairs, as well as decisions regarding her personal life.
Even as Spears continued to work, performing in a yearslong Las Vegas residency and releasing four studio albums, the conservatorship — an arrangement intended for people who cannot take care of themselves or their finances — endured. Last year, a judge denied her request to suspend Jamie as conservator despite her attorney telling the court that the pop singer was afraid of her father.
On Wednesday, attorney Vivian Thoreen read a statement to the court on behalf of Jamie Spears.
"He is sorry to see his daughter suffering and in so much pain," she said. "Mr. Spears loves his daughter and misses her very much."