Their feud began last month with Britney's court testimony in which she said she'd like to sue her whole family and claimed they did nothing to help her while she struggled under the terms of her conservatorship.
During the testimony, Britney opened up about how she felt that she was abused under the conservatorship agreement, which has seen her life and finances legally controlled by her father and lawyers since 2008.
"I would honestly like to sue my family," she told the judge in court. "I also would like to be able to share my story with the world, and what they did to me, instead of it being a hush-hush secret to benefit all of them. ... It concerns me. I'm told I'm not allowed to expose the people who did this to me."
After the testimony was released, Jamie Lynn posted a series of Instagram stories denying that she was being referenced by Britney, and stating that she "adored and supported" her sister.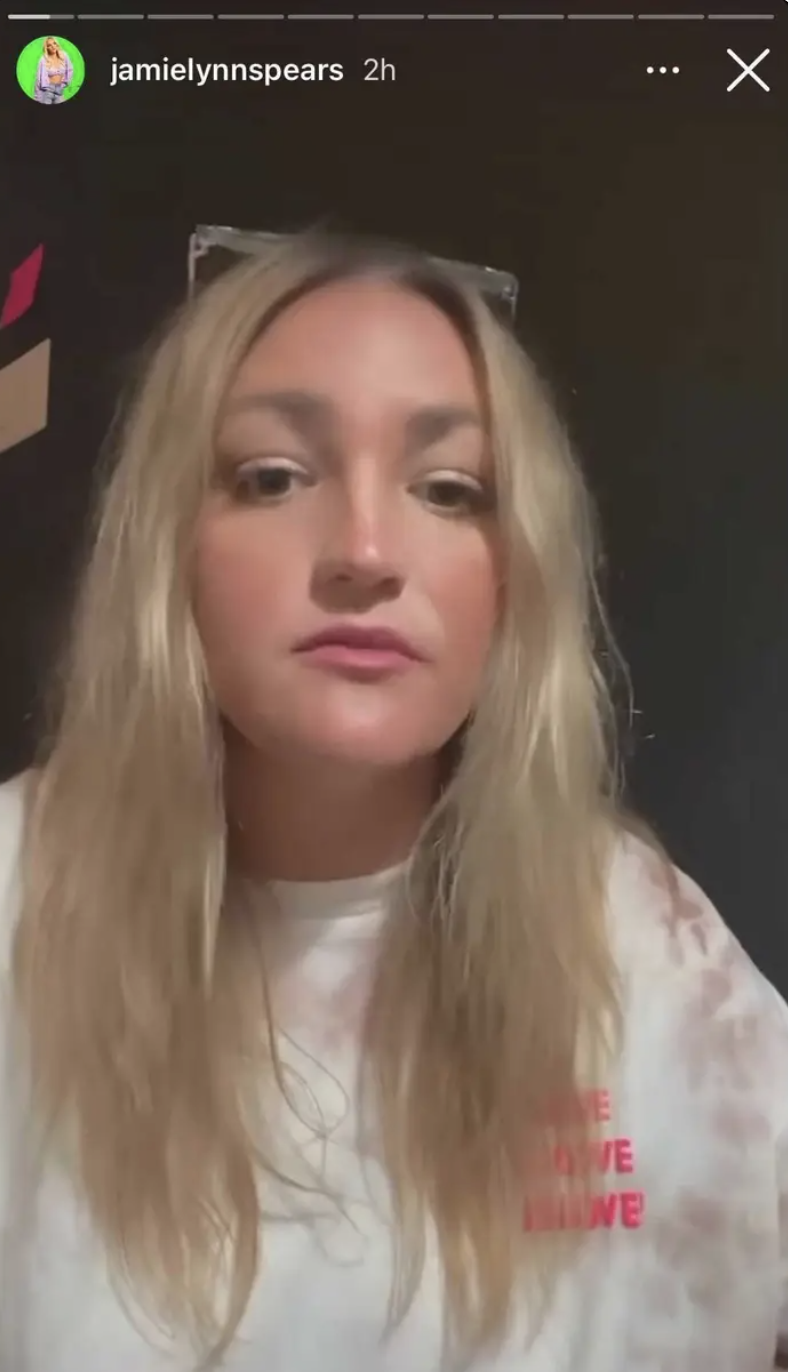 But shortly afterward, Britney appeared to respond to Jamie Lynn's claims with an Instagram post where she continued to call out her family.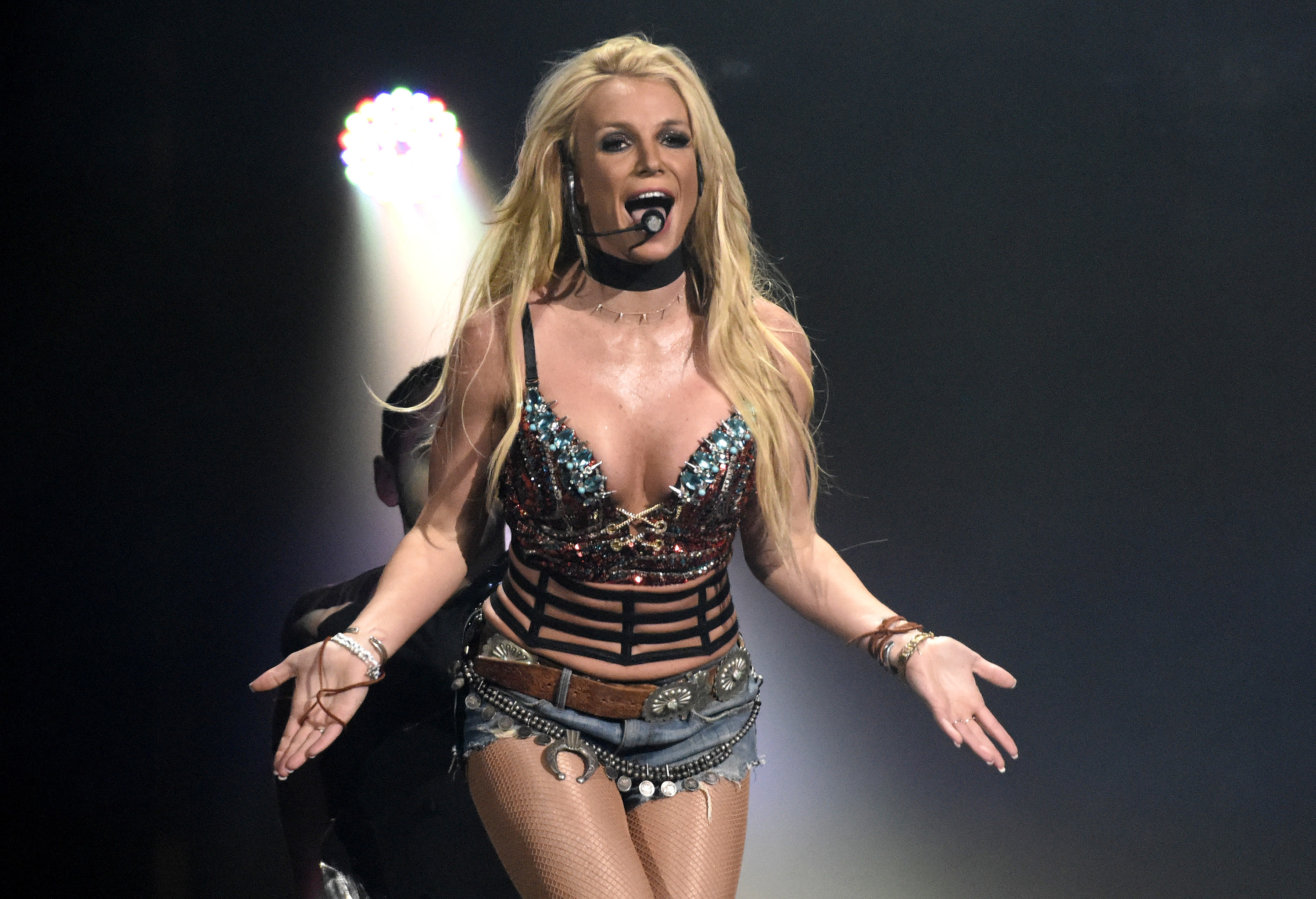 "There's nothing worse than when the people closest to you who never showed up for you post things in regard to your situation whatever it may be and speak righteously for support … there's nothing worse than that !!!!" Britney wrote. "How dare the people you love the most say anything at all … did they even put a hand out to even lift me up at the TIME !!!???"
The following day, Britney shared a second Instagram post, this time directly mentioning her sister in a lengthy caption alongside a picture that said, "Kiss my ass, eat shit, and step on legos."
"I don't like that my sister showed up at an awards show and performed MY SONGS to remixes !!!!!" Britney wrote. "My so-called support system hurt me deeply !!!!"
And things got even messier when Jamie Lynn then appeared to reference Britney's posts with one of her own. She shared a photo of herself alongside the caption, "May the peace of the Lord be with you, and your spirit," accompanied by a peace sign and heart emojis.

However, shortly after Jamie Lynn's post, Britney posted a video of herself dancing to Billie Eilish's "Bad Guy" with a caption directly referencing Jamie Lynn's.
"May the Lord wrap your mean ass up in joy today," she wrote.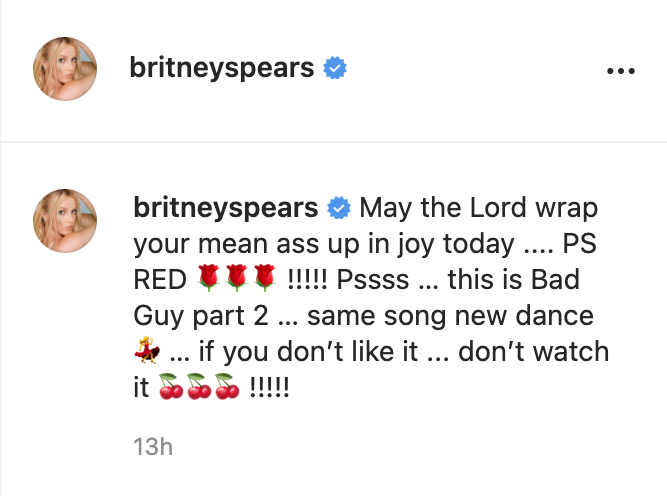 And after fans made the connection between the two posts, Jamie Lynn edited her original caption, removing the words entirely as well as switching off the comments.
Well, things are now escalating further between the sisters after Jamie Lynn denied allegations that she owned a condo in Destin, Florida, that was bought using Britney's money.
This comes just days after a report suggested that Britney paid for a condo that Jamie Lynn has apparently claimed as her own on several occasions, despite her assertion that she isn't on her sister's payroll.
According to tax documents obtained by the Sun, Britney bought a condo in Destin, Florida with her own money in 2001, before the conservatorship was put into place.
However, Jamie Lynn has referred to the condo as her own on at least two separate occasions. She first mentioned it during a fan Q&A in 2015, describing the property as "the best getaway!"
And in 2016, she addressed the condo again in an interview with CMT. "I host everyone at our condo," she said, quoted by Bustle. "We're pretty blessed with a big condo. It can sleep about 10 people."
At the very least, this suggests that Jamie Lynn has taken advantage of the vacation home over the years — something Britney referenced during her July 14 testimony where she claimed her entire family vacationed at the property while she was being held at a mental health facility against her will.
"At the time, while I was there, [my dad] and my whole family were at my beach house in Jackson, Florida, that I bought," Britney told the judge.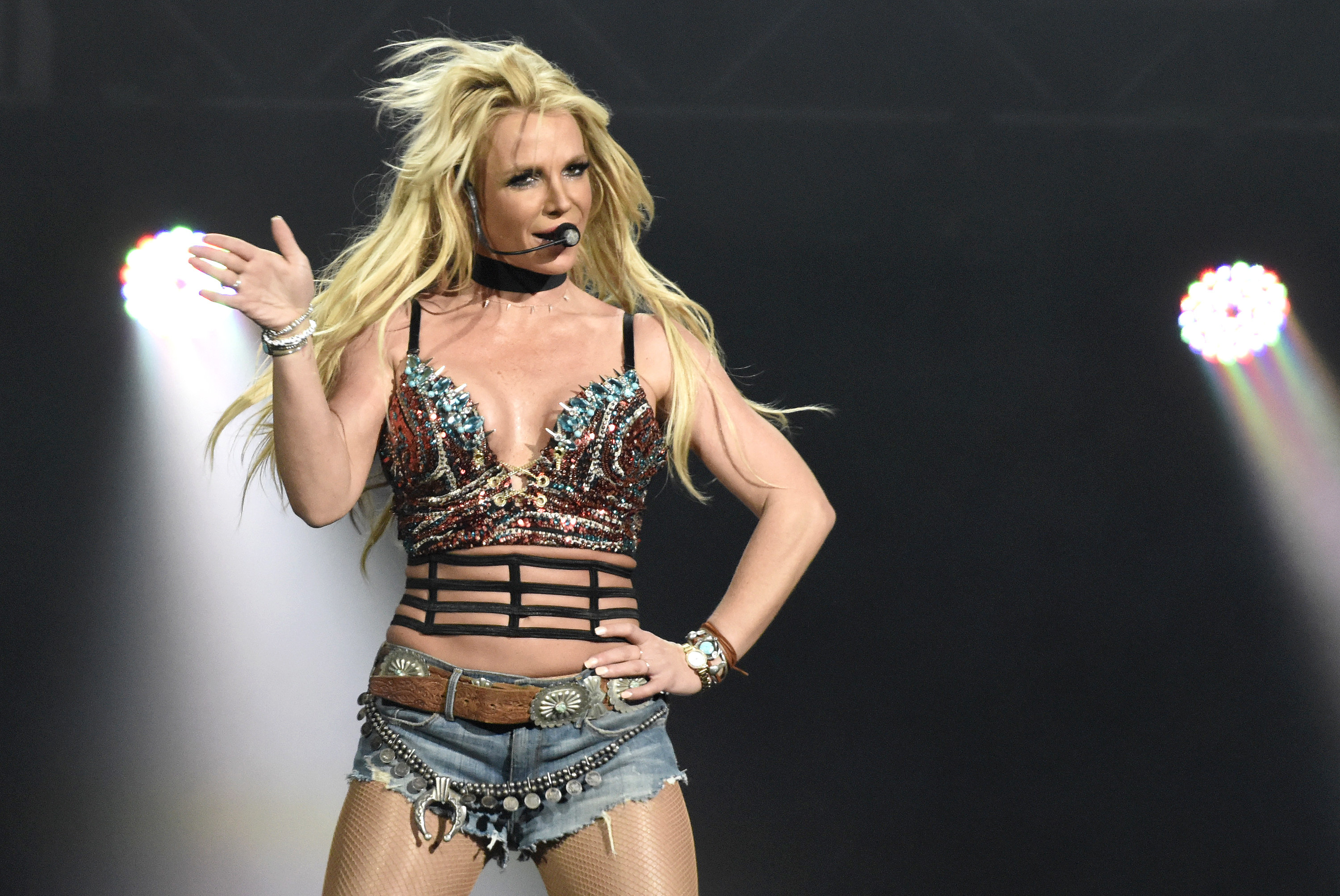 Well, Jamie Lynn has now addressed the situation, sharing a series of photos of herself and her family at a Ritz-Carlton resort during a recent vacation while denying that anyone has ever "bought [her] a place at the beach."
"I don't own a condo, and I can assure you that no one has ever bought me a place at the beach, because I prefer my beach vacations at the Ritz anyway," Jamie Lynn wrote. "Simple FACTS. Y'all need to stop reachin'. Thankful to get this time with my family in between our busy work and practice schedules with the kids lol."

However, after being called out by Britney fans, Jamie Lynn has once again edited her caption. She removed all references to the condo, leaving just the last sentence about her family and kids.
But the caption wasn't the only thing Britney fans noticed in Jamie Lynn's post. Eagle-eyed fans quickly drew attention to one of the photos in the carousel that shows her husband looking at what appears to be a post from Britney's own Instagram feed.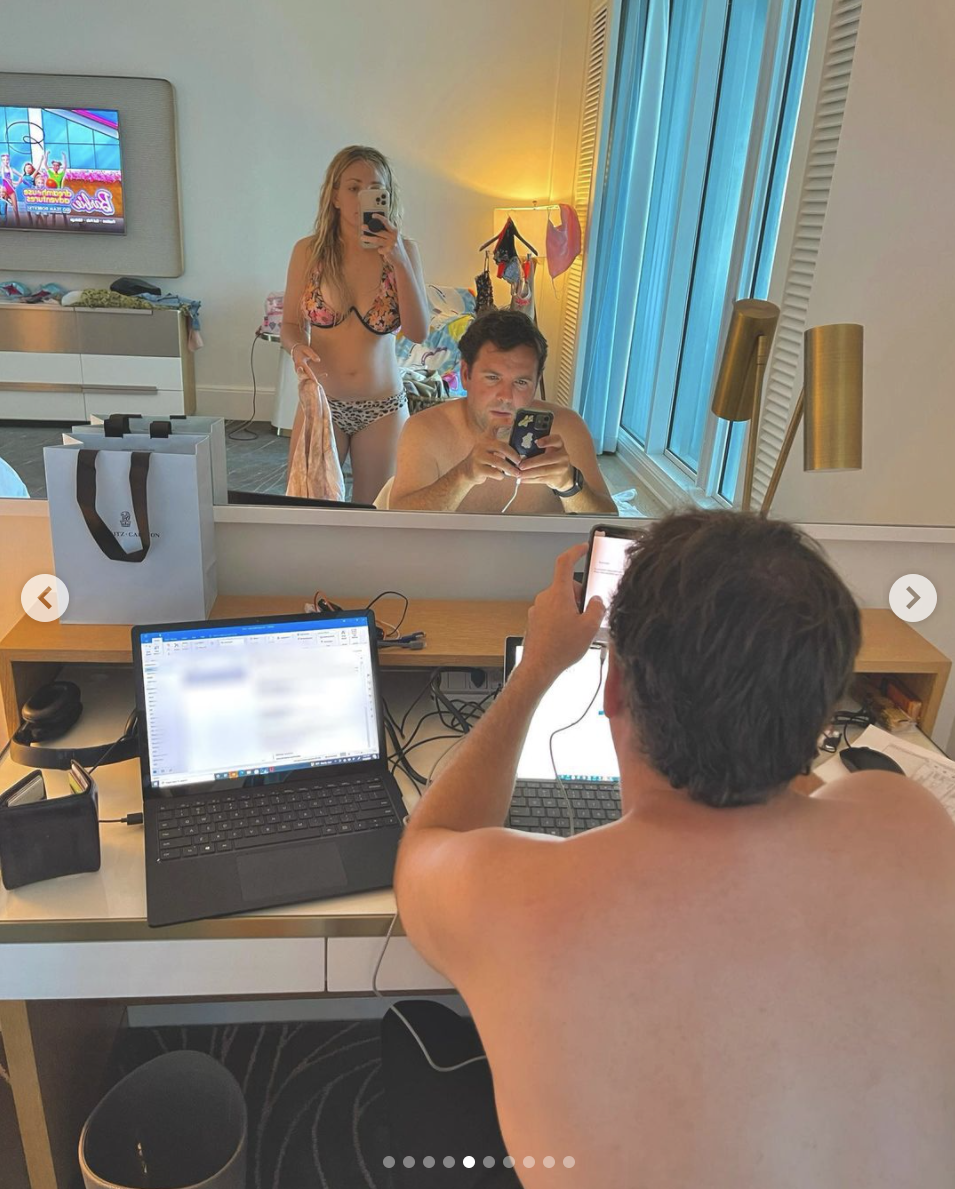 The post, which Britney shared two days ago, shows a page from a book with a quote referencing kindness.
And after fans began to notice that Jamie Lynn may have accidentally shared the photo of her husband scrolling Britney's feed, she reposted the image on her story — with a caption covering up exactly what he was looking at, and a reference to the fact he's "always working."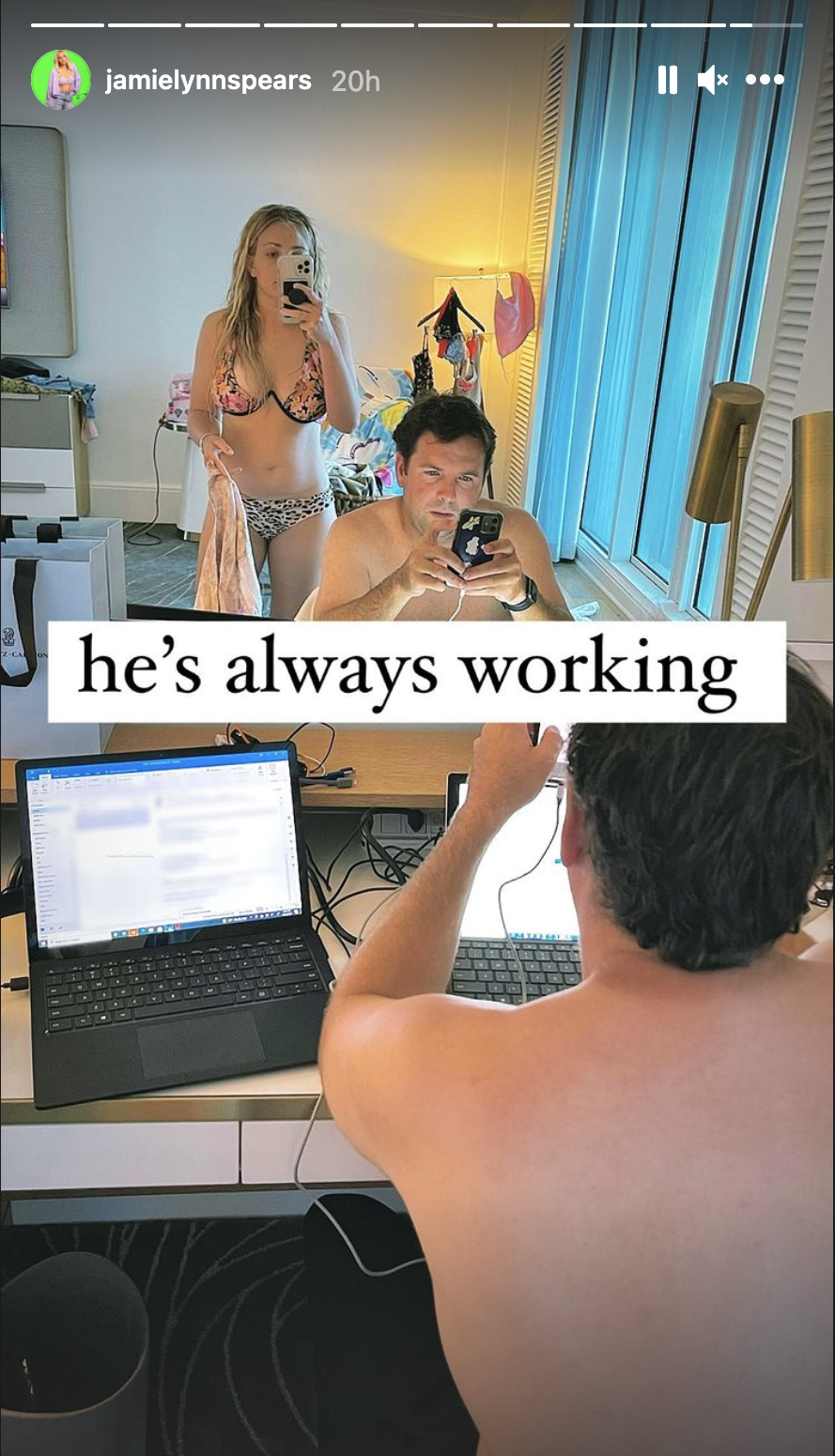 Meanwhile, Britney and her new lawyer are continuing their quest to have her father, Jamie Spears, removed from the conservatorship.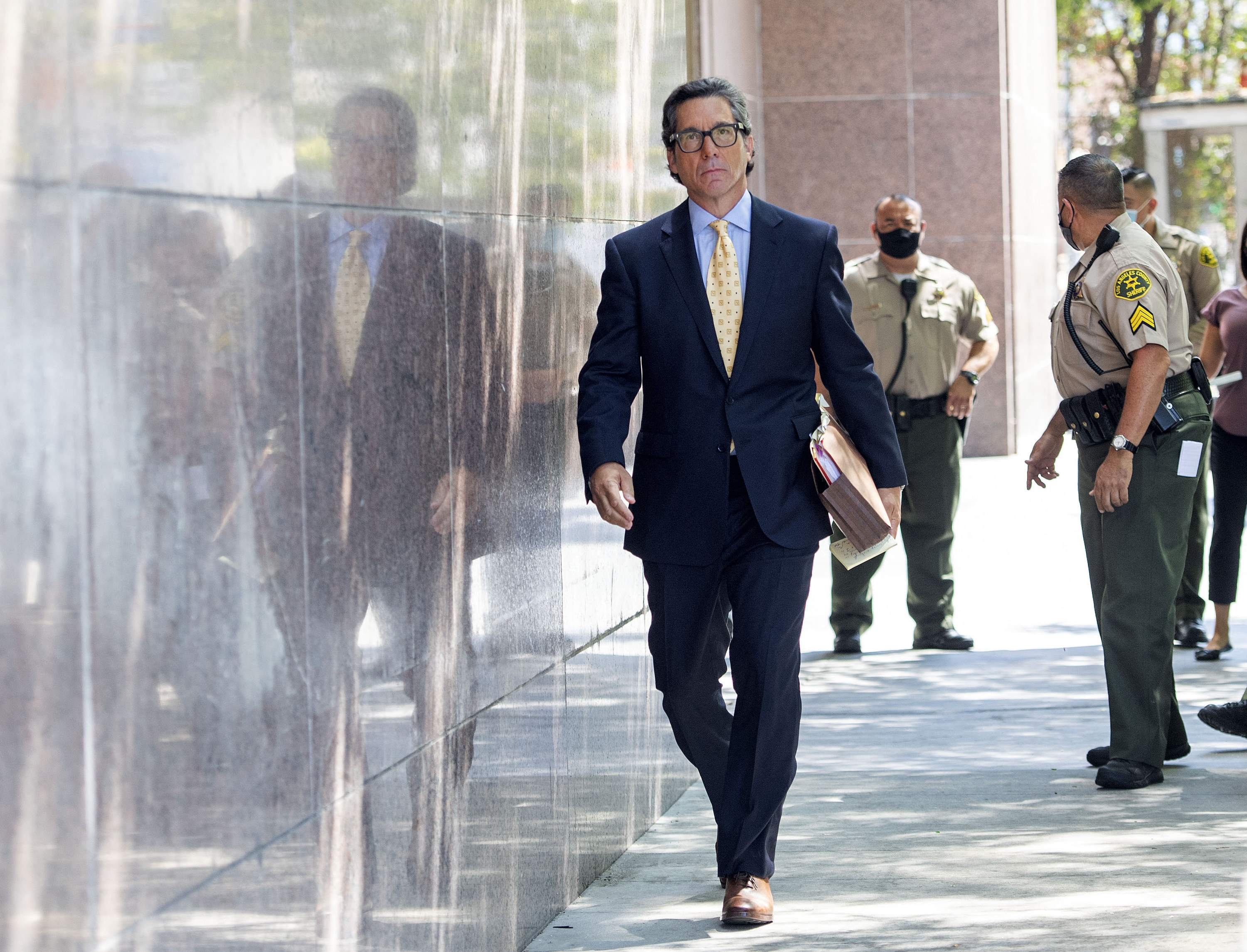 New court documentation shows that Britney's new attorney, Mathew Rosengart, has filed documents to suspend and remove Jamie Spears as conservator of Britney's estate, after Britney claimed in court that she's always been "extremely scared" of her dad and that she'd like to get "immediate restraining orders" placed on him.