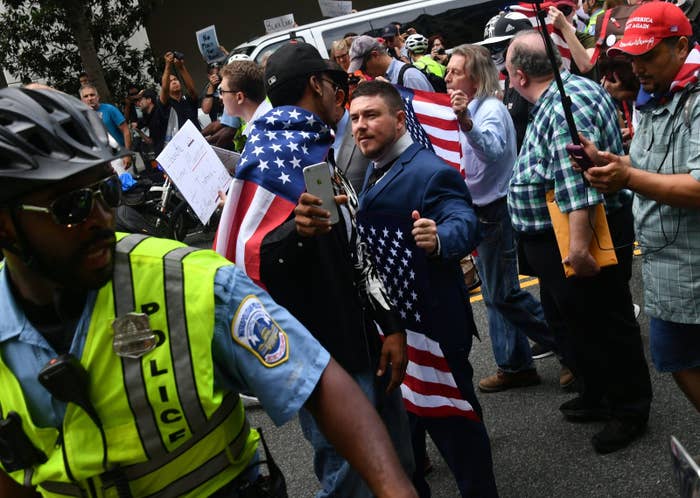 Scores of white supremacists had been expected to rally on Sunday in Washington, DC, for the second "Unite the Right" rally, but only a small cadre of right-wing demonstrators ultimately showed up — and were vastly outnumbered by counterprotesters.
The small group of white nationalists made their way to Lafayette Square opposite the White House from a local metro station, and were swamped by a flood of police, press, and counterprotesters. While hundreds of people were out on the streets of the nation's capital, some reporters estimated that only 20 white nationalists were among them.
"There were a lot of people who were at last year's rally who are very scared this year," Jason Kessler, the "Unite the Right" organizer, told the few supporters who did show up.
This event follows an explosive rally held a year ago in Charlottesville, Virginia, which began with people burning tiki torches and chanting the Nazi slogan "blood and soil" before the next day devolved into violence.
Heather Heyer, who was demonstrating against white supremacists, was killed, along with two police officers who died in a helicopter crash while surveilling the protests. Dozens were injured.
Sunday's rally in DC was scheduled to officially begin at 5:30 p.m. in Lafayette Square but began much earlier as police rushed the "Unite the Right" members through the crowd. White supremacists had arrived by metro in the Foggy Bottom neighborhood around 3 p.m., where they were met with boos and screams from the crowd gathered outside.
The group, led by Kessler, marched toward Lafayette Square surrounded by counterprotesters and escorted by police.
Kessler blamed others in the far right for the poor turnout. "A lot of these people who are tough guys, wannabe Nazi types said, 'Don't go. It's gonna be a shooting gallery. You're gonna be hurt if you go,'" he said. "Well, alright, tough guy Nazis. I'm not a Nazi. I'm a moderate and I'm standing here, and you're in your momma's basement."
Counterprotesters at Lafayette Square were seen chanting "Go home, Nazis" and "Shame!" while one person was seen burning a Nazi and Confederate battle flag.
They held signs denouncing the white supremacists, as well as President Trump, who they said has energized the racist movement.
Some counterprotesters wore all-black masks and outfits associated with the radical anti-fascist group that calls itself "antifa."
The group carried a banner that read "IT TAKES [A] BULLET TO BASH FASH."
Speaking to reporters Sunday night, hours after the protests had died down, DC Mayor Muriel Bowser and Washington Police Chief Peter Newsham said no injuries or significantly violent incidents were reported during the event, despite worries that the two groups would clash violently in the streets.
"I am very pleased today to be able to stand here and let you know that we think we were largely successful to make sure those First Amendment activities were able to happen and we maintained peace and order in our city," Bowser said.
Newsham said the department's main tactic was to assure opposing sides of the protests remained separated. "History has shown us that when these two groups get together, it turns violent," he said.
Newsham also brushed aside a question about whether the department had been "escorting" white supremacists during the event. The officers' actions had been aimed at keeping the two groups apart, he said, citing a report examining the police response to the events in Charlottesville last August, which faulted officers for failing to keep opposing factions separated before violence broke out.
One person, 44-year-old John Mulligan, was taken into custody just after 5 p.m. Sunday on suspicion of assault after he allegedly pepper sprayed someone in the face, Newsham said. Mulligan was found to be carrying a large slingshot and shards of glass and rock. He
One officer also deployed pepper spray after he was reportedly pushed toward his motorcycle, the police chief said. Authorities are now reviewing the incident to see if the use of force was merited.
With such an overwhelming turnout against the rally, some counterprotesters argued among themselves about the best strategy.
One debate among two young men in Foggy Bottom mirrored a larger one playing out in the liberal community. "You have to fight these people with hate. They don't believe in peaceful protest," said Pat Junghenn, 22, a George Washington University student who had run over when he heard the rallygoers were set to arrive there. "You have to fight fire with fire. You have to show them who's stronger, dude."
"No, that just makes them stronger," his counterpart said, counseling a less confrontational course.
"You're like one of those new liberals who are PC," Junghenn replied. "In the '60s they were violent and they got shit done."
Pressed further, Junghenn said he didn't actually plan to get violent — he would just be as aggressive as possible at shouting the white supremacists down. "You have to hit them in a verbal way. It's all about finding a fine line."
That was the route taken by the hundreds of counterprotesters who lined the route to the White House when the 20 or so white supremacists finally appeared to a chorus of swears and jeers.
"Fuck you pieces of shit," one man shouted.
"Never again. This is a new era," another said.
"That's all they got?" a woman asked, surprised at the scant number on the "Unite the Right" side.
"There are only, like, 10 of them," someone else said.
The jeers continued for the long walk as police kept the crowds at bay with a cordon of motorcycles. Even passersby on bicycles joined in the taunting alongside counterprotesters who held signs like "Nazis, go home" and "You Nazi shitheads are outnumbered."
Junghenn was among the many counterprotesters who dogged the small rally contingent throughout their lonely march, shouting profanity-laced tirades.
Police helped keep the two sides separated, preventing a return to Charlottesville-style violence. Some protesters said the officers should be thanked for their efforts. "The last thing I want is for them to be out here protecting these motherfuckers right now," one woman said.
Kessler had initially planned to hold two anniversary rallies: one in Charlottesville and one in Washington. After his application in Virginia was denied, Kessler filed a lawsuit against the city over the decision in March. He later dropped the suit on Aug. 2.
In his May permit application for Sunday's rally in Washington, Kessler described the event as a "white civil rights rally" organized to "protest civil rights abuse in Charlottesville."
Far-left demonstrators still gathered on Sunday in Charlottesville, where they tried to visit the street where Heyer was killed.
Police had blocked the area, and some protesters blocked media from filming them. They also demonstrated on Saturday.
As of 4 p.m. on Sunday, Charlottesville officials said four people had been arrested. One man was arrested for blocking police officers trying to create a safe passage for demonstrations. Two individuals were arrested for disorderly conduct, and a 29-year-old woman was charged with assault and battery and disorderly conduct after a state trooper saw her spit in the face of another demonstrator.
Heyer's mother, Susan Bro, was allowed to visit a makeshift shrine to her daughter on the street, which has since been named Heather Heyer Way.