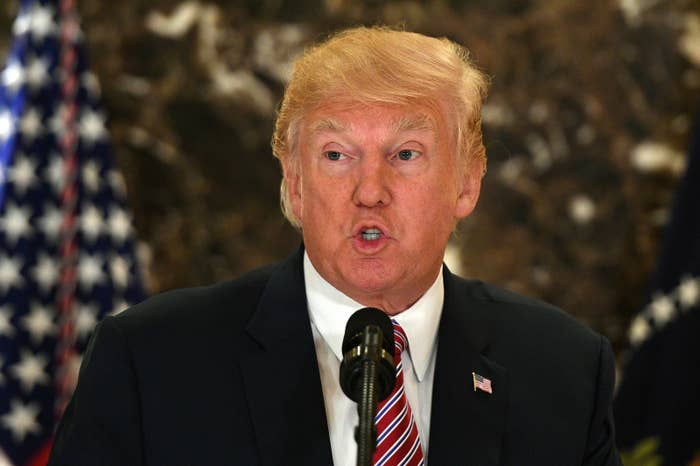 President Donald Trump delivered an address Tuesday that made him sound like President of the Confederacy.
Trump went on an angry defense of the racists who sparked riots that led to a suspected terror attack and three deaths in Charlottesville this weekend, inaccurately blaming much of the violence on the "alt-left."
Trump also defended the monuments of Confederate-era leaders — the people who went to war in an effort to maintain slavery in the United States — that are widely being taken down, both quietly and with fanfare, in cities around the nation for glorifying the greatest stain on American history.
And Trump defended himself, saying his painfully slow response to condemning white supremacy after the riots was a result of him needing to "get the facts" before speaking quickly — even though that has not stopped him from making hasty remarks in previous incidents in which the alleged perpetrators were not white.
Trump's comments came during his first visit to his New York home, Trump Tower, since the inauguration — a place where he feels emboldened and to which he returned almost nightly during his presidential campaign.
His frustrated remarks, held in the ornate gold lobby of his tower, came after a dizzying day on Twitter for the president and at a time when his legislative agenda is stalled. Trump on Tuesday used his Twitter account to promote a conspiracy theorist who has pushed hoaxes about Melania Trump, to again endorse violence against the journalists of a news agency, and to deride business leaders who left his councils because of his weak response to the events of Charlottesville.
Comparing Robert E. Lee to George Washington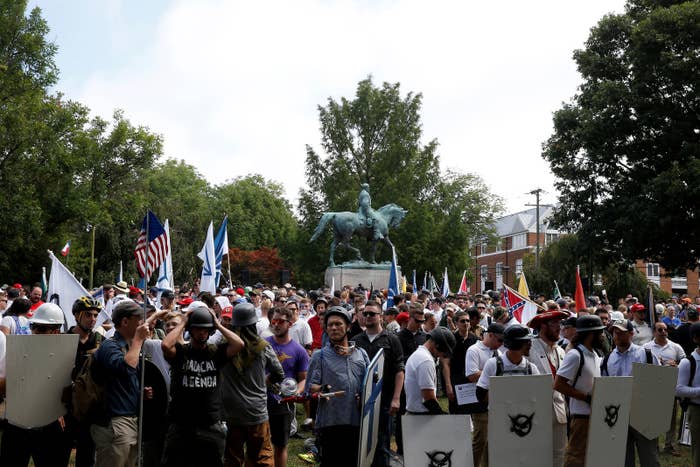 Defending the purpose of Saturday's march in Charlottesville — said to be the largest gathering of white supremacists in decades — Trump said people were just there to protest the removal of the Robert E. Lee statue.
He then equated Confederate leaders like Lee and Stonewall Jackson to George Washington and Thomas Jefferson, noting that the two presidents and Founding Fathers owned slaves.
"This week it's Robert E. Lee, and this week, Stonewall Jackson," Trump told reporters, echoing a line that's been circulating among right-wing commentators in recent days. "Is it George Washington next? You have to ask yourself, where does it stop?"

"Are we going to take down statues to George Washington? How about Thomas Jefferson?" he continued. "What do you think of Thomas Jefferson? You like him. Good. Are we going to take down his statue? He was a major slave owner. You are changing history and culture."
Defending white supremacist protesters
Trump then said, again, that both sides were to blame for the violence in Virginia over the weekend, repeating a similar remark he'd made Saturday in the immediate aftermath of the rallies.

"I've condemned neo-Nazis. I've condemned many different groups. Not all of those people were neo-Nazis, believe me," Trump said Tuesday. "Not all of those people were white supremacists by any stretch."

Protecting those who attended the "Unite the Right" rally, the president tried to blame the "alt-left" — a construction pushed by the extreme right to counter critics of the growing alt-right movement — for the violence. This is not true.
"What about the alt-left that came charging at, as you say, at the alt-right? Do they have any semblance of guilt?" Trump demanded. "What about the fact that they came charging with clubs in their hands, swinging clubs? Do they have any problem? I think they do."
Trump then demanded to know why the press has not focused more on liberal protesters in Charlottesville, whom he portrayed as equally violent to the white supremacist groups that organized the weekend's rallies. Both groups "came at each other with clubs and it was vicious and horrible," Trump said. This is not borne out by witnesses who were actually at the scene.
"You also had some very fine people on both sides," Trump said. "You had many people in that group other than neo-Nazis and white nationalists. The press has treated them absolutely unfairly. Now, in the other group also, you had some fine people but you also had troublemakers."

Circling back to the argument "there is another side," Trump again lobbed blame at the "left."
"There was a group on this side, you can call them the left," he said. "You have just called them the left, that came violently attacking the other group. You can say what you want. That's the way it is."
He also defended the hundreds of Tiki-torch-wielding protesters who surrounded a group of University of Virginia students at a statue of the school's founder, Thomas Jefferson, on Friday night.

"If you look, there were people protesting very quietly the taking down the statue of Robert E. Lee," Trump said, before conceding, "I am sure there were some bad ones."
Videos from the march, however, show several hundred white supremacists chanting slogans like "Jews will not replace us"; "end immigration"; "one people, one nation"; and "blood and soil," a Nazi-linked phrase referencing ethnic descent and territory.
According to the president, those who gathered at the "Unite the Right" rally had a legal right to be there because they had a permit.

"They didn't put themselves down as neo-Nazis," Trump said of the group who requested the permit for the event.
"The following day, it looked like they had some rough, bad people, neo-Nazis, white nationalists, whatever you want to call them," he added. "You had a lot of people in that group that were there to innocently protest and very legally protest. I don't know if you know, they had a permit. The other group didn't have a permit. So I only tell you this: There are two sides to a story."
Although Trump shifted criticism away from the white supremacist marchers, he repeatedly denounced the violence as "horrible" and called the driver who rammed into the crowd, killing 32-year-old Heather Heyer and injuring 19 others, "a murderer."
"What he did was a horrible, horrible, inexcusable thing," Trump said.
Defending his slow response to the white supremacist violence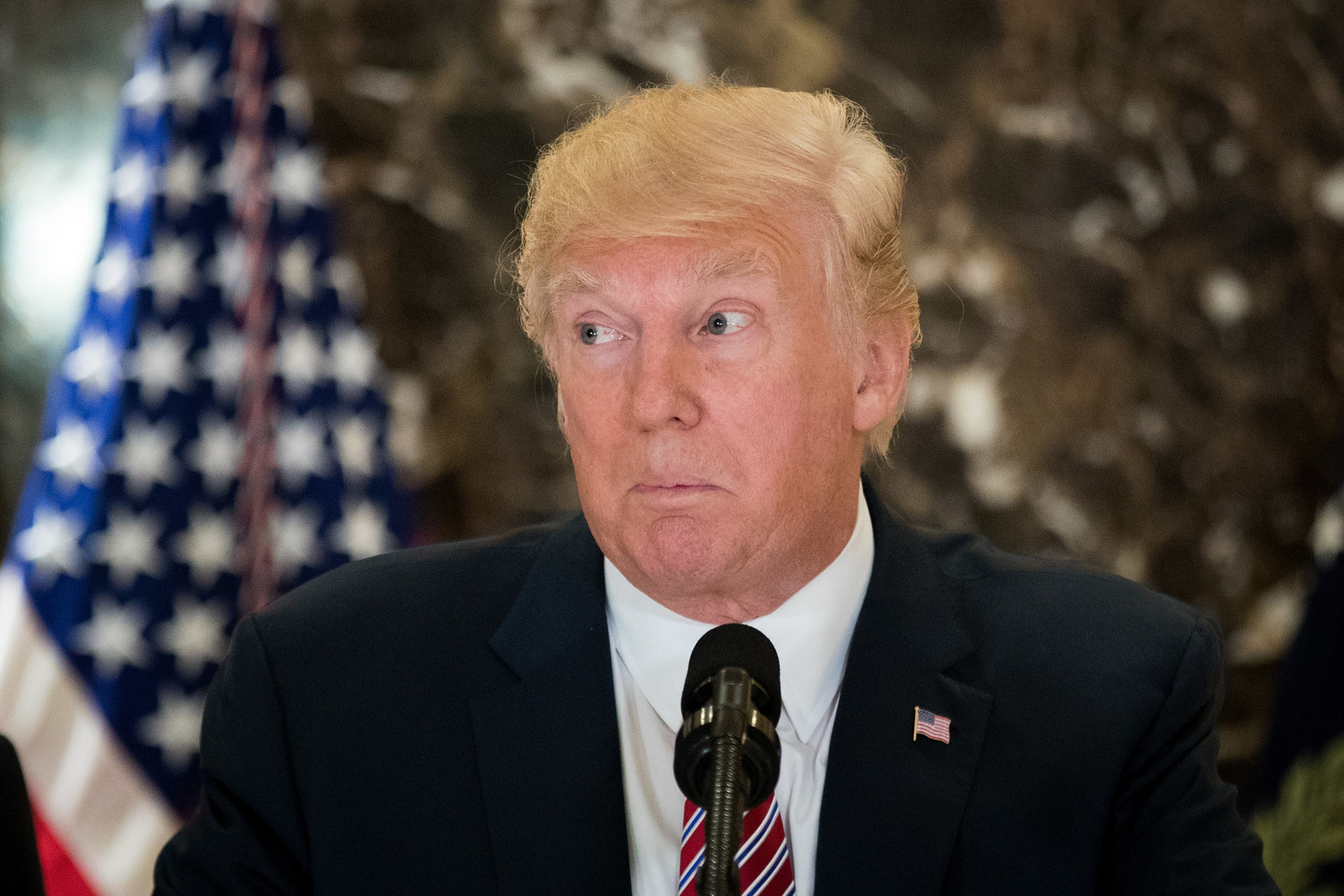 When asked why the president took two days to explicitly condemn white supremacists and hate groups after the deadly violence in Charlottesville, Trump lashed out at the media and defended his delay, saying he was waiting for "the facts."
"I wanted to make sure, unlike most politicians, that what I said was correct, not make a quick statement," he said.
"It takes a little while to get the facts. You still don't know the facts. It is a very, very important process to me. It is a very important statement. So I don't want to go quickly and just make a statement for the sake of making a political statement," he added.
However, the president often comments on violent incidents right after they occur, especially when he presumably assumes the attackers are Islamic extremists.
Trump also bragged that he had been thanked for his words by Susan Bro, the mother of 32-year-old Heather Heyer, who was killed in Saturday's car collision.
"Her mother wrote me and said through, I guess, Twitter, social media, the nicest things," Trump said. "And I very much appreciated that."
Bro did release a statement on Monday thanking Trump for denouncing violence, which was posted by NBC News on Twitter and republished by multiple news outlets. But Bro and Trump have not communicated personally.
On Tuesday, Bro issued another statement saying she had not seen Trump's most recent press conference and could not comment on it. She had been occupied by formally identifying her daughter's body Tuesday, ABC News reported, and asked for privacy for her family as they grieved.
Top Trump advisers were reportedly stunned by the president's speech after he "went rogue" in front of the press.
Photos from the conference seem to show the president shelving prepared lines as he launched into his tirade in defense of the white supremacists who gathered over the weekend. The internet, obviously, turned it into a meme.
Defending Steve Bannon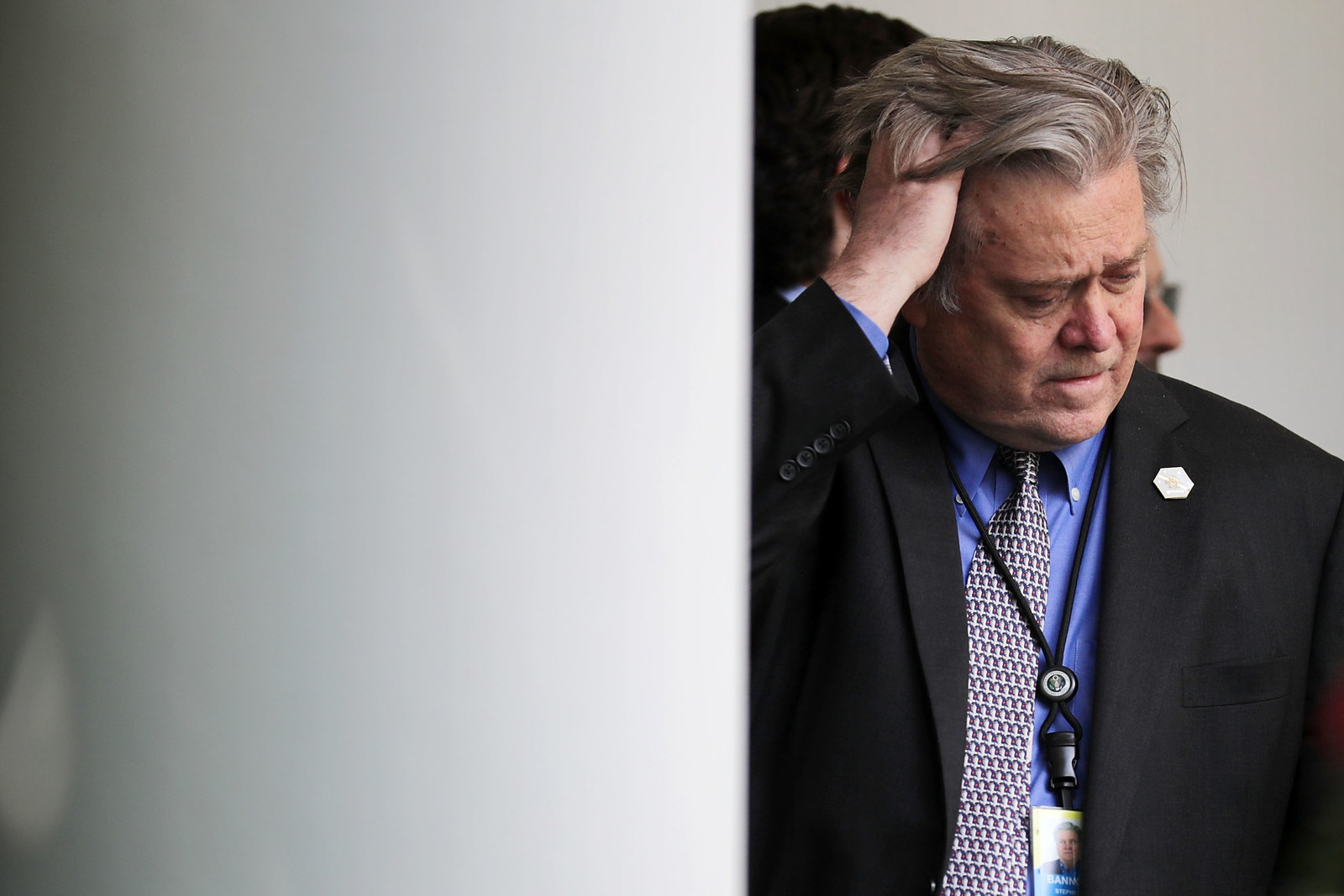 Trump also stood up for White House senior strategist Steve Bannon, who has repeatedly come under fire for his association with white nationalist groups, as well as his former role leading Breitbart News, a far-right news site Bannon once described as a "platform for the alt-right."

"He is not a racist. I can tell you that," Trump said, when asked about his views on Bannon. "He is a good person. He actually gets a very unfair press in that regard."

As for whether Bannon will remain in his administration, however, Trump left the door open: "We'll see what happens with Mr. Bannon. He is a good person and I think the press treats him, frankly, very unfairly."
Republicans and Democrats were quick to condemn the president's remarks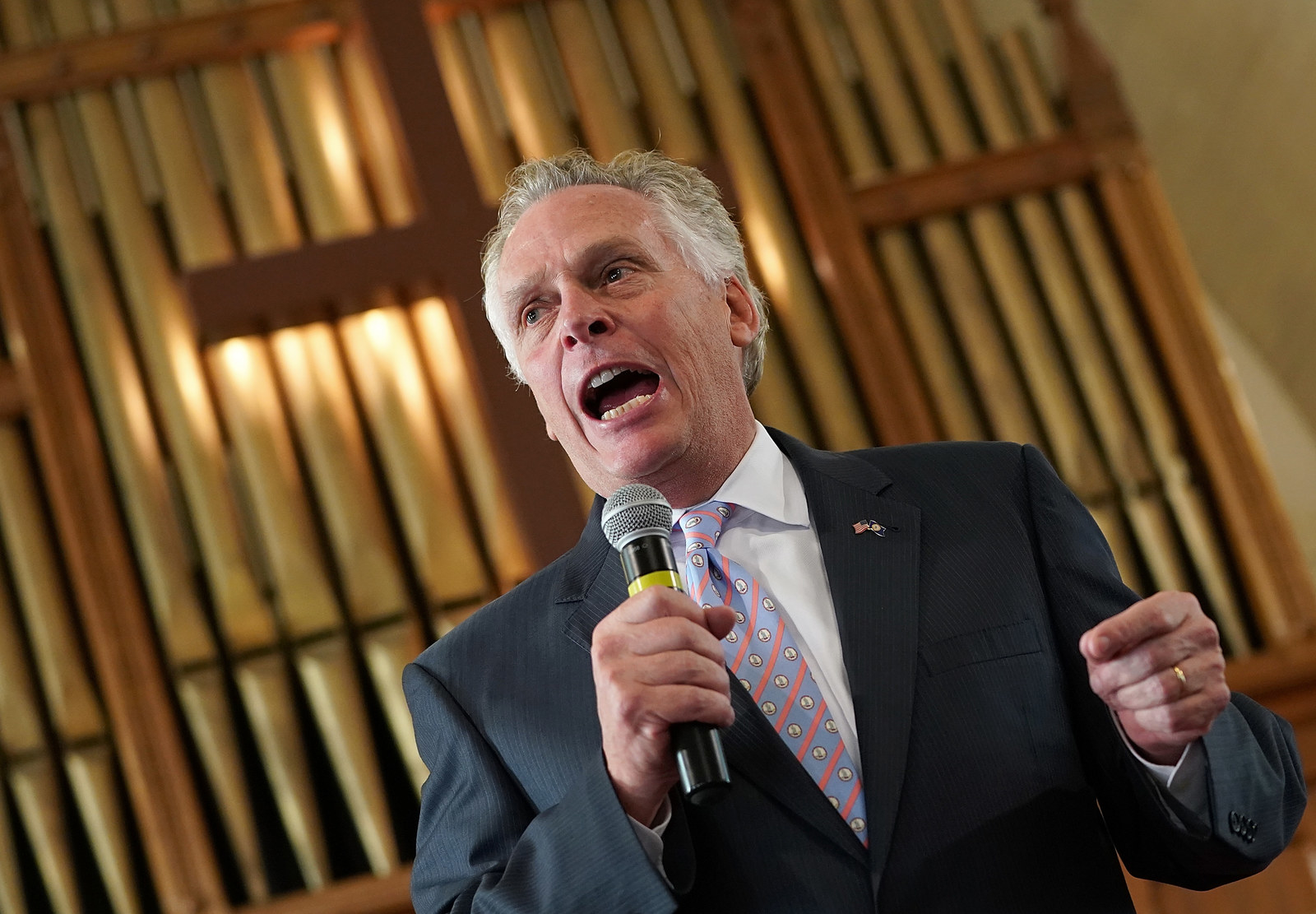 A slew of Republican leaders and lawmakers quickly denounced Trump's remarks, emphasizing that their party, like the country, firmly stands against racism and bigotry.
House Speaker Paul Ryan tweeted: "We must be clear. White supremacy is repulsive. This bigotry is counter to all this country stands for. There can be no moral ambiguity."

Sen. Marco Rubio was more direct. In a lengthy Twitter thread, the Florida Republican said the organizers of the "Unite the Right rally" were 100% to blame for the violence.
"They are adherents of an evil ideology which argues certain people are inferior because of race, ethnicity or nation of origin," he tweeted. "When entire movement built on anger & hatred towards people different than you, it justifies & ultimately leads to violence against them. These groups today use SAME symbols & same arguments of #Nazi & #KKK, groups responsible for some of worst crimes against humanity ever."
He then addressed Trump directly: "Mr. President, you can't allow #WhiteSupremacists to share only part of blame.They support idea which cost nation & world so much pain. The #WhiteSupremacy groups will see being assigned only 50% of blame as a win.We can not allow this old evil to be resurrected."
Rep. Kevin McCarthy, the Republican House majority leader, tweeted that "Saturday's violence and tragic loss of life was a direct consequence of the hateful rhetoric and action from white supremacists demonstrating."

"They do not reflect the ideals enshrined in our Constitution," he continued.
Virginia Gov. Terry McAuliffe, a Democrat who has repeatedly condemned those who gathered at the rally, responded in a strongly worded statement that "this was not both sides."

"Neo-Nazis, Klansmen and white supremacists came to Charlottesville heavily armed, spewing hatred and looking for a fight. One of them murdered a young woman in an act of domestic terrorism, and two of our finest officers were killed in a tragic accident while serving to protect this community," McAuliffe said, adding that "we need real leadership, starting with our president."

Virginia Rep. Gerry Connolly tweeted, "Neo-nazis, alt-right, white supremacists are BAD."

"There is no ambiguity here, Mr. President," Connolly, a Democrat, said. "At least one person agrees with you Mr. Trump: Klaner David Duke. Hope you can sleep tonight."

Virginia Sen. Mark Warner tweeted that there are "no words" and called Trump's response "hypocrisy."
"The hypocrisy," the Democratic senator told CNN. "Trump, who constantly challenged President Obama for not saying the phrase 'Islamic terrorism,' is unwilling to use that same standard."

Mitt Romney, the 2012 Republican presidential nominee, also pushed back against Trump's "both sides" defense, tweeting, "One side is racist, bigoted, Nazi. The other opposes racism and bigotry. Morally different universes."
And former Florida Gov. Jeb Bush urged Trump to take a stronger stand.
"I urge President Trump to unite the country, not parse the assignment of blame for the events in Charlottesville," the former Republican presidential candidate said in a statement. "For the sake of our country, he must leave no room for doubt that racism and hatred will not be tolerated or ignored by his White House."

Ohio Gov. John Kasich chimed in with his own statement, tweeting, "Let's get real."
"There is no moral equivalency to Nazi sympathizers," the Republican governor said in his statement. "There can be no room in America — or The Republican party — for racism, anti-Semitism, hate, or white nationalism. Period."
House Minority Leader Nancy Pelosi
also criticized Trump for defending bigotry.
"The President's continued talk of blame 'on many sides' ignores the abhorrent evil of white supremacism, and continues a disturbing pattern of complacency around acts of hate from this President, his Administration and his campaign for the presidency," Pelosi said in a statement. "There is only one side to be on when a white supremacist mob brutalizes and murders in America."
Sen. Bernie Sanders tweeted, "President Trump. You are embarrassing our country and the millions of Americans who fought and died to defeat Nazism."
"When David Duke and white supremacists cheer your remarks, you're doing it very very wrong," Democratic Senate Minority Leader Chuck Schumer said pointedly in a statement.
Former Rep. John Dingell, a Democrat who fought in World War II, blasted the comments: "President Trump just referred to a group of violent white nationalists, supremacists, segregationists, and neo-Nazis as 'very fine people.'"