Last night, as white supremacists with torches gathered at the University of Virginia and surrounded a group of students protesting them, it was clear tensions were rising. The following afternoon, a car plowed into a group of anti-racist protesters, killing one and injuring 19.
The obvious question: How did authorities not see it coming?
Neo-Nazis, white nationalists, and Ku Klux Klan members gathered on Friday night for a "Unite the Right" rally to protest the city's decision to remove a statue of Confederate general Robert E. Lee. They chanted, "Blood and soil," "You will not replace us," and "Jews will not replace us." In response, anti-racist protesters stood among them holding a sign that read, "UVA Students Are Against White Supremacy."
At a time of high racial tensions, amid a surge in hate crimes that have targeted every group other than straight white men, the burst of violence was the latest in a year that has seen at least several racist killings, including in Kansas, New York City, and Oregon.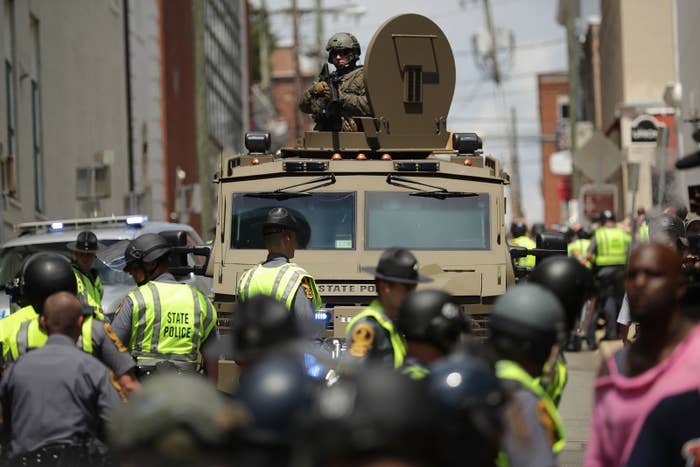 Police showed restraint from the start, reporting one arrest by 12:30 p.m. Saturday.
"The one thing we've learned over the past few years is that it's important to not react too aggressively," said a former police officer in Baltimore, where protesters and police clashed in the days after the death of 25-year-old Freddie Gray in police custody in 2015. "But you always have to try to keep things from escalating."
By Saturday midday, Virginia's governor had approved a state of emergency in hopes of doing just that. A local official said every single cop in Charlottesville was on duty and nonemergency calls were not answered. State troopers were called in, and two were killed when a state police helicopter crashed outside Charlottesville on Saturday afternoon. The Virginia National Guard was on scene. The increased presence didn't quell tensions.
Racial tensions have been high since the presidential election. Jewish cemeteries have been defaced, mosques have been burned, and refugees have been turned away at the US border. Months after a rally in Berkeley against a speech by Milo Yiannopoulos escalated into fires and clashes with police, the free speech debate turned to Charlottesville, where city officials voted in April to remove a statue of Confederate general Robert E. Lee and rename the park in which it stood from Lee Park to Emancipation Park.
These tensions are not unfamiliar at the school Thomas Jefferson founded. Two years ago, Martese Johnson, a black 20-year-old student, was bloodied by state liquor agents outside a local bar. The bar owner said that Johnson had been "cordial and respectful" before police took him to the ground in an effort to arrest him for underage drinking.
By Saturday afternoon, after a night of shouting and rising emotions, white supremacists and anti-racist protesters were again face-to-face in downtown Charlottesville. Photos and witness reports suggest a limited police presence and a group of armed militia members standing alongside the white supremacist protesters. Shortly after 2 p.m., a charcoal Dodge Charger slammed into a group of anti-racist protesters at the corner of Water and 4th St.
Police found the car nearby and arrested the suspected driver, a male.
Many on social media, especially activists, criticized the department's seemingly slow response, a contrast to the police aggression following recent protests in Ferguson, Baltimore, and Baton Rouge.

"They seemed like a smalltown department," said a former Baltimore officer who said he has worked alongside some officers from the Charlottesville area in a previous job. "I think the cops are probably out of their depth there, and I don't think the department is capable of handling something this big."

While the majority of police-brutality protesters in Baltimore, Ferguson, and Baton Rouge were black, the white supremacist protesters in Charlottesville were mostly white. That, critics on social media speculated, was one reason why police had held back until it was too late.
Washington bureau chief Kate Nocera contributed reporting.