Facebook's stock is getting crushed as its scandals finally catch up with its business
Everything seemed to be going well for Facebook. The stock price was at an all-time high as the company weathered a series of privacy scandals. Calls for increased scrutiny have rung out, and still the price has held up.
Yesterday, the company released second-quarter financial results that showed slowing revenue and user growth. Following their release, Facebook's stock tumbled as much as 20% in after-hours trading, which is fancy language for Not Good.
The stock's fall erased more than $110 billion in market capitalization during the company's earning call with analysts as CEO Mark Zuckerberg and COO Sheryl Sandberg tried to assuage investors' fears.
To put that into perspective for you, Twitter is worth more than $34 billion, while General Motors has a market capitalization of about $52 billion. Facebook's stock fall erased the equivalent of two GMs.
And it isn't over yet — Facebook said it expected revenue growth rates to decline by "high single-digit percentages" in the third and fourth quarters of 2018.
Brock Turner only engaged in "outercourse" with his sexual assault victim, his lawyer says
First, a reminder of Brock Turner's crime: He was convicted by a jury of three counts of sexual assault after attacking an unconscious woman behind a dumpster on the Stanford University campus in 2015. He was required to register as a sex offender.
Then the outrage followed: Turner's case sparked nationwide anger after a judge sentenced him to just six months in jail, citing concerns that harsher punishment would have a "severe impact" on Turner. He was released from prison after three months for good behavior. By the way, the judge who sentenced him was recalled from office, making him the first California judge to be recalled from the bench in 86 years.
What's happening now: Turner's lawyer is arguing that the conviction should be overturned because his client had only engaged in "outercourse" with the victim and therefore did not demonstrate an intent to commit rape.
The lawyer claims Turner was fully dressed and was engaged in "aggressive thrusting" as he lay on top of the unconscious, intoxicated, and partially unclothed woman. He said the jury used "imagination" and "speculation" to conclude their guilty verdict.
One of the judges on the panel hearing the appeal said to the lawyer, "I absolutely don't understand what you are talking about."
SNAPSHOTS
A bomb was detonated outside the US Embassy in Beijing. The explosion occurred just after 1 p.m. local time Thursday, on a street outside the embassy compound in the northeastern part of the city, but only the bomber was injured.
Coca-Cola is raising its prices in response to Trump's tariffs on imported aluminum. The company's CEO, James Quincey, said it was imposing the price hike midyear with retailers, "which is relatively uncommon." Explaining the increase, Quincey said, "That's the metal steel and aluminum going up. The labor going up." Coca-Cola is the first major US-based player in the global beverage industry to announce price hikes tied to President Trump's tariffs. But there have been warnings that others may follow, particularly beer companies, which are also heavily reliant on the prices of aluminum.
The White House barred a reporter from a press conference after she asked Trump questions. CNN's Kaitlan Collins had called out questions to the president during a photo op, a normal part of covering the White House. Collins was the day's network pool reporter, a rotating role where one journalist represents a larger group of news outlets. She asked Trump, "Mr. President, did Michael Cohen betray you?" Collins said she was called into the office of the White House communications director and told she was not allowed to attend a press conference that was broadly open to journalists.
People are divided over the casting of Kim Possible for the new live-action film. Disney Channel has released the first photo of actor Sadie Stanley in the title role of Kim Possible, set for release in 2019. However, the people in all their wisdom have been divided by the reveal. On the disappointed side, the sentiment is represented by the person who tweeted, "KIM POSSIBLE IS A BAD BITCH, THIS IS NOT A BAD BITCH." The other side, meanwhile: "Everyone criticizing this wants a grown-ass woman to play a girl in high school like go away you're not the target audience sorry she's not 26 years old."
Cher and Lin-Manuel Miranda are getting Kennedy Center Honors. The Trumps may or may not attend. The prestigious honors have long recognized entertainers who have had a clear impact on culture through the performing arts. This year, the Kennedy Center will recognize Cher, Reba McEntire, composer Philip Glass, saxophonist Wayne Shorter, and the creative team behind the Broadway musical Hamilton, including Miranda. The president and first lady didn't attend last year's ceremony when honorees spoke out against them.
Danger and despair inside Cambian Group, Britain's largest private child care home provider
Cambian is doing well financially. It cleared nearly £200 million in revenue last year. But while the company has raked in profits, children in its homes have been physically abused by peers and made to live in poor conditions.
Two years ago, Cambian was in a tailspin — missed profits targets, ballooning debt. The stock price was cratering.
The company embarked on a recovery plan: House more kids and spend less money.
As homes went begging for basic supplies, some employees say, kids were placed wherever there was room. Cambian told us it vigorously denies this, saying that its budget-trimming did not affect the "services we provide to children."
A new BuzzFeed News investigation reveals a culture where former employees told us, "It was just 'money, money, money, money, money,'" resulting in big rewards for investors and executives and "chaos" and "unhygienic" conditions for children.
This bride and her brother pulled a silly prank on her groom to get him to relax on the wedding day
It was Val and Heidi's big day — the pair had eloped five years ago, but wanted to have a special wedding ceremony in front of all their family and friends.
Here's the thing, though: Val was nervous. So Heidi came up with a brilliant plan to ease his anxiety. With her brother Eric, she decided the "first look" photographs would be the best place to prank Val and make him laugh.
The plan was simple: Send Eric in a wedding dress instead. And it worked PERFECTLY: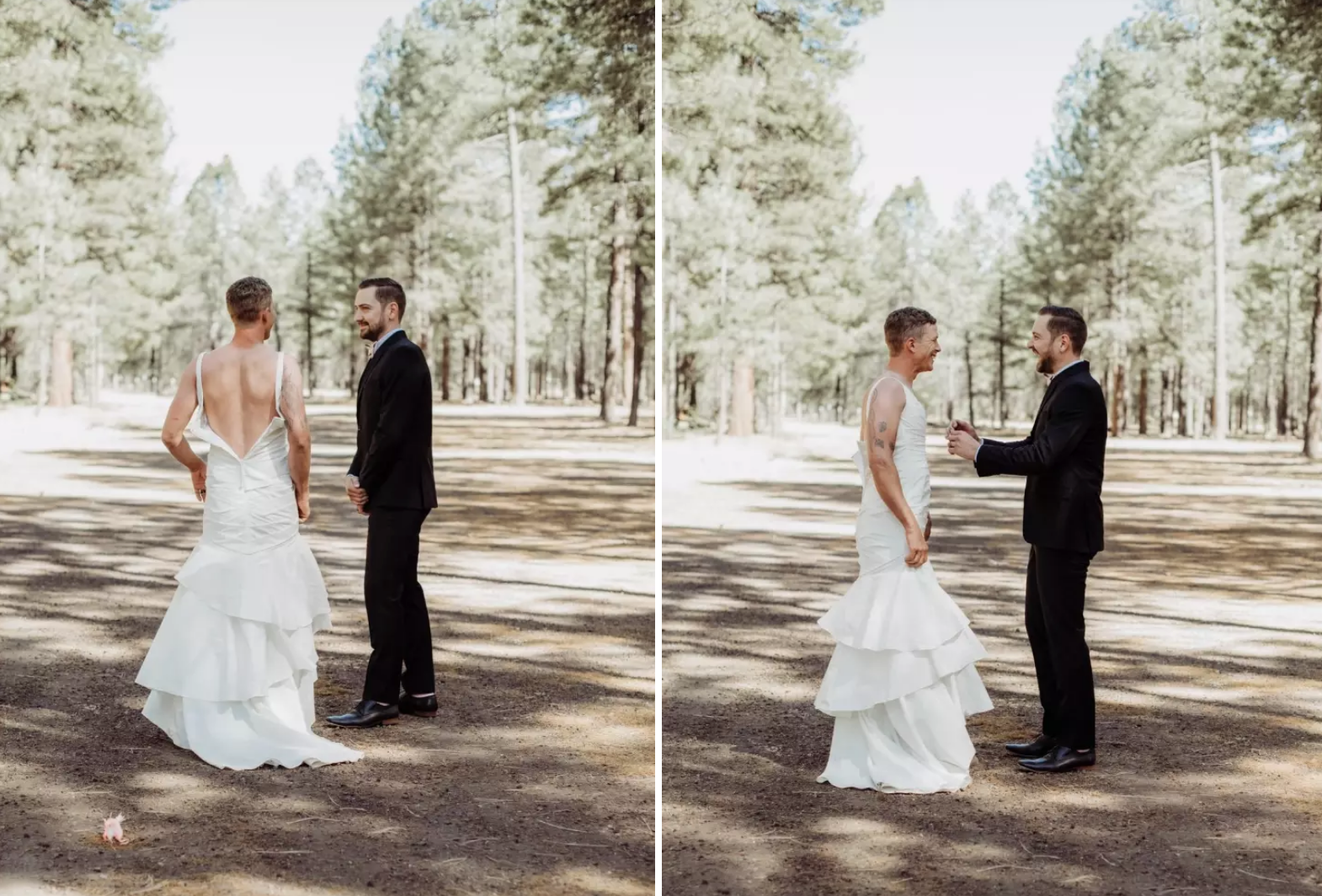 Heidi said the rest of the wedding day was perfect after Val was able to relax. There are lots of photos, and they're so great — please enjoy.