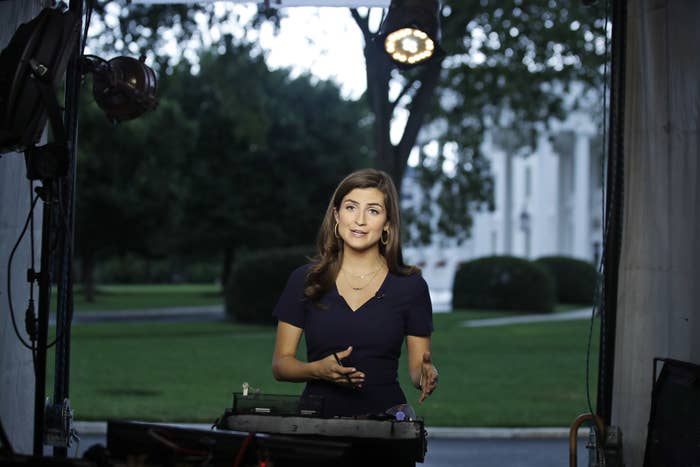 A CNN reporter was denied access to a press conference held by President Donald Trump on Wednesday after she asked him questions about his former lawyer Michael Cohen and Russian President Vladimir Putin earlier in the day.
Kaitlan Collins had been acting as the network pool reporter, a rotating role in which one journalist represents a larger group of news outlets in situations where there's limited space for media. White House pool reporters follow the president at events and, after any scheduled remarks, typically call out questions related to the day's news.
Following a photo op in the Oval Office Wednesday with Trump and European Commission President Jean-Claude Juncker, Collins called out several questions.
"Mr. President, did Michael Cohen betray you?" Collins said, according to video from the event. Other reporters can also be heard talking, as a White House staffer shouts, "We're done."
"Mr. President, are you worried about what Michael Cohen is about to say to prosecutors?" Collins continued. "Are you worried what's on the other tapes, Mr. President? Why has Vladimir Putin not accepted your invitation, Mr. President?"
Trump did not respond to the questions, and Collins later told CNN she thought the photo op had been entirely normal. But when the White House announced an unscheduled press conference in the Rose Garden later Wednesday, Collins said she was called into the office of White House communications director Bill Shine.
Shine, a former Fox News executive, and White House press secretary Sarah Huckabee Sanders told Collins her questions were inappropriate and accused her of shouting. The reporter said she was told she could not attend the Rose Garden press conference, even though it was broadly open to journalists.
"Just because the White House is uncomfortable with a question regarding the news of the day doesn't mean the question isn't relevant and shouldn't be asked," CNN, Collins' network, said in a statement. "This decision to bar a member of the press is retaliatory in nature and not indicative of an open and free press. We demand better."
In a statement, Sanders said the White House supports a free press.
"At the conclusion of a press event in the Oval Office a reporter shouted questions and refused to leave despite repeatedly being asked to do so," she said. "Subsequently, our staff informed her she was not welcome to participate in the next event, but made clear that any other journalist from her network could attend."
The White House Correspondents' Association also condemned the decision to bar Collins from the press conference as "wholly inappropriate, wrong-headed, and weak."
"Reporters asking questions of powerful government officials, up to and including the President, helps hold those people accountable," the WHCA's president, Olivier Knox, said in a statement.
Other journalists, including some who had been in the Oval Office at the time, agreed that Collins had not done anything that should have led to her access being revoked.
"I was in the Oval Office with Kaitlan Collins, heard her questions, thought they were good and timely ones, and find an official government sanction in response to them an absolute, stunning outrage," CBS News Radio reporter Steven Portnoy tweeted.
On Fox News, host Bret Baier said the network stood with CNN.
"As a member of the White House press pool, Fox stands firmly with CNN on access," he said on air.
Fox News president Jay Wallace also released a statement.
"We stand in strong solidarity with CNN for the right to full access for our journalists as part of a free and unfettered press," he said.