The Kennedy Center announced its list of honorees for 2018 on Wednesday, recognizing Cher, Reba McEntire, composer Philip Glass, saxophonist Wayne Shorter, and the creative team behind the Broadway musical Hamilton, including writer and actor Lin-Manuel Miranda.
The prestigious honors have long recognized entertainers who have had a clear impact on culture through the performing arts.
What's not yet clear, though, is whether the president and first lady will be in attendance at the December ceremony, given Cher and Miranda are hardly the Trumps' biggest fans.
Stephanie Grisham, a spokesperson for Melania Trump, told BuzzFeed News in an email on Wednesday no final decision had been made. "That isn't until December so it is a bit soon for us to know schedules just yet," she said. "Will keep you posted."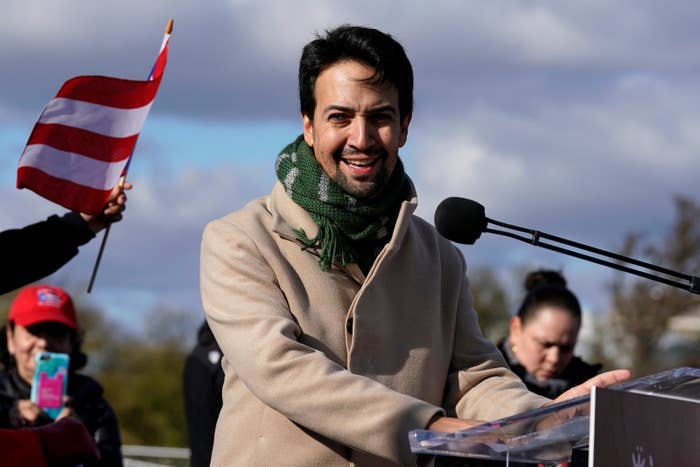 Last year, President Trump and the first lady didn't attend what has traditionally been a nonpartisan ceremony after three of the five honorees — Lionel Richie, Norman Lear, and Carmen de Lavallade — said they would boycott any events, including a traditional White House reception, involving Trump. Press secretary Sarah Huckabee Sanders said at the time that the decision was made "to allow the honorees to celebrate without any political distraction."

Representatives for Cher, McEntire, Shorter, Glass, Miranda and the rest of the Hamilton crew didn't respond to requests for comment from BuzzFeed News on whether they plan on attending any White House reception or what they would do if President Trump showed up to the actual ceremony.
However, McEntire and Glass, who has previously referred to Trump as an "idiot," indicated to the New York Times that they'd be attending.
Cher, who is currently starring in Mamma Mia! Here We Go Again and just announced she plans on to release an ABBA cover album, has been especially critical of the president on Twitter, calling him "PRESIDENT TROLL" or using the toilet emoji to describe him.
Miranda has also been fiercely critical of Trump on issues such as gun control and the administration's response to the hurricane in Puerto Rico.
"You're going straight to hell, Donald Trump," Miranda tweeted last year. "No long lines for you. Someone will say, 'Right this way, sir.' They'll clear a path."
The 41st annual Kennedy Center Awards are set to take place in Washington, DC, on Dec. 2 and will be broadcast on Dec. 26.