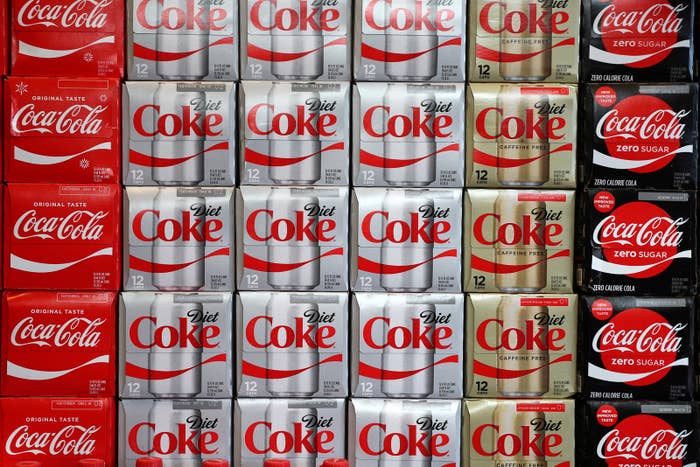 Bad news for Coca-Cola fans: The company said Wednesday that it is raising soda prices in part due to President Trump's recent tariffs on imported steel and aluminum.
Coca-Cola CEO James Quincey announced the price hike in a call with investors and later in media interviews, citing rising transportation and metal costs after Trump slapped tariffs on billions of dollars worth of Chinese goods and numerous other countries earlier this year.

"We had to take with our bottling partners an increase [in prices] in our sparkling beverage industry in the middle of the year, which is relatively uncommon," Quincey said on CNBC's Squawk on the Street after the earnings report. "That's the metal steel and aluminum going up. The labor going up."

How the higher charges to the company's bottlers and retailers will trickle down to consumers remains to be seen. That's because retailers "have discretion in what consumers are charged on the shelf," Scott Leith, a Coca-Cola spokesperson, told BuzzFeed News.
Coca-Cola is the first major US-based player in the global beverage industry to announce price hikes that are tied to Trump's tariffs. But there have been warnings that others may follow, particularly beer companies, which are also heavily reliant on the prices of aluminum.
None of the major brewers have announced hikes, but smaller craft brewers have felt the impact quicker and some have already had to make adjustments. Octopi Brewing in Waunakee, Wisconsin, told the CBC that after its US supplier of aluminum cans, citing the tariffs, hiked prices by 15%, it opted to pass the extra costs on to customers.
"It's terrible," CEO Isaac Showaki said. "It's hitting our bottom line … we probably could have hired almost two people full-time."
In retaliation, China, a major aluminum exporter, has levied higher fees on a slew of US products, including soybeans and cars. But being that Diet Coke is known to be one of Trump's go-to beverages, it's the Coca-Cola increase that might hit closest to home. The nation was reminded of the president's affinity for the dark soda in a secret recording obtained by CNN in which Trump could be heard telling someone to get him a Coke.
Of course, the line quickly became a meme.
The next time the president reaches for a can of that sweet carbonated drink, however, odds are, it will be a little more expensive.