There will be a public hearing with Brett Kavanaugh and the woman who accused him of sexual assault
On Sunday, Christine Blasey Ford came forward publicly with allegations that Brett Kavanaugh, Donald Trump's Supreme Court nominee, sexually assaulted her in high school.
Yesterday, it was announced that Ford and Kavanaugh will sit for a public hearing with the Senate Judiciary Committee next Monday.
Ford says that Kavanaugh held her down on a bed at a party in 1982, tried to force himself on her, and covered her mouth when she tried to scream. Kavanaugh denies the allegations.
The committee had originally planned to vote to move Kavanaugh's nomination forward this week, but that will now wait until after the hearing.
What does this mean? Well, Republicans have a thin margin of error to confirm Kavanaugh to the Supreme Court; if two members of the party oppose him, it would end his nomination, absent any Democratic support.
You should also know: Hundreds of women who went to Ford's high school signed an open letter saying "we believe her."
Where's Trump in all this? The president, who's often quick to attack accusers, said he wants to go through "a process." He appears to be trying out a new strategy: some public self-restraint.
Florence has killed at least 32 people across three different states
The death toll of Hurricane Florence is climbing, amid devastating floods and tornadoes.
At least 25 deaths have been linked to the storm in North Carolina, while at least six people have died in South Carolina. On Monday, a person in Virginia died as a result of tornadoes connected to the storm.
The tornadoes were driven by the weakening Florence as it moved north, and destroyed multiple buildings, flipped cars, and uprooted trees.
The body of 1-year-old Kaiden Lee Welch was found after floodwaters receded near the Richardson Creek in North Carolina. The toddler and his mother were swept away after she drove around a barricade. She was driving to be with her family.
Everything you need to know about Florence can be found in our frequently updated post. North Carolina Gov. Roy Cooper described the storm as "a house guest who doesn't want to leave" and urged people to stay off the streets. That's because some of those streets look like this: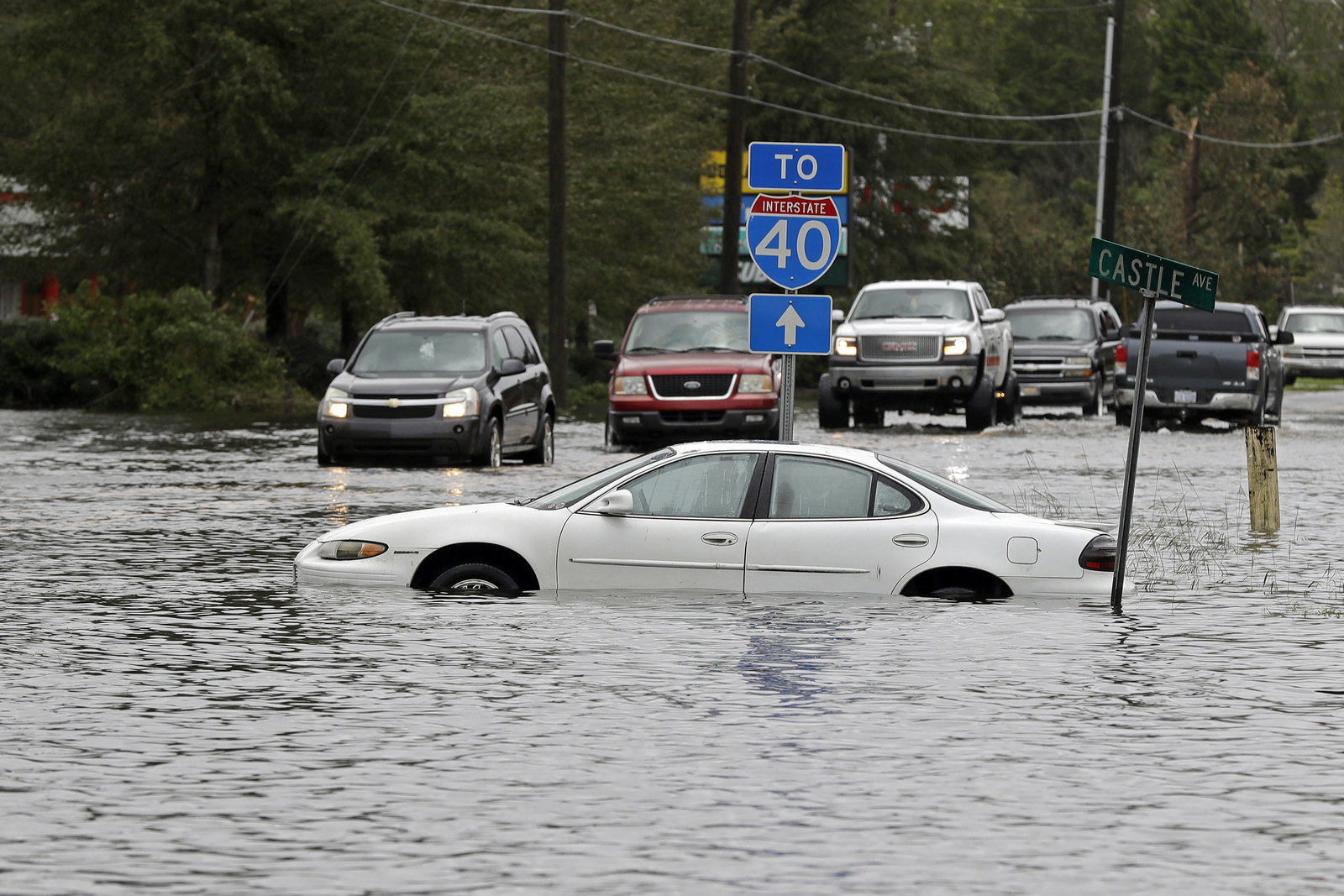 SNAPSHOTS
A British cave rescuer is officially suing Elon Musk for calling him a pedophile. Musk has disparaged Vernon Unsworth, who was instrumental in rescuing 12 children trapped in a cave in Thailand, calling him a "pedo guy" and "child rapist." Musk apologized, then revisited his allegations, saying, "I hope he fucking sues me." Now, Unsworth is doing just that.
Prosecutors are reportedly deciding if the director of FEMA will be charged with a crime. An investigation of Federal Emergency Management Agency Administrator Brock Long's travel has reportedly come to an end, and prosecutors are deciding whether to file charges. Politico first reported the existence of the investigation, which looked at whether Long misused taxpayer dollars by taking a government car and driver from Washington, DC, to his home in North Carolina on weekends.
Asia Argento is threatening legal action against Rose McGowan. After news broke that Argento had settled a lawsuit with actor Jimmy Bennett, in which he claimed she had sexually assaulted him in a California hotel room in 2013, McGowan released a statement. McGowan appeared to break off her friendship with her fellow #MeToo activist, as well as alleging that Argento had indeed slept with Bennett. Now, Argento is demanding McGowan retract and apologize for her statement, or face legal action.
The iPhone Xs is great. So were the X and 7. We reviewed the new iPhone. Our tech team says it's very good. Really. But so were the last phones Apple put out. Sure, the battery is better and iPhone Xs dog selfies > iPhone X dog selfies. If you like iPhones, you will like this one. But you should upgrade only when it makes sense for you — there's no rush.
The Marvelous Mrs. Maisel just dominated at the Emmys. Did you watch the ceremony last night? If not, let's catch you up. The Marvelous Mrs. Maisel — aka the show you "keep meaning to watch"— cleaned up, taking home five major awards, including Outstanding Comedy Series. Rachel Brosnahan, who plays the title character, won Outstanding Lead Actress in a Comedy Series. The show's creator, Amy Sherman-Palladino(!), won a directing award. There was also an engagement on stage that shocked everyone. And Game of Thrones won Outstanding Drama Series. Here's the full list of winners.
The Emmys were much more political this year. For example, Time's Up supported the woman who accused Supreme Court nominee Brett Kavanaugh of sexual assault, by distributing pins that say "I believe Christine Blasey Ford" and "I still believe Anita Hill." Here are the most political moments of the night.
#MeToo is working
It's been nearly a year since the Harvey Weinstein story broke, launching with it a movement. A year ago, the movement's momentum was strong, and abusive men were being outed left and right.
Today, a palpable backlash to #MeToo has surfaced. Accused — and admitted — abusers are trying to reclaim or cleanse narratives about themselves, which is happening with the blessing of male editors who find abusers' perspectives "worth hearing."
In a thoughtful essay, Anne Helen Petersen looks at the progress of #MeToo and the frustrations of this regression.
From the piece: "We're still figuring out what do to with, or about, those accused — what rehabilitation could look like, what happens if we simply expect these men to disappear. But what we're learning, men and women alike, is how to better center women's experiences as we continue to have these conversations. That doesn't feel like failure."
This little girl's big, beautiful eyes are due to a rare genetic syndrome
Two-year-old Mehlani has Axenfeld-Rieger syndrome, and a lot of people end up commenting on her big eyes.
Mehlani's mom, Karina, posted about having to navigate the remarks from total strangers, and her tweets have gone viral.
Karina shared that she worries about the comments from other children as her daughter gets older, and wrote, "I just pray she'll always know how beautiful she is."
The popularity of her tweets led to an outpouring of support for her and Mehlani, and you should read some — it'll warm your heart. Mehlani, by the way, is so adorable: