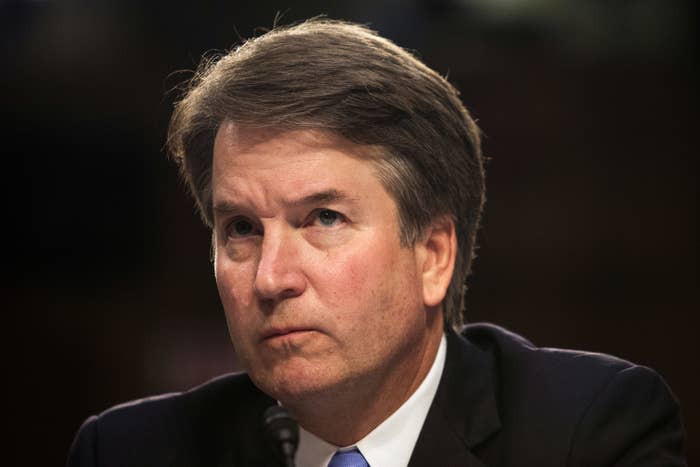 WASHINGTON — The Senate Judiciary Committee will hold a public hearing with Supreme Court nominee Brett Kavanaugh and the woman who has accused him of sexually assaulting her in high school, Christine Blasey Ford, a source close to the confirmation process told BuzzFeed News.
The announcement comes just a day after Ford came forward publicly with allegations that Kavanaugh held her down on a bed at a party in high school, tried to force himself on her, and covered her mouth when she tried to scream. Kavanaugh has emphatically denied the allegations.
The hearing will take place on Monday at 10 a.m., Sen. Chuck Grassley's office confirmed. The committee had originally planned to vote to move Kavanaugh's nomination forward on Sept. 20.

Republicans have a thin margin of error to confirm Kavanaugh to the Supreme Court; if two members of the party oppose him, it would end his nomination, absent any Democratic support.
"I'm going to wait for the hearing. Obviously these are serious charges, and if they're true, I think that they're disqualifying," Republican Sen. Jeff Flake told reporters Monday evening, calling a public hearing to listen to both Ford's and Kavanaugh's accounts "the best route forward."
Sen. Susan Collins, also a Republican, said earlier Monday that Kavanaugh had "emphatically" denied the allegations when she spoke with him on Friday, adding, "If Judge Kavanaugh has lied about what has happened, that would be disqualifying."
On Monday afternoon, Republican staff scheduled a phone call with Kavanaugh concerning the allegations. Democrats did not participate to protest of the "enormity" of the allegations, saying it was not proper for the situation to be handled at the staff level behind closed doors.

"As I said earlier, anyone who comes forward as Dr. Ford has done deserves to be heard," Grassley said in a statement after the call. "My staff has reached out to Dr. Ford to hear her account, and they held a follow-up call with Judge Kavanaugh this afternoon. Unfortunately, committee Democrats have refused to join us in this effort. However, to provide ample transparency, we will hold a public hearing Monday to give these recent allegations a full airing."
White House spokesperson Raj Shah said in a statement that Kavanaugh would participate. "Judge Kavanaugh looks forward to a hearing where he can clear his name of this false allegation. He stands ready to testify tomorrow if the Senate is ready to hear him," Shah said.
Sen. Richard Blumenthal, a Democratic member of the committee, said the testimonies of Kavanaugh and Ford could create the need for further hearings with other witnesses. "For us to assess credibility we may need to hear from those witnesses so it's more than just a hearing with her and him," said Blumenthal.

Ford's allegations had been rumored on Capitol Hill for weeks and first became public — without Ford's name — in a report by the Intercept on Sept. 12. But after she revealed her identity in a Washington Post interview on Sunday, several Republican senators said they wanted to hear from Ford and Kavanaugh about the allegations before voting on his nomination.

Republican Sen. Lindsey Graham, who sits on the Judiciary Committee, said they'd like to hear from Ford. "If Ms. Ford wishes to provide information to the committee, I would gladly listen to what she has to say and compare that against all other information we have received about Judge Kavanaugh," Graham said in a statement. "If the committee is to hear from Ms. Ford it should be done immediately so the process can continue as scheduled."
Flake went further, suggesting he couldn't support Kavanaugh's nomination until he'd heard from Ford. "If they push forward without any attempt with hearing what she's had to say, I'm not comfortable voting yes," he told Politico. "We need to hear from her. And I don't think I'm alone in this."
Collins and Sen. Lisa Murkowski, the top swing votes on Kavanaugh's nomination, both said Monday that Ford and the judge should testify under oath about the situation before the Senate moved to confirm him to the Supreme Court.
"I want to make sure that there is an opportunity for if, since Dr. Ford is out there now, she deserves to have her voice heard and respected. Judge Kavanaugh deserves an opportunity to respond. I think that that needs to be done under oath," Murkowski told BuzzFeed News. "My hope is that the committee will provide for that."
Several Senate Republicans and the White House questioned the timing of Ford's allegations, which she detailed in a previously secret letter sent to California Sen. Dianne Feinstein and California Rep. Anna Eshoo in July. Feinstein has said she did not share the contents of the letter because Ford had asked not to make the story public. However, as reporters began to look into the story, Ford decided to come forward.

"That Democrats have so egregiously mishandled this up until now is no excuse for us to do the same," Sen. John Cornyn, a member of the Judiciary Committee and of Republican leadership, said in a statement earlier Monday.
Democrats, meanwhile, are calling for the FBI to investigate the allegations against Kavanaugh. All 10 Democrats on the Judiciary Committee wrote a letter to White House counsel Don McGahn Monday, asking President Donald Trump to "immediately" ask the FBI to look into the situation.

Feinstein had forwarded Ford's allegations to the FBI last week and the bureau included it in Kavanaugh's background file — which both the White House and members of the Senate can view. However, the bureau did not open a criminal investigation at the time. Asked Monday if that calculus has changed since Ford's name became public, an FBI spokesperson told BuzzFeed News simply, "We do not have any additional updates to provide."

Committee Democrats, in their letter to McGahn, said they hadn't heard back from the FBI on that question either.
UPDATE
This story has been updated with statements from Sen. Chuck Grassley and the White House.