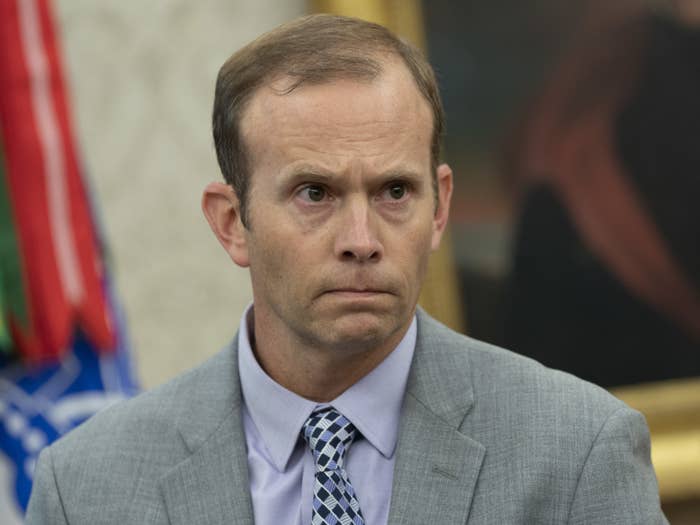 An investigation of Federal Emergency Management Agency Administrator Brock Long's travel has reportedly come to an end, and prosecutors are deciding whether to file charges.
The Wall Street Journal reported on Monday that investigators had turned the case over to the US Attorney's Office, which would be considering charges related to multiple laws. Investigators did not immediately return a request for comment.
In a statement to BuzzFeed News, Long said he was currently focusing on Hurricane Florence.
"I am not focused on this investigation," he said. "I am fully focused on those impacted by Hurricane Florence. I am looking forward to meeting with Gov. [Roy] Cooper [Tuesday] and discussing with him how the federal government can best help him meet his response and recovery needs."

Politico first reported earlier this month the existence of the investigation, which looked at whether Long misused taxpayer dollars by taking a government car and driver from Washington, DC, to his home in North Carolina on weekends. Aides' hotel bills were also allegedly covered by government funds during those trips, Politico reported.
The frequent trips drew scrutiny from the Department of Homeland Security's inspector general, as well as displeasure from DHS Secretary Kirstjen Nielsen, who considered replacing Long, the Wall Street Journal reported on Friday.
Over the weekend, Long said that he had not been asked to resign.
"I'm here to serve my country every day. That's all I do," he told NBC's Meet the Press.
Long added that he was cooperating with the investigation, and it's possible the policies around the use of government vehicles would be updated.
The reported turmoil around Long comes as hurricane season kicks off and he continues to face questions on the roughly 3,000-person death toll of last year's Hurricane Maria in Puerto Rico. President Trump has blamed that number on a conspiracy theory, in spite of reporting by media outlets including BuzzFeed News and an independent study by George Washington University.
But as of Saturday, at least, Long appeared to remain in Trump's good graces.

The White House did not immediately respond to a request for comment.