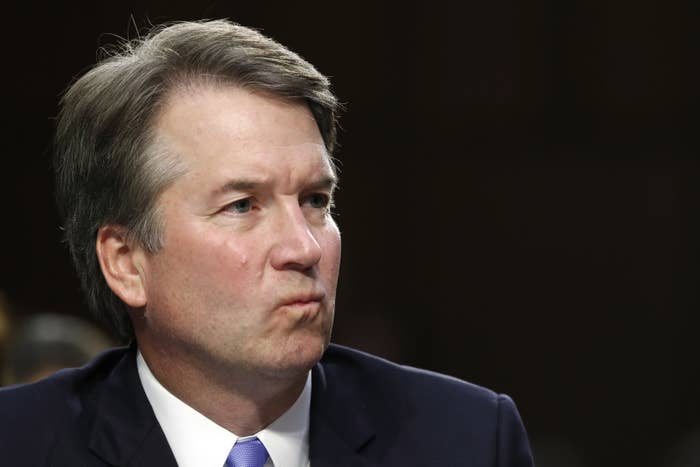 Hundreds of women who went to Christine Blasey Ford's high school have signed an open letter supporting her after she alleged that she was sexually assaulted by President Trump's Supreme Court nominee Brett Kavanaugh when she was a 15-year-old student.
More than 200 alumnae of Holton-Arms — a girls school in Bethesda, Maryland — have signed the letter as of Monday, a day after Ford broke her silence about the allegations and publicly identified herself. The alumnae are from classes ranging from 1967 to 2018.
"We believe Dr. Blasey Ford and are grateful that she came forward to tell her story," the letter — which was first reported by HuffPost — said. "It demands a thorough and independent investigation before the Senate can reasonably vote on Brett Kavanaugh's nomination to a lifetime seat on the nation's highest court."
Ford's experience "is all too consistent with stories we heard and lived while attending Holton," the letter said. "Many of us are survivors ourselves."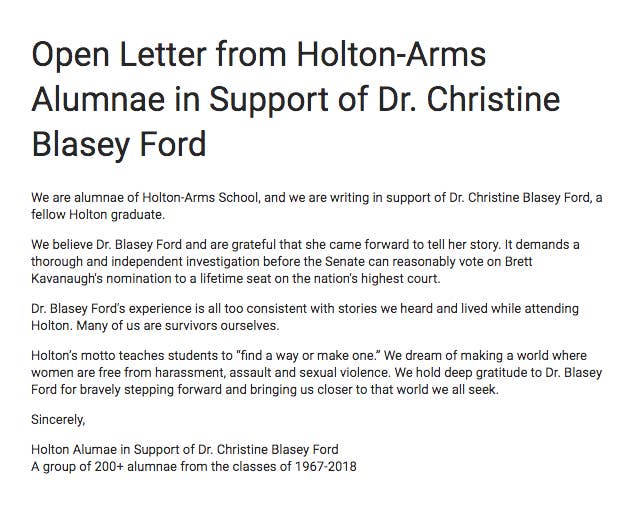 Actor Julia Louis-Dreyfus tweeted that she graduated from the school in 1979 and signed the letter.
Sarah Burgess, a 2005 Holton-Arms graduate who drafted the letter along with fellow alumnae, told BuzzFeed News that she did not know Ford personally, but that her experience "felt personal."
"I know that in the coming days, her story will be scrutinized, and she will be accused of lying," Burgess said. "However, I grew up hearing stories like hers, and believe her completely."
Ford, a 51-year-old research psychologist and professor at Palo Alto University, alleged that during a house party in Maryland in 1982, Kavanaugh — whom she described as "stumbling drunk" — pinned her to a bed, groped her, tried to remove her clothes, and put his hand over her mouth to stop her from screaming.
"I thought he might inadvertently kill me," Ford told the Washington Post on Sunday. "He was trying to attack me and remove my clothing."
Ford said that at the time of the alleged incident she knew Kavanaugh as a "friendly acquaintance" as she and her Holton-Arms classmates regularly socialized with students from Kavanaugh's high school — Georgetown Preparatory School — for a period of several months.
Seventeen of Ford's classmates from the Holton-Arms class of 1984 also sent a letter to Congress to attest to "attest to her honesty, integrity, and intelligence; and to contend that her decision to provide information pertaining to a sexual assault is not a partisan act."
Kavanaugh has repeatedly denied the allegations. In a statement on Monday, he said, "This is a completely false allegation. I have never done anything like what the accuser describes — to her or to anyone. Because this never happened, I had no idea who was making this accusation until she identified herself yesterday."

Ford's allegations were contained in a secret letter that she sent to California Rep. Anna Eshoo, who then sent it to California Sen. Dianne Feinstein — the ranking Democrat on the Judiciary Committee — in July. Ford expected the letter to remain confidential, but the letter and its contents were reported about last week.

Senior Republicans had voiced concerns about the timing of the allegations, but Sen. Lindsey Graham said on Sunday that the committee should hear from Ford and listen to her concerns quickly, to "compare that against all other information we have received about Judge Kavanaugh."

Following initial reports about the letter and the allegations, Chuck Grassley, the chair of the Senate Judiciary Committee, had released a letter of support for Kavanaugh from 65 women who said they had known the nominee since his high school days, and claimed that "[f]or the entire time we have known Brett Kavanaugh, he has behaved honorably and treated women with respect."
Trump told reporters on Monday that Kavanaugh is "one of the finest people that anybody has known," but added that "we want to go through a process."
Burgess told BuzzFeed News that she and other alumnae drafted the letter "because we wanted to show that there's wider support for her in our community."

The letter received "hundreds of signatures" after Burgess shared the letter with Holton alumni networks.
"We want Dr. Christine Blasey Ford to know that there's a network of women who believe her, who care about her, and support her, and who are sending her our love and strength," Burgess said.
The head of Holton-Arms School, Susanna Jones, said she was proud of Ford for coming forward with her allegations against Kavanaugh.
"In these cases, it is imperative that all voices are heard," Jones said in a statement provided to BuzzFeed News. "As a school that empowers women to use their voices, we are proud of this alumna for using hers."