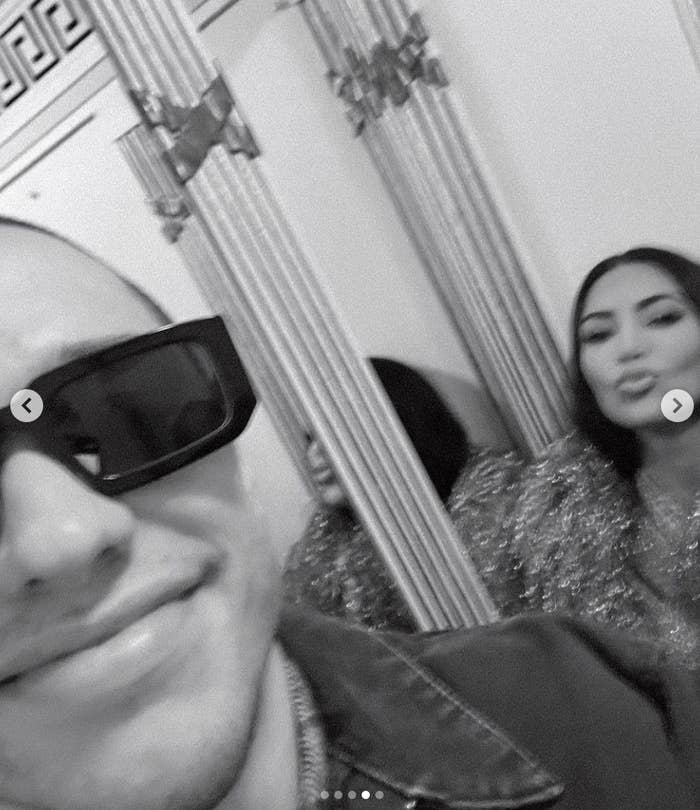 The new couple have kept their romance incredibly low-key with date nights at local restaurants and even outlet malls. Poignantly, it came just months after Kim opened up about wanting "smaller" and more meaningful gestures in a romantic relationship following the extravagance of her marriage to her ex-husband Kanye West.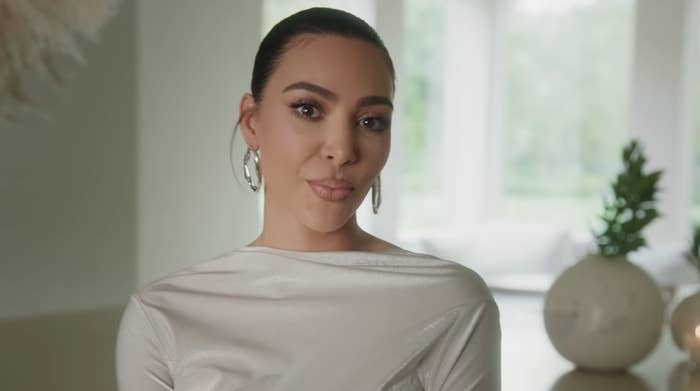 "I want someone where we have the same [TV] shows in common. I want someone that wants to work out with me. It's the little things that I don't have," she said in the final episode of Keeping Up With the Kardashians, which aired last June.
"I have all the big things. I have [everything] extravagant you could possibly imagine," she added. "And no one will ever do it like that [again]. I'm grateful for those experiences, but I think I'm ready for the smaller experiences that I think will mean a lot."
And Pete seems to have delivered exactly what she was hoping for, with Kim appearing to be happier and more relaxed than ever in recent public appearances.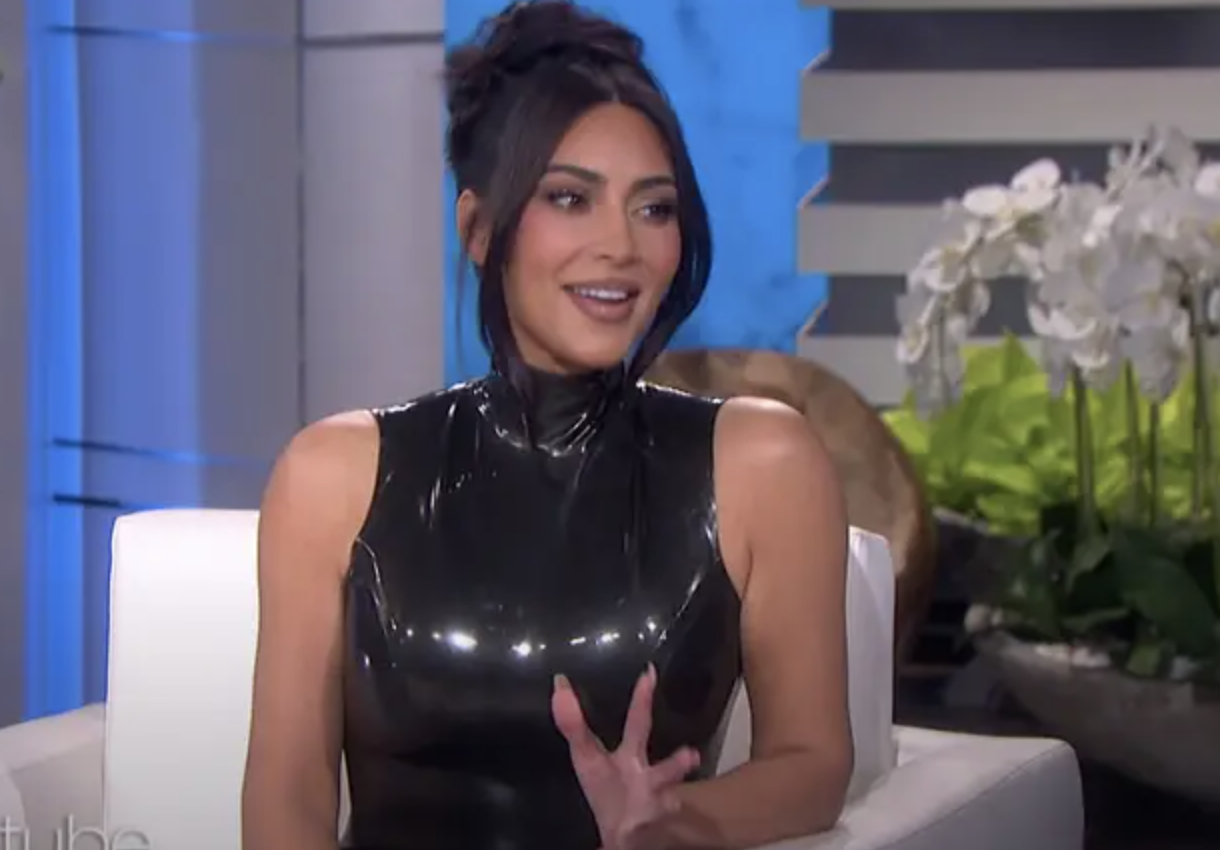 In fact, in a trailer for her family's upcoming new TV series, The Kardashians, giddy Kim was seen giggling and trying to be coy after she received a text message from Pete during the early days of their relationship.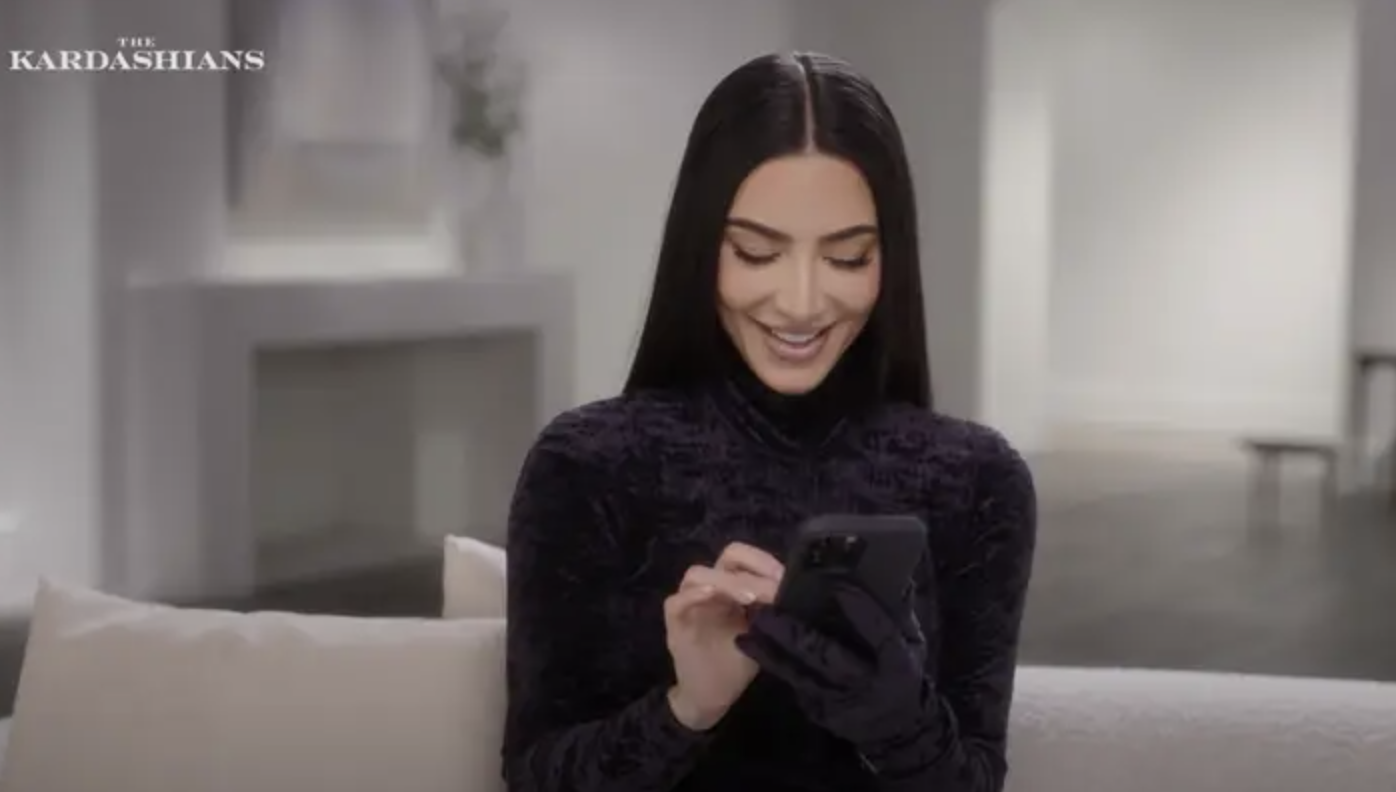 And when she was interviewed on The Ellen DeGeneres Show last month, Kim couldn't stop smiling as she opened up about their romance — including the fact that Pete had several tattoos in tribute to her, as well as a permanent "branding" of her name on his chest.
Her relaxed posture and bubbly response to Ellen's questions even prompted the host to comment on Kim's palpable change in energy. "I see a shift in you, an ease to you, a whole different side," she said.
And Kim admitted that she took her time but had finally found her happiness as she explained: "I think it's just in life, like, no matter what it is, I just think I encourage my friends and the people that I love just to be happy. And I went for it."
"I was like, you know what? I'm in my 40s, like, fuck it, just go for it. Find your happiness. I went for it and I took my time. I found it and it feels so good," Kim added. "I want to hold on to that forever."
And it appears that Kim isn't the only one to be reaping the benefits of her relationship with Pete, with it also the foundation of a brand-new friendship within the KarJenner inner circle.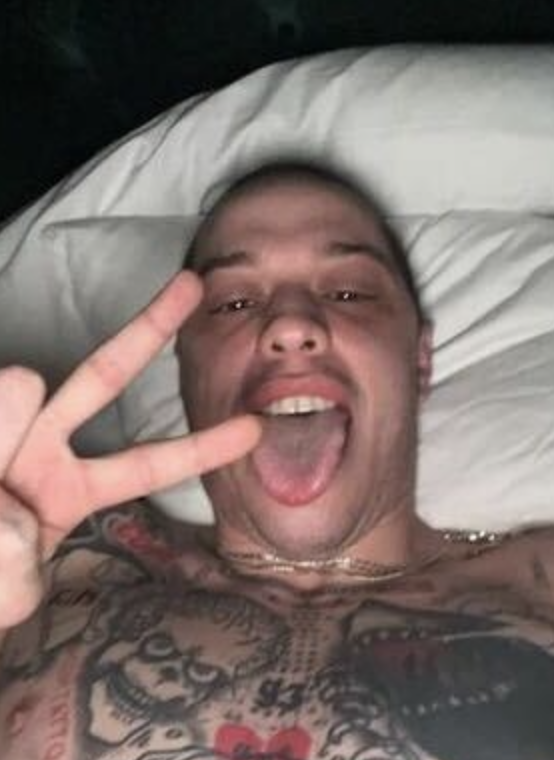 Last month, it was revealed that Pete had grown close to Kardashian family friend Scott Disick, who used to date Kim's sister, Kourtney Kardashian, and is the father of her three children.
Pete even joined Scott when he attended his son Reign's baseball game, and they later enjoyed a "boyz night" with two other pals.
Scott previously shared a video that was filmed by Pete on the night to his Instagram story, which showed Scott and the other friends fast asleep while the 1982 movie The King of Comedy played in the background.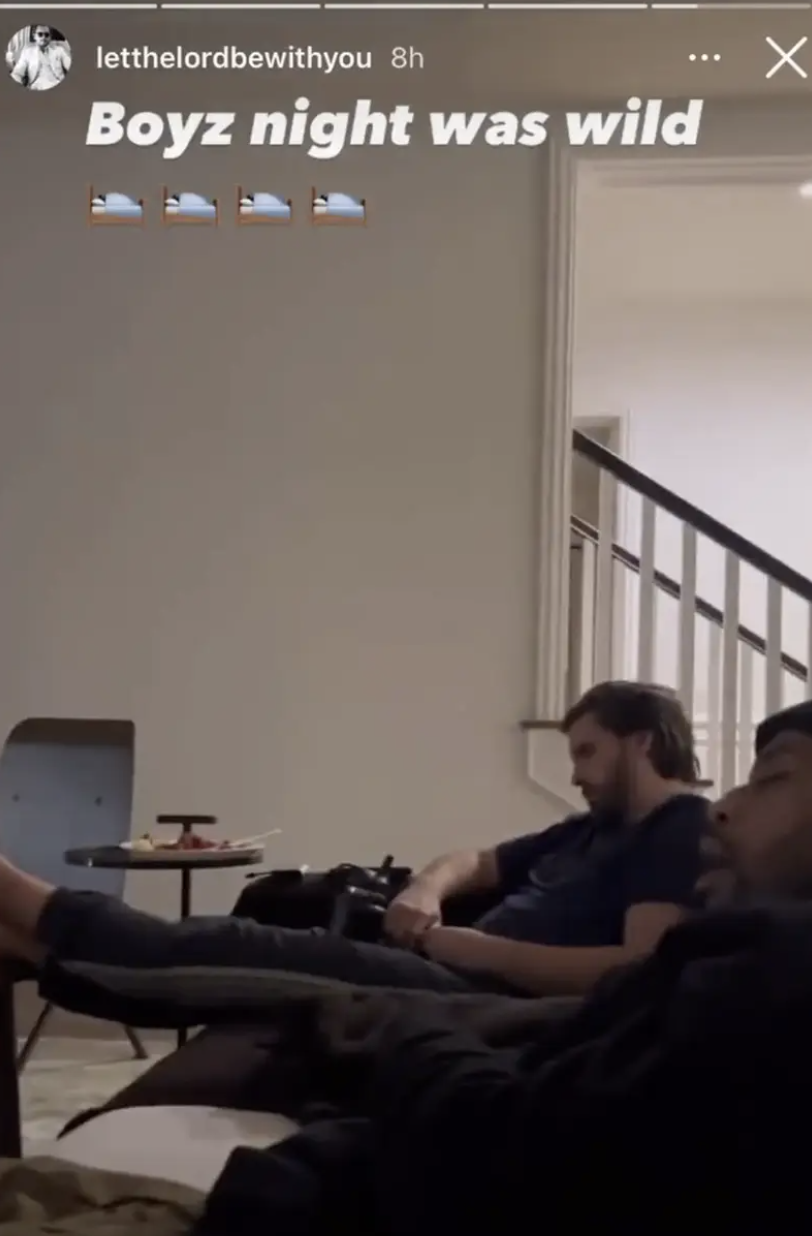 In the clip, Pete looked unimpressed when he turned the camera to himself, and Scott jokingly captioned the social media post with: "Boyz night was wild."
The evening appeared to inspire a Saturday Night Live sketch that aired over the weekend, with Pete returning to the comedy show for the first time since January.
During Saturday's installment, Pete featured in a song that poked fun at "long-ass movies" and made direct reference to his cozy night in with Scott — and how awkward it was that he was the only one that stayed awake.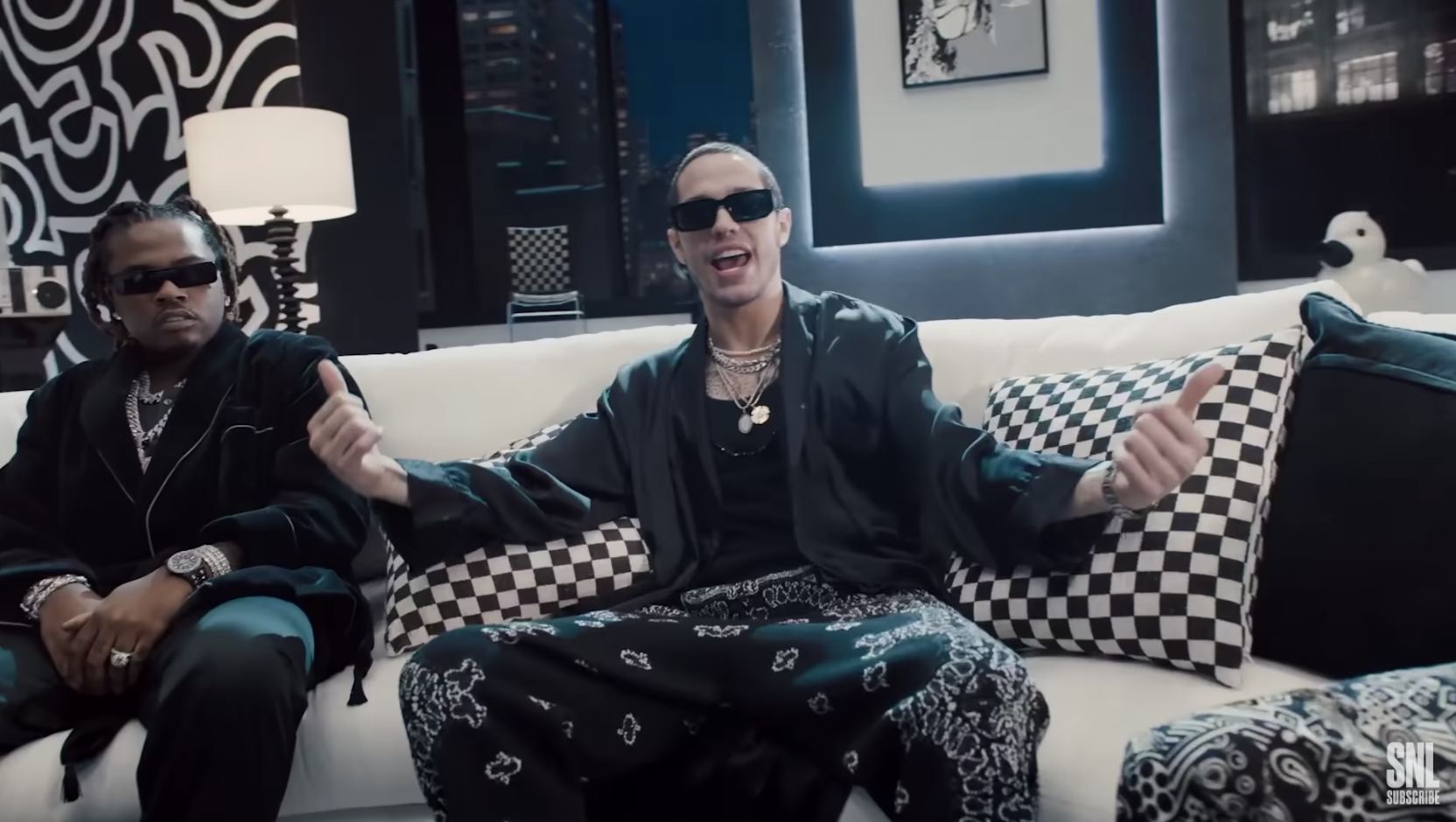 "We tried to watch the movie Heat when we was hanging at my house / But barely 20 minutes in my boys were drooling on the couch," Pete rapped in the video.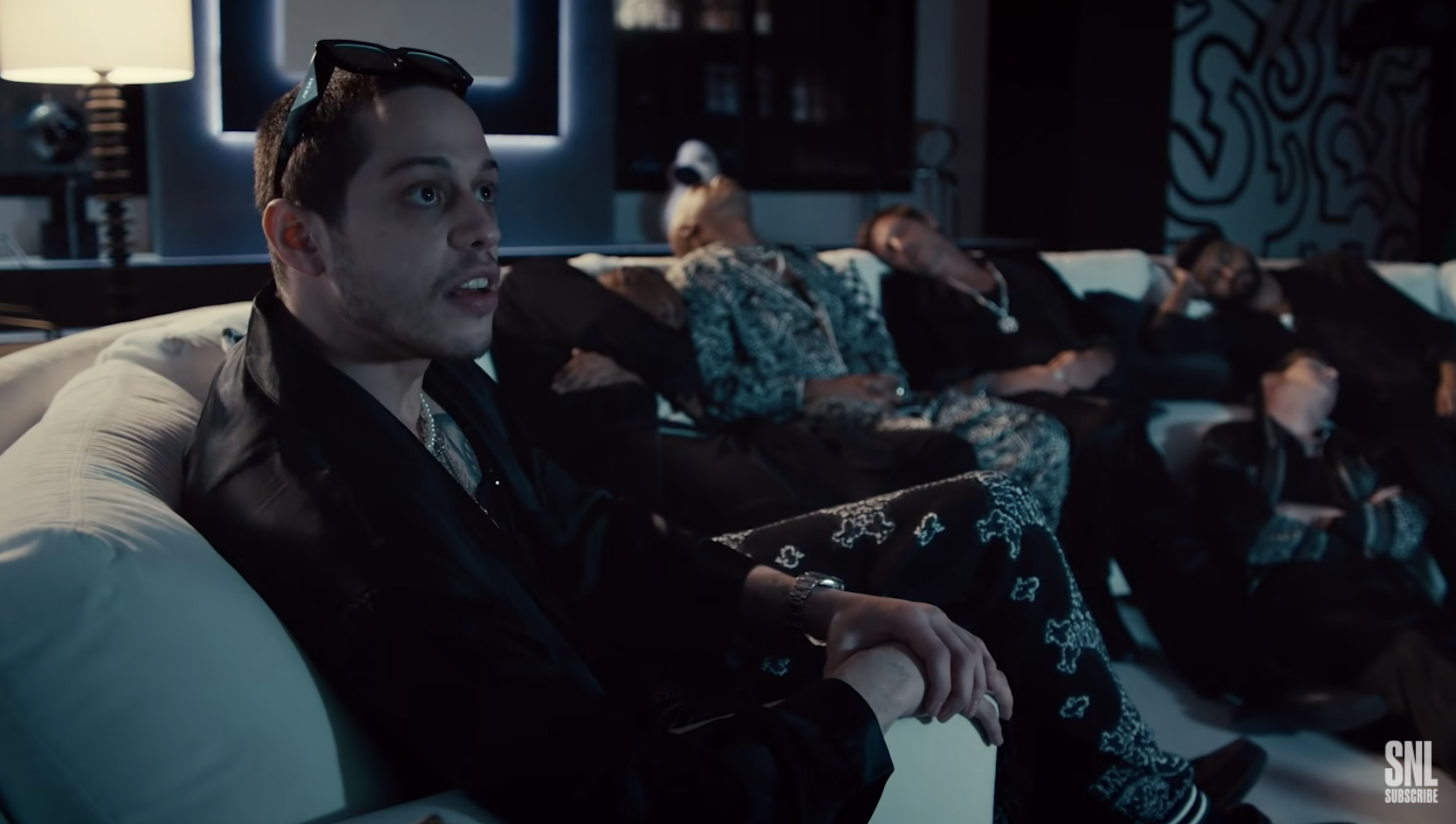 The music then cut as Pete broke the fourth wall and gave the camera a knowing look while joking: "The only one not sleeping is the weird guy who picked the movie."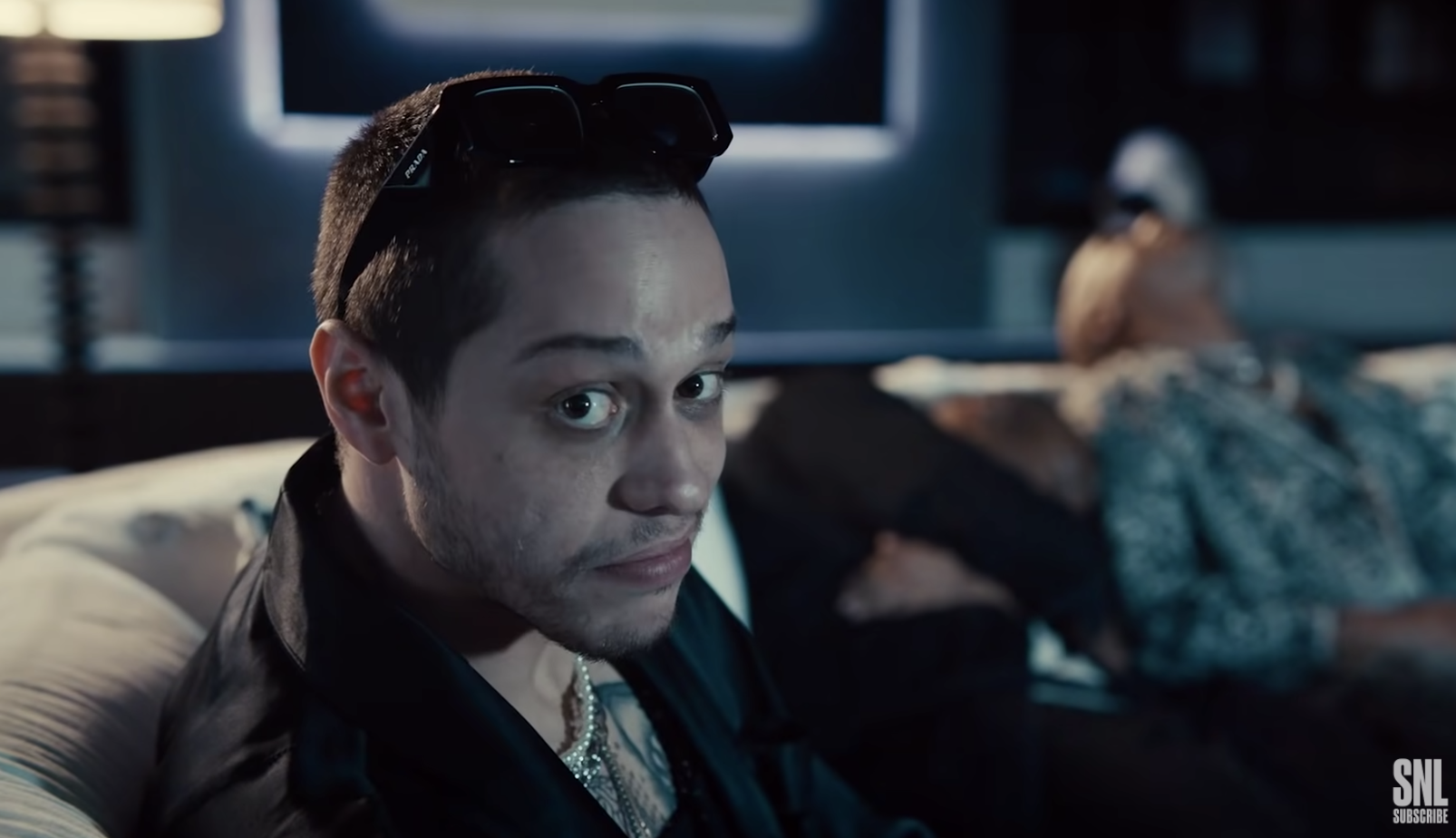 While The King of Comedy is less than two hours long, so not necessarily fitting the remit for a "long-ass movie," it is one of Pete's favorites, so it isn't unlikely that he was the one to suggest it on boys' night.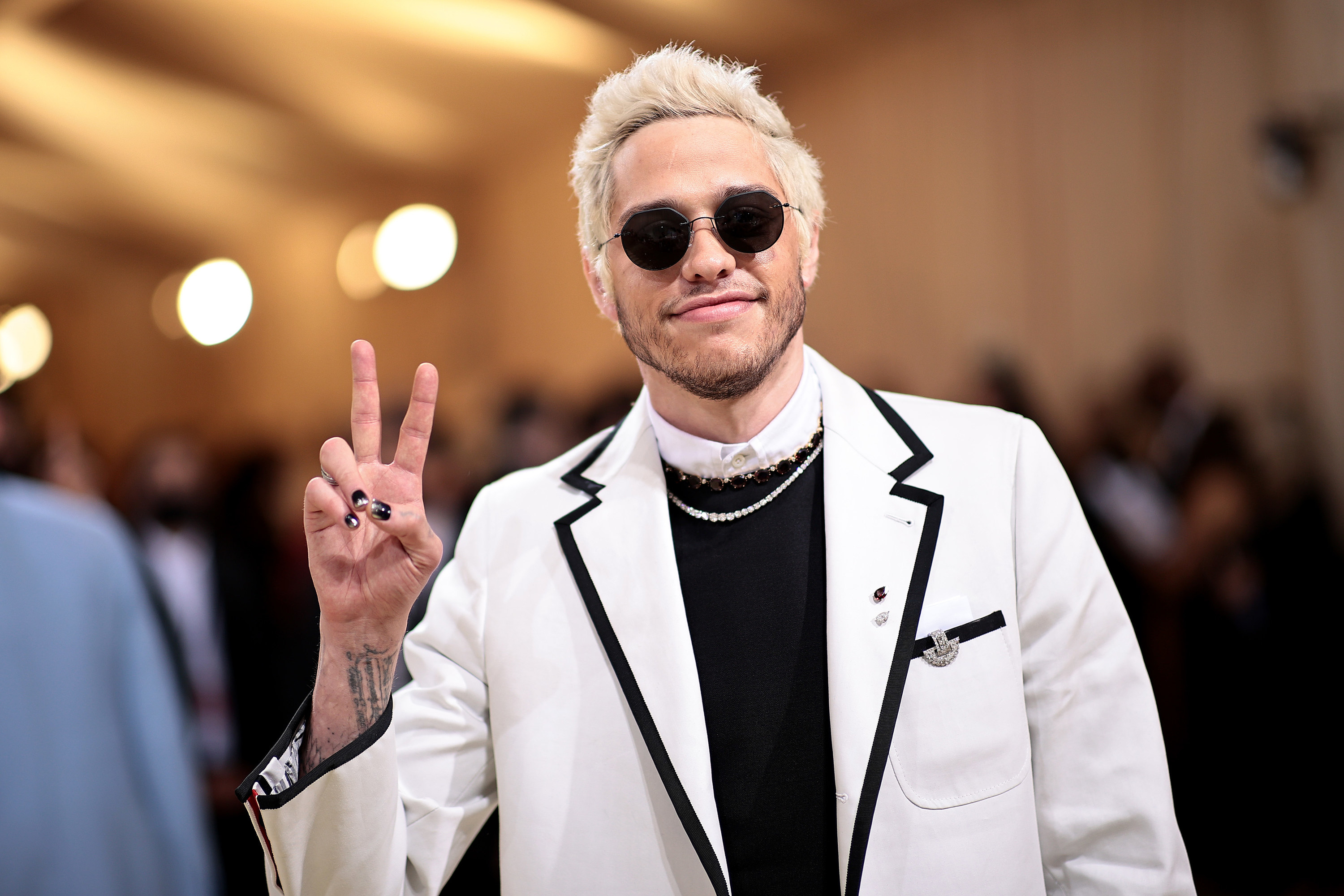 But thankfully, his badly received selection doesn't appear to have had any lasting repercussions on his and Scott's bromance, as Scott posted another Instagram story with Pete on Sunday.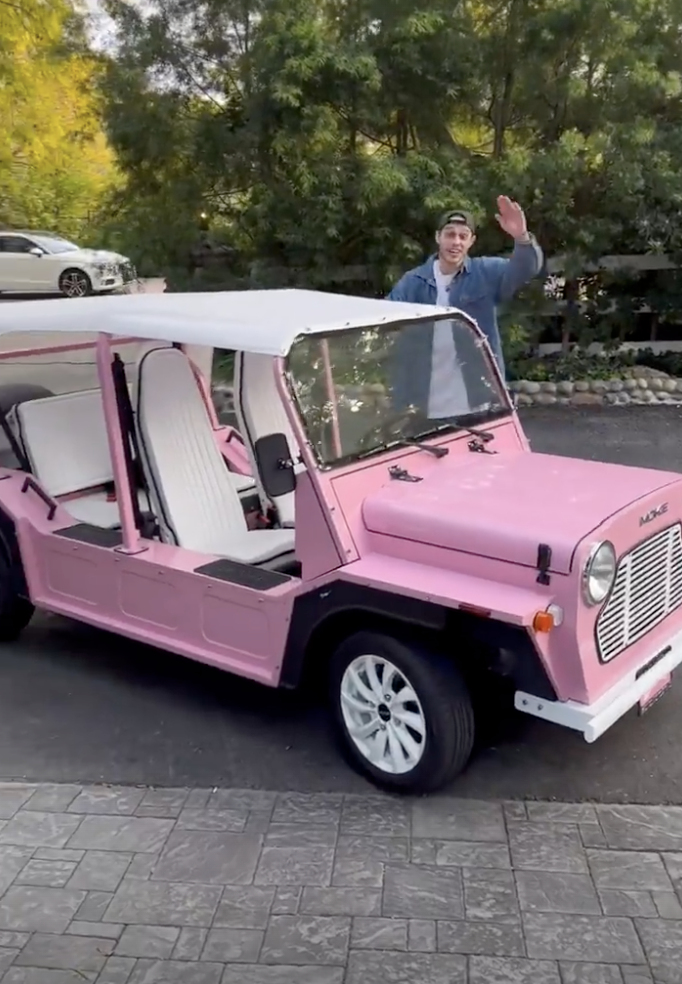 In the clip, Pete had driven the pink golf cart that Kim's mom, Kris Jenner, bought her for Christmas last year to Scott's house.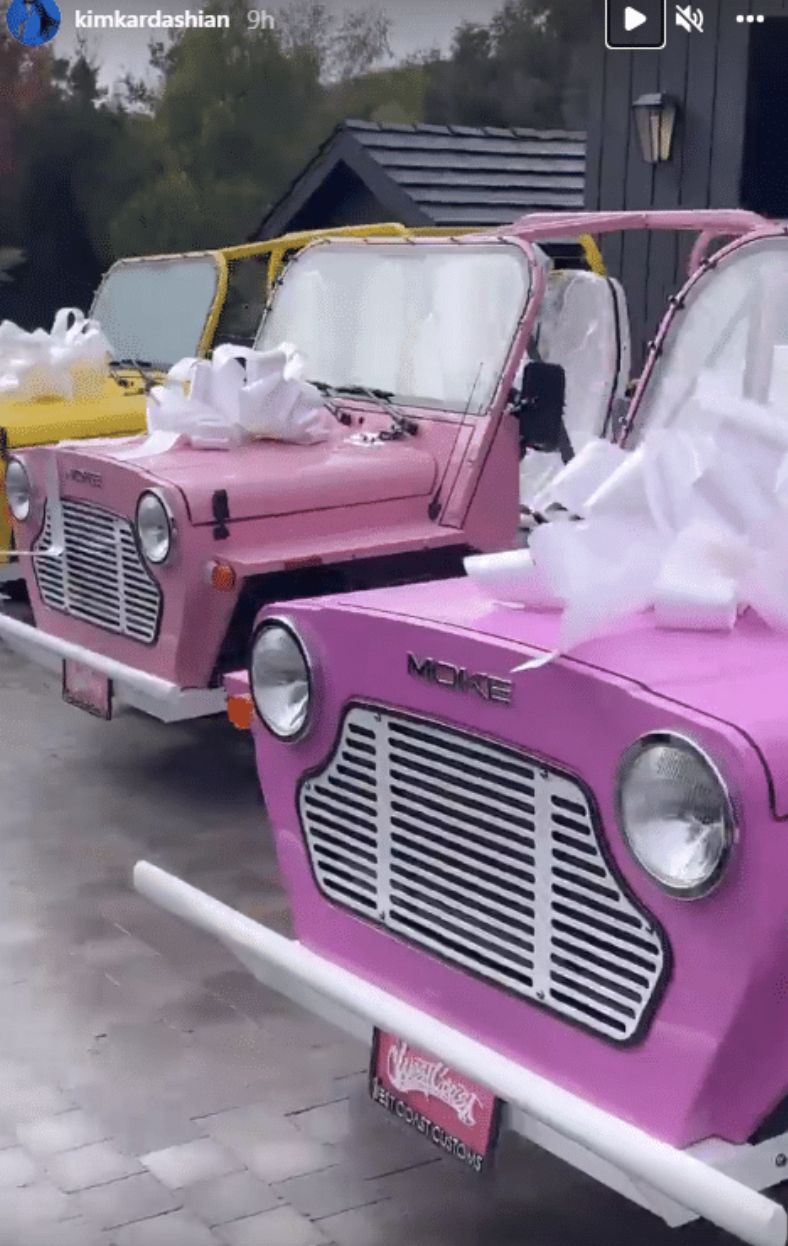 Scott began filming as Pete went to get back into the cart having seemingly dropped off some food.
"Good to see ya," Scott shouts at the comic in the video. "Thanks for dropping the pizza off."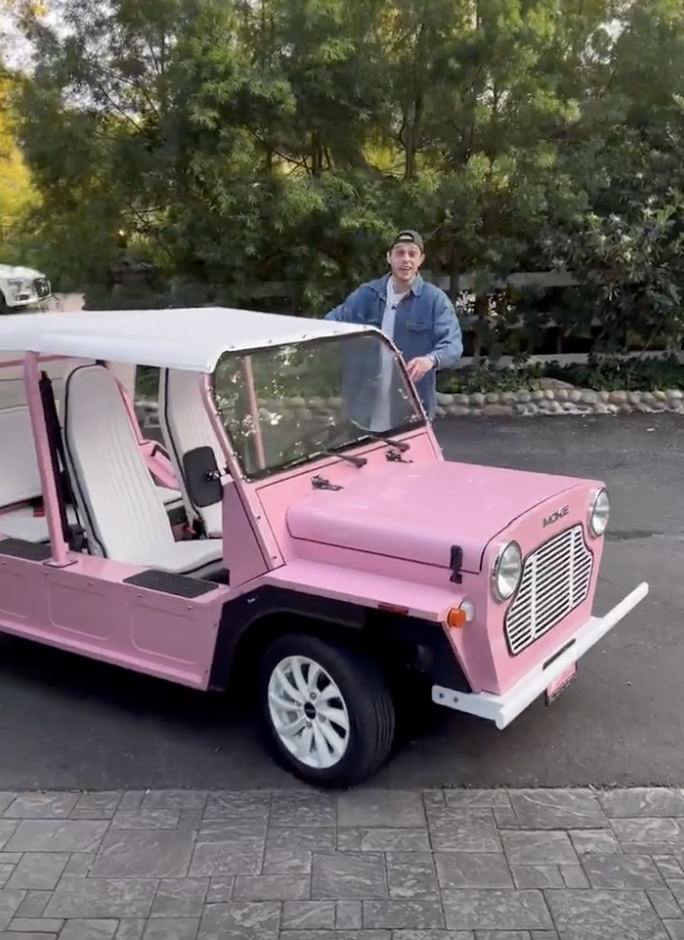 Pete replies: "Oh, anytime, have a good night, all right?"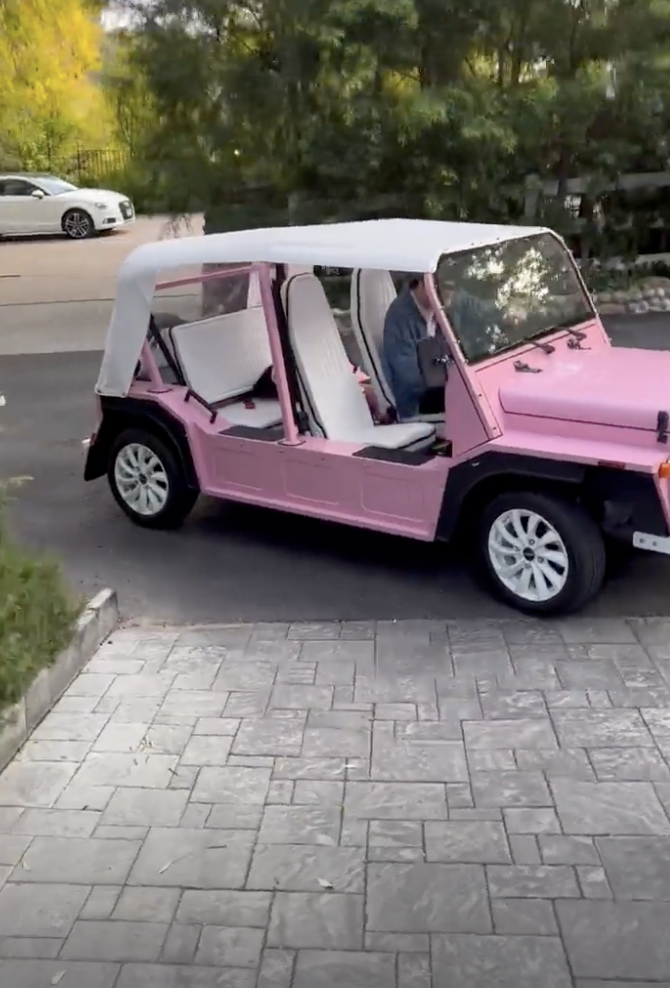 "All right, take care," Scott says in response, before cheekily adding "love Postmates," suggesting that Pete was working as a food delivery person.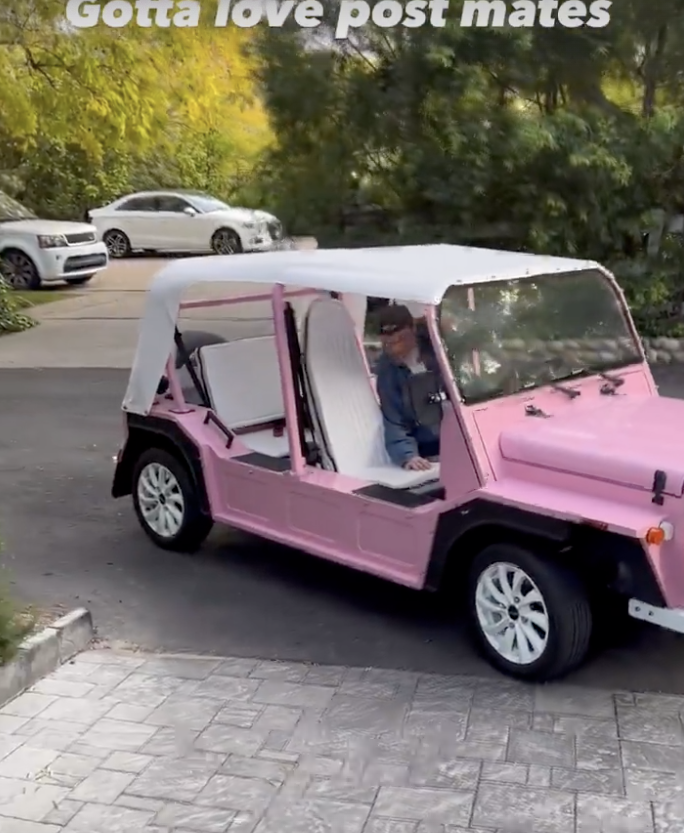 Needless to say, people can't get enough of Scott and Pete's growing friendship, and the latest interaction was a hot topic of conversation on Reddit.
"I like that they have a relationship, Scott needs some male bonds in the family and I bet these two are absolute menaces together," one user commented.
Another pointed out that the two men have had similar past experiences as they wrote: "Okay but I think I would actually really enjoy seeing these two interact, and I think it could be a positive thing for them. They can talk about their therapy and recovery journeys!"

"This is the bromance I am here for!" someone else added. Another joked: "This is a reality show I'd watch."


And while we're all obviously over the moon for Kim and Pete's seemingly happy and healthy relationship, I have to admit that I am just as invested in Scott and Pete's friendship and can only hope that we are treated to more glimpses of it in the future.