Kim Kardashian has surprised fans after spilling a bunch of new details about her relationship with Pete Davidson, including that he has multiple tattoos — and an eyebrow-raising body modification — in her honor.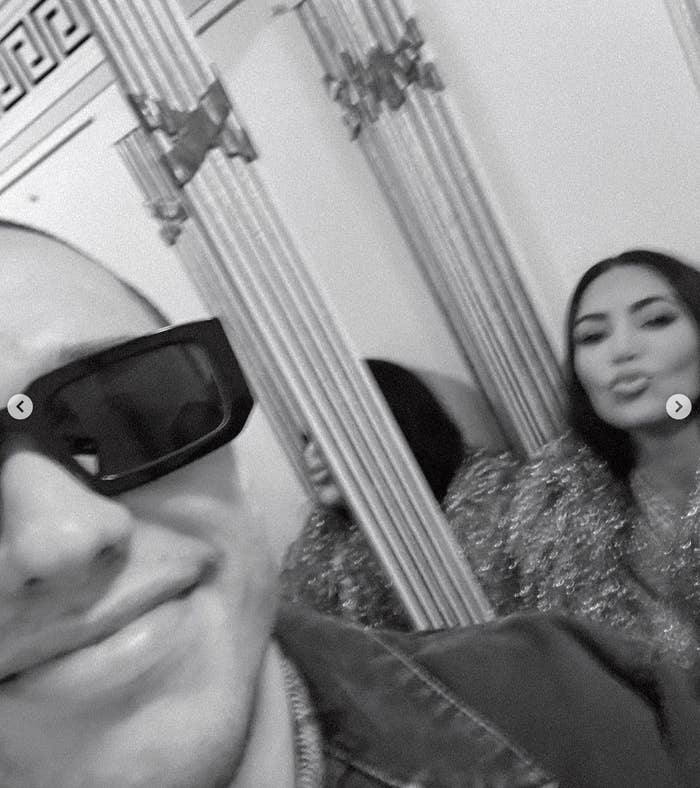 Speculation that Pete had a tattoo dedicated to Kim skyrocketed this week, after a selfie of him in bed surfaced online on Sunday amid a heated text exchange with her ex-husband, Kanye West.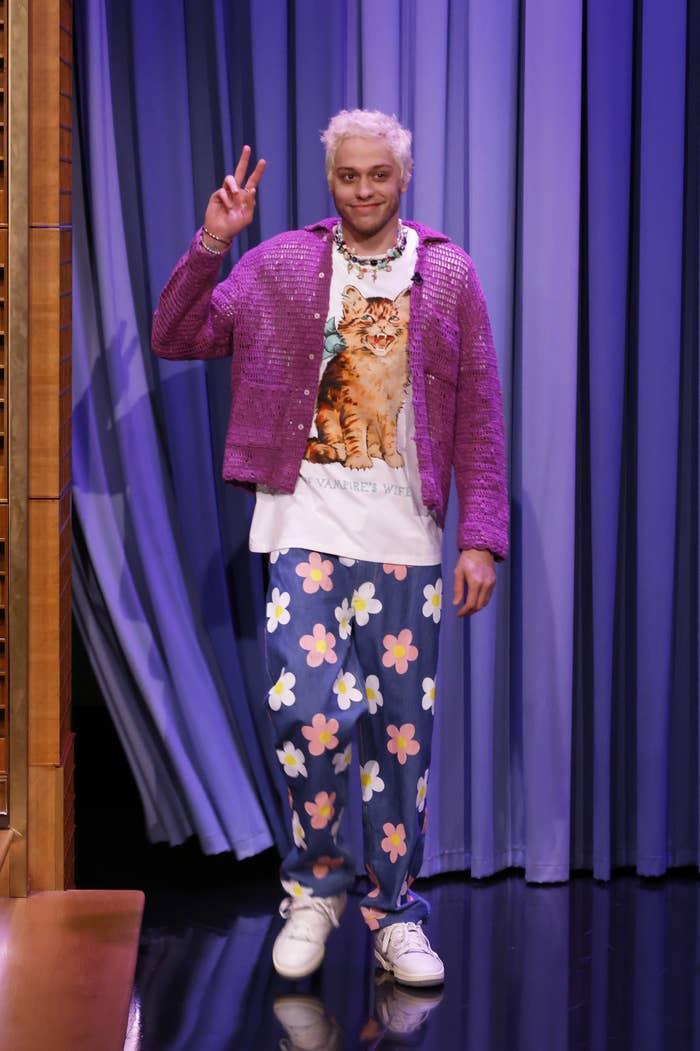 In the now-viral picture, the Saturday Night Live comic is lying in bed shirtless, holding up a peace sign, and sticking his tongue out. As soon as it began making the rounds on social media, however, eagle-eyed fans noticed that Pete appeared to have the word "Kim" marked on his chest.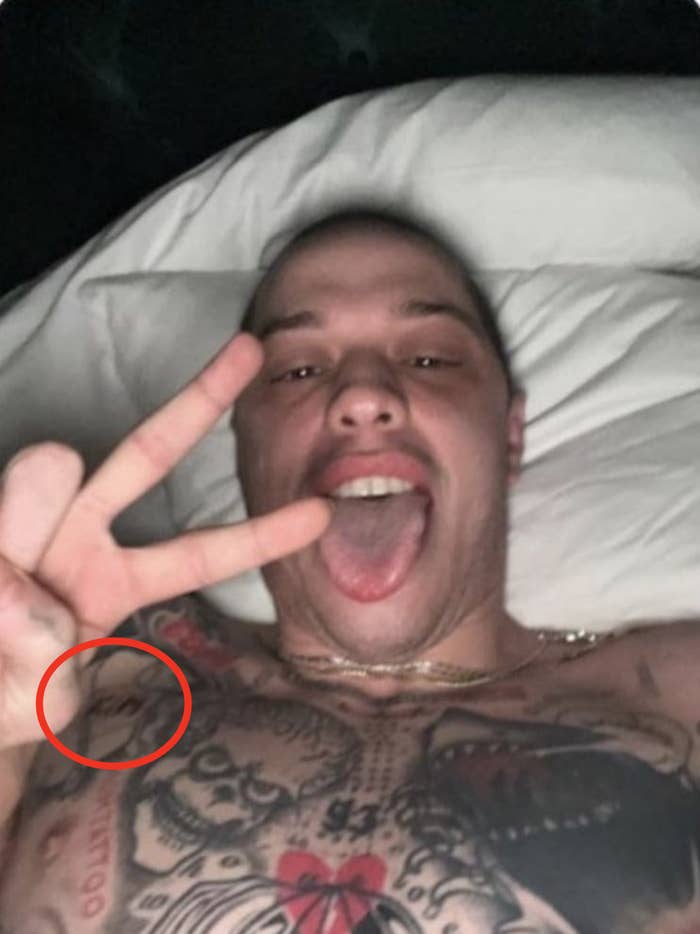 "Could that be ... a KIM ... tattoo?!?!" podcast account @ChicksInTheOff tweeted on Monday.
Fans quickly noted that Pete, who has been romantically linked with a bunch of the biggest names in Hollywood, isn't a stranger to getting tribute tattoos to his girlfriends. He infamously got a matching tattoo with his ex-fiancé Ariana Grande just a few months into their engagement, though ended up getting it covered with the word "cursed" after an incredibly messy breakup.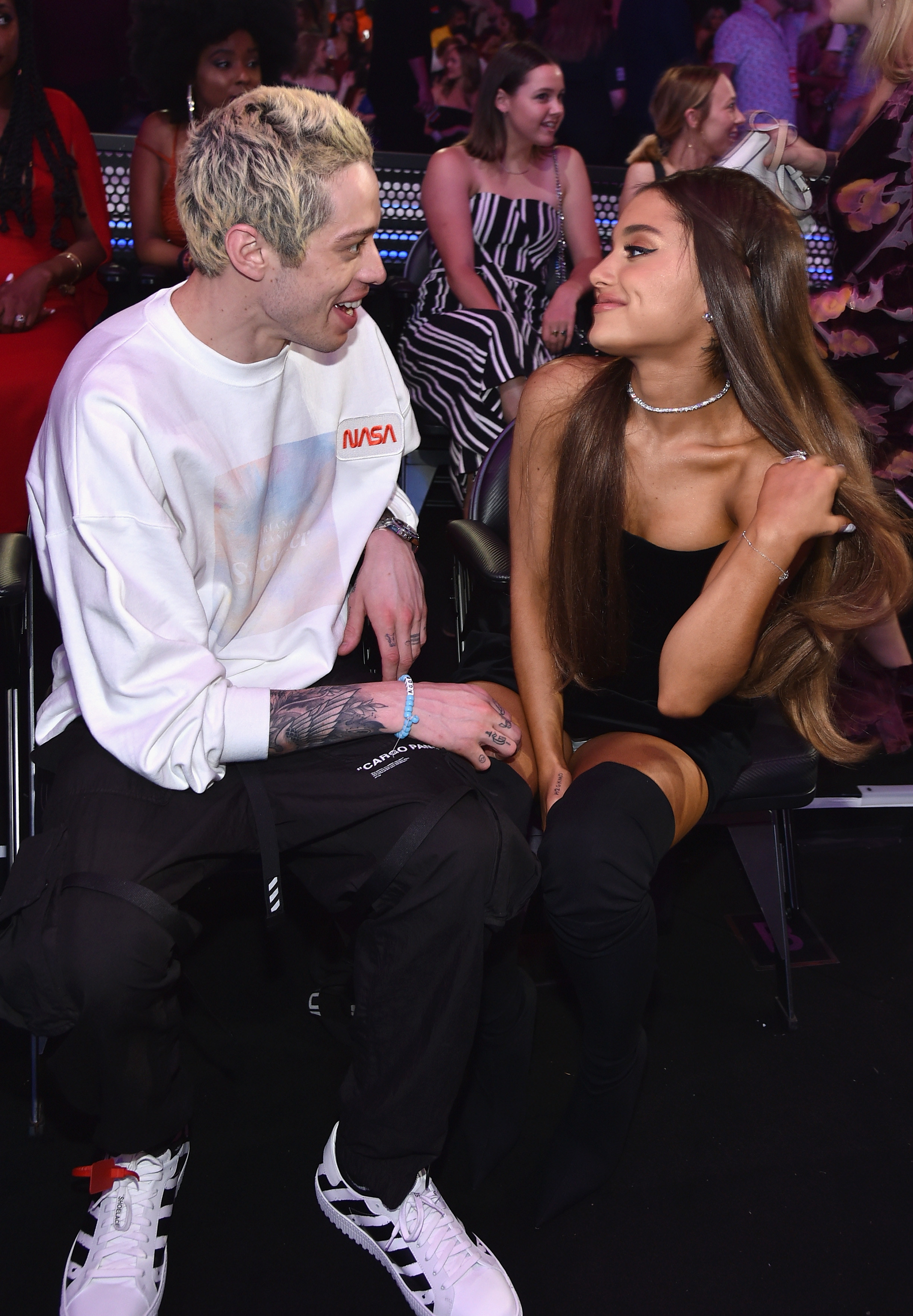 Given that he and Kim have rarely shared any details of their relationship since they began dating in late October, many fans were skeptical about whether Pete's apparent tattoo was legitimate.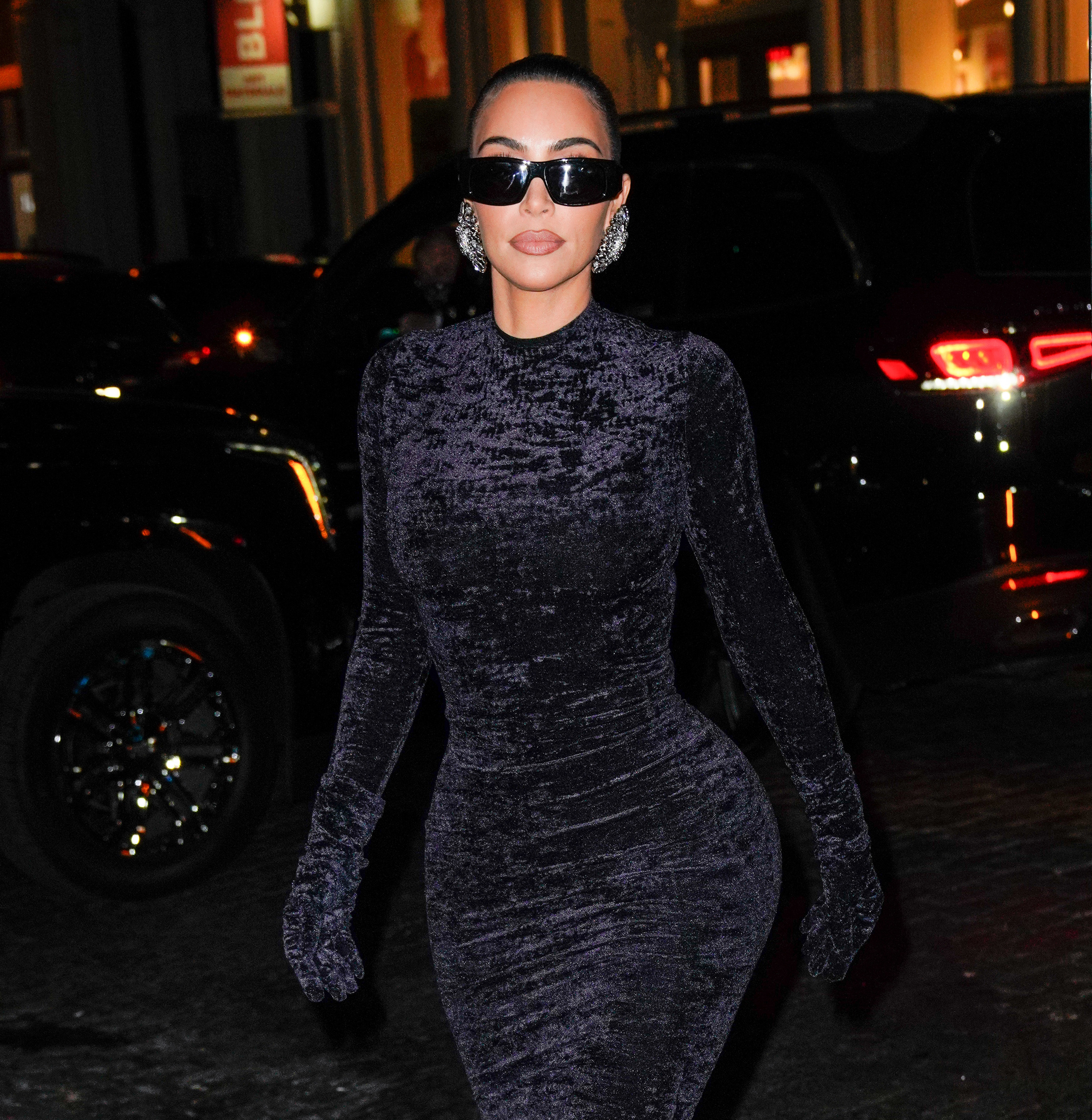 But Kim has now entered the conversation herself to confirm that Pete has not one but "a few" tattoos dedicated to her.
Appearing on Ellen this week, Kim — who hasn't actually spoken at length about the ins and outs of their relationship before — directly addressed Pete's viral selfie, explaining to the host that he "has a few tattoos...a few cute ones."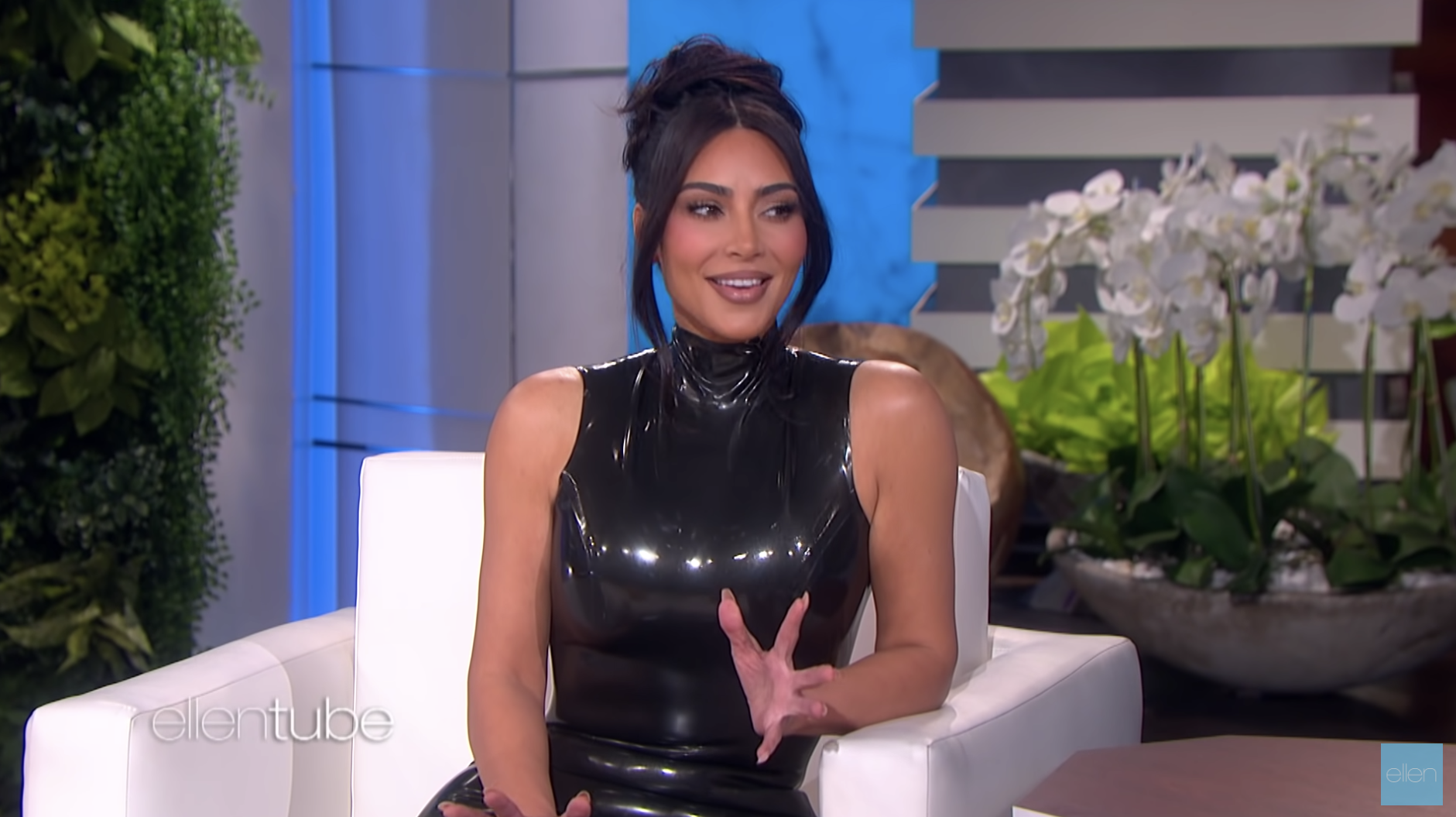 However, to many viewers' surprise, Kim went on to reveal that the infamous lettering of her name on his chest isn't actually a regular tattoo, but a branding. Body branding, if you didn't know, is a form of modification that involves burning off the skin with metal instruments, resulting in a permanent scar.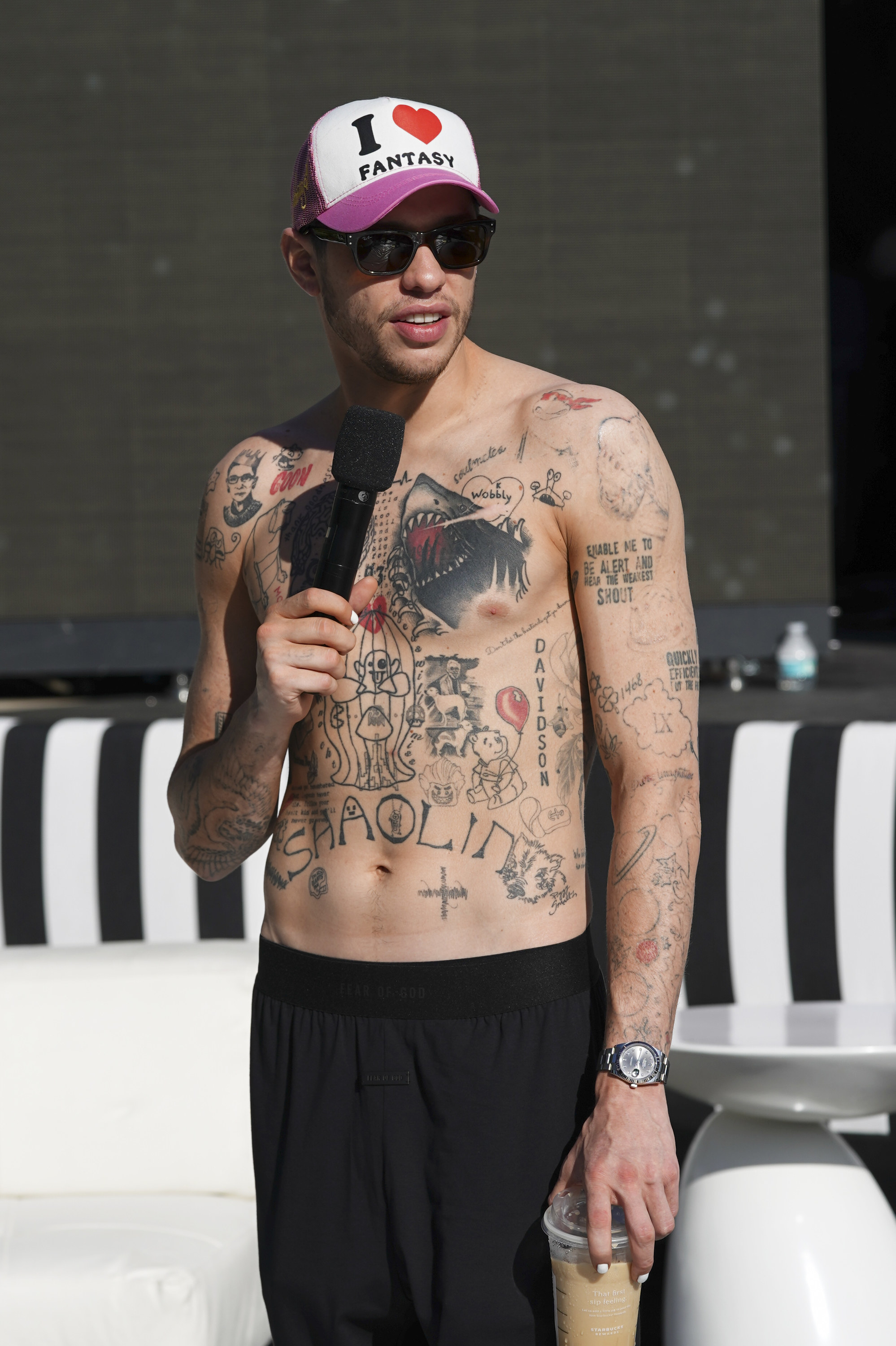 Kim told Ellen, "The 'Kim' one isn't a tattoo, it's actually a branding," while gesturing the process of getting stamped with an iron.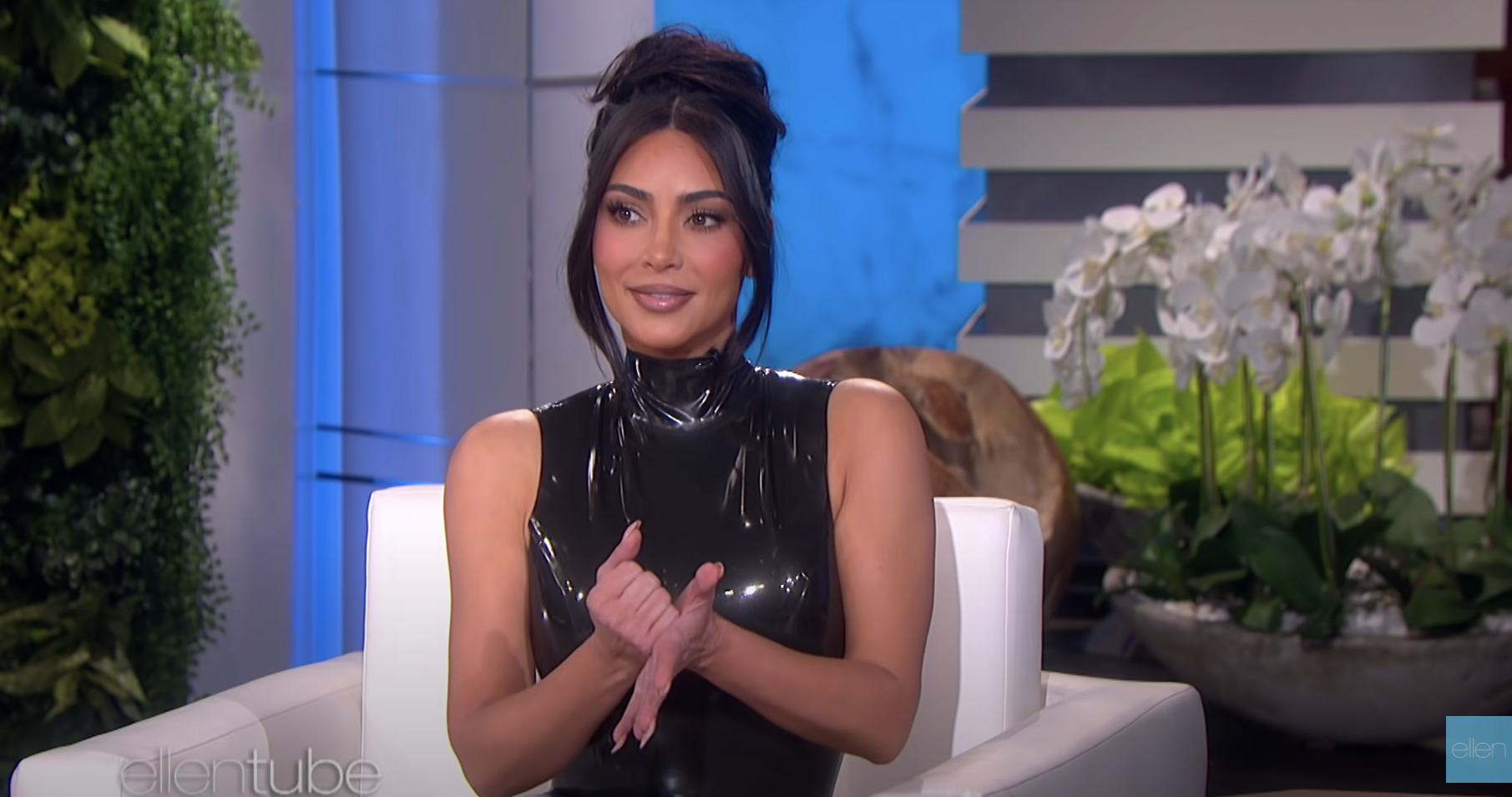 Perhaps unsurprisingly, Kim's revelation was met with a stunned silence from the audience. Ellen also looked bewildered.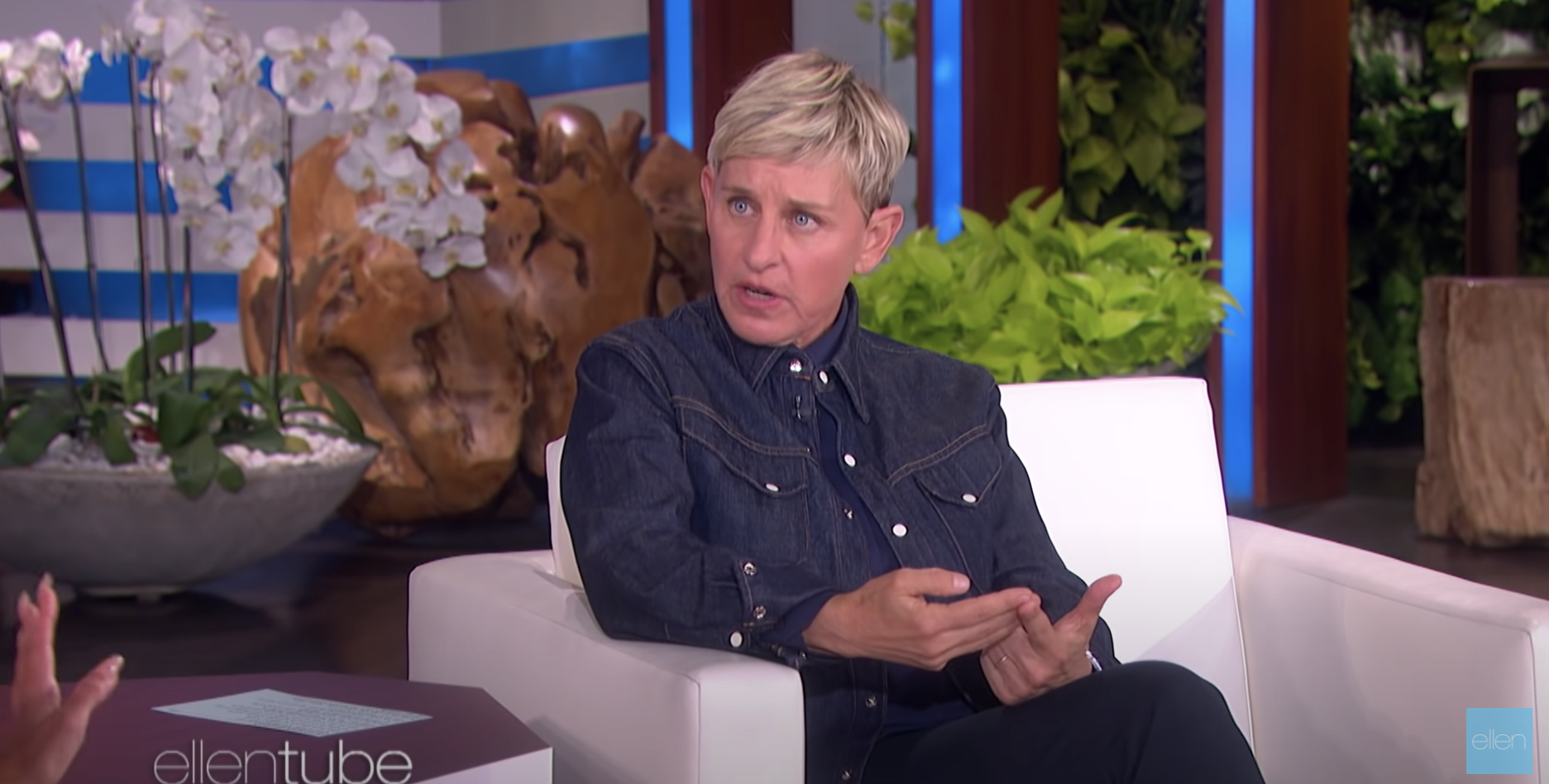 "Let me explain," Kim said. "He wanted to do something that was really different. The first tattoo he got, I was like, oh, so cute, thank you, oh my god. ... But, like, that's what tattoo people do."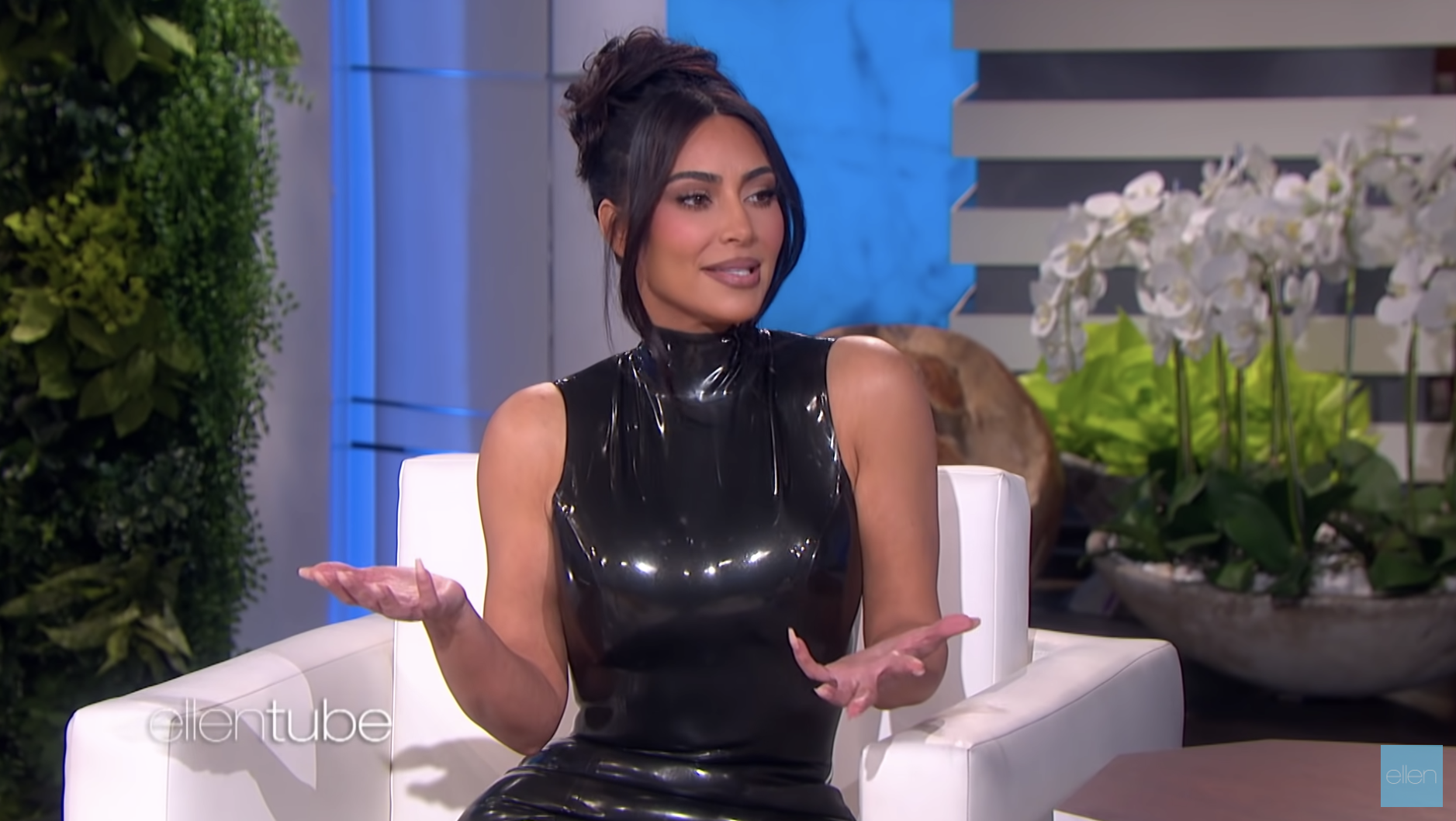 She added, "Like, they get tattoos of what's going on in their life," before noting that she questioned if the tattoo Pete got was "special" enough.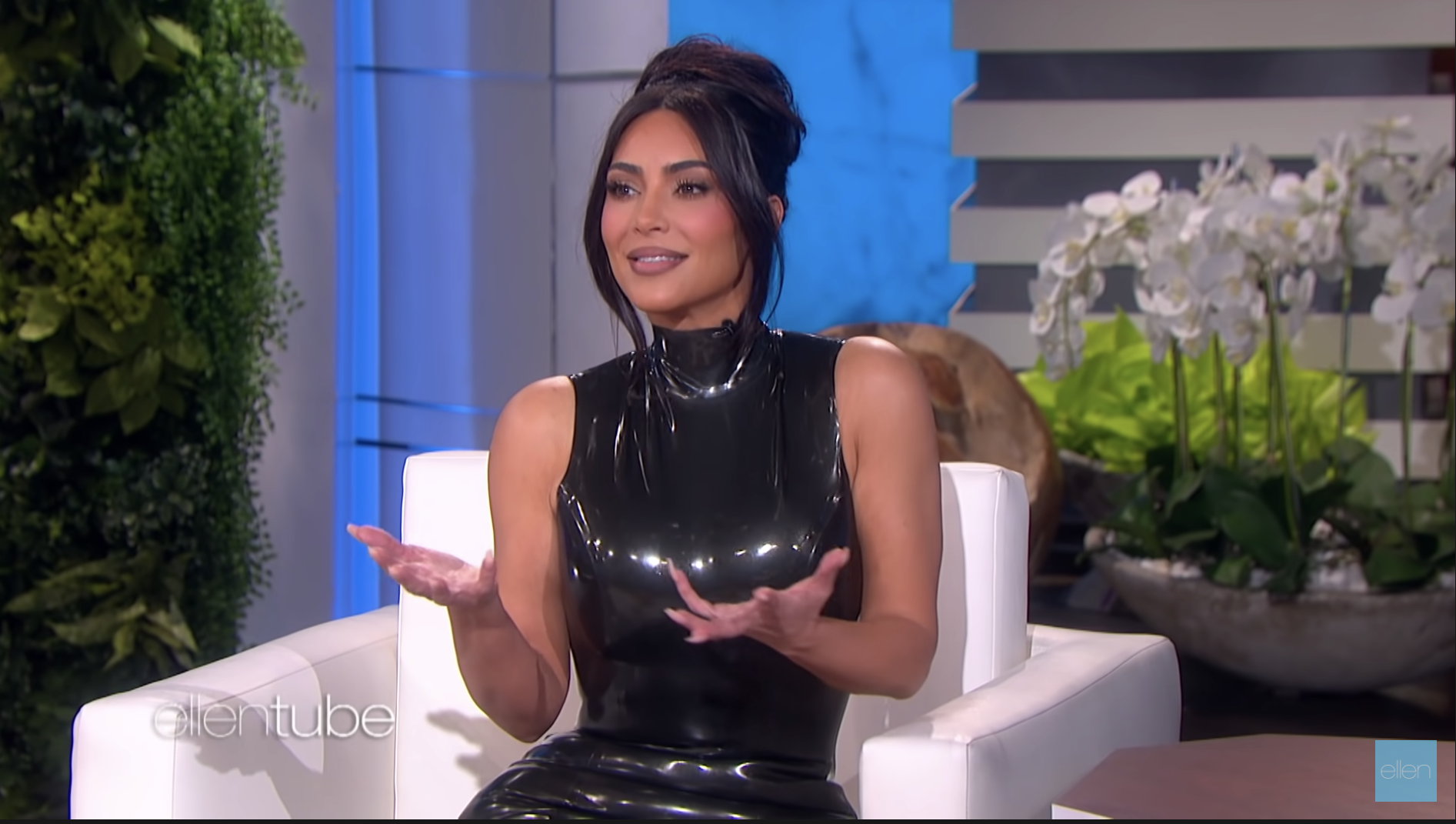 Ellen went on to question, "So when you say 'branding' ... literally an iron thing went onto his body to brand 'Kim'?"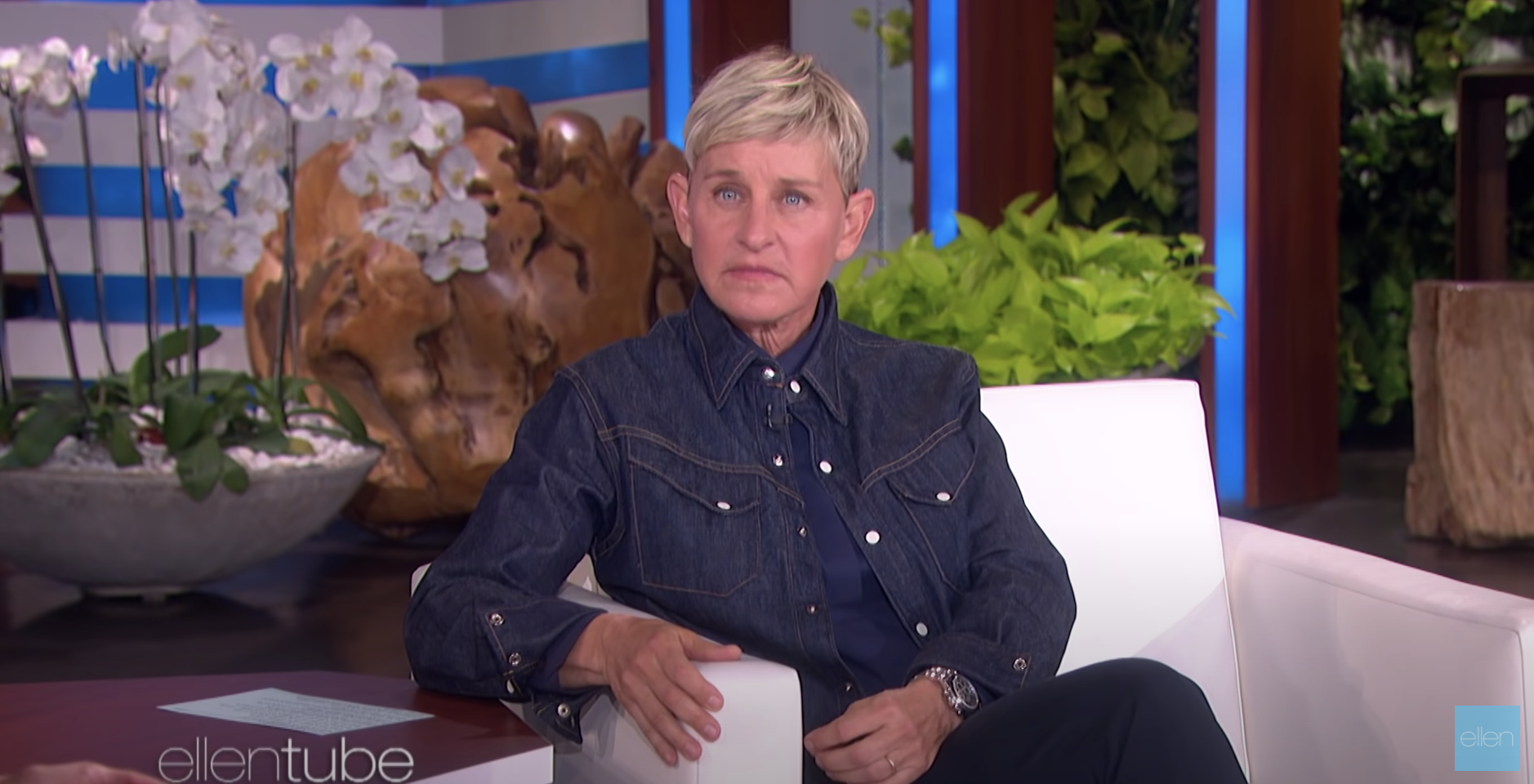 "Yes," Kim confirmed, before turning to face the audience and laughing. "I just think he was like, 'I want something that's there, that I can't, you know, get rid of...' 'Cause he's in the process of getting rid of his arm tats and his neck tats."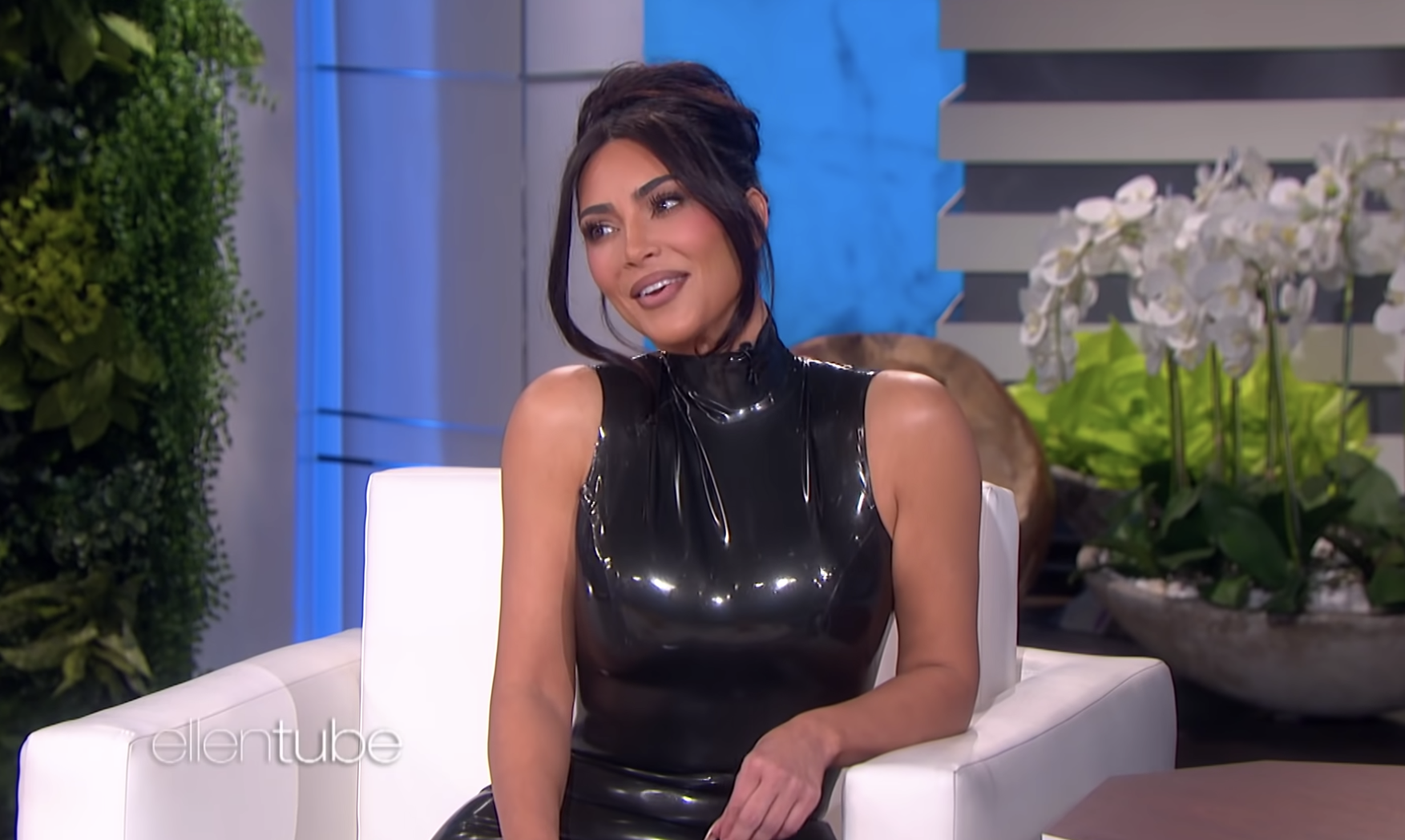 "So he's like, 'I don't wanna be able to get rid of it, or to cover it up. I just wanted it there as a scar on me,'" she said, appearing totally smitten over the whole thing. "It's so cute, guys."
Ellen also asked Kim to divulge the number of tattoos Pete actually has in her honor, given that she referred to one as "the first," implying that he has multiple.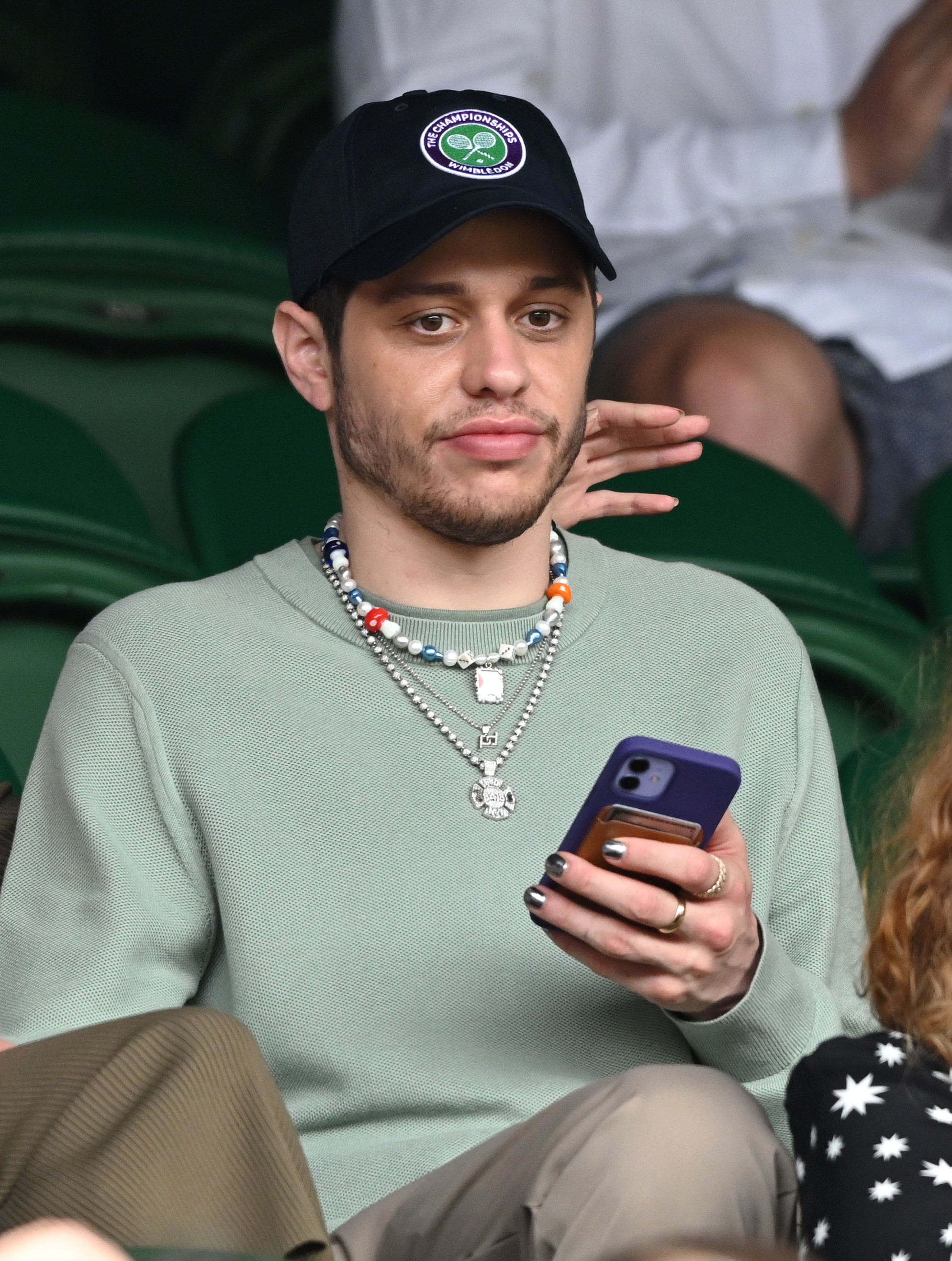 "Back up, back up," Ellen said. "You said 'first tattoo,' so he has three tattoos of you?"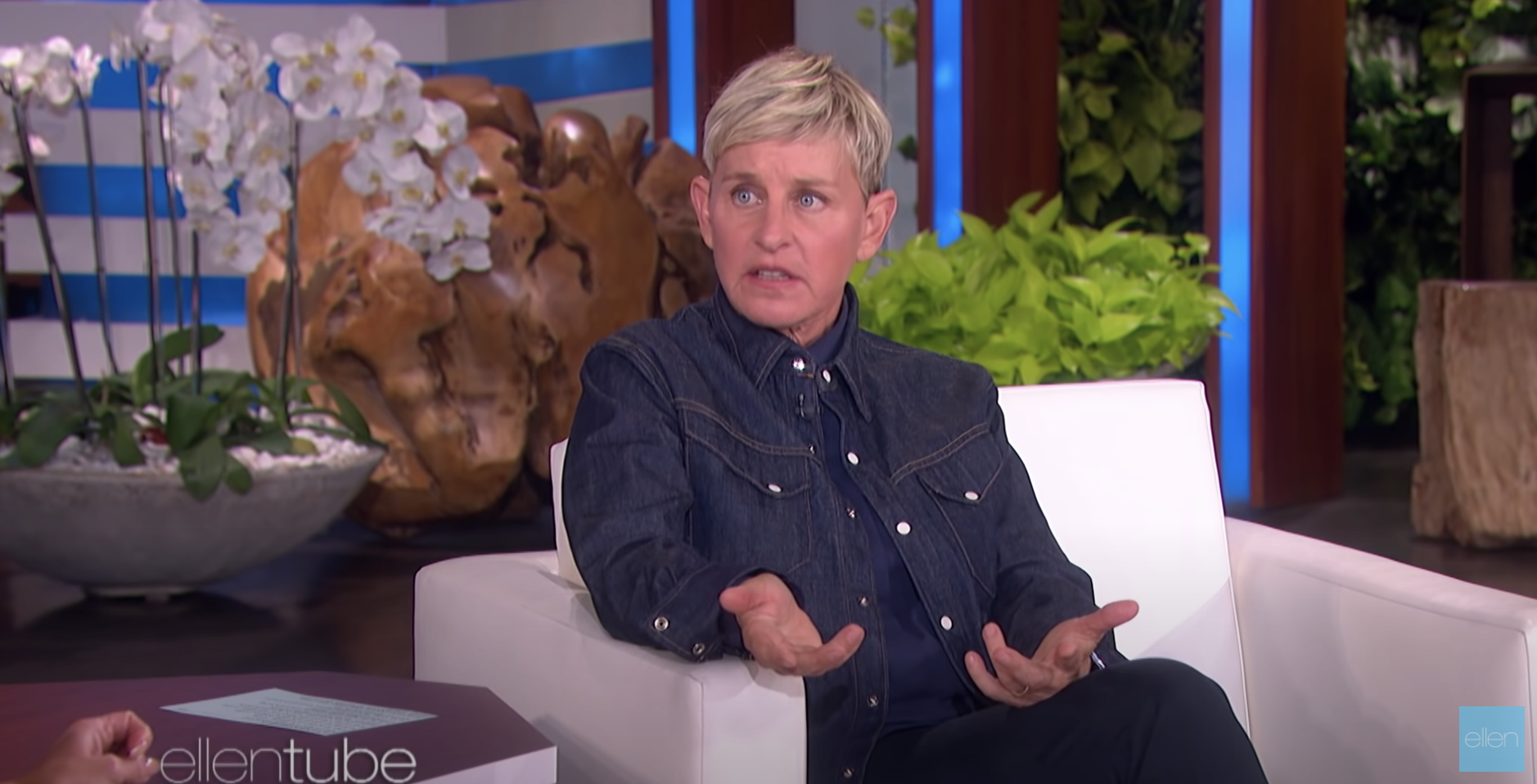 Smiling and shaking her head giddily, Kim replies: "I just... I don't know. A few."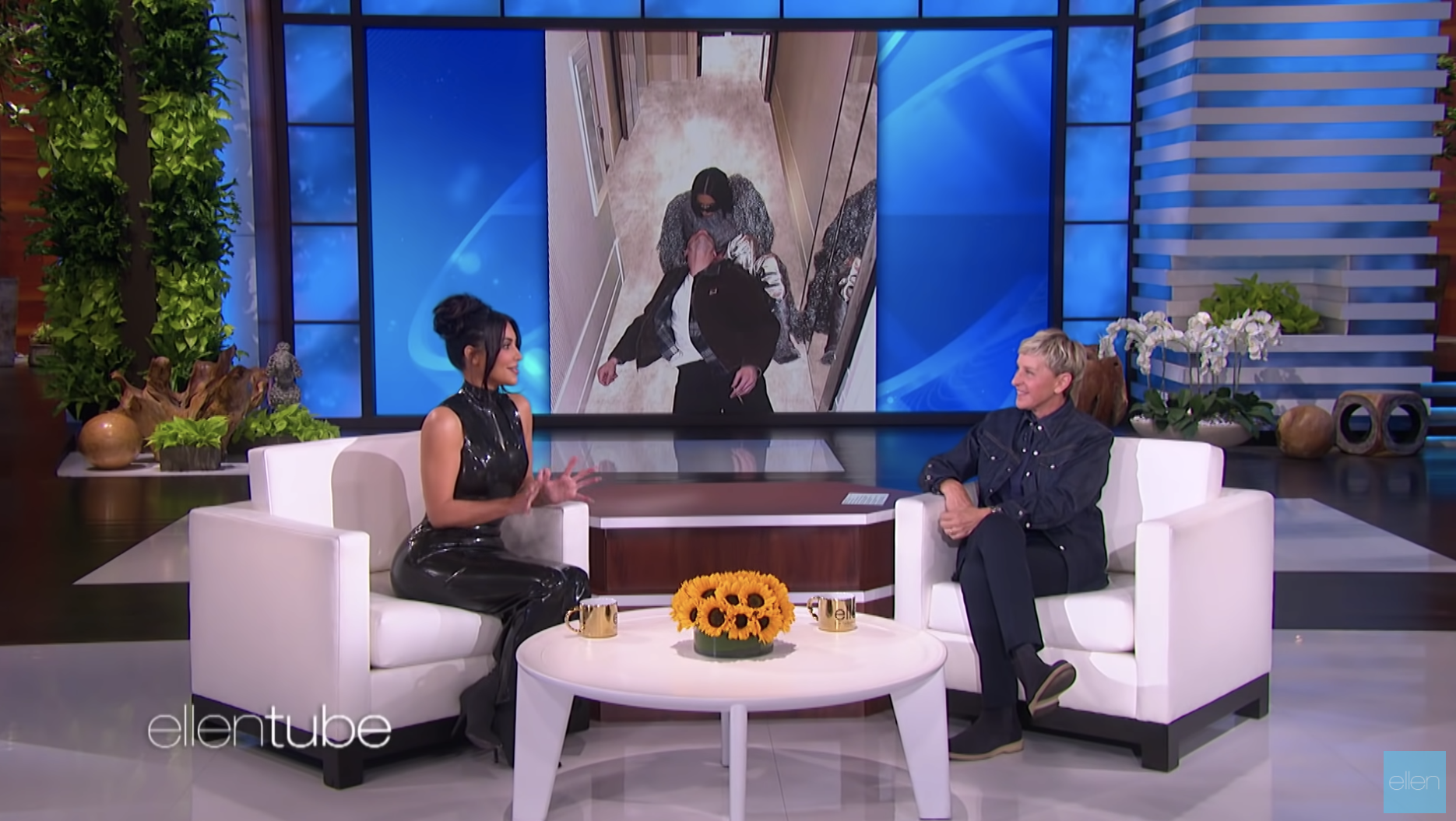 "It sounds like this is the third," Ellen continued. "So the first tattoo you said [is] 'kinda cute.' So, is it your name?"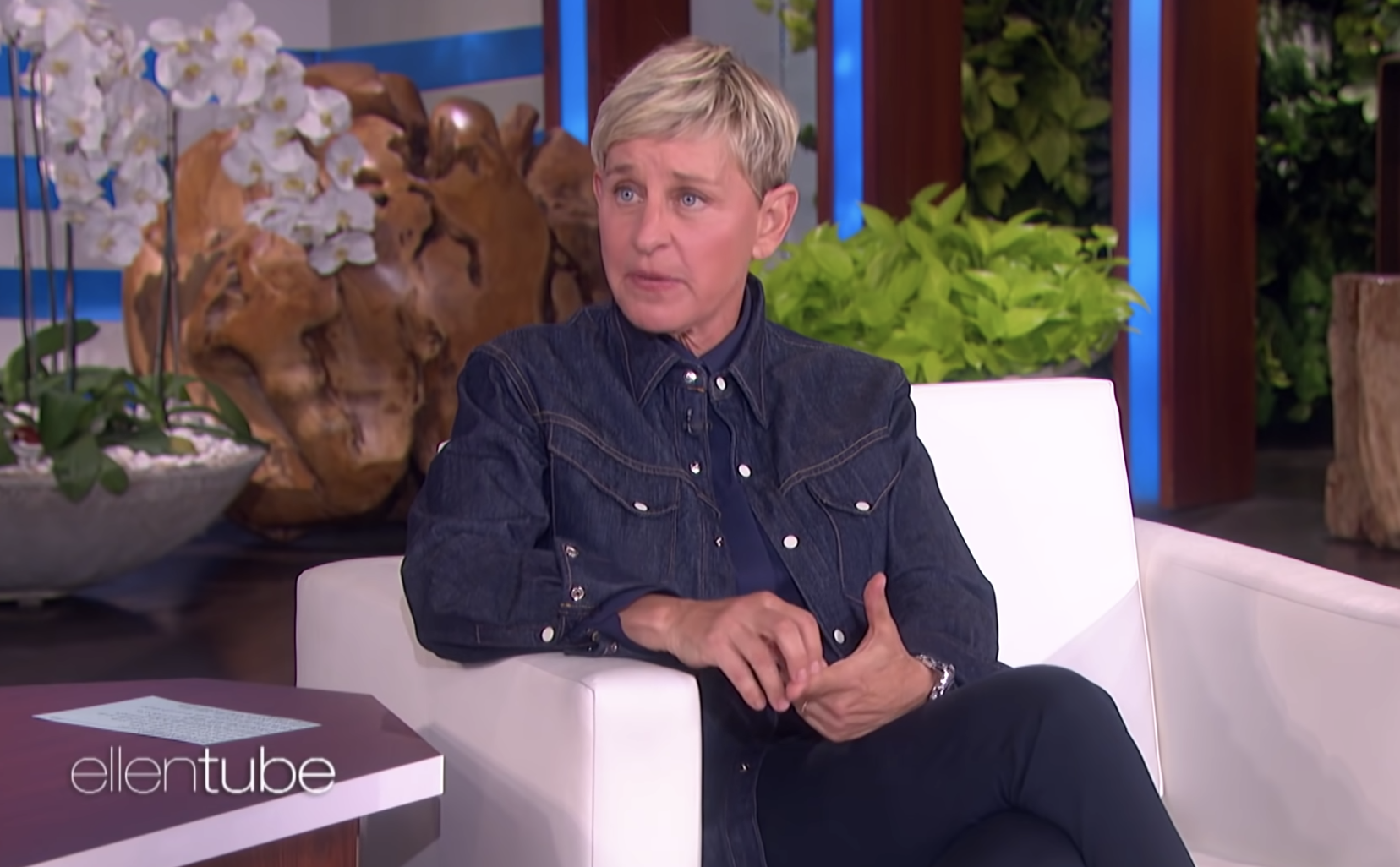 In response, Kim clarified: "The branding is my name. The other ones are like cutesy things."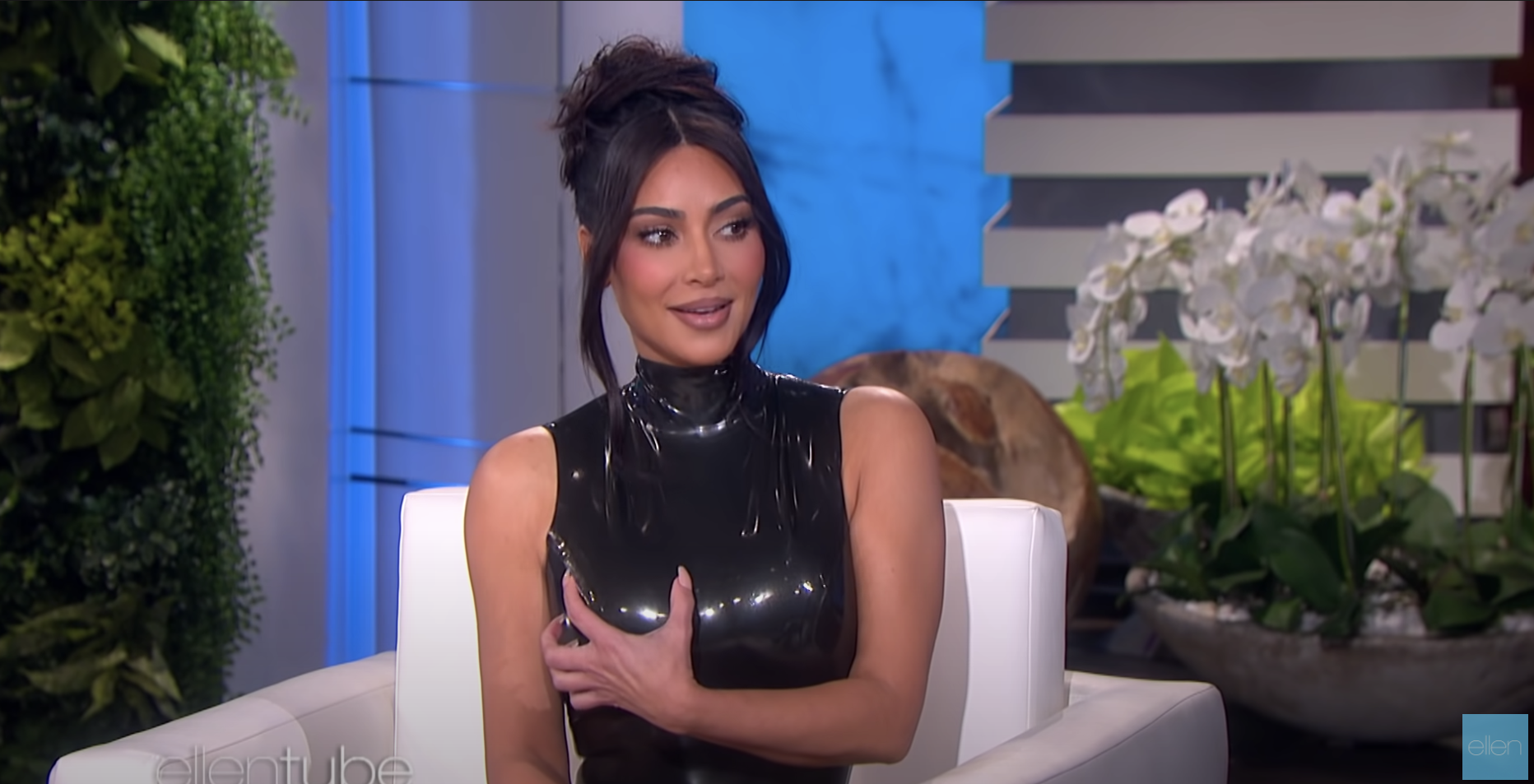 "I think my favorite one... It says [near his collarbone] 'My girl is a lawyer' ... that one's really cute," she reveals, which is met with a happy sigh of approval from the audience.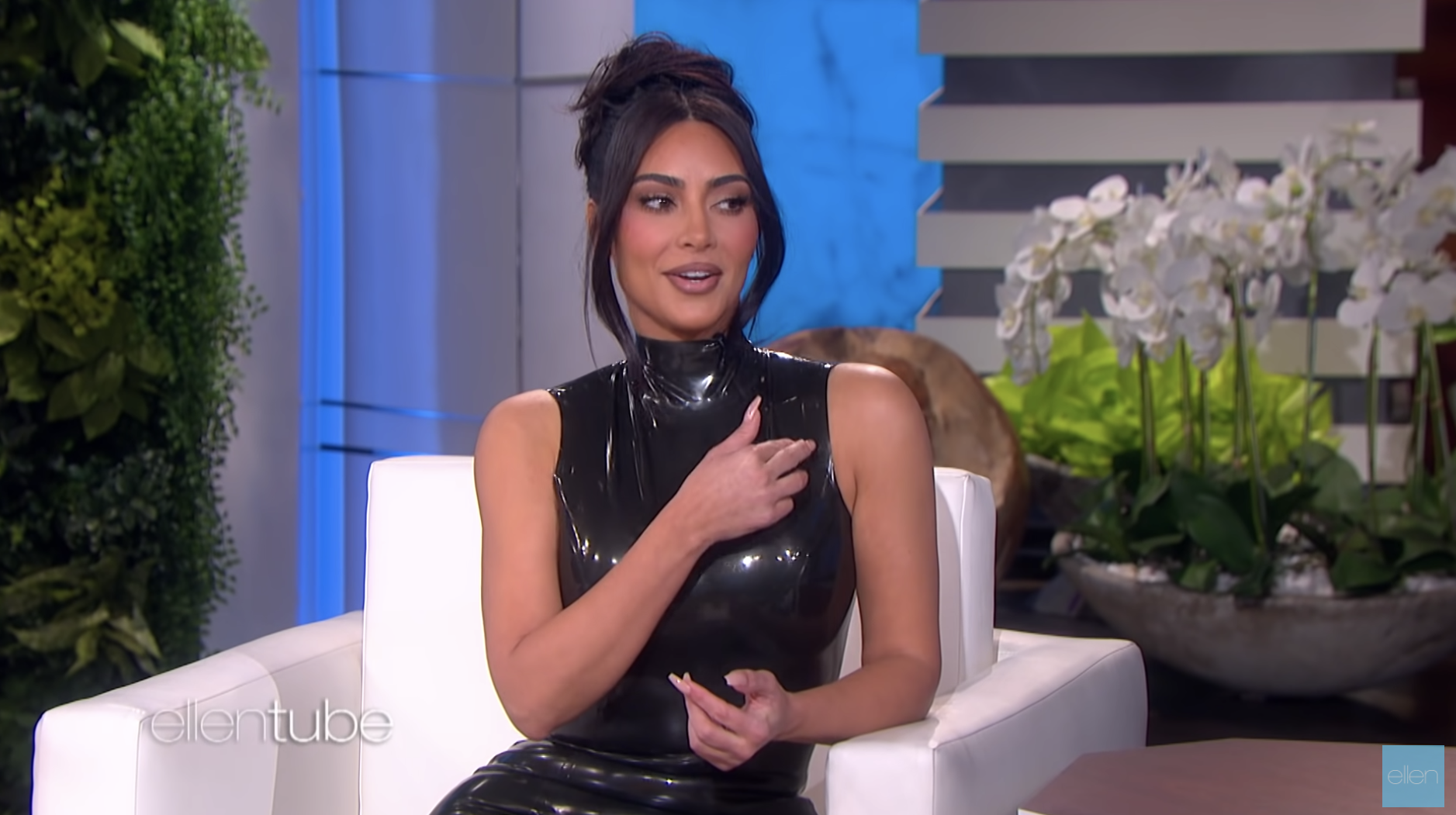 Kim doesn't share anything about the rest of Pete's tattoos throughout the interview, instead continuously maintaining that there are "a few." She does, however, open up about her return to the dating world with him and how she's navigating sharing their relationship on social media.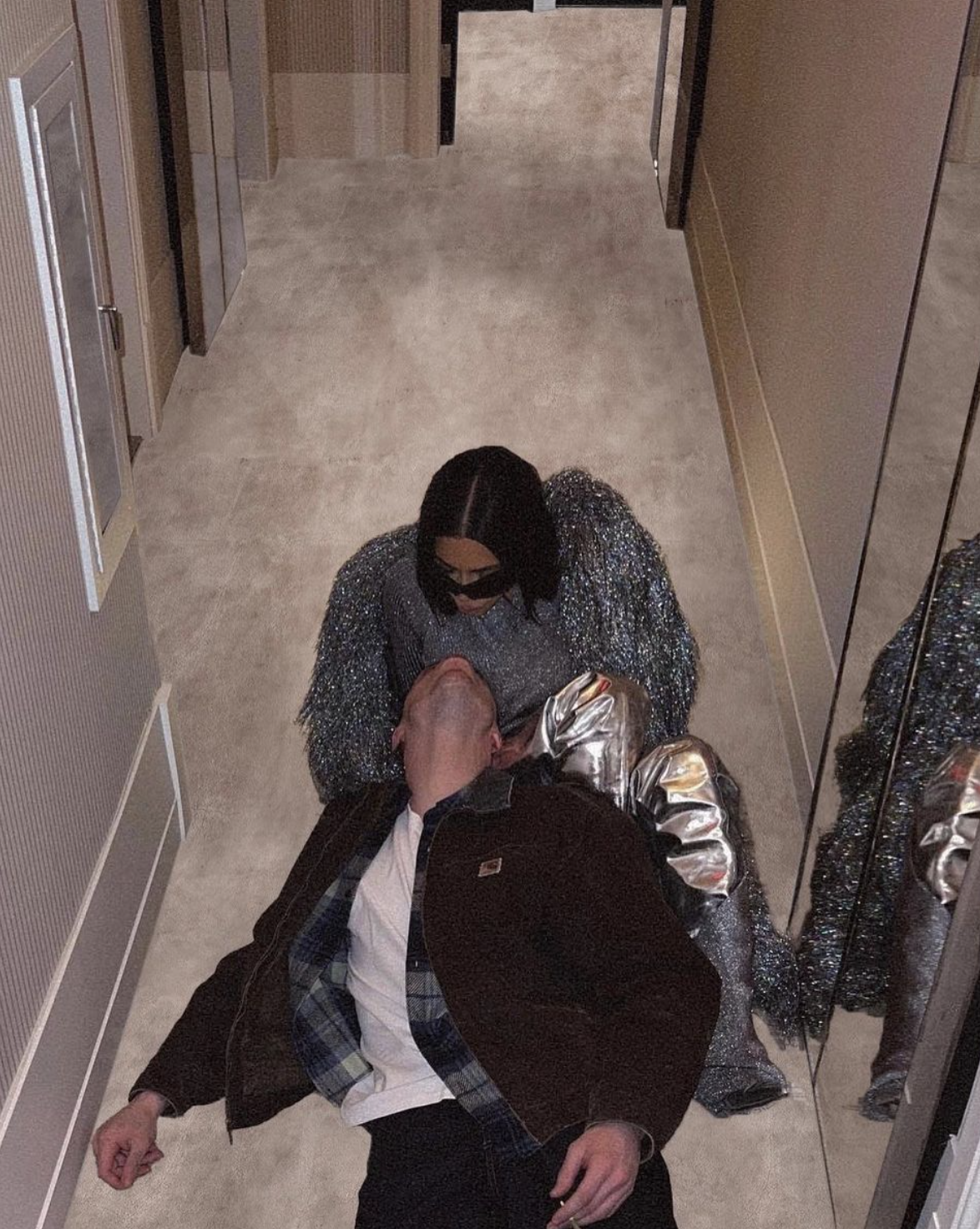 "I have the cutest pictures of us, and I wanna be like, oh my god, we're so cute!" Kim says of the photos that she's considered posting on Instagram.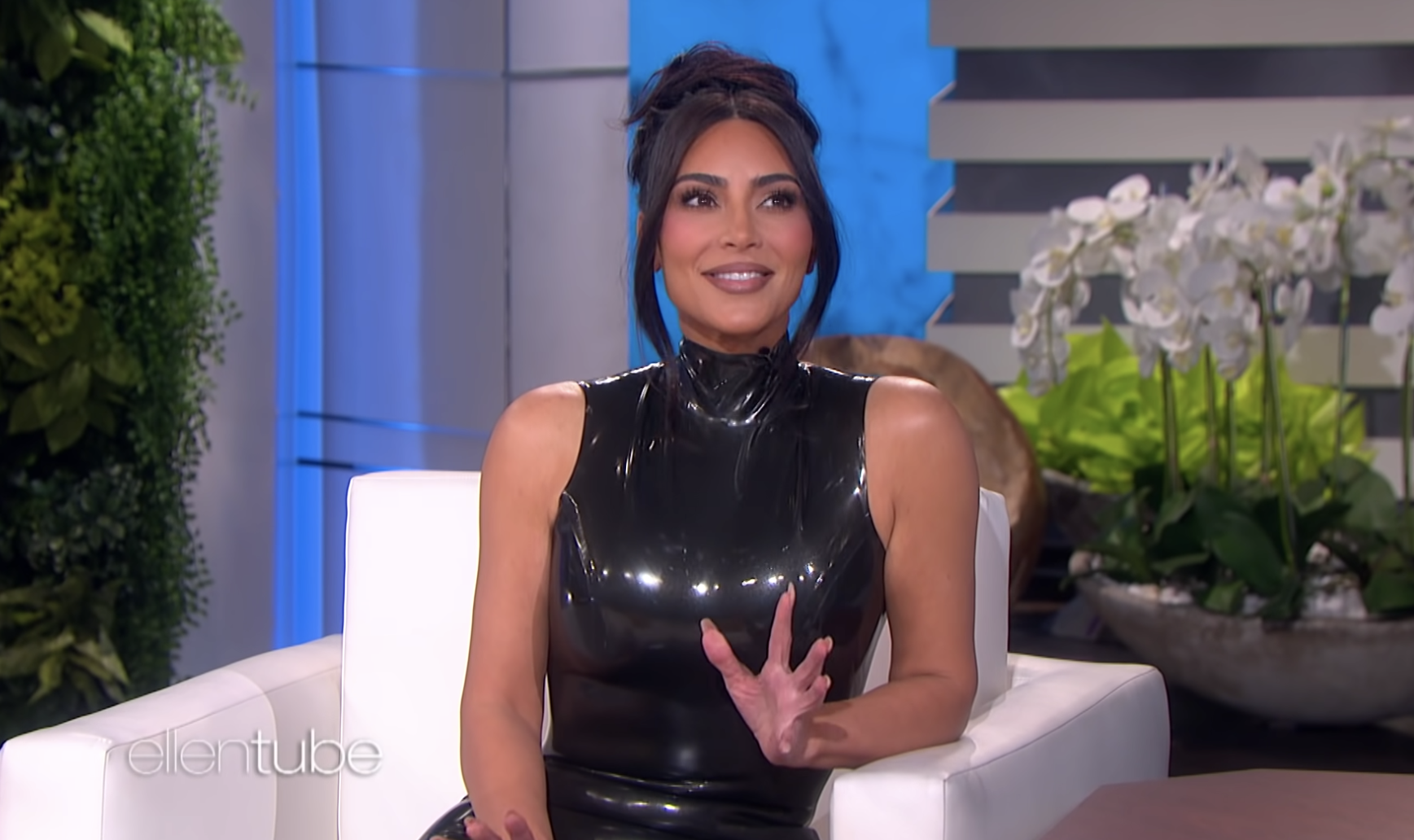 "But then I'm like, you know, Don't be so desperate, don't be posting so much, just give a glimpse," she adds, perhaps explaining why Pete has only appeared in two of the social media–savvy mogul's posts so far.
Kim goes on to discuss how she's managing documenting the new relationship online, noting that she doesn't know "what the rules are" when it comes to posting couple photos. If you didn't know, this is Kim's first public romance since the end of her almost-seven-year-long marriage with Ye.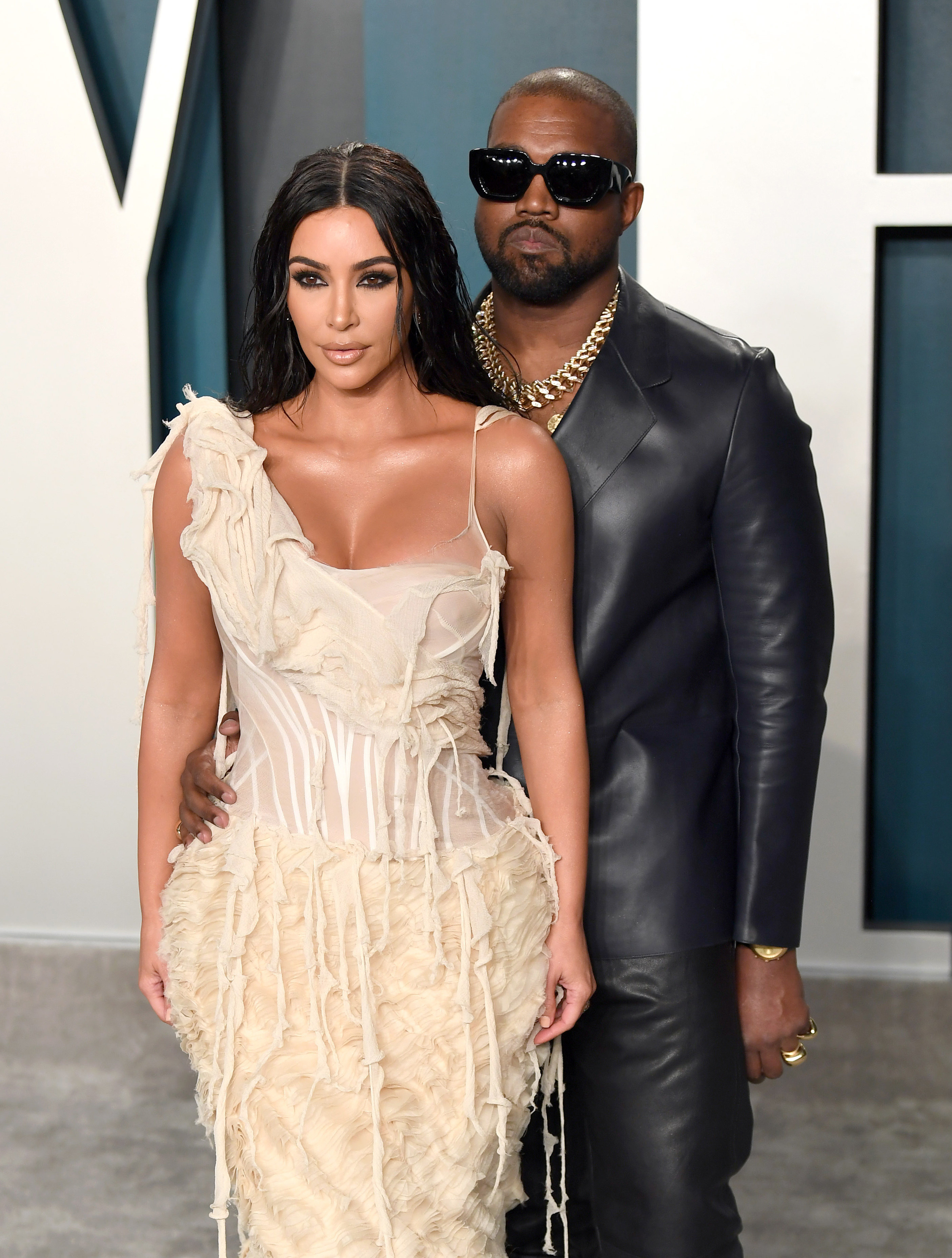 "I don't know. I don't know what the right thing to do is. Like, I haven't dated since before Instagram existed, so I don't know what the rules are," she said.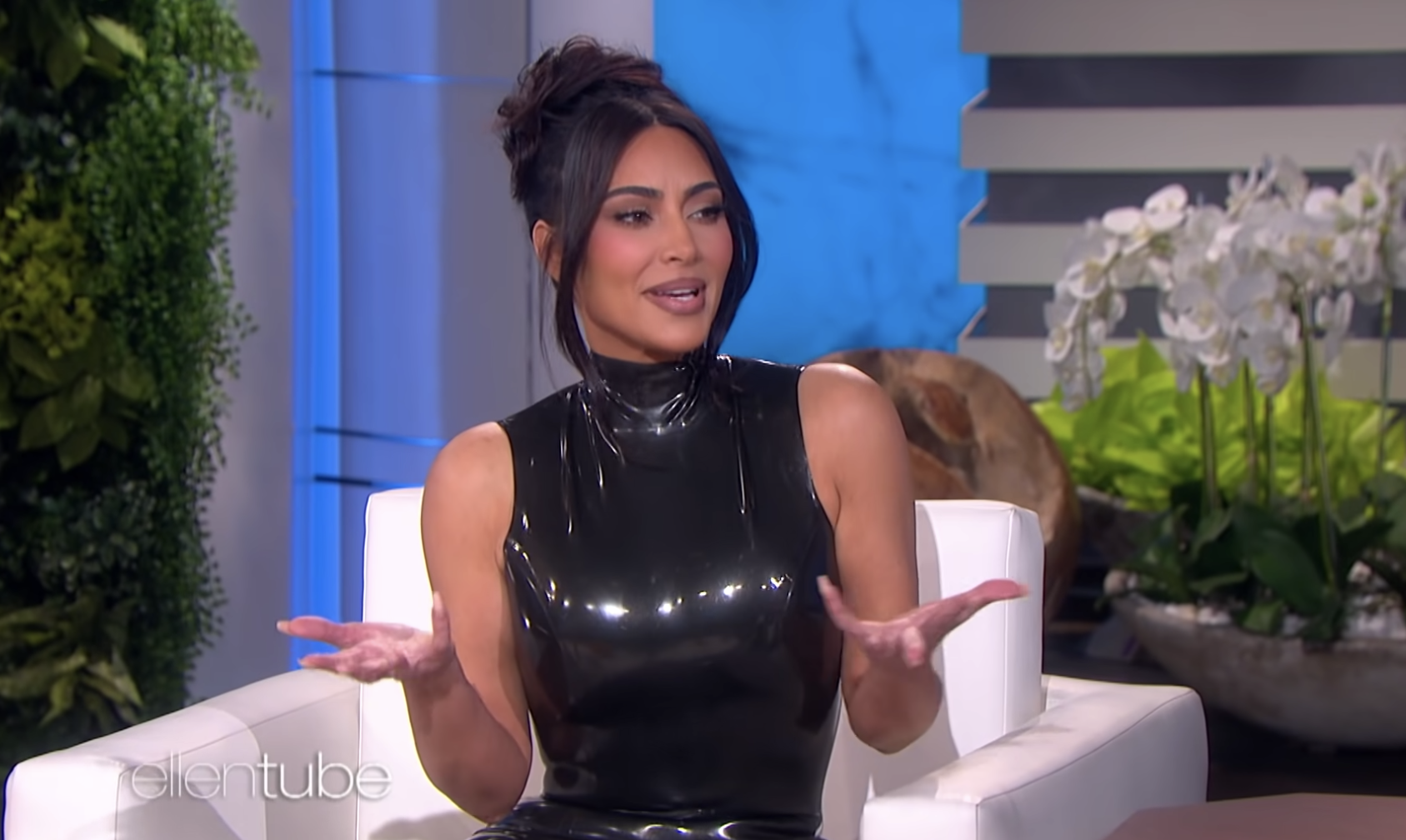 Ellen went on to tell Kim that she seems visibly happier, a topic that has been bubbling among fans for months now. Many have noted that on all the occasions that Kim has been pictured on various dates and outings with Pete, she's often laughing and sporting a huge grin across her face.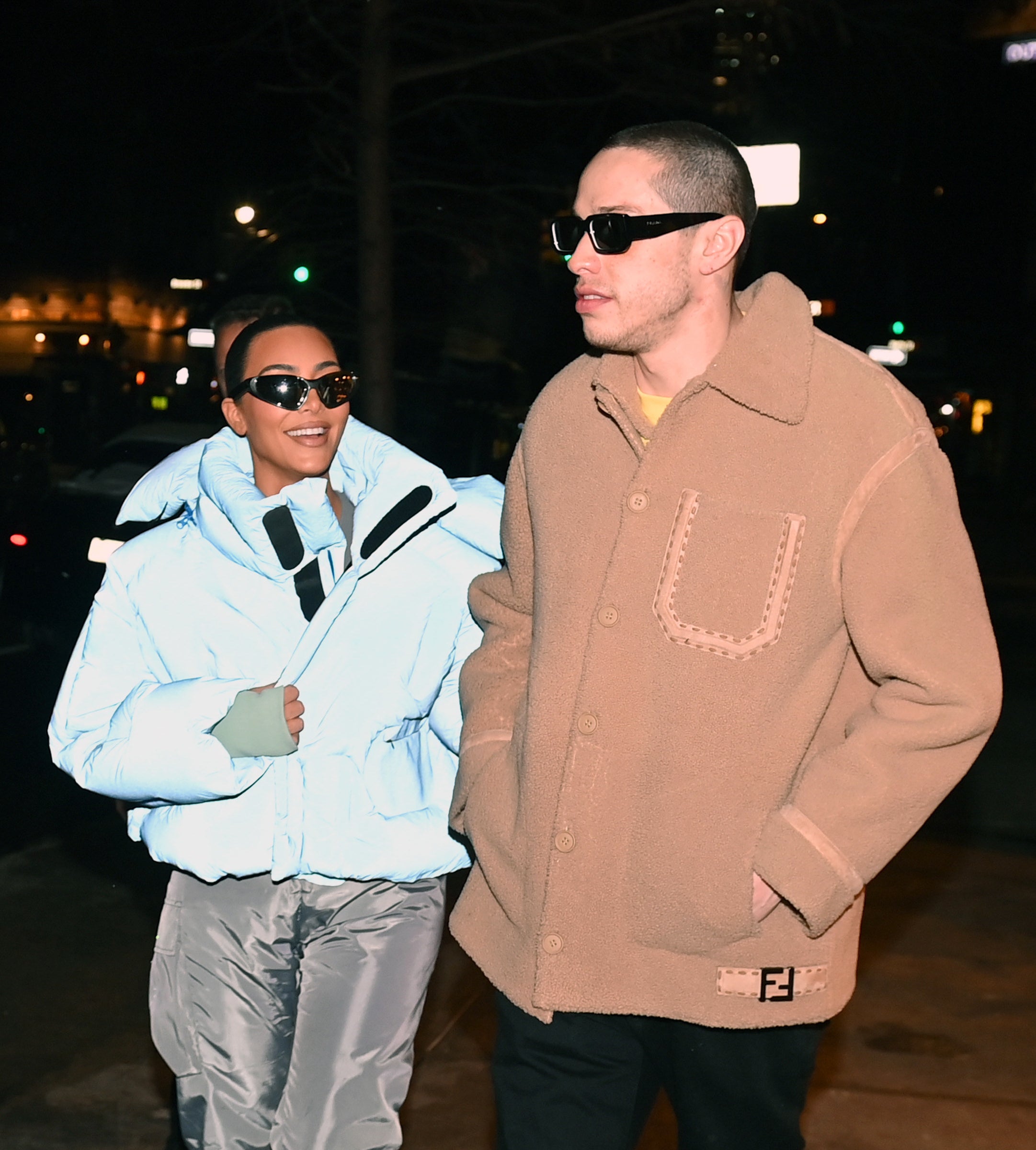 Ellen said to Kim, "I see a shift in you and [an] ease in you, and just a whole different side. And you see a different side of you. I mean, it's a different you."
"I mean, I think it's just in life. No matter what it is, I just think, I encourage my friends and the people that I love just to be happy, and I went for it," Kim said.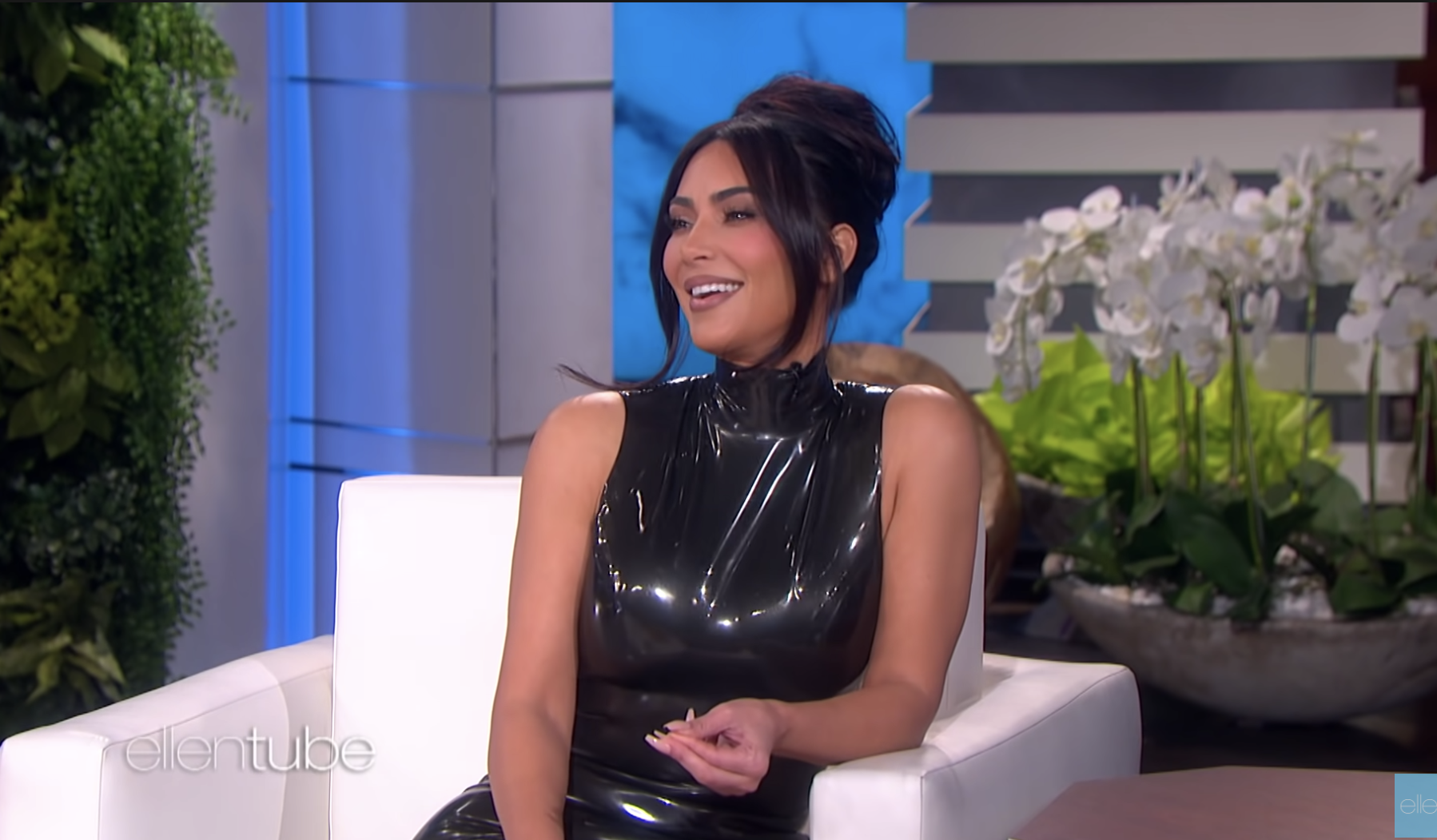 "I was like, You know what? I'm in my 40s, fuck it... Like, just go for it, find your happiness. And I went for it, and I took my time, and I found it, and it feels so good — and I wanna hold onto that forever," she said.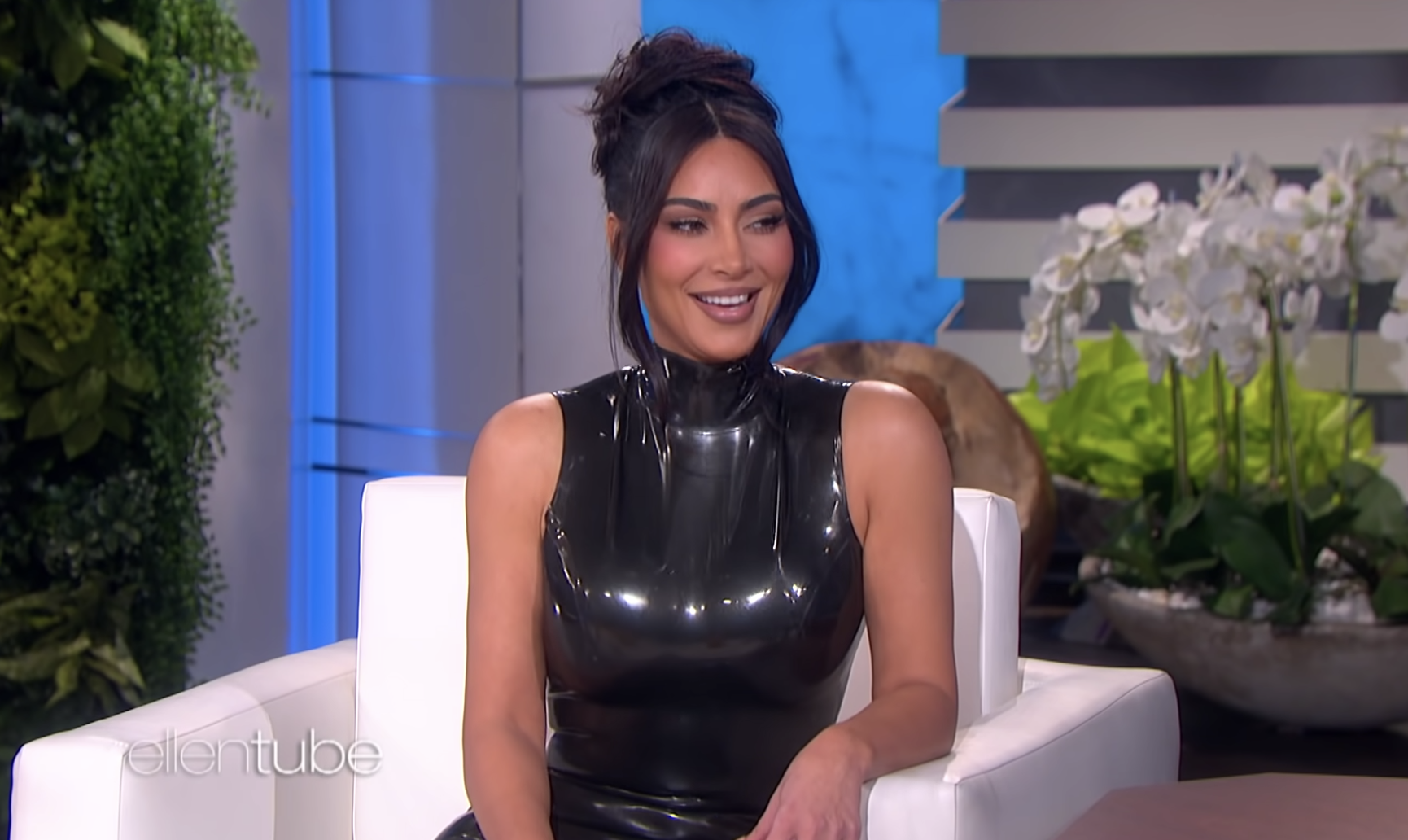 And viewers have certainly agreed that Kim seems to be in her prime too, with the majority of the comments under the Ellen clip noting that she's "radiating so much new energy" and is "glowing from happiness."
Kim's supposedly newfound happiness, as well as the details of her and Pete's relationship, is something that we can expect to be unpacked in upcoming Hulu series The Kardashians.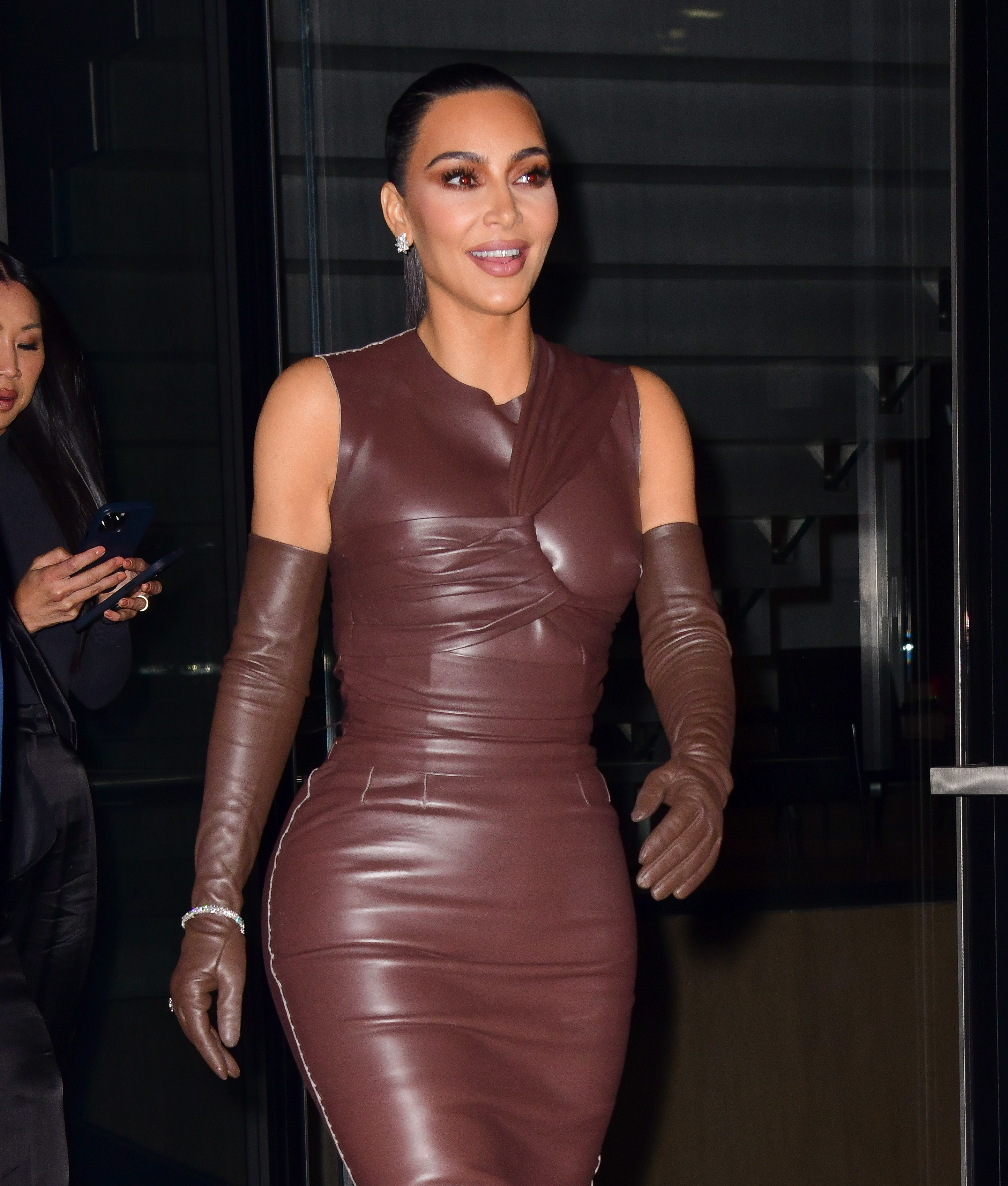 Speaking about the contents of the forthcoming show during a recent interview with Variety, Kim revealed that viewers will learn "who reached out to who and how it happened."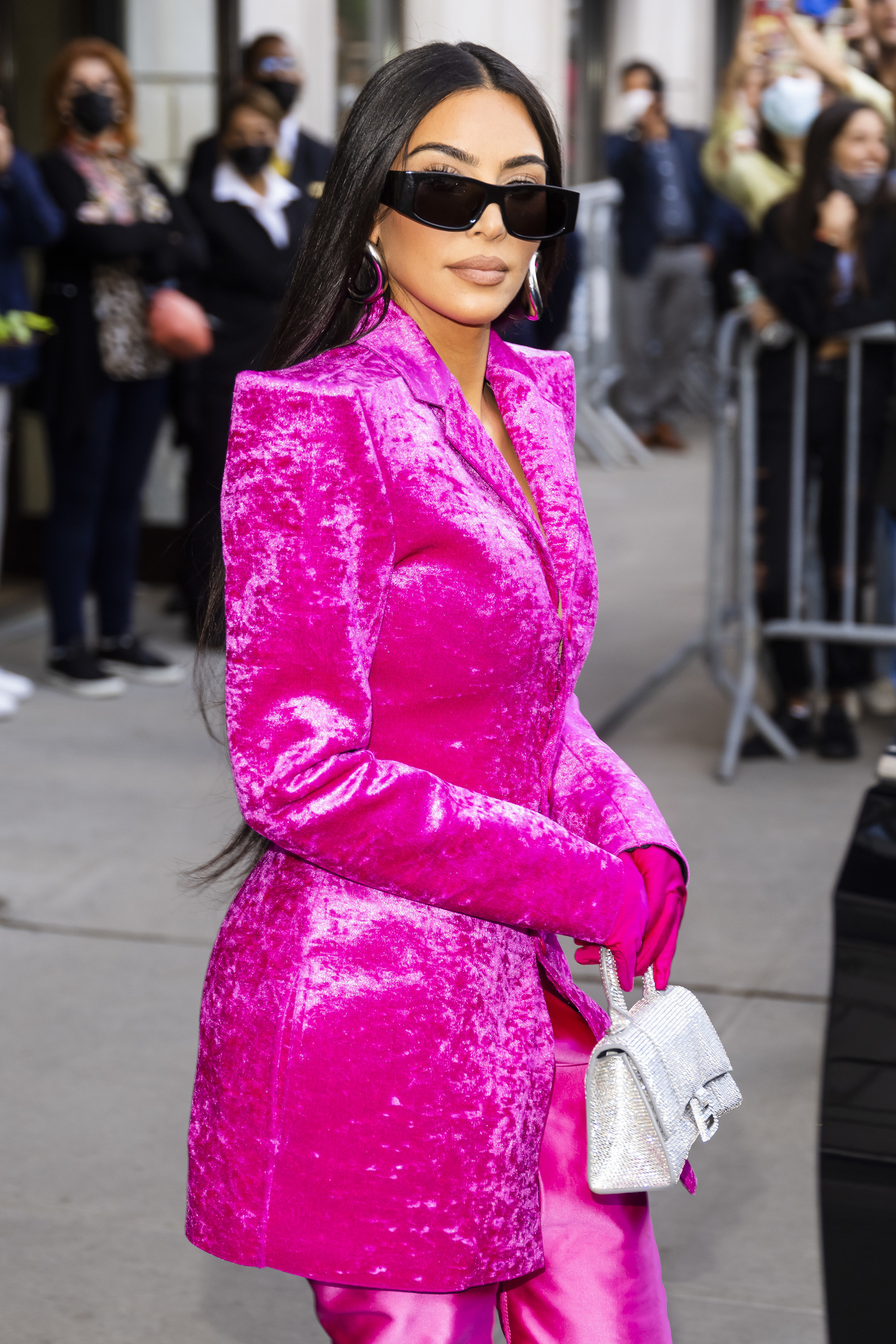 "[Viewers will see] how we met and who reached out to who and how it happened and all the details that everyone wants to know. I'm definitely open to talking, and I definitely explain it," she teased.