This is an excerpt from Incoming, BuzzFeed News' morning newsletter dedicated to making sense of this chaotic world we live in. Join the club here.
After 15 votes, Kevin McCarthy was elected Speaker of the House. Now what?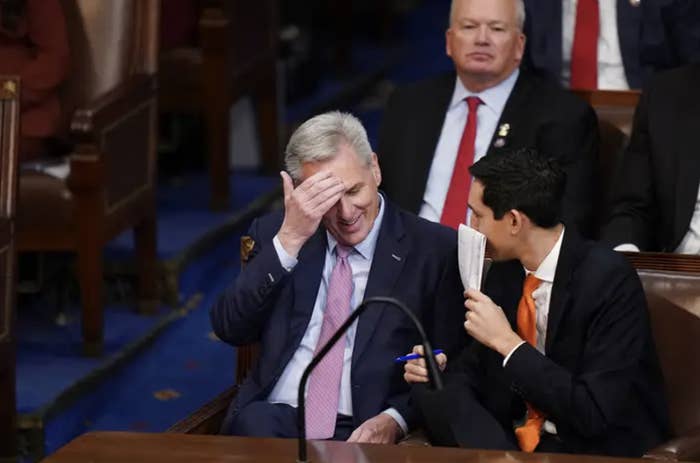 Rep. Kevin McCarthy was finally elected Speaker of the House of Representatives in the wee hours of Saturday morning after failing to win a majority in 14 rounds of voting.
After days of failure, McCarthy and his allies appeared confident that they finally had the votes going into the 14th count, but they ultimately fell short by one vote in a stunning defeat. The late-night drama sparked an ugly confrontation on the House floor: Rep. Mike Rogers had to be physically restrained while getting into a verbal altercation with Rep. Matt Gaetz, whose decision to vote present instead of for McCarthy cost the would-be speaker a victory.
In the final and 15th ballot, McCarthy won 216 votes, while House minority leader Hakeem Jeffries received 212 votes from his fellow Democrats. Six Republicans voted present, lowering the threshold McCarthy needed to win a majority.
The drawn-out opposition to McCarthy came from a small group of Republicans, many of whom are part of the ultraconservative Freedom Caucus and were endorsed by former president Donald Trump. Most of them denied the outcome of the 2020 election.
What comes next for the House
To get the remaining ultraconservative votes needed to win, Kevin McCarthy agreed to several significant concessions including:

Allowing a single lawmaker to force a snap vote at any time to oust the speaker

Less government spending

A larger Freedom Caucus presence on House committees

Allowing votes on conservative bills reviewing border security and congressional term limits

Developing an investigative committee to review the "weaponization of the federal government" and potentially prior investigations into Donald Trump

Today, the House will vote on a package of rules aimed at passing these concessions. Last week, the stalemate kept the representatives from being formally sworn in and prevented the House from getting started on any legislative work.
SNAPSHOTS
Andrew Tate is in detention in Romania but his Twitter posts and daily newsletter haven't stopped. Ever since Tate and his brother were arrested Dec. 29 and linked to human trafficking, his social media accounts continued to promote his idea that mainstream society is "the Matrix" (a reference to the film of that name, suggesting an illusion created to enslave people for the benefit of malevolent overlords) and that authorities are attempting to suppress his message.
Photos from cities across California show the damage and debris from the ongoing storms. The National Weather Service said that more storms are expected to power through northern California, lasting until Tuesday, and possibly with even more force.
A 6-year-old student shot his teacher during an altercation in class, police said. The shooting was not accidental, Newport News authorities said at a press conference, and the teacher has been hospitalized.
NFL Buffalo Bills safety Damar Hamlin cheered for his team from his hospital bed. The Bills returned to the field on Sunday for the first time since Hamlin experienced cardiac arrest during a game last week.

Far-right protesters stormed Brazil's Congress over Jair Bolsonaro's election loss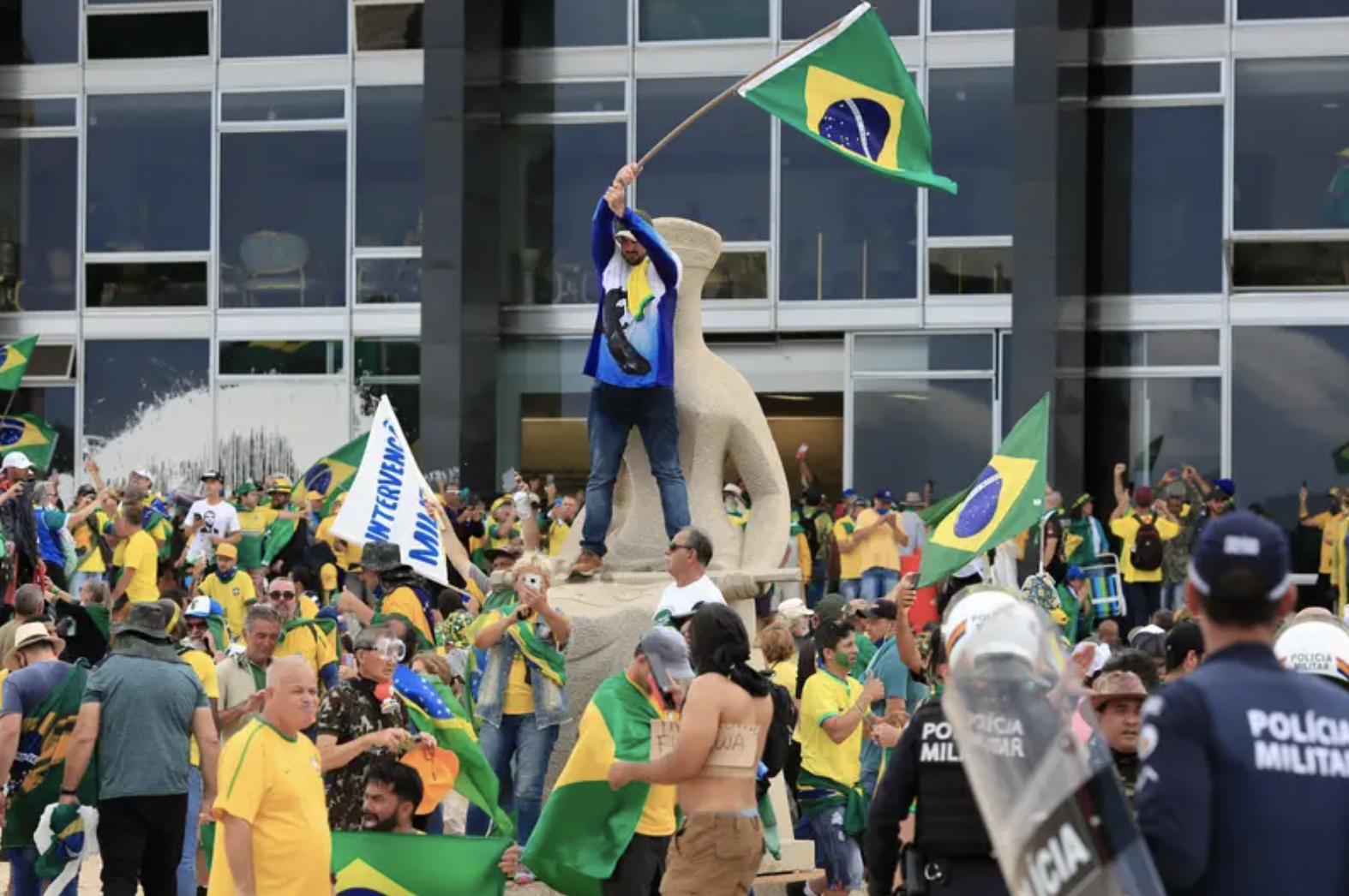 Thousands of supporters of former Brazilian President Jair Bolsonaro invaded the National Congress and other government buildings in the capital of Brasília on Sunday.
Bolsonaro had lost reelection as president in October and has since pushed right-wing conspiracies about election fraud. After Luiz Inácio Lula da Silva was sworn in as president on Jan. 1, crowds of Bolsonaro supporters camped outside the nation's capital in protest and called for military intervention to overthrow the election results.
But on Sunday, a violent mob of demonstrators stormed the National Congress and Supreme Court buildings as well as the presidential palace. Local news outlets reported protesters swarming inside and damaging building infrastructure — some of which flooded after sprinklers came on. Eventually, officers deployed tear gas and clashed with protesters; at least 400 people have been arrested according to Ibaneis Rocha, governor of the federal district.
Meanwhile, Bolsonaro is reportedly staying at a home in Florida. Rep. Alexandria Ocasio-Cortez called for the US to "cease granting refuge" to him.

IMAGE OF THE DAY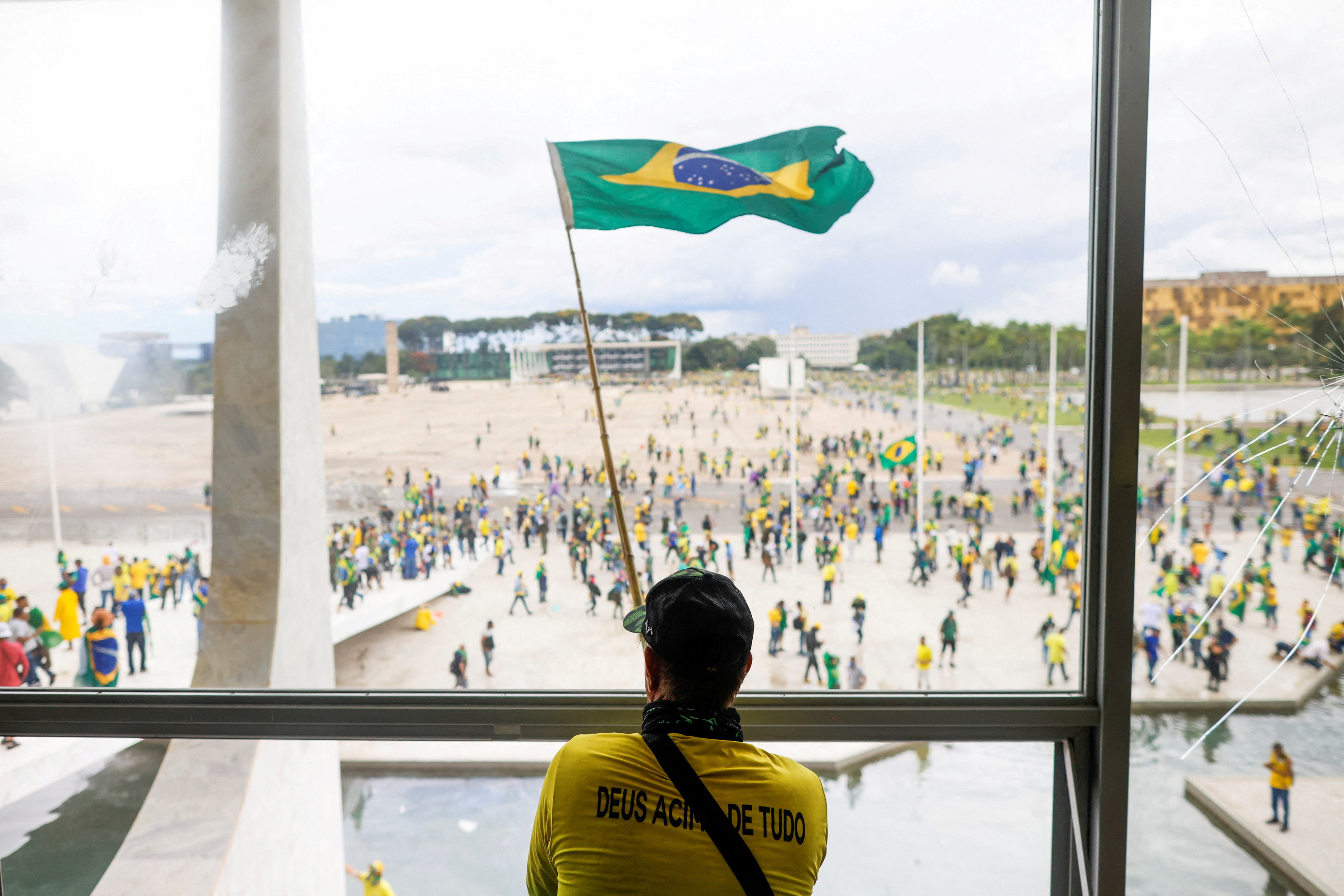 The sleaze shift is coming
It may not seem looming, but without a doubt, but the entrance of "-sleaze" as a suffix is coming — toppling the crown that "-core" has held onto for the past few years, Steffi Cao writes.
If 2022 was the year of introducing suffixes to slang, the idea of -core has expanded beyond its original usage, normcore, into any variant of a very specific aspirational lifestyle. Blokecore, gorpcore, cottagecore, ballerinacore, mermaidcore, fairycore. But many have tired of the increasingly narrow references that -cores have fallen down. So the natural course of action is to change that up.
The idea of "-sleaze" is the opposite of a "-core," aiming to dress down or disrupt a traditional aesthetic. In its usage, we see that manifest by way of pushing against the norm. Punk rock and metal scenes have been at the forefront of sleazes for years, but with the suffixation of slang and the way TikTok disseminates trends like COVID variants, we are ripe for a wider sleazification in 2023. Let this be the year of sleaze. I could not be happier to be here.

Still reading, eh? Seems like you might want to get this in your inbox. No pressure though. Just some food for thought.