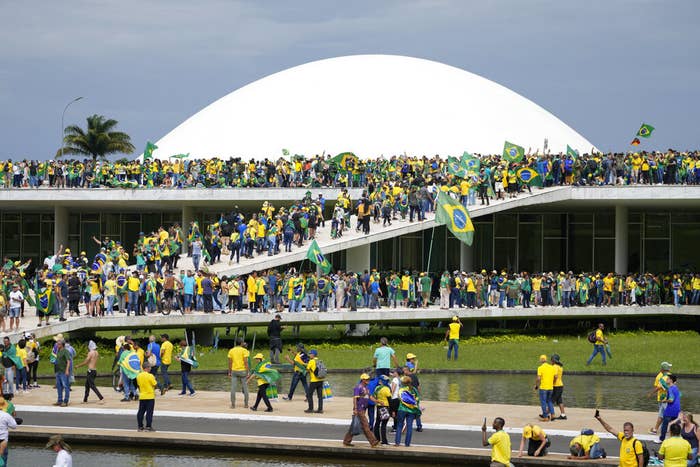 Thousands of supporters of former Brazilian president Jair Bolsonaro invaded the National Congress and other government buildings in the capital of Brasília on Sunday.

The right-wing Bolsonaro lost reelection as president in October, and like former US president Donald Trump, has pushed conspiracies about election fraud. His opponent, Luiz Inácio Lula da Silva, was sworn in as president on Jan. 1, and crowds of Bolsonaro supporters have camped outside the nation's capital in protest and called for military intervention to overthrow the election results.
But on Sunday, they became a violent mob and stormed the National Congress building as well as the Supreme Court and presidential palace. Footage shared on social media as well as local news coverage shows protesters taking over the buildings and damaging property — some of which flooded after building sprinklers came on. Few police can be seen initially, then officers go on to deploy tear gas and clash with protesters. Because of the weekend, it appears the offices were largely deserted.

Ibaneis Rocha, governor of the federal district, said Sunday night that more than 400 people have been arrested as authorities continue to work to restore order. Earlier in the day, he said he'd fired the district's security secretary.

At a news conference on Sunday, Lula described the invasion as "anti-democratic" and called those who breached government buildings "fascist."
The US Embassy issued an alert to Americans to avoid the area due to the "anti-democratic protest." The Biden administration also condemned the violence.
"The United States condemns any effort to undermine democracy in Brazil," White House national security adviser Jake Sullivan said in a statement. "President Biden is following the situation closely and our support for Brazil's democratic institutions is unwavering."
"Brazil's democracy will not be shaken by violence," Sullivan added.
Meanwhile, Bolsonaro is reportedly staying at a home in Florida. Rep. Alexandria Ocasio-Cortez called for the US to "cease granting refuge" to him.
"Nearly 2 years to the day the US Capitol was attacked by fascists, we see fascist movements abroad attempt to do the same in Brazil," she said in a tweet. "We must stand in solidarity with @LulaOficial's democratically elected government."