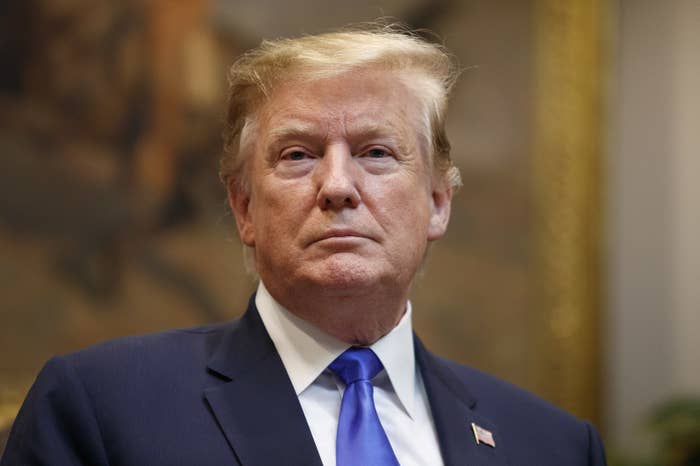 WASHINGTON — Special counsel Robert Mueller wrote in his final report that his office would have exonerated President Donald Trump if the evidence had supported it, but based on the information they had, they could not do that.
Mueller ultimately declined to make a "prosecutorial judgment" about whether Trump had committed any obstruction offenses, choosing instead to submit his evidence and legal analysis on the issue to Attorney General Bill Barr. Mueller repeatedly found "substantial evidence" that Trump had committed potentially obstructive acts and that often his intent was to stymie the investigation into himself and his campaign. Barr, after consulting with senior Justice Department officials, concluded that the evidence did not support finding that Trump had committed a crime, however.
Undercutting Trump's claim that Mueller, in addition to Barr, had cleared him of wrongdoing on obstruction, Mueller wrote that if his office had confidence that Trump did not commit obstruction, "we would so state." But based on the facts and the law, he wrote, "we were unable to reach that judgment."

"The evidence we obtained about the President's actions and intent presents difficult issues that prevent us from conclusively determining that no criminal conduct occurred," Mueller wrote. "Accordingly, while this report does not conclude that the President committed a crime, it also does not exonerate him."
The obstruction section of the report, when read as a whole, depicts an administration in which Trump's impulsive responses to the events unfolding around him routinely put him at odds with his senior aides and White House lawyers. It describes several instances where top officials simply ignored directives from the president or those close to him in order to avoid taking action that they believed was ill-advised or, more seriously, could undermine his own administration.
Former White House counsel Don McGahn refused to carry out Trump's order to contact the Justice Department about Trump's concerns that Mueller had a conflict of interest because McGahn and other advisers thought it was "silly." When Trump decided to fire former FBI director James Comey, one White House aide wrote in her notes, "'[i]s this the beginning of the end?" in reference to his presidency.
The report shows that White House officials were aware early on that however they responded to the Russia investigation could raise questions about attempts to obstruct justice. After then–attorney general Jeff Sessions recused himself from the Russia investigation in March 2017 because of his role in Trump's campaign, the White House counsel's office tried to limit communication between the White House and Sessions, with one note from the office reading, "Serious concerns about obstruction."
Mueller wrote that historical guidance from the Justice Department against indicting a sitting president in part guided his decision not to make a "traditional prosecutorial judgment" about whether Trump committed obstruction. The Office of Legal Counsel had previously issued an opinion that the indictment of a sitting president would "impermissibly undermine" the functions of the executive branch, and Mueller said he recognized that independently as well.
Mueller wrote in the introduction to the section of his report on obstruction that Trump "took a variety of actions" related to the FBI's investigation into Russian interference "that raised questions about whether he had obstructed justice."
Mueller's report explains how he went about the investigation, including the decision not to subpoena Trump. Mueller wrote that his office believed they had the authority to issue a grand jury subpoena for Trump's testimony, but decided not to do so because it would create a "substantial delay" at a late stage of the probe. He also wrote that his office believed they had enough evidence from other sources.
Although Mueller stopped short of deciding whether Trump committed a crime, he offered what he described as "general conclusions" about Trump's behavior. Mueller wrote that Trump repeatedly took actions "that were capable of exerting undue influence" over the Russia and obstruction investigations, including his efforts to remove Mueller, limit the scope of the probe, and influence the testimony of witnesses.
"The President's efforts to influence the investigation were mostly unsuccessful," Mueller wrote, "but that is because the persons who surrounded the President declined to carry out orders or accede to his requests."
Mueller concluded the obstruction section, known as Volume II of the report, by exploring arguments from Trump's lawyers about why federal obstruction laws couldn't apply to Trump for actions he took in his power as president — for instance, removing executive branch officials from office or shutting down a law enforcement operation. Mueller wrote that Trump's proposed interpretation went against the Justice Department's own positions and wasn't supported by the legal principles that guide lawyers in interpreting federal laws.
There is Justice Department guidance on the books advising that a sitting president can't be criminally indicted, but a former president can be criminally charged after leaving office. Mueller ended the report with something of a warning to Trump — that the special counsel office found that the US Constitution "does not categorically and permanently immunize the President from potential liability for the conduct that we investigated."
Mueller's report details a series of situations that raised questions about whether the president had committed obstruction. They are:
How the Trump campaign responded to reports that the Russians were backing Trump.

Trump's comments in 2017 to then–FBI director James Comey about then–national security adviser Michael Flynn. Comey wrote in a memo released last April that during a meeting with Trump on Feb. 14, the president told him, "I hope you can see your way clear to letting this go, to letting Flynn go. He is a good guy."

Trump's own response to the pending Russia investigation.

Trump's decision to fire Comey.

Trump's reaction to Deputy Attorney General Rod Rosenstein's decision to appoint Mueller and his direction to then-White House Counsel Don McGahn to remove Mueller. Mueller said McGahn was prepared to resign "rather than trigger what he regarded as a potential Saturday Night Massacre."

Efforts by Trump to have his former attorney general Jeff Sessions limit the scope of Mueller's investigation.

How Trump handled the public response to reports about the Trump Tower meeting between his campaign and Russians on June 9, 2016.

A conversation Trump had with Sessions asking him to reverse his recusal from the Russia probe.

Efforts by Trump to have McGahn deny that Trump ordered him to remove Mueller.

How Trump responded to the prosecutions of Flynn and his former campaign chair Paul Manafort.

Trump's comments about his former personal attorney Michael Cohen's decision to cooperate with investigators.
Here's what Mueller found:
The Trump Campaign's Response to Russia Backing Trump
The report cited numerous news reports about links between Trump's campaign and Russia, and recited how Trump responded to reports that Russia was involved in the WikiLeaks release of emails hacked from the DNC by denying he'd done business in Russia. But Mueller noted that wasn't true, since the Trump Organization had been trying to do business there through June 2016. Cohen told investigators that when he asked Trump about the denial, Trump replied, "Why mention it if it is not a deal?"
Campaign aides "reacted with enthusiasm" to the WikiLeaks release, according to the report, citing information investigators learned from former deputy campaign chair Rick Gates and "Newman," presumably referring to former campaign and White House official Omarosa Manigault Newman; there did not appear to be another reference to "Newman" in the report.
Michael Flynn
Mueller's report went over much of what was already known about Flynn's contacts with then–Russian ambassador Sergey Kislyak from documents in Flynn's criminal case. Flynn pleaded guilty to lying to investigators about conversations with Kislyak during the presidential transition period about Russia's response to sanctions that the Obama administration had announced.
The report confirms that Flynn was in touch with K.T. McFarland about his conversations with Kislyak; McFarland, who did not face criminal charges, served as deputy national security adviser in the early months of the Trump administration. McFarland told investigators that she thought someone may have told Trump that Flynn was talking to Kislyak, but there wasn't evidence that Trump knew what exactly they discussed.
Trump was briefed on the Justice Department's concerns about Flynn's interactions with Kislyak and a denial by Vice President Mike Pence that Flynn and Kislyak had discussed sanctions. Then–chief of staff Reince Priebus told investigators that Trump was angry with Flynn and said, "not again, this guy, this stuff."
Mueller noted that when Trump told Comey that he hoped Comey could "let Flynn go," Comey understood that as a directive to close the FBI investigation into Flynn. Mueller wrote that the instruction reflected the president's awareness that Flynn could face criminal prosecution, but it wasn't clear how much of a personal stake Trump had in Flynn's fate — the evidence was inconclusive about how much Trump actually knew about what Flynn had done.
Trump's Reaction to the Russia Probe
After Sessions recused himself from the Russia investigation, Mueller reported that the White House was already worried about the possibility of being seen as obstructing the probe — he quoted internal notes from the White House counsel's office on March 2, 2017, that read: "No contact w/Sessions" and "No comms / Serious concerns about obstruction." The report summarized Trump's immediate anger with Sessions for recusing, which was already well-documented in news reports.
Several days later, Annie Donaldson, who was McGahn's chief of staff at the time, wrote in her notes, "POTUS in panic/chaos … Need binders to put in front of POTUS. (1) All things related to Russia."
The report described increasing frustration among Trump and several top aides about Comey, as well as the president's directives that the intelligence community publicly push back on the idea that the president was tied to the Russian election interference. Mueller wrote that Trump's requests to intelligence officials were a potential obstructive act, but he found that witnesses had different memories about their interactions with Trump, and that none of the officials interpreted them as instructions to "improperly interfere" with the probe.
Comey's Firing
The report describes how Trump decided to fire Comey before getting advice from the Justice Department, but initially said publicly that he was doing so only after getting guidance from Sessions and Rosenstein. Days before Trump fired Comey on May 9, 2017, Trump dictated ideas for a letter about firing Comey to senior White House adviser Stephen Miller, and Miller prepared a letter. When Trump told other advisers he planned to fire Comey and that Miller had researched his authority to do so, McGahn urged Trump to consult with the Justice Department.
When Rosenstein met with Trump to discuss Comey's firing, Trump told Rosenstein to "put the Russia stuff in the memo," according to notes that a DOJ official took based on Rosenstein's description of the meeting. Rosenstein tried to push back, and later told colleagues that his reasons for firing Comey were "not [the president's] reasons."
Donaldson took notes saying that the White House counsel's office believed Trump's original letter, the one he drafted with Miller, should "[n]ot [see the] light of day." In a footnote, Mueller wrote that Donaldson also wrote "[i]s this the beginning of the end?" since she worried that the circumstances of Comey's firing would end Trump's presidency.
Trump didn't like the press coverage of Comey's firing, and Mueller wrote that the White House told the Justice Department it wanted to release a statement saying Rosenstein made the call to fire Comey. Rosenstein told DOJ officials that he wouldn't be part of a "false story."
Mueller wrote that firing Comey would be obstruction if it interfered with the investigation and that Trump's public comments after firing Comey calling the probe a "witch hunt" and asking "When does it end?" could affect how Comey's successor handled the investigation. But he also pointed to evidence that Comey's departure didn't affect the course of the probe, including Trump's decision to appoint Comey's former deputy, Andrew McCabe, as interim director; Trump would later turn on McCabe and agitate for his firing as well. Sessions fired McCabe in March 2018.
Mueller wrote that the evidence showed Trump wanted Comey to publicly announce he wasn't under investigation for several possible reasons, including that he believed it was interfering with his duties, but also to protect himself against investigation into his campaign. Mueller highlighted the fact that Trump and the White House at first pushed a "pretextual reason" for firing Comey.
"The initial reliance on a pretextual justification could support an inference that the President had concerns about providing the real reason for the firing, although the evidence does not resolve whether those concerns were personal, political, or both," Mueller wrote.
Trump's Efforts to Remove Mueller
When Trump learned that Rosenstein had appointed Mueller as special counsel on May 17, 2017, Trump "slumped back in his chair and said, 'Oh my God. This is terrible. This is the end of my Presidency. I'm fucked,'" according to notes taken by Jody Hunt, who was Sessions' chief of staff and now runs the Civil Division at the Justice Department.
"Everyone tells me if you get one of these independent counsels it ruins your presidency. It takes years and years and I won't be able to do anything. This is the worst thing that ever happened to me," Trump said, according to Hunt's notes.
Former White House official Hope Hicks told investigators the only other time she'd seen Trump so upset was after the release of the Access Hollywood tape during the campaign, which featured a recording of Trump bragging about grabbing women "by the pussy," among other things.
Mueller wrote about pushback Trump got from his advisers and from the Justice Department when he tried to argue that Mueller had conflicts of interest that would prevent him from serving as special counsel. The report confirms that Trump called McGahn in June 2017 — after news reports revealed Mueller was investigating possible obstruction by Trump — and told him Mueller had to be removed, and to have Rosenstein say that Mueller was conflicted.
McGahn told investigators he did not intend to act on the president's request and was prepared to resign if pushed to do so. He didn't tell Trump he planned to resign, though, and the next time he saw the president, Trump didn't ask if McGahn had actually called Rosenstein.
Mueller wrote that notwithstanding Trump's denials that he told McGahn to have Mueller fired, there was "substantial evidence" that was what Trump did. McGahn was a "credible witness with no motive to lie or exaggerate given the position he held in the White House," Mueller wrote. If Trump just wanted McGahn to bring the conflict issue to DOJ's attention — something Trump had already done — he wouldn't have acted with such urgency in repeatedly calling McGahn, Mueller wrote.
Trump's Efforts to "Curtail" Mueller's Probe
Mueller described later efforts by the president to limit the scope of what Mueller was investigating. According to the report, Trump met in the White House with his former campaign manager, Corey Lewandowski, on June 19, 2017, to dictate a letter Trump wanted to send to Sessions instructing the then–attorney general to give a speech saying Mueller was only authorized to investigate "election meddling for future elections."
But according to Mueller, that letter never made it to Sessions. Lewandowski asked a senior White House official at the time, Rick Dearborn, to give the letter to Sessions. Dearborn told investigators he was uncomfortable serving as a messenger to Sessions, and never delivered the letter, even though he told Lewandowski that he'd "handled the situation," according to Mueller.
In July 2017, Mueller detailed how Trump told Priebus that he wanted Sessions to resign and Priebus's ultimately successful efforts to talk down the president. Priebus believed Trump was motivated by his "hatred" at Sessions' decision to recuse himself from the investigation, Mueller wrote, and not Trump's stated reasons of being unhappy with negative press around Sessions and the attorney general's performance before Congress. Priebus and McGahn talked about having to resign if they were ordered to fire Sessions.
Mueller wrote that there was "substantial evidence" that Trump's push to limit Mueller's investigation through Sessions was meant to stop the investigation into the president and his campaign.
The Trump Tower Meeting
The report breaks down how Trump and his advisers handled releasing information about a June 9, 2016, meeting at Trump Tower between members of Trump's campaign and Russians. According to emails that Donald Trump Jr. released in anticipation of media coverage, he was told that the "Crown prosecutor of Russia" wanted to give Trump's campaign damaging information about Hillary Clinton. Trump Jr. replied, "if it's what you say I love it especially later in the summer." The Clinton information never materialized at the meeting, however.
Mueller wrote that senior administration officials learned about the Trump Tower meeting emails in mid-June 2017; news broke about the meeting a month later. Hicks told investigators that Trump's son-in-law and senior White House aide Jared Kushner tried to show a folder of documents to Trump — the report doesn't specify what was in the folder, but implies it included the emails — but Trump said he did not want to know about it.
Hicks said she urged the president to have Trump Jr. release the emails as part of a "softball" interview and warned him that they were "really bad." But Trump said he didn't want to discuss it and objected to going to the media.
When Trump and his advisers learned in early July 2017 that the New York Times was working on a story about the Trump Tower meeting, Trump initially told Hicks to decline to comment. Hicks told investigators that Trump was later involved in drafting a statement to the Times about the meeting and rejected a version that disclosed that Trump Jr. was offered information about the campaign. Trump Jr. was worried about being accused of lying if more details about the meeting leaked, according to a text message he sent to Hicks.
Mueller wrote that although the evidence showed Trump repeatedly told people not to publicly release the emails, it did not establish that he tried to stop the emails from being provided to Congress or to the special counsel's office.
Trump's Efforts to Have Sessions Step In
Between May and July 2017 — the report doesn't give a specific date — Sessions told investigators that Trump called him at home to ask him to reverse his recusal. Sessions did not do so. He also had discussions with former White House aide Rob Porter and McGahn about options to replace Sessions, according to the report.
The report described other conversations that Trump had with Sessions about his recusal, and Trump's public criticism of his then–attorney general. Mueller wrote that it was "reasonable" to infer that Trump thought a new attorney general — one who wasn't recused — could protect the president and "shield" him from the Russia probe.
Trump's Efforts to Have McGahn Deny That Trump Tried to Get Rid of Mueller
After media reports in January 2018 revealed the conversations that Trump had with McGahn in June 2017 about removing Mueller, Mueller wrote that Trump's "personal counsel" — the report doesn't identify which of the president's lawyers that referred to — contacted McGahn's lawyer and said Trump wanted McGahn to publicly deny the reports. McGahn, through his lawyer, refused.
Trump repeatedly tried to get McGahn to deny the story, both through intermediaries and directly. In one meeting on Feb. 6, 2018, Trump questioned McGahn about notes he'd taken about their interactions, although McGahn clarified to investigators that Trump was referring to notes that Donaldson took. McGahn said that Trump told him, "What about these notes? Why do you take notes? Lawyers don't take notes. I never had a lawyer who took notes." McGahn said he replied that he took notes because he was a "real lawyer."
Mueller wrote that there was evidence that Trump genuinely thought that the media reports about his conversations with McGahn were wrong; Mueller noted that Trump was right that McGahn never told the president he planned to resign if he was required to do what Trump asked, and insisted to other aides that he never used the word "fire."
But Mueller also pointed out that there was "substantial evidence" supporting McGahn's version of events and that Trump's denials were "carefully worded." He wrote that Trump's insistence on McGahn creating a written record denying the president had instructed him to remove Mueller, long after the initial round of media reports, "indicates the President was not focused solely on a press strategy, but instead likely contemplated the ongoing investigation and any proceedings arising from it."
Mueller wrote that there was "substantial evidence" that Trump was trying to get McGahn to change his story to shift attention away from how Trump had acted toward the investigation.
Flynn and Manafort
Mueller described how Trump's "personal counsel" — again, the report doesn't say who that refers to — were upset when they learned that Flynn was withdrawing from a joint defense agreement with the president and tried to convince Flynn's lawyers to continue to cooperate with them. According to Flynn's lawyers, Trump's lawyers told them that Trump's team would see this as "hostility" from Flynn toward Trump, and that Flynn's lawyers thought their client would be "disturbed" knowing that.
According to the report, after Mueller's office brought criminal charges against Gates and Manafort, Gates told investigators that Manafort said it was stupid to take a plea deal, that Manafort had talked to Trump's personal lawyers, and that Manafort said, "we'll be taken care of." However, Gates said Manafort told him no one had used the word "pardon." The report also quoted Trump's public praise of Manafort for fighting the charges; Manafort was found guilty of various financial crimes by a jury in Virginia and took a plea deal in the other case Mueller's office brought in Washington, DC.
A significant part of the section on Manafort is redacted — the Justice Department indicated that they had kept that information secret because it could harm an "ongoing matter."
Mueller wrote that it wasn't clear what Trump knew about his lawyers' communications with Flynn's counsel. But he wrote that the evidence showed Trump, through his public praise of Manafort and open-ended responses to questions about whether he was considering a pardon for Manafort, was trying to encourage Manafort not to cooperate.
Michael Cohen
The report traced the history of Trump's efforts to build a Trump Tower in Moscow, and the role that Cohen played in pushing those efforts forward. It confirms previous reporting by BuzzFeed News that Cohen kept Trump informed about the status of the Trump Tower Moscow project well into 2016, while Trump was a presidential candidate.
Cohen told investigators that in responding to requests from reporters in January 2017 about the Moscow project, he developed talking points with Trump and others — the report doesn't specify who else was involved. Cohen said the talking points included saying the Moscow project ended in January 2016 and that he didn't need to tell Trump that was a lie because Trump knew it wasn't true.
When Congress asked Cohen for information related to the Russia investigation in May 2017, according to Mueller's report, Cohen said he met with Trump and that the president told him to cooperate. Cohen was regularly in touch with Trump's personal lawyers, according to the report, and the lawyers told Cohen that "the President loves you" and that Trump would support him if he kept his messaging consistent with the president's.
Cohen was part of a joint defense agreement with Trump and other unnamed individuals that Mueller wrote were also involved in the Russia probe. Mueller wrote that members of that agreement were involved in editing a false statement that Cohen submitted to Congress in August 2017; the report doesn't specify who specifically was involved in editing the statement, but does note that Cohen spoke with Trump's personal counsel almost every day in the two weeks leading up to submitting the statement to Congress.
Cohen said that the day before he submitted his statement to Congress, he had multiple calls with Trump's personal counsel. That lawyer, still unidentified in the report, told Cohen that Trump appreciated him and that Cohen needed to stay on message and not contradict Trump. Cohen not only submitted the false statement to Congress, but also served as a source for a Washington Post story that repeated the false information that the Moscow project was over by the end of January 2016, Mueller wrote. He later pleaded guilty to a criminal charge of making false statements Congress, as well as to a slew of financial crimes and campaign finance violations.
According to the report, Cohen didn't remember speaking directly with Trump about the details of his letter to Congress, but remembered speaking generally with Trump about staying on message in his testimony. After testifying before Congress in October 2017, Mueller wrote that phone records showed Cohen spoke with Trump's personal counsel right away.
Cohen testified before Congress in February that Trump "in his way" had instructed Cohen to lie about the Moscow project timeline. Cohen said that during the campaign, Trump would tell Cohen that he didn't have business in Russia and would relay a similar message to the American public, when Trump knew that wasn't true. When BuzzFeed News first reported in January that Cohen told Mueller's office that Trump directed him to lie, Mueller's office issued a rare public response saying that the article was "not accurate," but not specifying what exactly in the story was wrong.
In the conclusion of his section on Trump's dealings with Cohen, Mueller wrote that the evidence "does not establish that the President directed or aided Cohen's false testimony." Mueller referred to Cohen's beliefs that Trump understood Cohen would need to lie to stay on message, but said there were no explicit conversations to that effect. When Cohen was drafting his false statement to Congress, the evidence showed Cohen communicated with Trump's lawyers, and not Trump himself — and Mueller said it wasn't clear if Trump knew what they were talking about.
Although Mueller's office referred an investigation into Cohen's role in orchestrating payments to women who claimed to have had affairs with Trump to federal prosecutors in New York, the report noted the evolution of Trump's feelings toward Cohen — from backing him in the beginning to denouncing him as a "rat" by the end.
Trump initially offered public and private support to Cohen after Cohen's home, hotel, and office were raided in April 2018. Cohen said he understood from Trump's comments that he'd have the White House's support if he continued to stay on message, and that he believed Trump's personal counsel had conveyed that Trump would take care of him, either by pardoning him or ending the probe. But their relationship soured when Cohen decided to cooperate with investigators, and Trump repeatedly lambasted him in tweets and public remarks.
Mueller wrote that the evidence could support a conclusion that Trump praised Cohen at first to convince him not to cooperate with the investigation, and then attacked him to try to stop him from giving investigators information or to undermine his credibility.
Mueller was originally tasked with investigating whether there was any collusion between Trump's campaign and the Russian government leading up to the 2016 election, but the probe broadened to include, among other things, whether Trump had tried to obstruct the investigation. Although Mueller kept much of his work under wraps, information occasionally trickled out.

The New York Times reported that Mueller's team was interested in Trump's response in 2017 to articles about a July 2016 meeting at Trump Tower between top Trump campaign officials, including Trump Jr., Kushner, and Russians. There was a July 2018 report in the Times that Mueller was examining Trump's tweets as part of the obstruction investigation. And there were numerous stories on Trump's inclinations — some realized, some not — to fire key players in the investigation, including former FBI director James Comey, former deputy FBI director Andrew McCabe, Deputy Attorney General Rod Rosenstein, and Mueller himself.
BuzzFeed News did extensive reporting on Mueller's interest in the president's plans to build a Trump Tower in Moscow, discussions that took place during his 2016 campaign and went on much longer than Trump or his team had admitted publicly. In January, BuzzFeed News reported that Michael Cohen, Trump's former personal lawyer, told Mueller's office that Trump instructed him to lie about the timing of discussions within the Trump Organization about the Moscow project, which ultimately never happened. Cohen confirmed that narrative in his testimony before the House Oversight Committee in February.
Soon after announcing that Mueller had finished his investigation and submitted his final report to Barr, Barr sent a four-page letter to Congress on March 24 that he characterized as a summary of Mueller's "principal conclusions." But Barr wrote that Mueller had, in fact, not reached a conclusion on whether Trump committed any obstruction offenses.
Instead, Barr wrote that Mueller had laid out evidence on both sides and stopped short of offering an opinion on the "difficult issues" of whether Trump's actions could qualify as obstruction.
This story is breaking and will be updated. Follow BuzzFeed News on Twitter for updates.