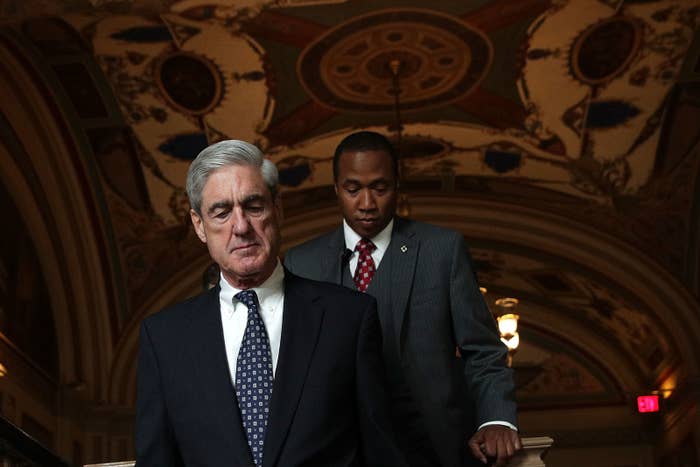 WASHINGTON — Almost two years after special counsel Robert Mueller was appointed to investigate Russian interference in the 2016 election and the Trump campaign, his report is finally out.
Bottom line #1: When it comes to obstruction of justice, Mueller didn't conclude whether President Donald Trump committed a crime, but said that his report "also does not exonerate him."

Mueller's report details a series of situations that raised questions about whether Trump had committed obstruction. Read those in detail.


Bottom line #2: When it comes to the Trump campaign conspiring with Russia to influence the election, Mueller found that no charges were warranted, but that there is still information he does not know.

"While the investigation identified numerous links between individuals with ties to the Russian government and individuals associated with the Trump campaign," Mueller wrote about conspiracy with Russia, "the evidence was not sufficient to support criminal charges."

Witnesses, including some "associated with the Trump campaign," deleted communications or had messages auto-delete, among other issues.

The report also clearly describes how Russian trolls reached millions of people on Facebook, were quoted in major newspapers as real Americans, and even organized rallies.
Mueller issued more than 2,800 subpoenas, executed nearly 500 search-and-seizure warrants, obtained more than 230 orders for communications records, made 13 requests to foreign governments, and interviewed approximately 500 witnesses.
He also sought to interview Trump in person for more than a year and in November 2018 received written answers that were "incomplete or imprecise."
Mueller's report indicates that Trump's written responses were "inadequate," as the president stated on more than 30 occasions that he "does not 'recall' or 'remember' or have an 'independent recollection' of the information called for by the questions." Trump refused to provide written answers to "questions on obstruction topics or questions on events during the transition."
Realizing Trump would not voluntarily sit for an in-person interview, Mueller considered a subpoena, but decided against it to avoid a lengthy legal fight that would delay the conclusion of the investigation.
Despite Mueller clearly stating that the report "does not exonerate" Trump, his reelection campaign issued a statement Thursday celebrating the report as absolving the president from any wrongdoing.
"Now the tables have turned, and it's time to investigate the liars who instigated this sham investigation into President Trump, motivated by political retribution and based on no evidence whatsoever," campaign manager Brad Parscale said in a statement.
The statement goes on to threaten that "the Obama-era DOJ and FBI must answer for their misdeeds and the scam they perpetrated against the American people. Justice will be served."
Mueller's report also captured Trump's reaction when he was told the special counsel was commissioned.
"Oh my God. This is terrible. This is the end of my Presidency. I'm fucked," Mueller quotes Trump as saying. "How could you let this happen, Jeff?" he said, referring to then–attorney general Jeff Sessions.
Trump also told Sessions, "'You were supposed to protect me,' or words to that effect."
Obstruction of Justice Investigation
Mueller declined to make a "prosecutorial judgment" about whether Trump committed obstruction offenses — instead, he submitted the evidence to Attorney General Bill Barr, who, along with other Justice Department officials concluded that the evidence did not support finding that Trump committed a crime.

But Mueller also didn't clear the president — as Trump has often claimed.
"The evidence we obtained about the President's actions and intent presents difficult issues that prevent us from conclusively determining that no criminal conduct occurred," Mueller wrote. "Accordingly, while this report does not conclude that the President committed a crime, it also does not exonerate him."
The obstruction section of the report, when read as a whole, depicts an administration in which Trump's impulsive responses to the events unfolding around him routinely put him at odds with his senior aides and White House lawyers. It describes several instances where top officials simply ignored directives from the president or those close to him in order to avoid taking action that they believed was ill-advised, or, more seriously, could undermine his own administration.

Mueller's report included a series of situations that raised questions about whether the president had committed obstruction. Some of those included:
Trump's comments in 2017 to then–FBI director James Comey about then–national security adviser Michael Flynn. Comey wrote in a memo released last April that during a meeting with Trump on Feb. 14, the president told him, "I hope you can see your way clear to letting this go, to letting Flynn go. He is a good guy."
Trump's decision to fire Comey.
Trump's reaction to Deputy Attorney General Rod Rosenstein's decision to appoint Mueller and his direction to then–White House counsel Don McGahn to remove Mueller. Mueller said McGahn was prepared to resign "rather than trigger what he regarded as a potential Saturday Night Massacre."
How Trump handled the public response to reports about the Trump Tower meeting between his campaign and Russians on June 9, 2016.
Trump's comments about his former personal attorney Michael Cohen's decision to cooperate with investigators.
Trump originally wrote a letter about his decision to fire Comey with White House adviser Stephen Miller, and only later asked the Justice Department to create its own memo and justification for the firing.
Annie Donaldson, an aide to White House counsel Don McGahn, wrote in notes at the time that the Trump and Miller letter should "[n]ot [see the] light of day." In a footnote, Mueller wrote that Donaldson also wrote, '[i]s this the beginning of the end?" since she worried that the circumstances of Comey's firing would end Trump's presidency.

And after the Trump Tower meeting became public, Mueller said that Trump directed aides not to publicly disclose the emails setting up the meeting, and that he had edited a press statement for his son, who was at the meeting, "by deleting a line that acknowledged that the meeting was with 'an individual who [Trump Jr.] was told might have information helpful to the campaign' and instead said only that the meeting was about adoptions of Russian children."
Conspiracy With Russia Investigation
Mueller wrote that in evaluating whether there had been a crime related to coordinating with Russia, his office used the framework of "conspiracy law," and "not the concept of 'collusion.'" Although he acknowledged that officials had used the word "collusion," he wrote that it was not a word with legal force.
Instead, Mueller addressed whether members of the Trump campaign "coordinated" with the Russian government — a term that he wrote required an agreement between the campaign and Russia to interfere with the election.
"That requires more than the two parties taking actions that were informed by or responsive to the other's actions or interests," Mueller wrote.
The report details a timeline of contacts between the campaign and Russian officials, beginning in 2015, about the "Trump Organization real-estate project in Russia known as Trump Tower Moscow." It added, "The Trump Organization pursued the project through at least June 2016" — just months before the election — "including by considering travel to Russia by Cohen and candidate Trump."
BuzzFeed News did extensive reporting on Mueller's interest in the president's plans to build a Trump Tower in Moscow, discussions that took place during his 2016 campaign and went on much longer than Trump or his team had admitted publicly.
Ultimately, Mueller wrote, "while the investigation identified numerous links between individuals with ties to the Russian government and individuals associated with the Trump campaign, the evidence was not sufficient to support criminal charges." He also specified that evidence about the June 9, 2016, meeting at Trump Tower between senior members of Trump's campaign and Russians, and WikiLeaks' release of documents hacked from the Democratic National Committee, did not support campaign finance violations.
Mueller did note, however, that his office faced limits in gathering evidence on the Russian interference question. He wrote that some witnesses, including some "associated with the Trump campaign," deleted communications or communicated via apps that deleted messages and couldn't be recovered. He also said that some witnesses invoked their Fifth Amendment right not to self-incriminate themselves; that his office limited inquiries into attorneys and the press, given DOJ policies; that some information was covered by legal privilege; and that some witnesses had lied.
"Accordingly, while this report embodies factual and legal determinations that the Office believes to be accurate and complete to the greatest extent possible, given these identified gaps, the Office cannot rule out the possibility that the unavailable information would shed additional light on (or case in a new light) the events described in the report," Mueller wrote.
Trump reacted to the release of the report at an unrelated event, calling it a "hoax" that "should never happen to another president again."
"It was called no collusion, no obstruction. I'm happy with that. There never was, by the way, and there never will be," he said.
Michael Cohen and Trump Tower Moscow
The report confirms previous reporting by BuzzFeed News that Cohen kept Trump informed about the status of the Trump Tower Moscow project well into the 2016 campaign.
Cohen told investigators that in responding to requests from reporters in January 2017 about the Moscow project, he developed talking points with Trump and others that included saying the Moscow project had ended in January 2016 and that he didn't need to tell Trump that was a lie because Trump knew it wasn't true.
When Congress asked Cohen for information related to the Russia investigation in May 2017, according to Mueller's report, Cohen said he met with Trump and that the president told him to cooperate. Trump's personal lawyers, according to the report, told him Trump would support him if he kept his messaging consistent with the president's.
Cohen said that the day before he submitted his statement to Congress, he had multiple calls with Trump's personal counsel. That lawyer told Cohen that Trump appreciated him and that Cohen needed to stay on message and not contradict Trump.

Cohen later pleaded guilty to a criminal charge of making false statements to Congress, as well as to a slew of financial crimes and campaign finance violations.

According to the report, Cohen didn't remember speaking directly with Trump about the details of his letter to Congress, but remembered speaking generally with Trump about staying on message in his testimony.
Cohen testified before Congress in February that Trump "in his way" had instructed Cohen to lie about the Moscow project timeline. Cohen said that during the campaign, Trump would tell Cohen that he didn't have business in Russia and would relay a similar message to the American public, when Trump knew that wasn't true. When BuzzFeed News first reported in January that Cohen told Mueller's office that Trump directed him to lie, Mueller's office issued a rare public response saying that the article was "not accurate," but not specifying what exactly in the story was wrong.
In the conclusion of his section on Trump's dealings with Cohen, Mueller wrote that the evidence "does not establish that the President directed or aided Cohen's false testimony." Mueller referred to Cohen's beliefs that Trump understood Cohen would need to lie to stay on message, but said there were no explicit conversations to that effect. When Cohen was drafting his false statement to Congress, the evidence showed Cohen communicated with Trump's lawyers, and not Trump himself — and Mueller said it wasn't clear if Trump knew what they were talking about.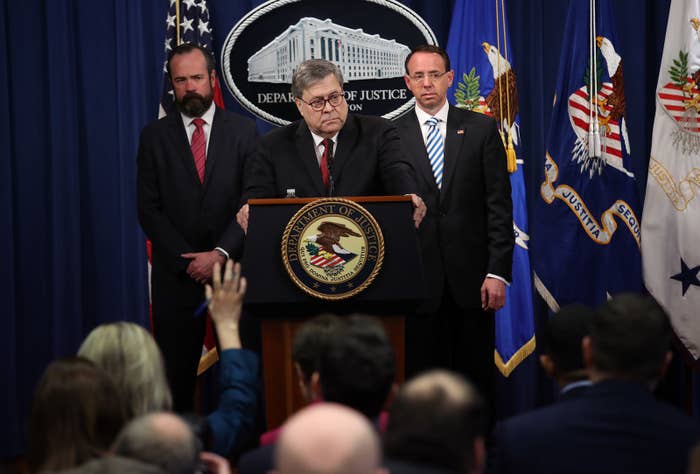 What Comes Next
The public release of the report concludes Mueller's nearly two-year tenure as special counsel, but it by no means ends the political maelstrom around Russia's involvement in the 2016 election, Trump's campaign, and the president's actions during the course of Mueller's investigation.
Democrats have vowed to press for documents and other underlying materials from Mueller's investigation beyond the final report. Barr confirmed to Congress that there are ongoing investigations related to Mueller's work, which will be picked up by other Justice Department offices. Barr is scheduled to testify about Mueller's report in blockbuster, back-to-back House and Senate hearings next month, and a top House Republican has already called on Democrats to ask Mueller himself to appear.
Senate Minority Leader Chuck Schumer and House Speaker Nancy Pelosi released a statement Thursday morning calling for Mueller to provide public testimony.
The Justice Department is expected to face challenges on multiple fronts to Barr's redactions in the report, as well as demands to release more information and documents from the investigation. There are already two lawsuits seeking copies of Mueller's report and other related materials under the Freedom of Information Act, and the groups that sued — BuzzFeed News is one of them — can use the litigation to contest redactions before a judge.
US District Judge Reggie Walton, the federal judge in Washington, DC, presiding over both cases, said in court this week that he planned to move quickly on the legal fight over redactions once the report was out. He floated the possibility that in order to rule on whether the Justice Department had appropriately kept information secret under public records laws, he'd need to see the unredacted version of the report. He also said Barr had "created an environment" that caused a significant portion of the American public to question whether the government was being fully transparent.
In a court filing on Wednesday in the criminal case brought by Mueller's office and federal prosecutors against longtime Trump adviser Roger Stone, the government revealed that it planned to make another version of the Mueller report "without certain redactions" available to a limited number of members of Congress. Prosecutors wrote that they had blacked out certain information in the report about Stone's case to comply with a gag order entered by the judge, but also indicated other information would be unredacted as well — the filing didn't specify what that other information was about, however. Barr clarified Thursday that "a bipartisan group of leaders from several congressional committees" will get to review a copy of the report with all redactions removed, except for those related to grand jury material.
Amber Jamieson, Julia Reinstein, Krystie Yandoli, Lam Thuy Vo, and Mary Ann Georgantopoulos contributed reporting to this story from New York; Ellie Hall contributed reporting from Washington, DC.