The Comey Memos Have Been Released. Here's What He Said About Trump.
"He then said he was trying to run the country and the cloud of this Russia business was making that difficult," James Comey wrote of the president.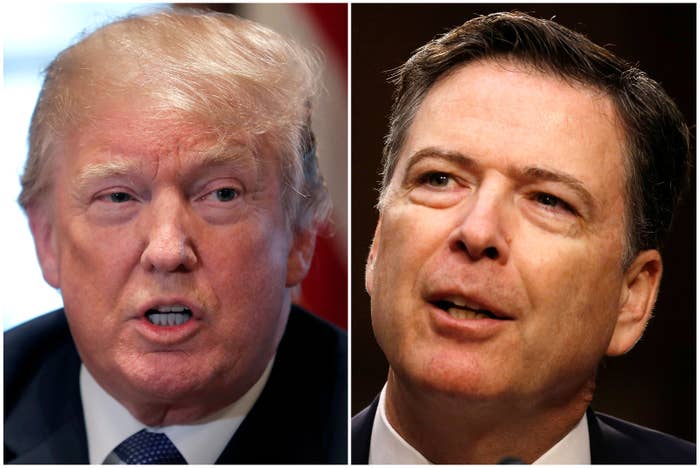 In a series of memos documenting his interactions with President Donald Trump, former FBI director James Comey wrote that Trump had expressed repeated concerns about allegations against him, anger over leaks from within the government, and a desire to see an end to any investigation of his then-former national security adviser.
The memos, written during Comey's final months as FBI director, were publicly released Thursday night after the Justice Department sent copies of the notes to congressional leaders. The Associated Press first obtained a copy of the memos and made them publicly available.
Trump quickly responded on Twitter on Thursday night — not complaining about the leak, but instead putting his spin on what they show.
The memos shed light on how quickly into his time in office Trump was beginning to become frustrated with questions of whether there was any collusion between his campaign and Russian efforts to influence the 2016 presidential election. In a memo detailing a phone call with Trump on March 30, 2017, Comey wrote, "He then said he was trying to run the country and the cloud of this Russia business was making that difficult."
The call followed several interactions with Trump that Comey has discussed in a congressional hearing, in his new book, and in interviews that he has said he put down in memos shortly after they happened to capture his immediate recollection of them.
The first memo details Comey's meeting with then-president-elect Trump at Trump Tower on Jan. 6, 2017. It was at that meeting that he told Trump — in a one-on-one setting — about the "inflammatory stuff," as Comey put it, in the dossier about Trump prepared by Christopher Steele during the election in his work for Fusion GPS.
"I said, the Russians allegedly had tapes involving him and prostitutes at the Presidential Suite at the Ritz Carlton in Moscow from about 2013. He interjected, 'there were no prostitutes; there were never prostitutes,'" Comey wrote, adding that, "I said I wasn't saying this was true, only that I wanted him to know both that it had been reported and that the reports were in many hands. I said media like CNN had them and were looking for a news hook."
Later in that conversation, Comey noted of Trump, "He then started talking about all the women who had falsely accused him of grabbing or touching them (with particular mention of a 'stripper' who said he grabbed her) and gave me the sense that he was defending himself to me. I responded that we were not investigating him and the stuff might be totally made up but it was being said out of Russia and our job was to protect the President from efforts to coerce him."
In an email sent the next day, Comey wrote that he had written the memo "in the vehicle immediately upon exiting Trump Tower."
The next memo detailed a Jan. 27, 2017, dinner that Trump and Comey ate in the Green Room of the White House. It is at this 80-minute dinner, per Comey's memo, that Trump "replied that he needed loyalty and expected loyalty." Comey continued, "I did not reply, or even nod or change my facial expression, which he noted because we came back to it later."
Later, Comey wrote, Trump returned to the topic, writing that Trump said, "I need loyalty." Comey continued, "I replied that he would always get honesty from me. He paused and said that's what he wants, 'honest loyalty.' I replied, 'you will get that from me.' (It is possible we understood that phrase differently, but I chose to understand it as consistent with what I had said throughout the conversation: I will serve the President with loyalty to the office, the country, and the truth. I decided it would not be productive to push the subject further.)"
Trump also, at that dinner, "turned to what he called the 'golden showers thing' and … repeated that it was a complete fabrication and 'fake news,'" Comey wrote. "He said it bothered him if his wife thought there was even a one percent chance it was true in any respect."
Trump also, per Comey's telling, recalled a story about his then-national security adviser, Michael Flynn, concluding that Trump told him that "the guy" — Flynn — "has serious judgment issues."
Less than three weeks later, on Feb. 13, Flynn would resign.
Another encounter that Comey details with Trump began with what he describes as a "meet and greet" with then-chief of staff Reince Priebus on the afternoon of Feb. 8. In the meeting with Priebus, per Comey's memo, they talked about a variety of subjects including the travel ban, leaks, Flynn, and the investigation into Hillary Clinton's email server.
That meeting, however, also included stopping by the Oval Office — at which time Trump raised, for a second time, per Comey, Andrew McCabe, the deputy FBI director who Sessions later fired. Comey wrote, "I again explained that Andy McCabe is a pro."
Trump then raised leaks and "the 'Golden Showers thing,'" per Comey. "The President said 'the hookers thing' is nonsense but that [Russian President Vladimir] Putin had told him 'we have some of the most beautiful hookers in the world,'" Comey wrote, noting that Trump did not say when Putin had said that.
In detailing the Feb. 14 meeting at the Oval Office where Trump asked to speak with Comey alone, Comey wrote, "He began by saying he wanted to 'talk about Mike Flynn.' He then said that although Flynn 'hadn't done anything wrong' in his call with the Russians (a point he made at least two more times in the conversation), he had to let him go because he misled the Vice President, whom he described as 'a good guy.'"
Later, Comey wrote, Trump returned to the topic of Flynn. "He said, 'I hope you can see your way clear to letting this go, to letting Flynn go. He is a good guy. I hope you can let this go.' I replied by saying, 'I agree he is a good guy,' but said no more."
Relating to Flynn and other news stories, the Feb. 14 conversation also covered leaks — and both Comey and Trump's anger about them.
"I said I was eager to find leakers and would like to nail one to the door as a message," Comey wrote. "I said something about it being difficult and he replied that we need to go after the reporters, and referred to the fact that 10 or 15 years ago we put them in jail to find out what they know, and it worked. He mentioned Judy Miller by name.
"I explained that I was a fan of pursuing leaks aggressively but that going after reporters was tricky, for legal reasons and because the DOJ tends to approach it conservatively," Comey continued. "He replied by telling me to talk to 'Sessions' and see what we can do about being more aggressive. I told him I would speak to the Attorney General."
One "memo" is just a short email detailing a quick March 1 call Comey got from Trump, discussing Sessions' start as attorney general and a few other general topics.
As Comey concluded the email, sent to his chief of staff, "That's it."
In the March 30 call where Trump talked about the "cloud" of the Russia investigation, Comey wrote that Trump "asked what he could do to lift the cloud," prompting Comey to write, "I explained that we were running it down as quickly as possible and that there would be great benefit, if we didn't find anything, to our Good Housekeeping seal of approval, but we had to do our work."
Comey also wrote that he reiterated that the FBI wasn't investigating Trump. "He said it would be great if that could get out and several times asked me to find a way to get that out."
Trump closed the call, Comey wrote, by reiterating how "the cloud was hurting him" and how he "hoped I could find a way to get out that he wasn't being investigated."
That call, Comey noted, led to a follow-up call later that morning to then-acting deputy attorney general Dana Boente, who was overseeing the Russia investigation due to Sessions' recusal. Comey wrote that he informed him of the substance of Trump's call "and said I was telling him so he could decide what guidance to give me, if any."
The final memo details an April 11 call that Comey wrote was him returning a call from Trump.
"He said he was following up to see if I did what he had asked last time — getting out that he personally is not under investigation," Comey wrote of Trump. "I replied that I had passed the request to [Dana Boente] and had not heard back from him."
Less than a month later, on May 9, Trump would fire Comey.
The release of the memos to congressional leaders is the latest in a now-recurring pattern of House Republican leaders pressing Deputy Attorney General Rod Rosenstein on a question of document access relating to ongoing Capitol Hill investigations, followed by ultimatums or outright threats from some of those leaders, followed by the Justice Department ultimately providing access to the document in question.

Assistant Attorney General Stephen Boyd sent the Thursday letter — which contained redacted versions of the memos — to members of Congress. An unredacted version of the memos, which contain classified information, will be available to members of the relevant committees on Friday, Boyd wrote.
The Justice Department provided a copy of Boyd's memo, but not the attached Comey memos, to members of the media.
The department released the memos to Reps. Robert Goodlatte, Trey Gowdy, and Devin Nunes — who had written to Rosenstein on April 13 seeking the memos and writing that "[t]here is no legal basis for withholding these materials from Congress" — along with other House and Senate Republican and Democratic leaders.
The three men are the Republican chairs of the House Judiciary, Oversight and Government Reform, and Intelligence committees, respectively, and have been critical of Rosenstein — particularly in recent weeks as Trump's criticism of Rosenstein had risen.
Boyd addressed the "unusual" nature of the decision to release documents that are part of an ongoing investigation.
"In light of the unusual events occurring since the previous limited disclosure" — which had allowed certain members to review them and agree not to further disclose the information — "the [DOJ] has consulted the relevant parties and concluded that the release of the memoranda to Congress at this time would not adversely impact any ongoing investigation or other confidentiality interests of the Executive Branch," Boyd wrote.
He added, however, that the move "does not alter the Department's traditional obligation to protect from public disclosure witness statements and other documents obtained during an ongoing investigation."
In a joint response, Goodlatte, Gowdy, and Nunes wrote, "We have long argued former Director Comey's self-styled memos should be in the public domain, subject to any classification redactions. These memos are significant for both what is in them and what is not."
Specifically, "The memos ... show former Director Comey never wrote that he felt obstructed or threatened," the trio stated. "As we have consistently said, rather than making a criminal case for obstruction or interference with an ongoing investigation, these memos would be Defense Exhibit A should such a charge be made."
The ranking Democrat on the House Oversight and Government Reform Committee, Rep. Elijah Cummings, pushed back against the Republicans' response.
"Director Comey's contemporaneous memos provide strong corroborating evidence of everything he said about President Trump — that the President wanted his personal loyalty, that he wanted to end the Russia investigation, and that he wanted Michael Flynn to walk," he said in a statement. "President Trump's interference was a blatant effort to deny justice, and Director Comey was right to document it as it happened — in real time."
A similar unusual event took place at the beginning of the month, when Nunes sent a letter to Rosenstein and FBI Director Chris Wray, regarding information about the start of the counterintelligence investigation regarding Russia that began in 2016. Nunes and Gowdy eventually were given access to the requested information.
Emma Loop and Lissandra Villa contributed reporting.