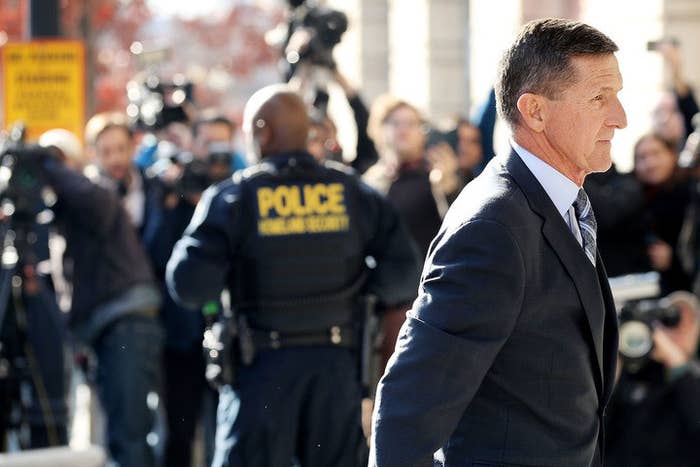 Michael Flynn, a retired Army lieutenant general who briefly served as President Trump's national security adviser, pleaded guilty on Friday to lying to the FBI during the Russia investigation and has agreed to cooperate with federal prosecutors.
Flynn entered his guilty plea at federal court in Washington, DC, on Friday morning, becoming the fourth person publicly charged in Special Counsel Robert Mueller's ongoing probe.
Flynn agreed to cooperate with Mueller's team as part of a plea deal. If prosecutors conclude Flynn provided "substantial assistance," they've agreed to ask the judge to reduce his sentence. The single count of making false statements carries a maximum penalty of five years in prison, but according to court filings he likely faces an estimated range of zero to six months.
No sentencing date was set at his hearing. Prosecutors will file an update with the court in three months, by Feb. 1. Flynn's cooperation with Mueller's team could include interviews, providing sworn written statements, taking a polygraph exam, and "participating in covert law enforcement activities," according to the plea agreement.
On Jan. 24, 2017, Flynn "did willfully and knowingly make materially false, fictitious, and fraudulent statements and representations in a matter within the jurisdiction of the executive branch of the Government of the United States," prosecutors said.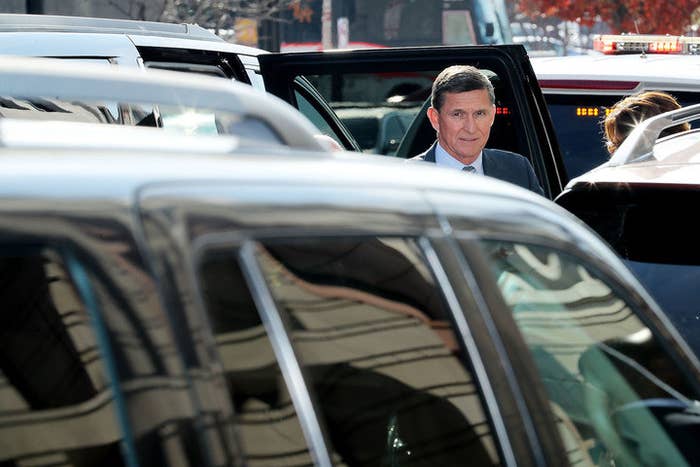 Flynn allegedly falsely told the FBI:
* That he did not ask Russia's ambassador to the US at the time, Sergey Kislyak, to "refrain from escalating the situation in response to sanctions that the United States had imposed against Russia" on Dec. 29, 2016.
* That he didn't ask the Russian ambassador to "delay the vote on or defeat a pending United Nations Security Council resolution; and that the Russian Ambassador subsequently never described Russia's response to his request" on Dec. 22, 2016.
* Flynn also admitted to lying on foreign agent registration materials filed in March.
In reciting the government's case against Flynn in court on Friday, the special counsel's prosecutor said that senior members of Trump's transition team at Mar-a-Lago were not only aware of Flynn's contacts with the Russian ambassador in December, but also discussed strategy and received updates on how those conversations went. None of the transition officials were named by the prosecutor or in court filings. BuzzFeed News reported on Friday that a source had said that Trump's son-in-law Jared Kushner was responsible for directing Flynn to make another set of calls to foreign leaders that were also referred to in court papers.
"After over 33 years of military service to our country, including nearly five years in combat away from my family, and then my decision to continue to serve the United States, it has been extraordinarily painful to endure these many months of false accusations of 'treason' and other outrageous acts," Flynn said in a statement.

"Such false accusations are contrary to everything I have ever done and stood for," Flynn added. "But I recognize that the actions I acknowledged in court today were wrong, and, through my faith in God, I am working to set things right. My guilty plea and agreement to cooperate with the Special Counsel's Office reflect a decision I made in the best interests of my family and of our country. I accept full responsibility for my actions."
One of Trump's lawyers, Ty Cobb, began a statement saying Flynn was at the White House "for 25 days during the Trump Administration" and pointed out he was "a former Obama administration official."
"The false statements involved mirror the false statements to White House officials which resulted in his resignation in February of this year," Cobb said. "Nothing about the guilty plea or the charge implicates anyone other than Mr. Flynn. The conclusion of this phase of the Special Counsel's work demonstrates again that the Special Counsel is moving with all deliberate speed and clears the way for a prompt and reasonable conclusion."
Flynn was met with protesters when he left the courthouse, some chanting "lock him up." Flynn was an early adviser to Trump's presidential campaign, and during the Republican National Convention in July 2016, he denounced Hillary Clinton for thinking she was "above the law."
"Lock her up, that's right," he said at the time. "If I did a tenth of what she did, I would be in jail today."
In November, Flynn's lawyers told Trump's lawyers that they could no longer communicate about Mueller's investigation, The New York Times reported. The report suggested Flynn was cooperating with the special counsel's team or negotiating a deal.

Flynn is the fourth person connected to the Trump campaign that Mueller has charged.

Former Trump campaign chairman Paul Manafort and his longtime associate, Rick Gates, were charged in October with laundering millions of dollars; failing to register as foreign agents for the Ukrainian government and former Ukrainian president Victor Yanukovych; and making false statements when they did report their activities to the Justice Department in late 2016 and early 2017. They pleaded not guilty.

A third individual who worked on Trump's campaign, George Papadopoulos, pleaded guilty in October to lying to the FBI about his communications with Russians or other individuals with ties to Russia while he was an adviser to the campaign.

The case against Michael Flynn
Flynn admitted to lying to the FBI on Jan. 24 about a series of phone calls in December between himself and Kislyak. Flynn had falsely told the FBI that he hadn't asked Kislyak to refrain from "escalating the situation" in response to sanctions against Russia that were announced by former president Barack Obama on Dec. 28, according to the case laid out by Mueller's team.
According to the government, the ambassador contacted Flynn the same day the sanctions were announced. No details were provided about that communication. On Dec. 29, Flynn called a "senior official" — identified by the Associated Press as former Deputy National Security Adviser KT McFarland — with the Trump transition team at Mar-a-Lago, who was with other members of the transition team. Flynn and the official discussed whether and what to communicate to Kislyak, and that members of the transition team did not want Russia to respond in a way that would escalate the situation.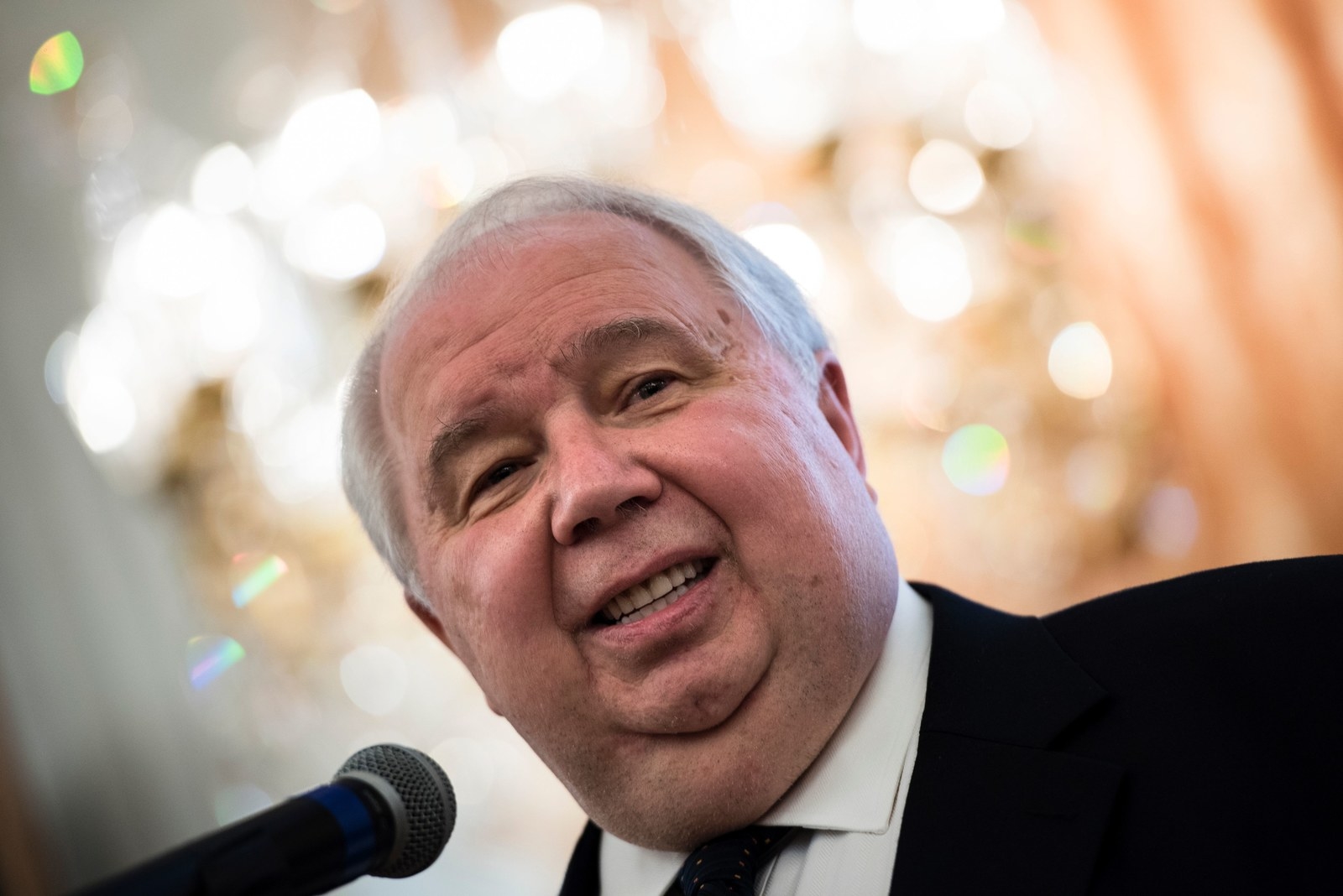 Right after that call, Flynn called the ambassador and asked that Russia respond to the sanctions "in a reciprocal manner." When the call was over, Flynn called the transition team official back to report what had happened.
On Dec. 30, Russian President Vladimir Putin announced that Russia would not retaliate against the United States in response to the sanctions. The next day, the ambassador called Flynn to tell him about Russia's intended response. Flynn then had a phone call with "senior members" of the transition team about his latest call with Kislyak.
Prosecutors also said Flynn lied about not making any requests of foreign governments about how they should act on a proposed UN resolution concerning Israeli settlements. Flynn in fact had been "directed" by a "very senior member" of the transition team to contact foreign governments, including Russia, to not only find out their position on the resolution, but to "influence those governments to delay the vote or defeat the resolution."
On Dec. 22, before the UN vote, the government said Flynn spoke with the Russian ambassador to ask that Russia vote against or delay the resolution. On Dec. 23, the ambassador called Flynn to say Russia would not vote against the resolution.
BuzzFeed News reported on Friday that Jared Kushner was the person who directed Flynn to call members of the UN Security Council on the Israeli settlements resolution, according to a person who was present in the room when Flynn took the call.
"Jared called Flynn and told him you need to get on the phone to every member of the Security Council and tell them to delay the vote," the person said.
Finally, the special counsel's office also accused Flynn of lying in materials that he filed in March concerning his lobbying activities. Flynn made false statements about not knowing the extent to which some of his previous lobbying work was for the benefit of the Turkish government. The criminal information — the formal charging document — filed against Flynn doesn't mention the foreign agent registration filings, but they were included in the government's description of its case against Flynn on Friday.

Here are the documents released Friday by Special Counsel Robert Mueller's office:

Timeline
December 22: Flynn is "directed" by a "very senior member" of the Trump transition team to contact foreign governments, including, Russia, to find out how they plan to vote on a UN resolution and to influence their decision. Flynn calls then-Russian ambassador Sergey Kislyak to find out how Russia plans to vote and to ask Russia to vote against the resolution or delay it.
December 23: Kislyak calls Flynn to inform him Russia will not vote against the resolution.
December 28: President Barack Obama announces new sanctions against Russia.
December 29: Flynn speaks with a senior transition official at Mar-a-Lago about what to communicate to Kislyak about the sanctions. Flynn calls Kislyak to ask that Russia not escalate the situation, and then calls the transition official back to report on the call with Kislyak.
December 30: Russian President Vladimir Putin announces Russia will not retaliate against the United States.
December 31: Kislyak calls Flynn to tell him about Russia's response. Flynn speaks with senior members of the transition team about his conversations with Kislyak.
January 24: Flynn lies to the FBI about his interactions with the Russian ambassador.

January 26: Former acting attorney general Sally Yates said she warned the White House about Flynn's actions.
January 27th: Trump asked former FBI Director James Comey for "loyalty," according to Comey's testimony before the Senate Intelligence Committee.
January 30: The president fired Yates.
February 13: Flynn resigned after reportedly misleading the vice president about his conversations with Russian officials.
February 14th: Trump asked Comey to drop the probe into Flynn, according to Comey's testimony.

Campaign and the White House
Flynn, a retired Army three-star general, was appointed in 2012 by then-president Barack Obama to serve as head of the Defense Intelligence Agency. But he reportedly butted heads with other senior defense officials, and stepped down in April 2014, a year before his term officially ended.
He drew attention early on for statements he'd made advocating for a closer relationship between the United States and Russia. One widely-circulated photo showed Flynn sitting next to Russian President Vladimir Putin at a 2015 dinner.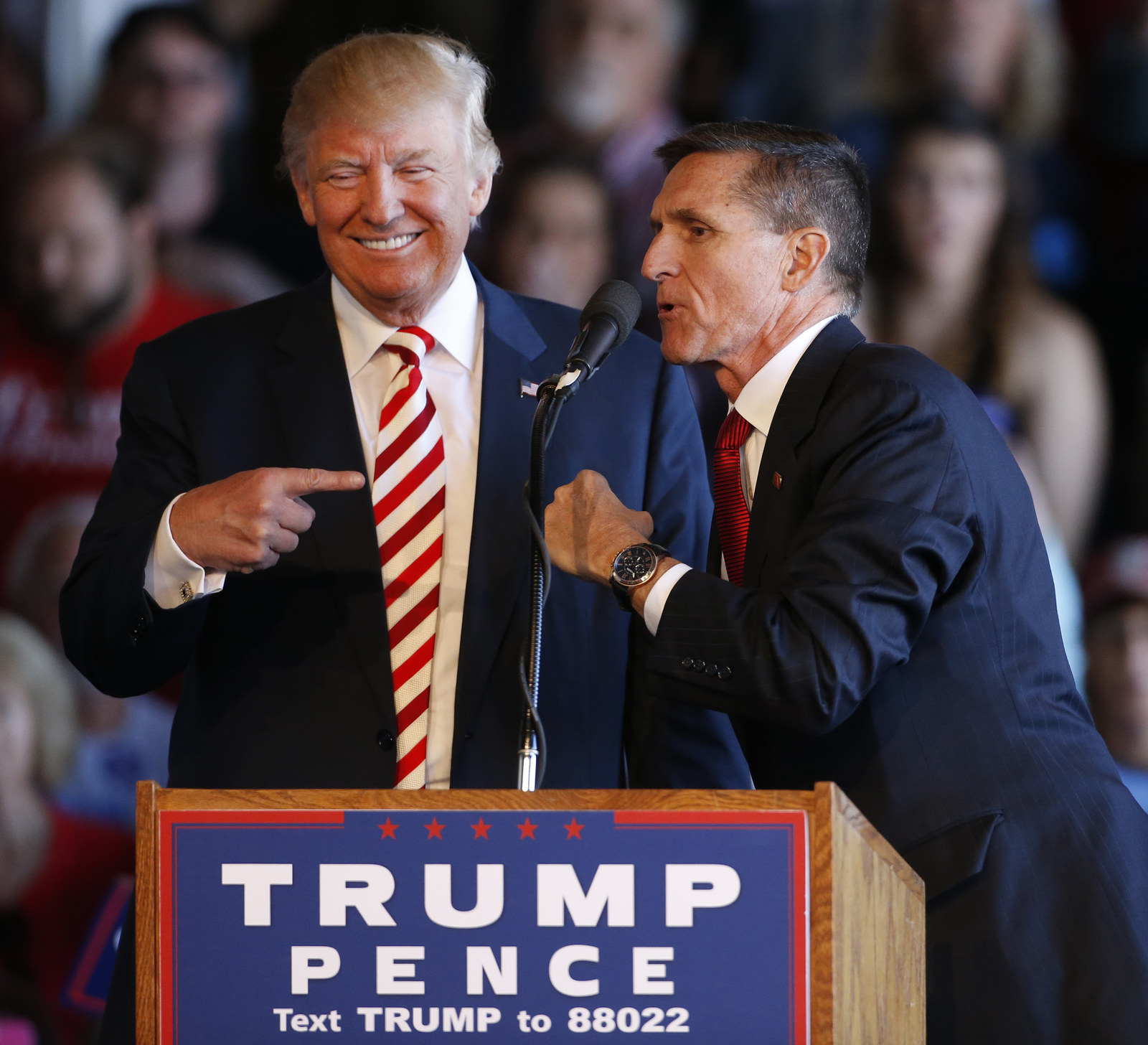 Trump offered Flynn the national security adviser job shortly after the election. Questions about Flynn's ties to the Russian government continued to plague Trump's nascent administration during the transition period and after Trump took office.
In mid-January, Vice President Mike Pence said in a TV interview that post-election communications that Flynn had with Kislyak hadn't involved any discussion of US sanctions against Russia. But the Washington Post reported in early February that Flynn had, in fact, discussed sanctions with Kislyak.
Flynn stepped down as national security adviser on Feb. 13, writing in a resignation letter released by the White House that during the transition he had "inadvertently briefed the Vice President Elect and others with incomplete information regarding my phone calls with the Russian Ambassador." Flynn blamed his actions on the "fast pace of events."
Russia connections
In March, documents revealed Flynn had made tens of thousands of dollars from Russian entities. The bulk was paid to him by Russia Today, a Kremlin-run news channel, for giving a speech.

Flynn's reported Russian contacts put him squarely in the orbit of Mueller's investigation into Russian influence in the 2016 election, but it was Flynn's work as a lobbyist that fueled speculation he might face criminal charges.
Flynn in March registered with the US Department of Justice as a foreign agent in his connection with his work on behalf of Turkish interests — months after his eponymous company, Flynn Intel Group, signed a contract to do work on behalf of Inovo BV, a Dutch company owned by a Turkish businessman connected to the Turkish government. Flynn earned approximately $530,000 for that work. Flynn wrote in his filing under the Foreign Agents Registration Act that although the Flynn Intel Group was hired by Inovo, its work "could be construed to have principally benefitted the Republic of Turkey."
The Wall Street Journal reported in March that Flynn was seeking immunity in exchange for testifying before Congress and the FBI. Trump, who has repeatedly called the Russia probe a "witch hunt," tweeted at the time that he thought it would be the right move for Flynn.
Criminal charges stemming from a violation of the Foreign Agents Registration Act are rare, but they were included in the indictment that a federal grand jury returned against Manafort and Gates. Speaking to reporters outside the US District Court for the District of Columbia following Manafort and Gates' first public court appearance on Oct. 30, Manafort's lawyer Kevin Downing argued that Mueller's team was pushing a "novel" theory in charging a FARA violation.
In Papadopoulos' case, his criminal complaint referred to campaign officials who allegedly knew that Papadopoulos was trying to set up a meeting between Trump and Putin — a meeting that never happened — but they weren't named. Papadopoulos hasn't been sentenced yet.
In response to being investigated, Flynn set up a legal defense fund and hired at least seven lawyers to prepare him for his congressional hearings. A source familiar with Flynn's legal team previously told BuzzFeed News the fees would "certainly be into the seven figures."