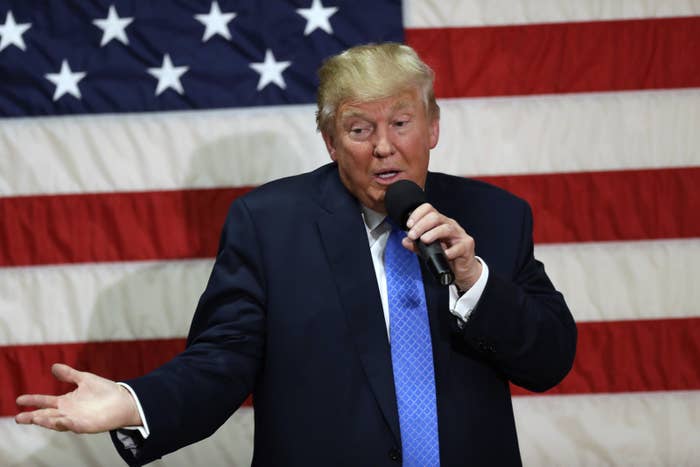 Donald Trump was put on the defensive Friday after the Washington Post published a video recorded in 2005 that captured the candidate on a hot mic making a series of lewd comments, including one about trying to have sex with a married woman.
"I moved on her and I failed, I'll admit it," Trump can be heard saying in the video. "I did try and fuck her. She was married."
The video was recorded on a bus that was taking Trump and then-host of Access Hollywood Billy Bush to the set of Days of Our Lives to film a cameo. The voices of Trump and Bush are both clearly audible in the video. In a segment that aired Friday night, Access Hollywood identified the woman who was the subject of the conversation as Entertainment Tonight correspondent Nancy O'Dell.
"Politics aside, I'm saddened that these comments still exist in our society at all. When I heard the comments yesterday, it was disappointing to hear such objectification of women. The conversation needs to change because no female, no person, should be the subject of such crass comments, whether or not cameras are rolling," O'Dell said in a statement Saturday. "Everyone deserves respect no matter the setting or gender. As a woman who has worked very hard to establish her career, and as a mom, I feel I must speak out with the hope that as a society we will always strive to be better."

In a video posted on Facebook overnight, Trump issued a brief apology saying he is a "changed man" and pledged "to be a better man tomorrow, and I will never, ever let you down."
"I've said and done things I regret and the words released today on this more than a decade old video are one of them," Trump said. "Anyone who knows me knows these words don't reflect who I am. I said it, I was wrong, and I apologize."
In May 2005, O'Dell hosted the Miss Universe pageant, which Trump co-owned at the time. O'Dell got married about a month later, and the hot mic conversation with Bush took place that September.

Trump married his third wife, Melania, in January 2005.
"The words my husband used are unacceptable and offensive to me," Melania said on Saturday. "This does not represent the man that I know. He has the heart and mind of a leader. I hope people will accept his apology, as I have, and focus on the important issues facing our nation and the world. "

In the video, Trump's comments continue as he talks about taking O'Dell furniture shopping.

"I moved on her like a bitch, but I couldn't get there," Trump can be heard saying. "And she was married. Then all of a sudden I see her, she's now got the big phony tits and everything. She's totally changed her look."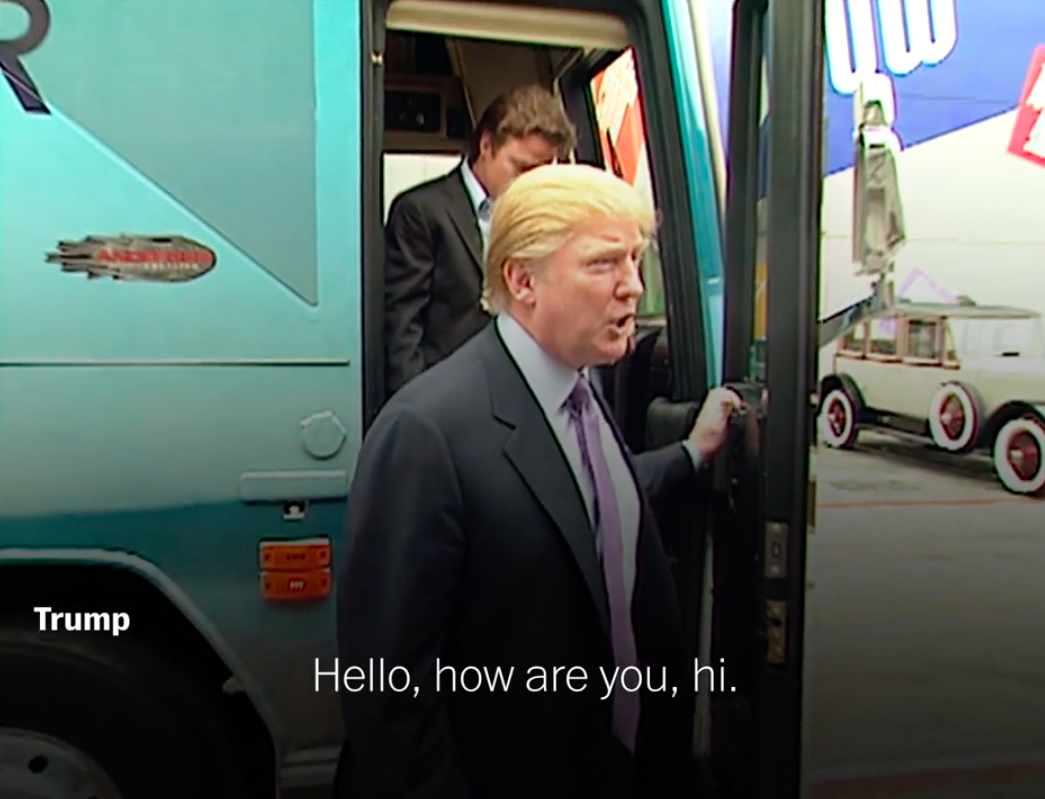 Trump then later says, "You know I'm automatically attracted to beautiful, I just start kissing them. It's like a magnet. Just kiss. I don't even wait. And when you're a star, they let you do it. You can do anything.
"Grab them by the pussy," Trump adds. "You can do anything."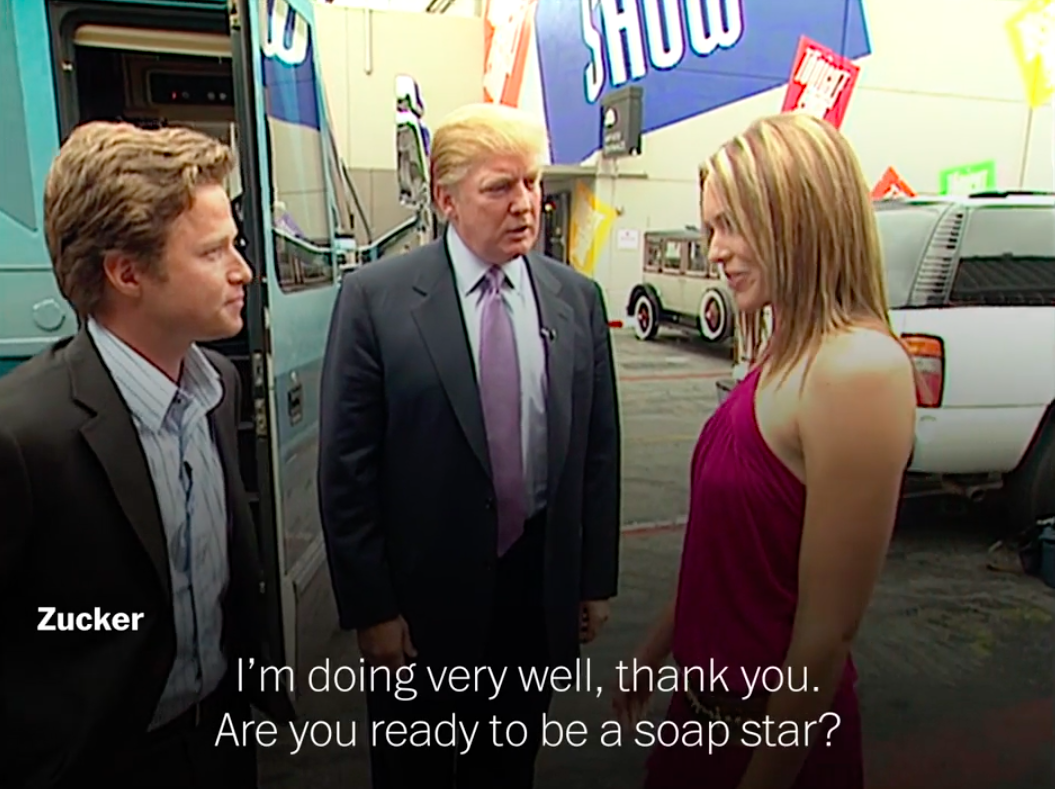 In a statement Friday afternoon, Trump brushed off the comments, saying, "This was locker room banter, a private conservation that took place many years ago."

"Bill Clinton has said far worse to me on the golf course — not even close," Trump added. "I apologize if anyone was offended."
The footage was uncovered when an Access Hollywood producer, spurred by an Associated Press report on Trump's behavior toward women on The Apprentice, reviewed old footage.
An NBC source told CNN that the producer decided to write a script for the footage, but not for Friday's broadcast, which means the next earliest slot would have been Monday, after Sunday's presidential debate.
In that time, someone from inside NBC with access to the internal network leaked the video to a Washington Post reporter who had been covering the Trump campaign, reportedly blindsiding Access producers.
The leak set off a tidal wave of stinging criticism from the Republican party.
House Speaker Paul Ryan on Friday announced that Trump would not attend a Wisconsin event on Saturday, which would have been the first time the two had stumped together on the campaign trail.
"I am sickened by what I heard today," he said in a statement. "Women are to be championed and revered, not objectified. I hope Mr. Trump treats this situation with the seriousness it deserves and works to demonstrated to the country that he has greater respect for women than this clip suggests. In the meantime, he is no longer attending tomorrow's event in Wisconsin."
Trump's campaign later said that Pence would attend the event instead while the presidential candidate stayed behind for debate prep.
Trump's comments about, and relationship with, women have been a perennial theme of the 2016 election cycle. Earlier this year, BuzzFeed News reported on conversations Trump had with radio show host Howard Stern in which he discussed sex and women's appearances.
Last year, Fox News host Megyn Kelly also confronted Trump during a primary debate about derogatory comments he had made about women. Trump later criticized Kelly for the questions, saying she had "blood coming out of her eyes, blood coming out of her wherever."
Shortly after the Post story went live, Clinton tweeted that Trump's comments were "horrific."

But it was the statements from members of his own party that set a far different tone in condemnation on Friday. Among them was Mitt Romney, who has criticized Trump in the past and referred to Trump's remarks as "vile degradations."

Former presidential contender and fellow Republican Jeb Bush said "no apology could excuse" the comments.

Republican Party Chairman Reince Priebus also criticized the comments, saying in a statement that "no woman should ever be described in these terms or talked about in this manner. Ever."

Jon Huntsman, former governor of Utah and also a one-time Republican presidential contender, called on Trump to drop out of the race in response to the comments. Huntsman's calls for Trump to drop out come just a week after he said he would vote for the candidate.
Sen. Jeff Flake, an Arizona Republican, tweeted that "America deserves far better" than the Republican nominee.

Sen. Kelly Ayotte — a Republican from New Hampshire who earlier this week suggested Trump was a role model for children, then seemed to walk back that comment — also slammed Trump Friday.
"His comments are totally inappropriate and offensive," Ayotte said in a statement distributed to the media.

For his part, in a statement to BuzzFeed News Friday evening, Billy Bush — who is the cousin of former president George W. Bush and former presidential candidate Jeb Bush — apologized for his role in the conversation.
"Obviously, I'm embarrassed and ashamed," he said. "It's no excuse, but this happened eleven years ago — I was younger, less mature, and acted foolishly in playing along. I'm very sorry."