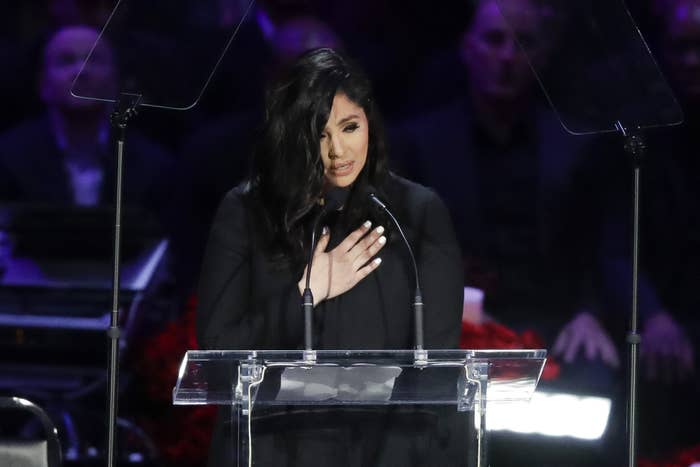 Vanessa Bryant shared the many things she already missed about her husband Kobe and their daughter Gianna, as well as the memories they would never get to make together, before a crowd of thousands at a memorial service Monday.
Fans, family, and notable friends of the Bryants remembered the basketball great and his 13-year-old daughter during an emotional service marked by powerful musical performances from Beyoncé, Alicia Keys, and Christina Aguilera and speeches from Vanessa, Michael Jordan, Shaquille O'Neal, and others.
"God knew they couldn't be on this Earth without each other. He had to bring them home to have them together," Vanessa said. "Babe, you take care of our Gigi."
Kobe, 41, and Gianna Bryant died in a helicopter crash near Calabasas Jan. 26 with seven others while they were on their way to a girls basketball game at Bryant's Mamba Sports Academy.
Kobe's death shook the sports community and basketball fans across the globe. In the days after the crash, fans continued to pay their respects outside Staples Center, home of the Los Angeles Lakers, the team he played for during the entirety of his 20-year NBA career. Countless murals honoring Kobe have popped up all over Los Angeles and in other places around the world.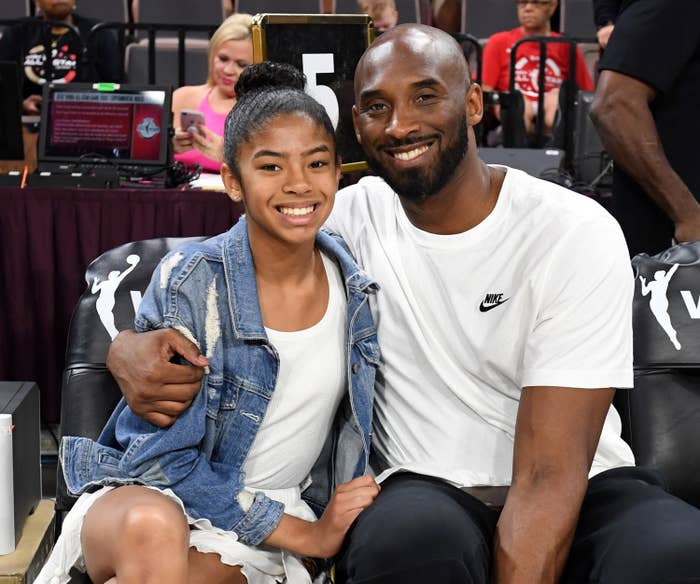 Officials are still investigating the cause of the deadly crash and are focused on the weather as a key factor in the investigation. As people piled into a packed Staples Center to remember the father and daughter Monday, Vanessa filed a wrongful death lawsuit against the company that operated the helicopter involved in the crash that killed them.
During the memorial, she remembered the man she called her soulmate and their baby girl.
"Gigi was very competitive like her daddy, but Gianna had a very sweet grace about her," Vanessa said. "Her smile was like sunshine."
She then talked about the memories she would never get with her daughter: Gianna starting high school, learning to drive, getting married, having children, and playing in the WNBA.

"She would have made a huge difference for women's basketball," Vanessa said. "She was motivated to change the way women were viewed in sports."
She also shared the remarkable love story she and Kobe shared; they began dating when she was 17, she said.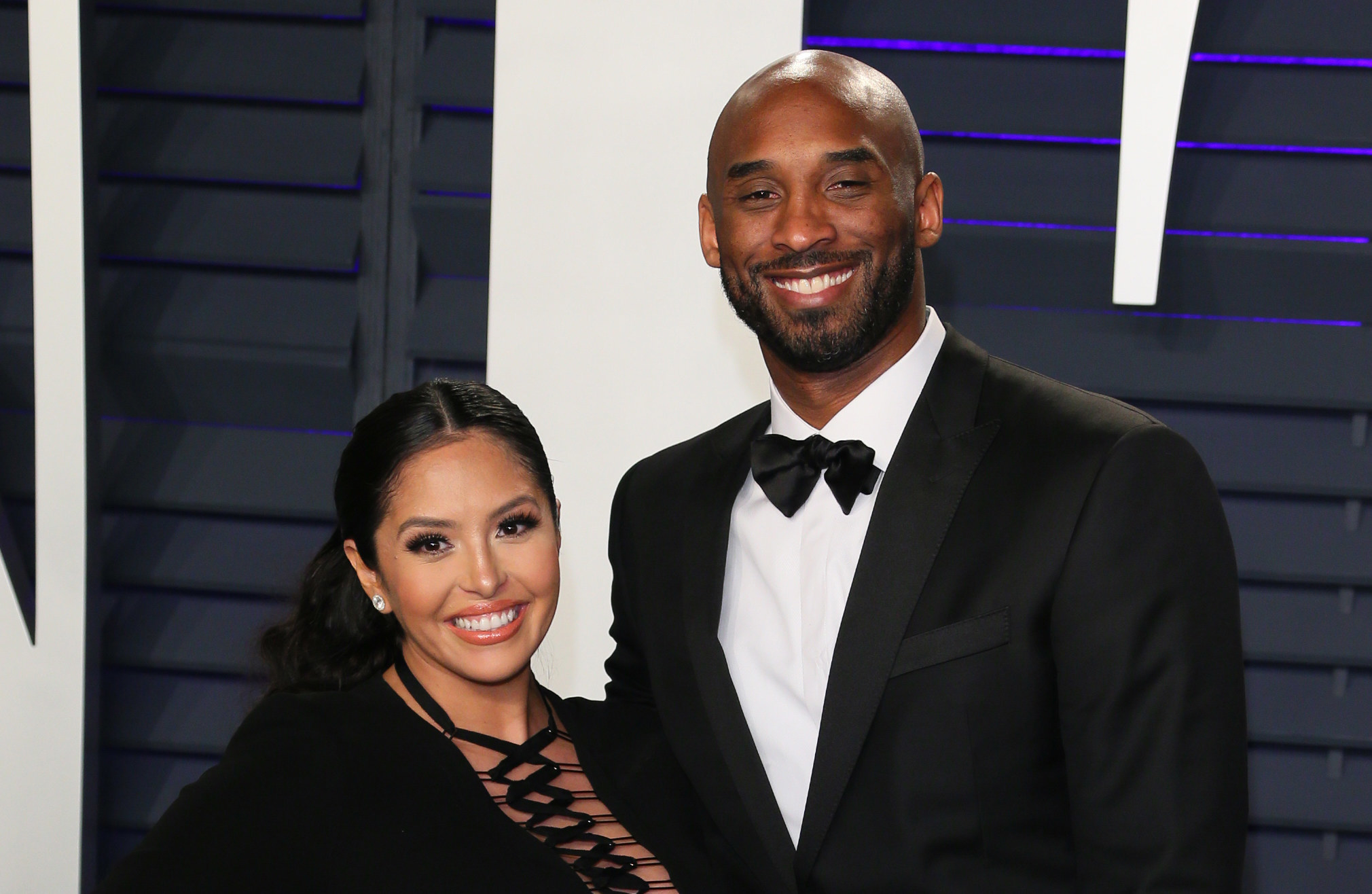 "I was his first girlfriend, his first love, his wife, his best friend, his confidante, and his protector," she said.
Kobe had wanted for the couple to renew their vows, she said. He also had big plans for Gianna and his three surviving daughters.
"We always talked about how we would be the fun grandparents to our daughter's children," Vanessa said. "He would have been the coolest grandpa. Kobe was the MVP of girl dads, or MVD."
Beyoncé, a friend of the family, kicked off the memorial with moving performance of her songs "XO" and "Halo."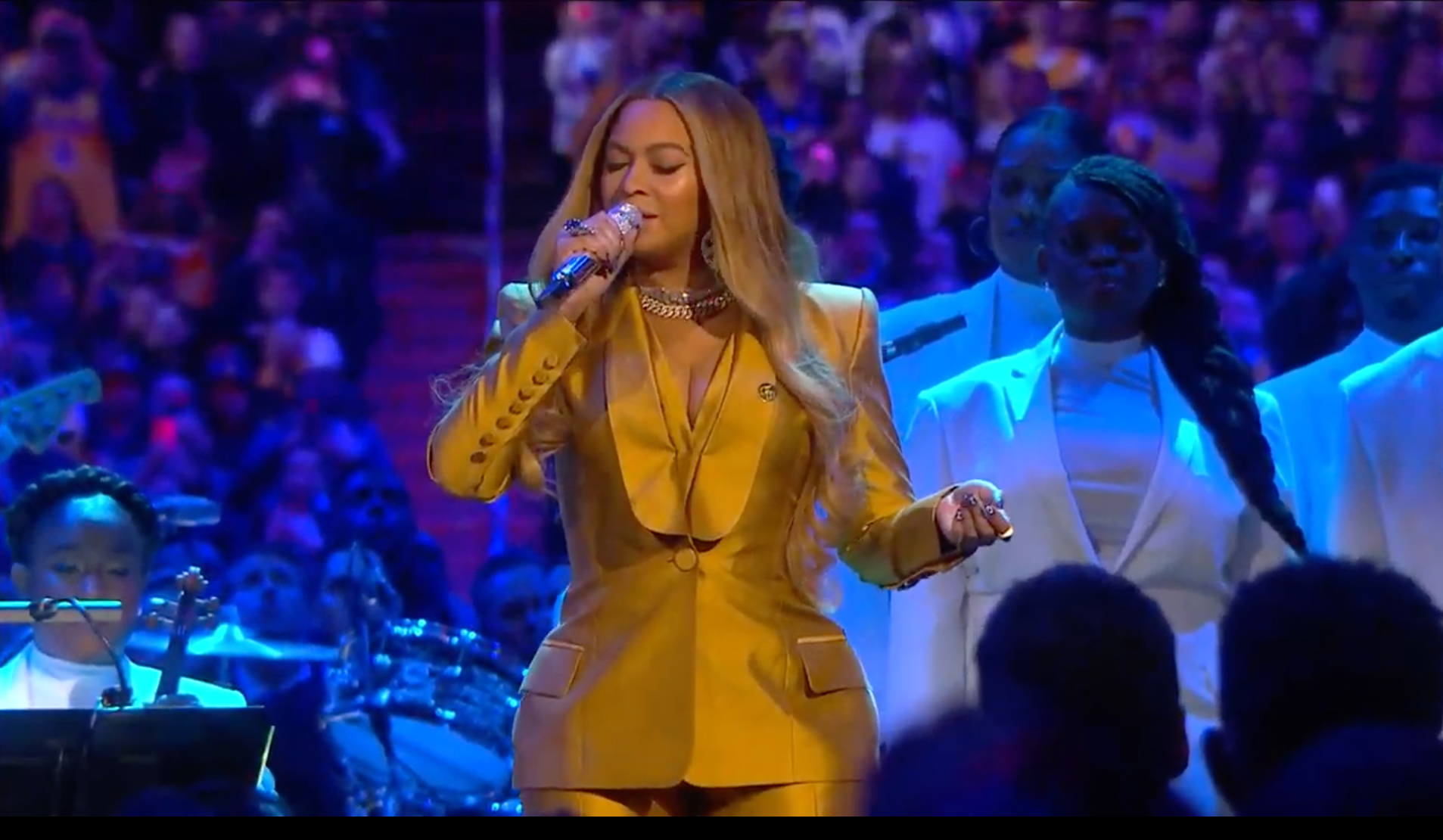 Later on, Alicia Keys performed Beethoven's "Moonlight Sonata," and Christina Aguilera sang "Ave Maria."
Even before it began, the memorial was full of symbolism. A limited number of tickets were made available to the general public at a cost of $224 for one ticket, two for $224, or $24.02 each, a nod to Bryant's No. 24 jersey and his daughter's No. 2. The rest were reserved for friends, family, and members of the NBA community — including his teammates and opponents.
Jimmy Kimmel, his voice thick with emotion, acted as an emcee and told the crowd he'd been having a difficult time thinking of something positive to say. He'd landed on gratitude, he said.
"It seems to me that all we can do is be grateful for the time we had with them and the time we have left with each other," he said. "And that's all."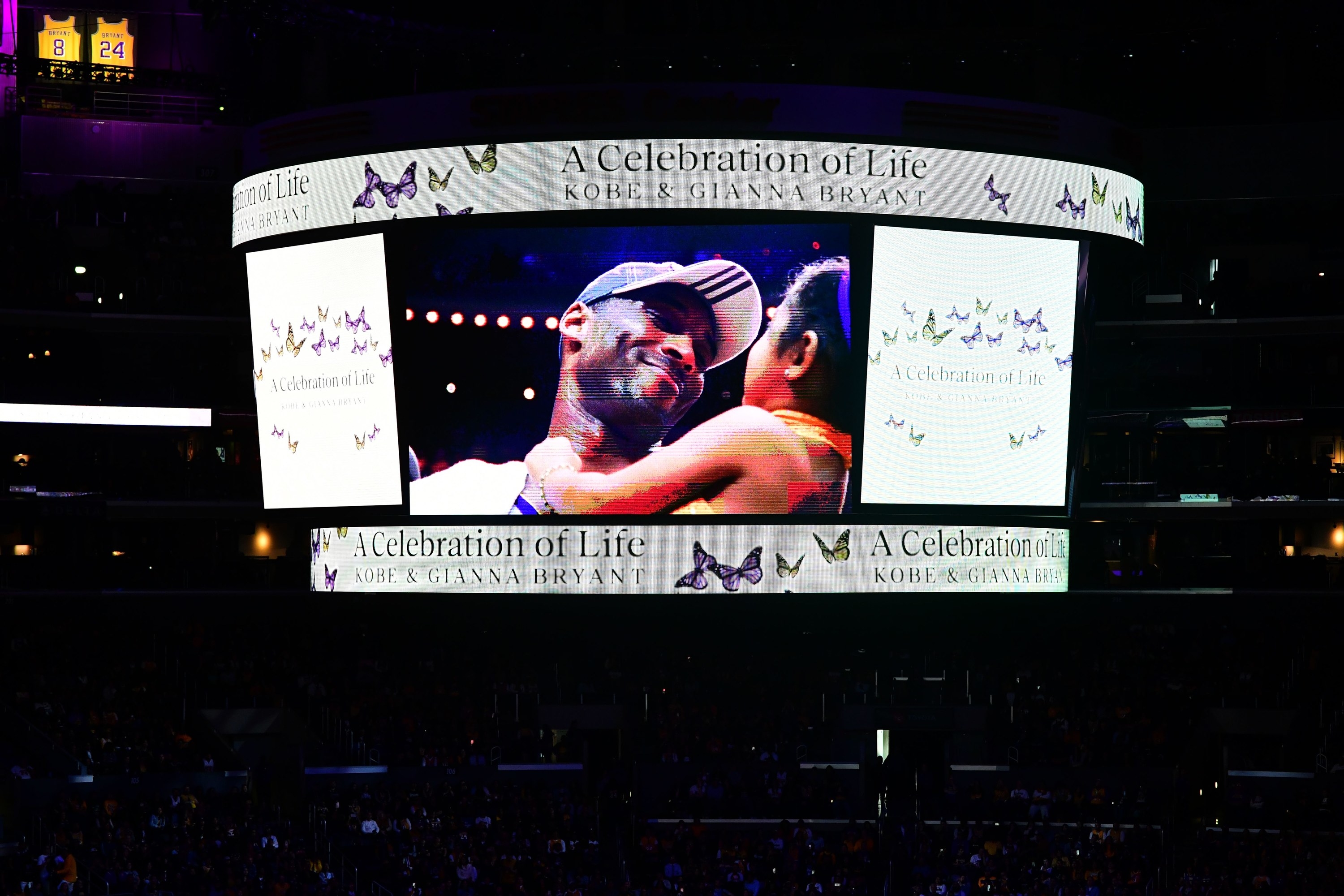 The service featured a wide range of speakers, including women athletes who spoke both of Kobe as a mentor and role model and of Gianna as the future of women's basketball.
"Gigi in many ways represents the future of women's basketball, a future where a young woman aspires to play in the WNBA the same way that I wanted to be a Laker, said Diana Taurasi, who plays for the Phoenix Mercury. "We promise to carry Gigi's legacy."
University of Oregon women's basketball player Sabrina Ionescu remembered meeting Kobe and his daughter after a game against USC and how excited Gianna was to be in the locker room with the team.
"She had a fade away better than mine," Ionesco said. "If I represented the present of the women's game Gigi was the future and Kobe knew it."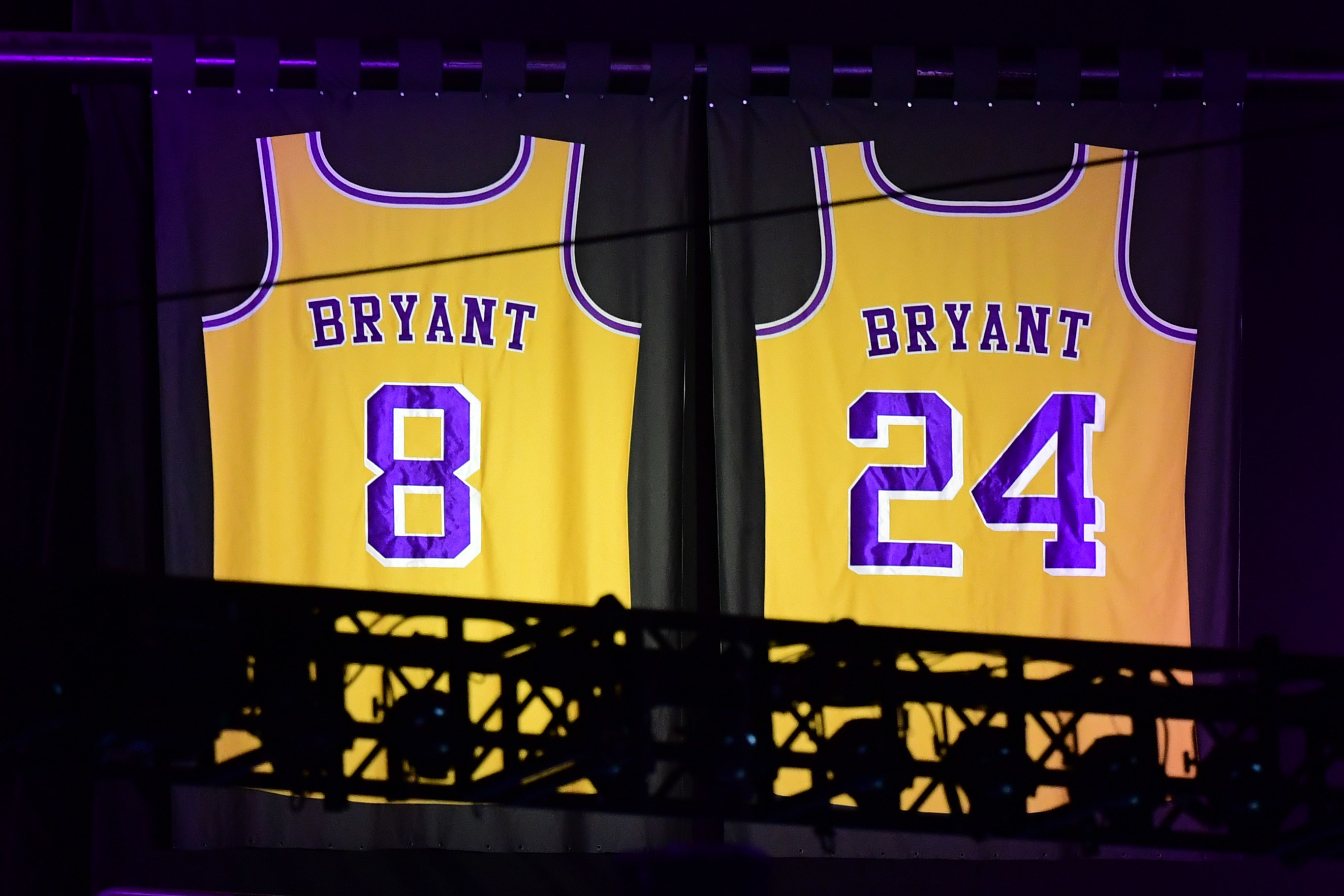 Bryant's mentors and rivals on the court, Michael Jordan and Shaquille O'Neal, also remembered the man they thought of as a little brother.
Jordan wept as he spoke and joked that he'd created a new crying meme.
"Everyone wanted to talk about the comparisons between him and I," Jordan said. "I just wanted to talk about Kobe."
O'Neal described his relationship with Bryant as complex: The apparent feud between the two men made headlines when they both played for the Lakers. But O'Neal said much of that stopped once the cameras were off, and he compared their respect and rivalry to Beatles John Lennon and Paul McCartney.
"Kobe and I pushed one another to play some of the greatest ball of all time," he said.
He spoke of how the two always maintained "a deep respect and love for each other," and joked about a time when their teammates complained to him about how Kobe, who O'Neal nicknamed Showboat, wasn't passing the ball.
"I said, 'Kobe, there's no I in team.' Kobe said, 'I know, but there's an M-E in that motherfucker,'" O'Neal said.
The service was attended by current and former professional basketball players including Steph Curry, James Harden, and Dwyane Wade, as well as celebrities and other athletes. Tickets were also made available to the general public, some of whom told BuzzFeed News they got off a wait list at the last minute to purchase tickets and dropped everything to be there.
Still, hundreds more stood outside the arena during the service, listening and watching on their phones in what felt like a somber block party.
Donte Medford and Justin Clark watched the memorial on an iPad propped up on a bush. The two friends grew up in Los Angeles and said Kobe's death was a big loss to them personally.
"I haven't really coped with the whole Kobe being gone [thing]," Medford said, adding that he didn't think he could handle being inside Staples Center for the service. "It would have been too emotional, I think I would have walked out. We deal with a lot of loss in our lives, and Kobe was a big one."
"Kobe raised a generation," Clark added.
Proceeds from the ticket sales will be donated to the Mamba & Mambacita Sports Foundation, the charity founded by Bryant and recently renamed by his wife to include their daughter.
During his career, Bryant won five championships, was league MVP in 2008, and was one of the game's all-time highest scorers.
Since retiring in 2016, Bryant became an investor, cofounding a venture capital firm, and supported youth sports, including through his Mamba sports facilities.
He started his own production company and in 2017 won a producing Oscar for Dear Basketball, an animated short film based on the letter Bryant wrote announcing his retirement.
The short played at the conclusion of the service. And, in a way, it allowed the late basketball legend to say goodbye himself.
"Love you always, Kobe," Bryant's voice said at the end of the film.