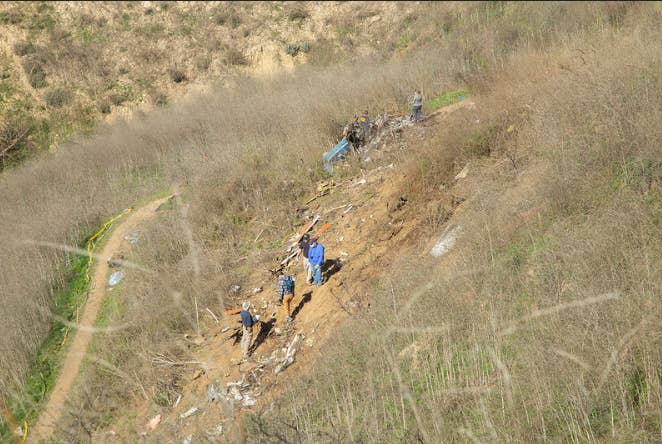 The helicopter carrying Kobe Bryant, his daughter, and seven others was trying to ascend above a fog-shrouded hill when it slammed into the ravine and dropped 2,000 feet per minute to the ground below, federal investigators said Tuesday.
Shortly before 10 a.m. Sunday, the Sikorsky S-76 chopper with nine people aboard climbed to about 2,300 feet seemingly in an attempt to clear the thick cloud layer. It hit part of a ravine in the Calabasas and fell, crashing in an area on the hillside 1,085 feet above sea level, National Transportation Safety Board member Jennifer Homendy said.
The helicopter plunged into a steep descent with a rate of "over 2,000 feet per minute," making it a "high-energy impact crash."
"This is a pretty steep descent at high speed," Homendy said. "It wouldn't be a normal landing speed."

The time from descent to impact was about a minute, she added.
The helicopter was navigating a canyon with multiple hills and peaks, NTSB investigator Bill English noted, describing the area as a "ravine with undulating terrain."
"The main impact was about 20 to 30 feet from that small hill, but there were other higher hills surrounding it…it's in a canyon with small hills within it," he said.

The helicopter was in one piece when it hit the mountainside, Homendy said, adding that the pilot "was trying to climb out of the cloud layer at the time." On Monday, she said the pilot, Ara Zobayan, who died in the crash, was climbing to avoid a cloud layer.
Zobayan had received special visual flight rules to fly that morning, despite the dense fog and tough visibility conditions. Getting this special clearance happens often, Homendy said.
Homendy on Tuesday also noted that her agency had repeatedly made safety recommendations to the Federal Aviation Administration after two serious helicopter crashes, one of which killed 10 people in Texas in 2004.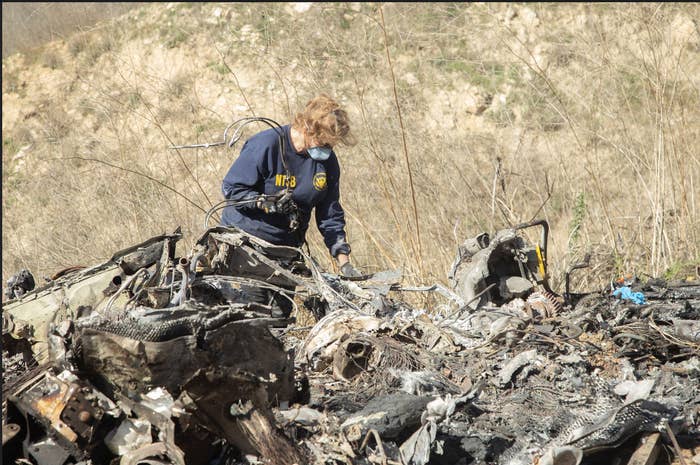 One of the improvements would have been to require all existing and newly registered helicopters to have a terrain and awareness warning system to better inform pilots when they are flying in difficult, dangerous conditions. The NTSB also recommended these aircrafts have cockpit voice and flight data recorders on board.
The FAA did not adopt them.
"One of those recommendations on the helicopter having a CVR and an FDR that would have helped us significantly in this investigation and other investigations and it's something we have recommended several times in a number of years," she said.
During their search through the charred wreckage, investigators recovered an iPad and a cellphone, along with the pilot's maintenance records.
The pilot, Ara Zobayan, had "a good amount of experience" flying that particular aircraft, investigators found. He had flown more than 8,200 hours, 1,250 in that helicopter and had been with the company for 10 years.
The day before, Zobayan had made almost the same journey from Orange County to Camarillo, but took a different, more direct path.
On Monday, federal investigators said the pilot had asked air traffic control for special permission to fly at less than the basic visual flight rules of a 1,000-foot ceiling and 3 miles of visibility that morning.
Homendy reiterated that weather remains one of the top factors in the investigation.
"Is there any way to fly this helicopter in thick fog? There's a lot of variabilities there," she told a reporter. "We're focused on what weather conditions were on Sunday for this flight."
Earlier Tuesday, NTSB released footage from a drone that investigators used to assess the 600-foot debris field and get a better understanding of the helicopter's fight path right before it crashed.
The nearly 3-minute video, which received some backlash from Bryant's fans, gives a wide angle look at the expansive crash site and shows investigators examining and sifting through pieces of the burned out helicopter
The NTSB said it will issue the first report on the crash in about 10 days, but that the investigation into what caused the chopper to crash could take 12 to 18 months.
LA County investigators also announced Tuesday that they had recovered all nine bodies from the crash and officially identified Bryant, Zobayan, John Altobelli, and Sarah Chester.