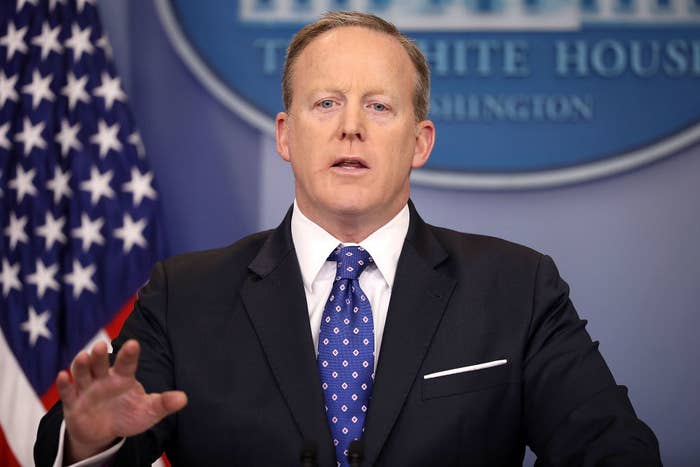 The longtime host of Dancing With the Stars is speaking out after ABC announced Wednesday that Sean Spicer — the former White House press secretary who repeatedly lied to Americans on behalf of the Trump administration — would be a contestant on the show's next season.
In what appeared to be a veiled critique of network executives' decision to cast Spicer, Tom Bergeron said in a statement Wednesday that he had tried to offer producers suggestions for the upcoming 28th season.

"Chief among them," Bergeron wrote, "was my hope that DWTS, in its return following an unprecedented year-long hiatus, would be a joyful respite from our exhausting political climate and free of inevitable divisive bookings from ANY party affiliations."

According to Bergeron, this discussion was held during a lunch with an unnamed executive, and he had left the meeting "convinced [they] were in agreement."
But with Spicer's inclusion in the upcoming season, it appears they were not thinking along the same lines.
"It is the prerogative of the producers, in partnership with the network, to make whatever decisions they feel are in the best long term interests of the franchise," Bergeron said. "We can agree to disagree, as we do now, but ultimately it's their call. I'll leave it to them to answer any further questions about those decisions."
Bergeron has hosted the long-running celebrity dancing show since its inception in 2005 — a responsibility he's shared with Erin Andrews since 2014.
Responding to BuzzFeed News' request for comment on Wednesday, Andrew Llinares, the show's new executive producer said, "We've got a great and diverse cast. We are excited about the season."
Spicer has mostly been blacklisted from the media following his White House exit. CNN and other news outlets have vowed to not hire him, and his surprise appearance at the 2017 Emmys was heavily criticized. (Late night host James Corden was also slammed for appearing to give Spicer a kiss on the cheek at the show.)
Now, Spicer's inclusion on the upcoming season of the series, which had taken a break from the air and has teased several "fun" changes to the format, has also been met with a chorus of disapproval.
Online, critics blasted ABC's decision to help Spicer's redemption in the eyes of the American public.

Lion King star Billy Eichner said the situation was "so depressing."
"This is appalling," said digital strategist and author Luvvie Ajayi, who said the network shouldn't reward "dishonest" Spicer.

Charlotte Clymer, press secretary for the Human Rights Campaign, echoed a similar sentiment: "He belongs on a public blacklist, not in a waltz."
Many left-leaning critics were wary of Spicer's "redemption tour."
Despite his apparent criticism of the network's decision, Bergeron was not left off the hook. Some accused the show's longtime presenter of "normalizing this insanity" by continuing to host the program.
Comedian Matt Rogers, cohost of the Las Culturistas podcast, said Bergeron was "in the financial position to make a real statement by walking away, and [he] would do so with [his] dignity and integrity."
Representatives for Bergeron told BuzzFeed News that host had no further comment.

During the cast announcement on Good Morning America on Wednesday, Bergeron teased that Spicer was be in charge of counting the audience crowd size — a reference to his infamous lie about the attendance at President Trump's inauguration. After first tweeting the clip of Bergeron's joke, the official GMA account subsequently deleted its post.
The latest drama with Spicer and DWTS continues ABC's seemingly unending proclivity for political controversy. In the last year or so, the network has dealt with Roseanne Barr's racism and its ultimate decision to oust her from the revival of her eponymous show (which later brought back with a new name, The Conners). This is in addition to ABC choosing to not air an episode of Black-ish — which apparently addressed the issue of NFL players kneeling in protest during the national anthem — because of "creative differences."
Dancing With the Stars returns next month. Will you be watching?