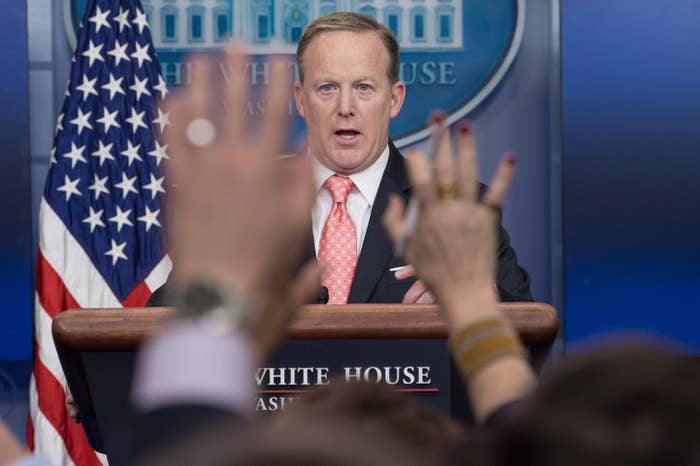 CNN has become a home for some commentators from Donald Trump's orbit, from Jason Miller to Corey Lewandowski to Jeffrey Lord.
So in the wake of Sean Spicer's resignation, some media observers instantly wondered (and joked on Twitter) about whether the network — which has been perhaps the most frequent recipient of the White House's "fake news" insults — would make a play to bring on the departing press secretary.
But CNN is making clear that it won't seek to hire Spicer as a contributor, a network spokesperson told BuzzFeed News.
Spicer may not even be interested in a cable news job at any network, only announced his resignation on Friday, and did not return a request for comment. Still, cable news airwaves are a frequent landing spot for former press secretaries.
"We talk to all major players," a Fox News spokesperson told BuzzFeed News on Friday afternoon when asked if the network would be interested in hiring Spicer.
An MSNBC spokesperson declined to comment.
In a tweet, Spicer said he will continue to serve through August. When asked what his next move would be, Spicer told the Washington Post's Ben Terris, "I'm sure there will be plenty of opportunities."
Over the past few months, CNN faced backlash for giving a platform to Trump officials, like Lewandowski, the former Trump campaign manager. In an interview with Variety last summer, CNN President Jeff Zucker defended the move, saying that Lewandowski has "come under a much greater spotlight because of who he is, and the relationship he's had with the media. As a result, people are going to be more critical."

Spicer presided over caustic six months between the media and the White House, and the press secretary wasn't shy about directing his ire toward the press in general and CNN in particular.
That CNN would go on the record to shoot down any speculation that Spicer would join the network is a telling example of the tense relationship between the network and the White House.
Other networks might offer friendlier terrain. Spicer is set to sit down for an interview with Fox's Sean Hannity, a Fox producer tweeted Friday.
Spicer's resignation comes as the relationship between the White House and CNN becomes increasingly strained following resignations at the network over a retracted Russia story and the president's wrestling video tweet, which CNN called "juvenile." As BuzzFeed News reported, CNN executives also believe that recent press reports raising doubt about Zucker's future have come directly from the White House.