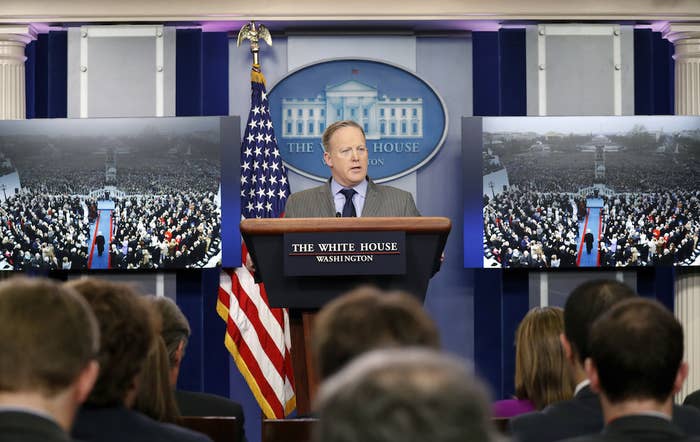 White House spokesman Sean Spicer lied during his first press briefing about the size of the crowd at the president's inauguration, and blamed white floor coverings for "minimizing" the size of the crowds at the ceremony.
"This was the largest audience to ever witness an inauguration, period, both in person and around the globe," Spicer told reporters gathered at the White House briefing room Saturday. "These attempts to lessen the enthusiasm of the inauguration are shameful and wrong."
However, photographs of the crowd gathered to watch the inauguration of the 45th president showed a smaller crowd than in past ceremonies, particularly the massive crowds that gathered to watch Barack Obama be sworn in as the nation's first black president.
Spicer also tried to blame photographers for trying to misrepresent the size of the crowds, alleging they were "framed in a way, in one particular tweet, to minimize the enormous support that had gathered in the National Mall."
However, photographs taken by the Associated Press, at roughly the same time when Trump was sworn in Friday and Obama took the oath of office in 2009, show a visually larger crowd in 2009.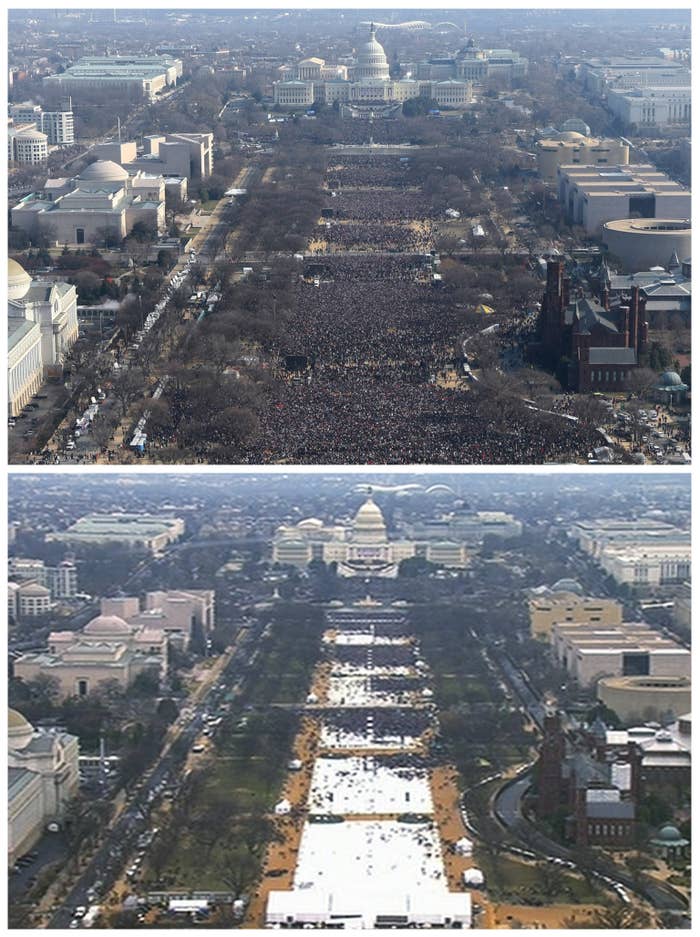 Spicer's briefing to reporters followed President Trump's visit to the CIA headquarters, where the president also lied about the size of the crowd Friday.

The White House spokesman also seemed to take issue with the size of protesters marching on DC Saturday.
"No one had numbers because the National Park Service, which controls the National Mall, does not put any out," Spicer said. "By the way, this applies to any attempts to count the number of protesters today in any fashion."
Some photographs of the crowds seemed to show more people Saturday than during the inauguration.
Spicer, who walked out before taking any questions from reporters, also inaccurately said floor coverings were used for the first time Friday to protect the grass.

Floor coverings were also used in 2013 when then-President Obama was sworn in for a second term, NBC Washington reported at the time.
Spicer then said that Trump was received Saturday at CIA headquarters by a "raucous overflow crowd of some 400-plus CIA employees."